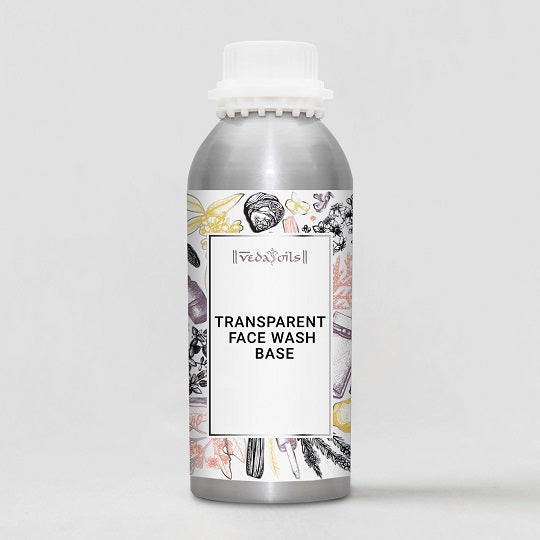 Our Certifications
Transparent Face Wash Base
Our Premium-quality Transparent Face Wash Base allows you to make Face Wash at Home. We are offering them in bulk quantities for those in the commercial body wash business. It is a ready-to-make face wash base and you just need to add essential oils or fragrance oils to prepare the final product.Transparent Face Wash Base is very easy to use a base and it is also a great exfoliator. It is a high-quality and transparent face wash base that is used in multiple applications.
Our Transparent Face Wash Base is made from natural ingredients and does not contain paraben and other chemicals. Therefore, it is skin-friendly and safe to use. It gives a smooth pearl-like finish to your face washes and exhibits excellent lathering and cleansing properties.
Transparent Face Wash Base Ingredients
Sodium Lauryl Ether Sulfate
Sodium Lauryl Ether Sulphate is known to have excellent detergency, along with efficient emulsification and foamifying properties. It is also easy to dissolve in water, having favorable hard-water resistance capacity and high biodegradation properties
Glycerin
Glycerin prevents the skin from becoming rough and dry when added to products like hand washes. It is a natural emollient that is obtained from plant oils. Glycerin also gives a transparent quality and keeps the ingredients together in the finished products.
Carbomer
Shampoos and conditioners need a free-flowing consistency. For that, you can add Carbomer 940 to the formula. It makes the formulas fluffy and makes them free-flowing by blending and distributing all the ingredients well in the emulsions.
EDTA
EDTA stands for Ethylene Diamine Tetra Acetic Acid. It is a polycarboxylic amino acid that dissolves readily in water, and it is mainly obtained from sodium salts. It is a chemical compound that can merge metallic ions like iron, magnesium, calcium, etc.
Sodium Benzoate
Ability of this chemical compound to kill and inhibit the growth of certain forms of bacteria makes it an effective ingredient in skin care products like lotions, ointments, anti-acne creams, anti-aging solutions, etc.
Potassium Sorbate
Potassium sorbate is known to be a mild preservative which is used in skin care, hair care, cosmetics and various other body care formulations. It can be used to extend the shelf-life of cosmetic products by preventing the growth of microbes.
Transparent Face Wash Base Uses & Benefits
Good Foaming Properties
Sulfate-Free Transparent Face Wash Base exhibits excellent foam-forming properties that enhance the effectiveness and quality of Face Wash Base
SLS and Paraben Free
Made from organic and natural ingredients, our Sulfate-Free Sugar-Based Pearly Shampoo Base is free from SLS, sulfates, and parabens. This makes it suitable for hair care products meant for regular use.
Facial Cleansers
SLES can be used in the formulation of excellent quality facial cleansers. This product cleanses and moisturizes the skin, treating chapped, flaky, dry, and dehydrated skin. It treats your skin by soothing, smoothening, softening, and hydrating.
Water-soluble Extracts
We are offering a liquid soap base that can be blended with water-soluble extracts. They blend easily in aqueous solutions and are suitable for preparing large batches of hair shampoos, conditioners, and other products.
Good Fragrance Retention
Our liquid soap bases have a high fragrance retention capability. Therefore, you can incorporate a wide range of fragrances and natural extracts to improve the fragrance and manufacture luxurious shampoos and hair care products.
Multipurpose Usage
The same liquid base can be mixed with different ingredients to make a wide range of shampoos. By including essential oils, herbal powders, and other natural ingredients, formulate shampoos meant for specific or multiple uses.
Packaging Sizes
Shop Transparent Face Wash Base Online at Wholesale Price
VedaOils offers Transparent Body Wash Base at Wholesale Price in USA. We manufacture them by following a standard method that enables us to tap all the beneficial active ingredients present in the liquid bases. The concentration of the diluent used in the liquid extracts depends on the concentration and the number of active compounds that are derived from them.
You can now place orders of Bulk Transparent Body Wash Base online in few clicks, and we ensure timely delivery of the products through the competitive and broad connection of our logistic partners. Our payment gateway is secure and enables you to complete the payment process quickly without any issues.With the strong backing of logistic partners and suppliers, we will never fail short of your expectations in terms of delivery and packaging. Connect with us online through our official website and we will be pleased to assist you through your first order!
We offer SLS & Paraban Free Transparent Body Face Base at Wholesale prices in Bulk Quantity. We ensure that all our products are of top-quality at the time of delivery by employing the highest standards of packaging and quality checks. We also export our high-quality Liquids Bases to the US, Canada, UK, Australia, and other countries.
Frequently Asked Questions