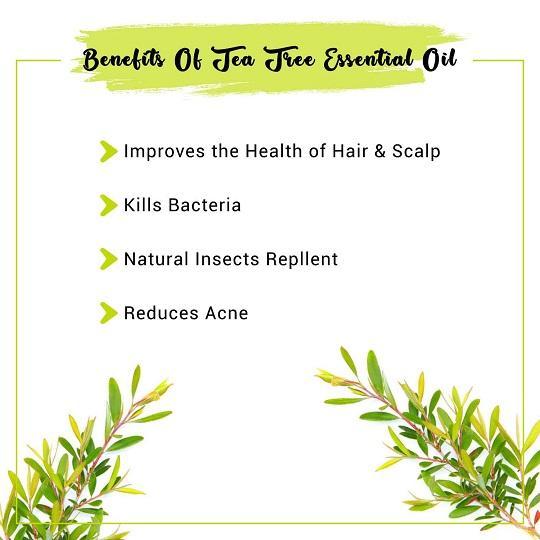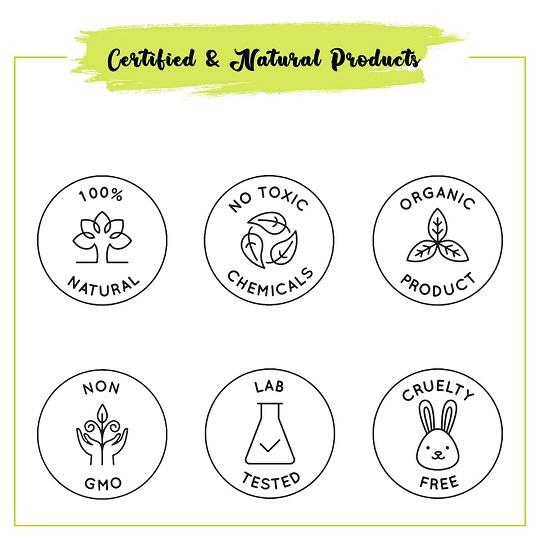 Our Certifications
Tea Tree Essential Oil
Tea Tree Essential Oil is extracted from Tea Tree (MelaleucaAlternifolia) leaves. The Tea Tree is not the plant that bears leaves used for making green, black, or other types of tea. Tea Tree oil is manufactured using steam distillation. It has a thin consistency. Produced in Australia, Pure Tea Tree essential oil has a fresh aromatic fragrance, with mild medicinal and antiseptic notes and some back notes of mint and spice. Pure Tea tree oil is used frequently in aromatherapy and are known for promoting health and wellness as well.
Tea Tree Oil has been used for centuries due to its antibacterial and anti-fungal properties. It can also be used to heal colds and coughs. The powerful antibacterial properties of this oil can be used for making homemade natural hand sanitizers. The essential oil obtained from Tea Tree leaves is used widely in cosmetic and skin care products due to its moisturizing and skin-friendly properties. It is effective against many skin issues, and you can also use it for making natural cleansers to clean and sanitize different surfaces of your home. Apart from skin care, Organic tea tree oil can even be used for treating hair care issues owing to its ability to nourish your scalp and hair. Due to all these benefits, this essential oil is one of the most popular multi-purpose oils.
Order Pure Tea Tree Essential Oil Online at low cost on VedaOils to use as laundry scent, for cleaning various surfaces, and you can use it as an insect repellent as well. It reduces oral inflammation and bad breath, making it a natural mouth wash and a remedy for laryngitis. Natural Tea tree oil can also be used to treat yeast infections and sores. It should always be used externally. It is used both aromatically and topically.
Tea Tree Essential Oil Uses
Deodorizes Skin
Tea Tree oil is a natural deodorizer as it eliminates the bacteria and fungi that combine with your sweat secretions to give an awful smell to your underarms and other body parts.
DIY Sanitizer
Make a DIY natural hand sanitizer by using Tea Tree Essential Oil. This sanitizer will prove to be gentle for your skin and therefore, can be used to replace alcohol-based sanitizers.
All Purpose Cleaner
Mix a few drops of pure tea tree oil into water and apple cider vinegar and use it to clean various surfaces like floor, bathroom tiles, etc. Don't forget to shake the bottle containing this solution before every use.
For Candle & Soap Making
Organic Tea Tree Oil is quite popular among the makers of scented candles, incense sticks. You can add Tea Tree Essential Oil as a fixative agent or benefit from natural anti-fungal and antiseptic properties.
Diffuser Blends
If you are into diffuser blends, then the Fresh, antiseptic, and medicinal fragrance of tea tree oil can effectively refresh your mood. It also refreshes your mind, soothes your senses, and provides relief from fatigue and restlessness.
Natural Mouthwash
Tea Tree essential oil can be used as a natural chemical-free mouthwash by adding a drop of natural tea tree oil in lukewarm water and swish in your mouth for few seconds.
Tea Tree Essential Oil Benefits
Anti Allergic
Antiseptic properties of tea tree essential oil can be used to soothe skin allergies. You can also add it to your DIY skincare and cosmetic products to enhance their anti-allergic properties.
Treating Acne
Pure Tea Tree Oil kills bacteria that are responsible for the formation of acne. It treats acne of your face, arms, back, and chest seamlessly. Obtain a fresh-looking face and body by incorporating this oil into your daily skin care routine.
Reducing Hair Fall
Hair Fall can be reduced greatly by adding Tea Tree Essential Oil to your regular hair oil. You can also mix it with coconut, jojoba, or olive carrier oils and massage it on your scalp and hair to fight hair fall.
Kills Bacteria & Germs
Organic Tea Tree Oil contains powerful antioxidants that kill bacteria and germs responsible for cold, cough, flu, and other health issues. Therefore, you can diffuse it in your room daily.
Combat Oily Skin
Tea Tree Essential Oil can eliminate excess oil from your skin pores. Due to this, you can add it to your face washes or pour a few drops into your bathtub to obtain clear and oil-free skin.
Skin Treatment
Use natural tea tree oil to treat skin ailments like psoriasis, eczema, etc., as the anti-inflammatory property of this oil is powerful enough to provide relief from all kinds of irritation and pain.
Product Specifications
| | |
| --- | --- |
| Botanical Name: | Melaleuca Alternifolia |
| CAS#: | 85085-48-9 |
| Country of Origin: | Australia |
| F.E.M.A #: | 3902 |
| Specific Gravity: | 0.885-0.906 @ 20°C |
| Optical Rotation: | +5 to +15 @ 20°C |
| Refractive Index: | 1.470 - 1.482 |
| Flash Point: | 134° F |
| Origin of part used: | Leaves |
| Form: | Liquid |
| Shelf Life: | 2 years |
| Packaging Type: | As Per Requirement |
| Extraction or Processing Method: | Steam Distillation |
| Solubility: | Insoluble in water, soluble in alcohols and oils |
| Color & Odor: | Light yellow to colorless & characteristic herbal odor |
| Major Constituents: | Tea Tree Leaf Extract |
| Blends with: | YlangYlang, Peppermint, Oregano, and Thyme essential oils |
| Aromatic Scent: | Fresh, antiseptic and medicinal scent. |
| COA: | |
| MSDS: | |
CAUTION: It is meant only for external use. Do a patch skin test before applying it to your skin. Dilute it before topical application. Avoid direct exposure to sunlight. Pregnant women should consult a doctor before using it.
Packaging Sizes
Please Note: The packaging shown above is a General Representation of the various sizes and types of packaging available for this product. Not all sizes and types of packaging for this product maybe available at all times.
Buy Tea Tree Essential Oil Online In USA at Low Prices
VedaOils is one of the leading suppliers of the best tea tree essential oils and other carrier oils. We offer the purest forms of tea tree oils to our customers. No chemicals, additives, or fillers are added to them. They also do not contain any artificial colors, preservatives, and fragrances. Therefore, they prove to be ideal for daily use. We also export Tea tree essential oil to international companies in other countries like the UK, Canada, etc. Buy tea tree oil from VedaOils online according to requirements at the best competitive prices in the market.
You can order tea tree essential oil online at the best prices on VedaOils and use pure tea tree oil for treating various conditions, including itching, ringworm infections, athlete's foot, warts, corns, acne, headaches, dandruff, and the flu. It reduces oral inflammation and bad breath, making it a natural mouth wash and a remedy for laryngitis. It can also be used to treat yeast infections and sores. It should always be used externally. It may cause skin sensitivity in hypersensitive individuals. It is used both aromatically and topically. Though completely natural, you should dilute essential oil before using it for topical application as it is highly concentrated.
We employ numerous tests and quality checks to ensure that only premium-quality and organic tea tree oil reach you. The highest quality and packaging standards are employed to deliver desirable results on usage. Also, our portal uses a secure payment gateway to safeguard your transactions. You can purchase natural tea tree oil at the best prices for your daily purposes also. Even you can purchase this essential oil in bulk quantity, as we are leading essential oils manufacturers in USA. We assure you that you will not regret choosing us!
Frequently Asked Questions
Q: Is Tea Tree Essential Oil safe to use?

Yes, it is safe to use as it does not contain any parabens, sulfates, and other chemicals.

Q: How to use tea tree essential oil for acne?

Add 1 to 2 drops of tea tree oil with carrier oil ( 12 drops). Do a small test before applying of face and wash your face gently with face cleanser. Gently apply diluted tea tree oil with cotton pad.

Q: What are the other uses of Tea Tree Essential Oil?

Tea Tree oil has been used as a remedy for treating various conditions including itching, ringworm infections, athlete's foot, warts, corns, acne, headaches, dandruff and the flu.

Q: Can I inhale Tea tree oil directly to get relief from breathing issues and congestion?

Yes, you can inhale it directly to get instant relief from congestion and breathlessness.

Q: Can I consume this oil internally?

No, Tea tree oil has been formulated for external use only.

Q: Is there any side effects of tea tree oil?

It may cause skin sensitivity in hypersensitive individuals.

Q: Where to buy Tea Tree Oil?

You can buy Tea Tree Oil from VedaOils Online, leading manufacturer, distributor & supplier of bulk orders. Do not miss this wonderful opportunity to buy chemical-free, fresh, and multi-purpose tea tree essential oils from VedaOils.

Q: Can we use tea tree essential oil and tea tree fragrance oil for cold process soap making ?

A: Yes you can use tea tree essential oil for making cold process or melt and pour soap.

Q: Is Tea Tree Oil undiluted?

A: Yes, our Tea Tree Essential oil is pure and undiluted.