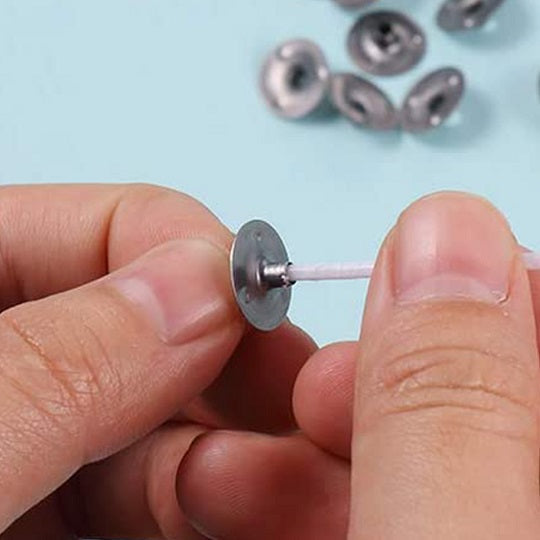 Our Certifications
Round Candle Wick Sustainer Wick Tabs
Small Wick Sustainer Stabs, also known as Eyelets, are used in Wick Assembly to ensure that the wicks are properly secured. These wick tabs are very useful and can be used to make handmade candles. Sustainers stabs are suitable for securing candle wicks and are made of high-quality materials. This makes the process of creating candles simple and painless. These metal candle wick sustainer tabs eyelets can be taped to the bottom of the container to keep the wick securely in place. Because it is small and adaptable, these round candle wick sustainer stabs can be used with most glassware and containers.
Small Candle Wick Sustainer Stab Uses & Benefits
High-quality Material
Small Wick Sustainer Stab is made from high-quality metals so that it can be used many times for making candles. These sustainer stabs do not corrode as they are quite sturdy and long-lasting. It has been specifically developed for long-term use.
Easy to Use
Candle wick sustainers are simple to use which simplifies the process of making candles. Furthermore, the wick centering mechanism is designed to work with the majority of candle containers.
Reusable & Multipurpose
Metal Wick Sustainer can be reused several times because it does not easily corrode or rust. It can also be used with pillar candles, tealight candles, Mason jar candles, and other similar items.
Candle Making Wick Tabs - How to Use?
Follow the given steps to use wick sustainer tabs:
Cut your wick in an appropriate size.
Insert the wick into the small hole present in the candle wick sustainer tab.
Now Tape the candle jar to the bottom so that the wick is placed securely.
Buy Small Candle Wick Sustainer Stab Online at Wholesale Price
High-Quality: VedaOils' Metal Candle Wick Sustainer Tabs are built with high-quality materials. When the Metal Wick Sustainers we use are burned, they do not produce any smoke or soot. They also last a very long period.
Wholesale Prices: VedaOils is a well-known wholesale distributor and seller of high-quality Metal Candle Wick Sustainer Stabs. We guarantee that our Floating Wicks will be offered at the lowest possible price.
Payment Options: VedaOils makes sure that your transaction is safe and simple. We use a secure payment gateway to protect your purchases, and we accept debit and credit cards.
Worldwide Delivery: VedaOils supplies the highest quality Metal Wick Sustainer Stabs to nations throughout the world, including the United States, the United Kingdom, Dubai, New Zealand, Canada, and others, via our logistics partners DHL, FedEx BlueDart, & others.
Frequently Asked Questions