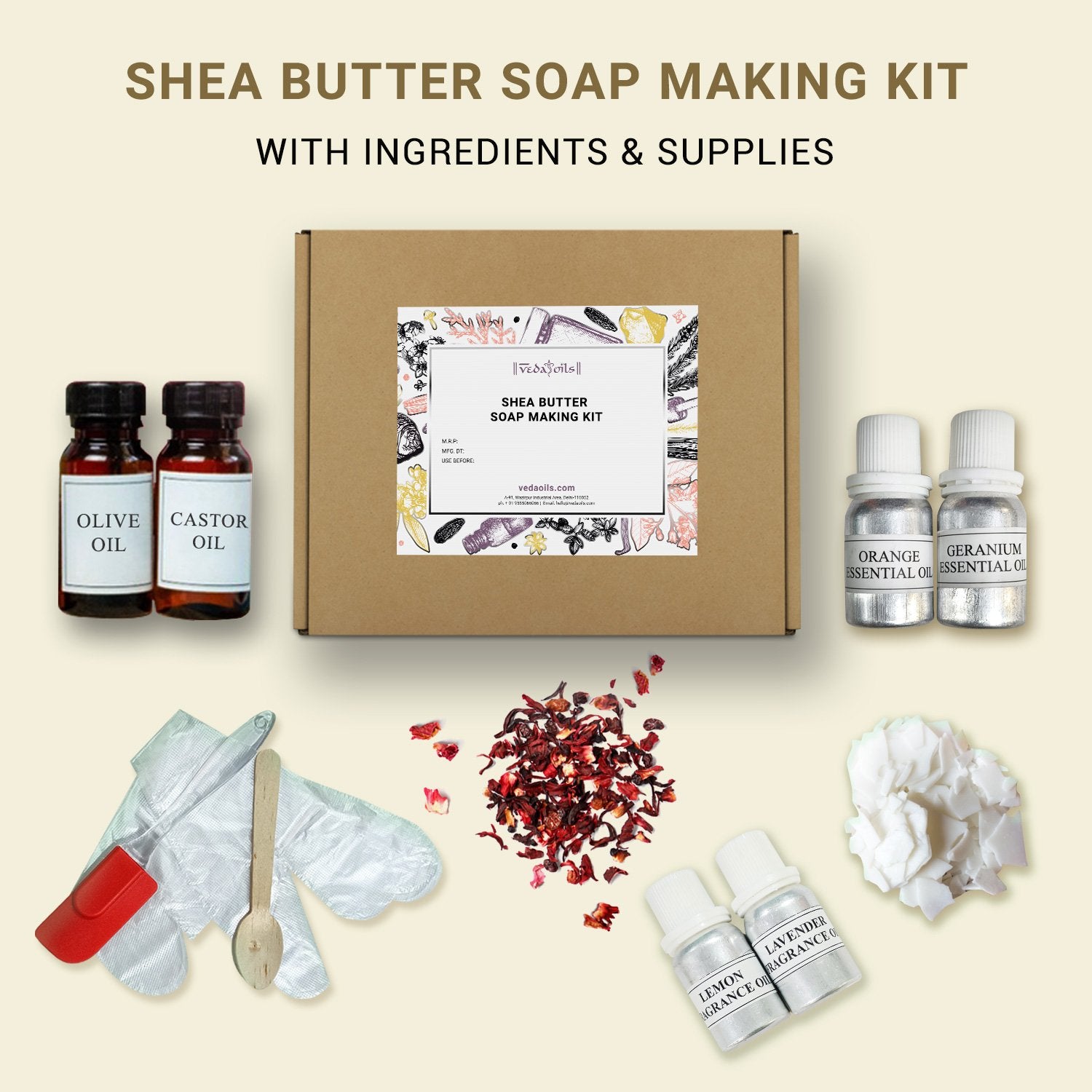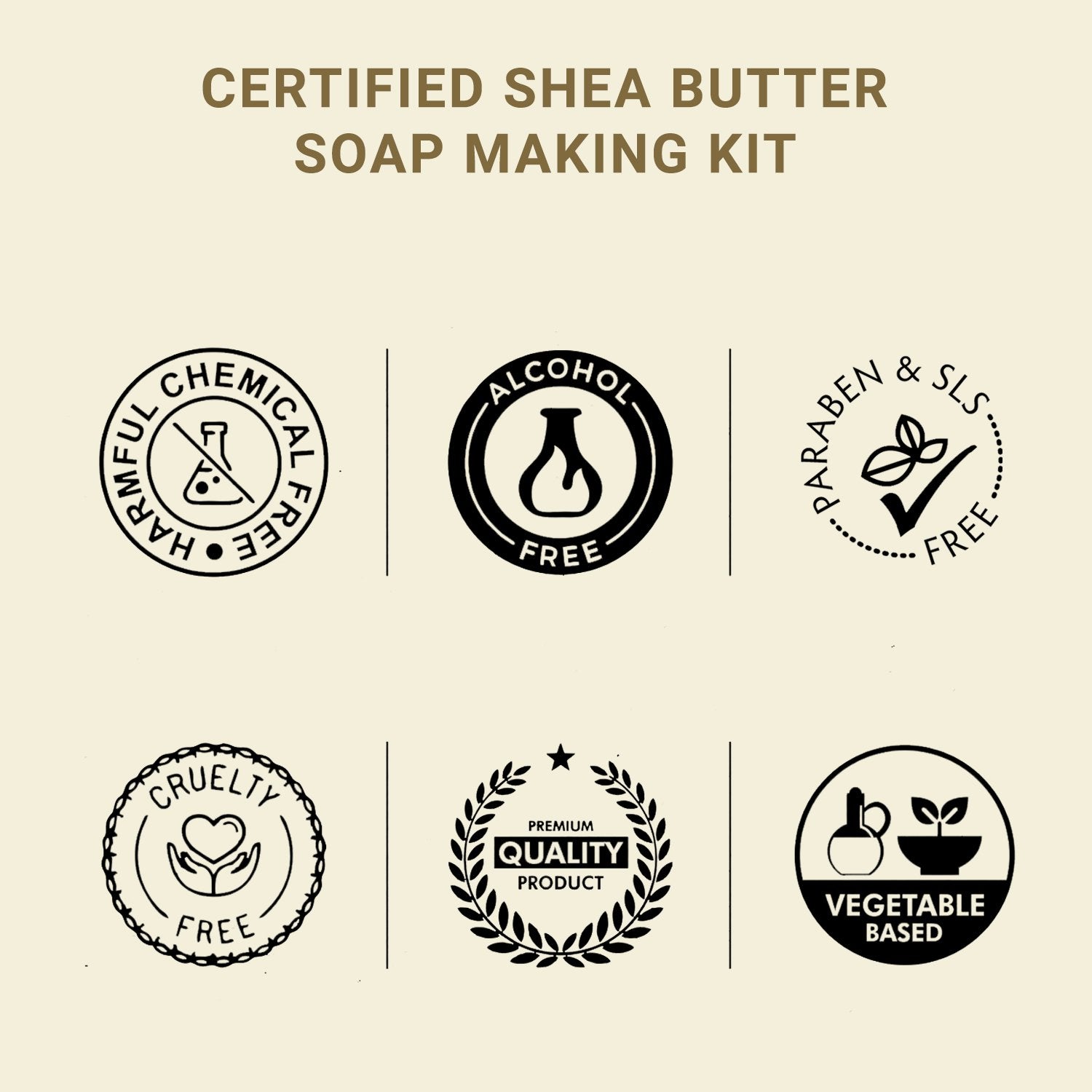 Our Certifications
Shea Butter Soap Making Kit
With a handcrafted natural Shea Butter Soap Making Kit, you can make incredible moisturizing and nourishing soap bars at home. VedaOils has lovingly included the most excellent soap-making components so that you may DIY the soap bars that are packed with the richness of nutrients. This Soap Crafting Kit comes with step-by-step directions for customizing your soap and pampering yourself with natural emollient and moisturizing characteristics.
This natural soap making kit includes everything that you need to make your handmade soaps. It contains natural elements that are full of antioxidants, anti-inflammatory effects, and moisturizing capabilities, making your skin as smooth as butter. These soap bases are high in soothing characteristics, which effectively treat skin problems such as dryness, dullness, and itching. This Shea Butter Soap Base Kit contains organic essential oils, pure carrier oil, and coloring powder that will undoubtedly help you to make the best soaps.
The DIY Organic Shea Butter Soap Making Kit includes an instructive recipe card and instruction booklet to help you craft the finest soap bars. Because of the organic components, this soap customization kit would also make excellent gifts for friends and family. Our DIY Shea Butter Soap Making kits are ideal for children, beginners, and experts since they are so simple to use.
DIY Shea Butter Soap Making Bars - Recipe Steps
Cut Soap Base into Small Pieces
Cut the Shea Butter soap base into 1-inch pieces with a sharp clean knife. The pieces do not have to be exactly the same size or form, but they should be chopped into small pieces for simple melting and processing.
Melt Soap Base in Microwave
Melt the Shea Butter soap base chunks for 3 minutes on a timer in a microwave-safe beaker. Check it after 30 seconds, and if necessary, mix the soap base with a spatula. Do not use direct heat to melt the soap base.
Add Oils to Melted Soap Base
Once the Shea Butter soap base has been completely melted, let it cool for a few minutes before adding your carrier oils and essential oils to get the ideal attributes and qualities for your soap.
Mix Ingredients in Melted Soap Base
Use soap-making components such as pigment powder or dried flowers to give your soap a distinctive twist. Before proceeding to the next step, add 1/8 teaspoon of pigment powder per pound (450 grams) of soap.
Pour Soap Base into Mould
You have now combined all of the components in the Shea Butter soap base. Pour it into your selected soap-making moulds after thoroughly mixing. For easy results, coat the interior of the plastic mould with petroleum jelly. Allow it to cool at room temperature for 12 to 24 hours.
Release Soap Base from Mould
Remember that patience is the key while removing soap from mould. Pull the mould's sides gently away from the soap, then flip the mould upside-down and release the soap out. Allow the soap to dry completely before using it.
Product Specification
| | |
| --- | --- |
| Shea Butter Soap Base: | 7 Oz |
| Orange Essential Oil: | 1 Unit (0.5oz) |
| Geranium Essential Oil: | 1 Unit (0.5oz) |
| Lavender Fragrance Oil: | 1 Unit (0.5oz) |
| Lemon Fragrance Oil: | 1 Unit (0.5oz) |
| Castor Oil: | 1 Unit (0.5oz) |
| Olive Oil: | 1 Unit (0.5oz) |
| Dried Hibiscus Flowers: | 0.7 Oz |
| Pigment Color: | 0.7 Oz |
| Spatula: | 1 Unit |
| Beaker: | 1 Unit |
| Hand Gloves: | 1 Pair |
| Soap Mold: | 1 Unit (Any Color) |
Buy Best Shea Butter Soap Making Kit at a Lowest Cost in USA
VedaOils is a major manufacturer and seller of Natural Shea Butter Soap Making Kits, Essential Oils, Carrier Oils and other Natural Raw Ingredients in the USA. We take pleasure in providing high-quality items since we only sell organic and natural products. This Natural Soap Crafting Kit provides ideal ingredients for anybody looking to make their own Soap on a budget or for fun since it covers everything needed to get started.
Organic DIY Shea Butter Soap Making Kit by VedaOils is vegan-friendly and includes no animal-derived components. There are no artificial scents or dyes in the components. Organic Shea Butter Soap Making Kit can be purchased at an affordable price in the USA through the VedaOils online shopping store. Our premium quality product will motivate you to produce more and more baths & body soap.
We adhere to strict packaging and quality control methods during the packing process to ensure that the soap-making kit we sell you contains only the highest quality components. To assure the safety of our products, we vacuum seal them. Our Soap Making Kit is shipped worldwide by our efficient logistics partner.
Frequently Asked Questions