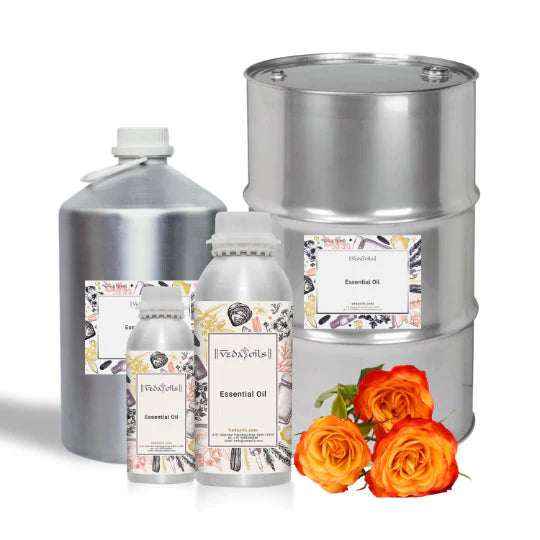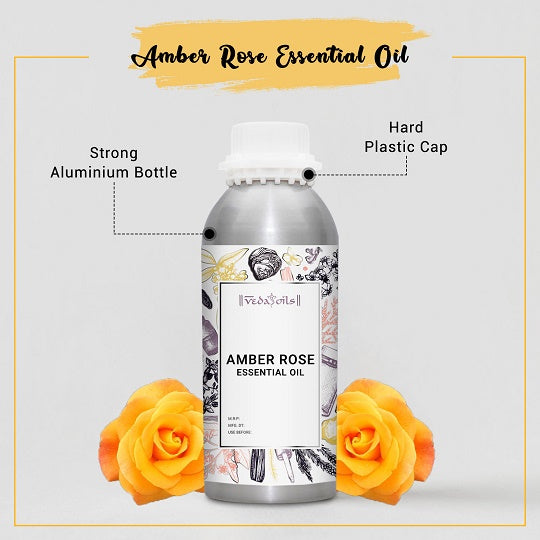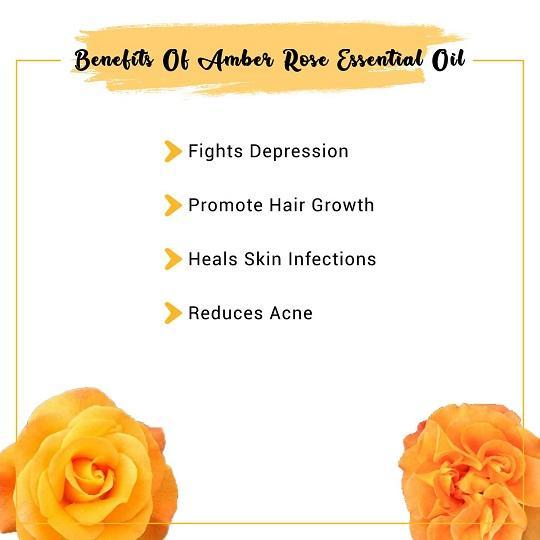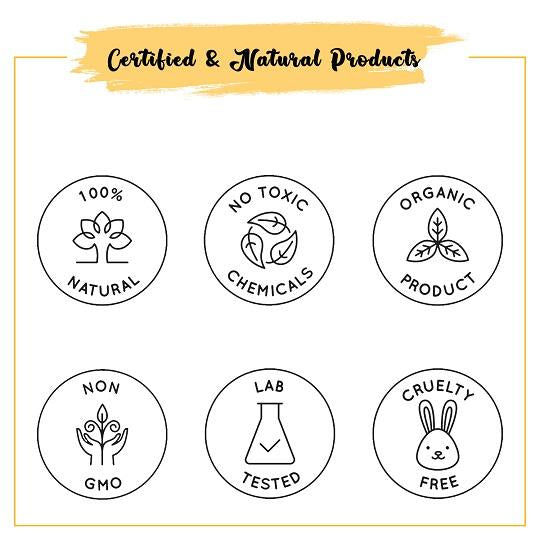 Our Certifications
Amber Rose Essential Oil
Amber Rose Essential Oil is known for its unique and alluring aroma and is made from blending high-quality and pure essential oils. It is mainly used for Aromatherapy sessions as its scent rejuvenates our minds and body. However, nowadays, even soap makers and manufacturers of cosmetic products are using it widely due to its amazing fragrance and therapeutic benefits.
We are offering high-quality and pure Amber Rose Essential Oil that blends effortlessly with fragrance oils and essential oils to produce top quality scent. Therefore, it is exclusively used for making Soap Bars, Scented candles, Incense sticks, and Skincare products.
It has a soothing effect on your skin as well due to its antimicrobial and anti-inflammatory properties. The refreshing scent of Amber Rose Oil is typically used for reducing fatigue and stress after a long tiring day. Therefore, everyone must have the versatile and natural Amber Rose Essential Oil in their homes.
Amber Rose Essential Oil Uses
Regulates Blood Flow
Your hands and feet get cold frequently if the blood flow in your body is improper. The stimulant properties of organic Amber Rose Essential Oil will regulate blood circulation and avoid such issues. For that, just dilute amber rose essential oil and massage it on your body.
Reduces Joint Pain
If your limbs or joints are paining then you can rub amber rose oil on the affected area. The anti-inflammatory properties of our best Amber Rose Essential Oil will reduce joint pain instantly. You can even use it to reduce the pain of cuts and wounds.
Deodorizes Rooms
Stinking smell of your rooms can be converted into a fresh and welcoming fragrance by diffusing our fresh Amber Rose Essential Oil. Therefore, it is one of the favorite essential oils of manufacturers of room sprays and air fresheners.
Making Perfumes & Scented Candles
Amber Rose Essential Oil is used extensively for making Perfumes, Scented Candles. Colognes, Deodorants & personal care products due to its rich and mesmerizing scent. You can use it commercially or make natural perfumes at home by blending it with lavender or sandalwood essential oils.
Hair Growth Products
Amber Rose Essential Oil stimulates hair growth by curing scalp issues. It moisturizes the scalp and promotes the quick growth of lustrous and healthy hair. You can add a few drops of amber rose oil to your regular hair oils to multiply its benefits.
Anti Acne Skincare Products
Skin issues like acne and dark spots can be reduced significantly by incorporating our best Amber Rose Essential Oil in your skincare routine. You can massage with amber rose oil after diluting it or add a couple of drops in your Soap Bars, Face creams or Moisturizers to reduce acne.
Amber Rose Essential Oil Benefits
Treat Skin Infections
The infections caused due to wounds, cuts, bruises, or injuries can be instantly healed by using our natural Amber Rose Essential Oil. You can massage amber rose oil on the infected areas by diluting it with jojoba or any other suitable carrier oil.
Acts as an Aphrodisiac
The stimulant properties of our pure Amber Rose Essential Oil have a noticeable impact on the libido. As a result, many people use it as a natural aphrodisiac to improve performance or to induce passion and love in their relationships.
Improve Breathing Shortness
Antibacterial and decongestant properties of amber rose essential oil will provide instant relief from breathing issues. It also proves to be effective against congestion caused due to cold or any other reason. For that, you just need to inhale this oil directly.
Eases Depression
Our organic Amber Rose Essential Oil proves to be effective against depression and anxiety. It reduces anxiety by relaxing your senses and by regulating the blood flow. As a result, your brain function improves and you feel motivated and fresh.
Cures Lung infections
Expectorant properties of Amber Rose Essential Oil can be paired with eucalyptus or any other powerful essential oil to reduce lung infections. You can add a couple of drops of amber rose oil to your bathtub and breathe deeply to get instant relief.
Minimizes scalp irritation
If your scalp is feeling itchy then you can massage it with our pure Amber Rose Essential Oil. This will not only minimize scalp irritation but your hair will smell great as well. It also contributes towards making your hair roots strong.
Product Specifications
| | |
| --- | --- |
| Product Name: | Amber Rose Essential Oil |
| Botanical Name: | Rosa Damascena, Oleum Succini, Vanilla Planifolia, Aquilaria Agallocha, Cistus Ladaniferus, etc. |
| CAS#: | 97676-09-0 |
| Country of Origin: | India |
| F.E.M.A #: | 3902 |
| Specific Gravity: | 0.962 |
| Refractive Index: | 1.482 |
| Origin of part used: | Leaves |
| Form: | Liquid |
| Shelf Life: | 2 years |
| Packaging Type: | As Per Requirement |
| Extraction or Processing Method: | Steam Distillation |
| Solubility: | Soluble in Alcohols & Fixed Oils |
| Color & Odor: | Light greenish Yellow to greenish yellow |
| Blends with: | Lavender, Amber Rose, Myrrh, Sandalwood, and Lemon essential oils, and all types of carrier oils. |
| Aromatic Scent: | Characteristic |
| COA: | |
| MSDS: | |
CAUTION: It is meant for external purposes. Keep it away from the reach of your kids and avoid direct contact with eyes.
Packaging Sizes
Buy Amber Rose Essential Oil Online at Wholesale Prices
VedaOils is one of the leading Wholesale suppliers, manufacturer, exporter of Amber Rose essential oil and other Essential oil in USA. We offer the purest forms of essential oils to our customers. No chemicals, additives, or fillers are added to them. They also do not contain any artificial colors, preservatives, and fragrances. Therefore, they prove to be ideal for daily use. Though entirely natural, you should dilute essential oil before using it for topical application as it is highly concentrated.
We employ numerous tests and quality checks to ensure that only premium-quality Amber Rose essential oil reaches you. The highest quality and packaging standards are employed to deliver desirable results on usage. Also, our portal uses a secure payment gateway to safeguard your transactions. Buy Amber Rose oil from VedaOils online according to requirements at the best competitive prices in the market. You can order Amber Rose oil for your daily purposes such as dark circles, skin lightening, hair growth, arthritis, digestion, and better oral health. Check out Amber Rose oil price per lb, even you can purchase this essential oil in bulk quantity.
We are one of the largest manufacturers, suppliers, and exporters of top-quality Amber Rose Essential Oil and other essential oils in USA. Vedaoils Spearmint Flavoured Oil is available in packages of 2 LBS, 10 LBS, 20 LBS, 40 LBS & more through our website. We also export our high-quality essential oils to the Canada, UK, Australia and other countries. Our products follow the highest standards when it comes to quality and purity. We assure you that you will not regret choosing us! We also deliver amber rose oil throughout the world using our logistic partners DHL, FedEx, UPS, USPS, etc. Do not miss this excellent opportunity to buy chemical-free, fresh, and multi-purpose Amber Rose oil from VedaOils.
Frequently Asked Questions