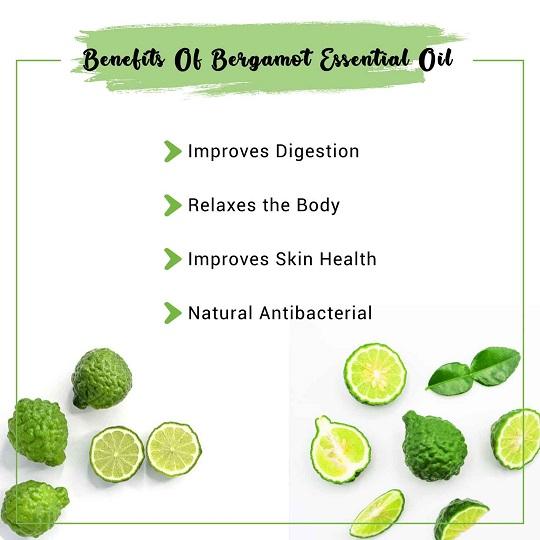 Our Certifications
Bergamot Essential Oil
Bergamot Essential Oil is extracted from the seeds of the Bergamot Orange tree which is predominately found in Southeast Asia. It is known for its spicy and citrusy fragrance that has a soothing effect on your mind and body. Bergamot oil is primarily used in personal care products such as colognes, perfumes, toiletries, etc. You can also see it as one of the key ingredients used in cosmetic and skin care applications.
Bergamot essential oil is a powerful and concentrated solution. It would help if you diluted it with a carrier oil before applying it to your skin. You may also use Bergamot essential oil for aromatherapy massage due to its therapeutic properties. Please do not use it excessively for the skin as it may cause photosensitivity. While incorporating Bergamot oil in your skincare regime, you should wear sunscreens while going out in the sun.
Edible Bergamot oil is used as a flavor in food items and drinks, It has only been formulated for external purposes. For prolonged use, you must store it in a moisture-free and cold place away from direct sunlight. You may also refrigerate it to maintain its effectiveness. However, do not heat it to its original state if it freezes at lower temperatures. Keep it outside the refrigerator and let it get less viscous naturally at room temperature.
Organic Bergamot essential oil exhibits analgesic properties, good for treating cysts, pimples, and blackheads. It also has the ability to cleanse your skin deeply to eliminate dirt and toxins. As a result, you can add it directly to your face cleansers and scrubs. Many hair care products also contain it as one of the primary ingredients. Therefore, this is essential oil truly effective and can be utilized for various purposes.
Uses of Bergamot Essential Oil
Insect Repellent
You can use bergamot essential oil for repelling insects, bugs, etc. For that, dilute the oil with water and fill it in a spray bottle to use everywhere for unwanted mosquitoes and bugs.
Aromatherapy Massage Oil
Its ability to curb fatigue and anxiety makes it an ideal ingredient for aromatherapy. You can inhale Bergamot oil directly after diluting it with water or diffuse it in a diffuser for better results.
Amazing Scent
The perfect blend of citrus and floral notes gives a refreshing and rejuvenating aroma to bergamot oil. Therefore, you can use it for making DIY colognes and perfumes as well.
Candles & Soap Making
Use Bergamot Essential Oil for making homemade scented candles and room fresheners due to its amazing fragrance. You may even make DIY body oils, face scrubs, soap bar from this essential oil.
Bath Oil
Pour a couple of drops of Bergamot Oil in a bathtub filled with hot water to enjoy a relaxing session of the bath. It will also alleviate your joint and muscle pains to some extent.
Pain Reliever
The anti-inflammatory properties of bergamot essential oil can soothe pain related to sore muscles and irritation. It also proves to be useful for treating joint pains.
Bergamot Essential Oil Benefits
Sunburn Treatment
If you are suffering from skin rashes or sunburns then you can apply a diluted version of this oil to your skin. Bergamot essential oil will soothe your skin and provide instant relief.
Skin Care
Bergamot oil can be used to cleanse your skin to eliminate unwanted oils, dirt, and other toxins. You can also make a natural DIY face cleanser by blending it with a suitable carrier oil.
Treating Congestion
Organic Bergamot essential oil proves to be an effective natural decongestant. You can use it to decongest nasal passages by applying it to your chest, nose, and neck areas.
Antibacterial
Bergamot Oil's anti-inflammatory and antibacterial properties make this oil effective in treating skin infections. Adding this oil to your creams, moisturizers, and lotions makes them more effective.
Relaxing Muscles
The antispasmodic properties of Bergamot oil help relax the strained, tensed muscles and relieve the pain. Therefore, bergamot oil is proved to be an excellent massage oil.
Unclogs Skin Pores
It eliminates unwanted oils and toxins from your clogged skin pores. It also moisturizes and nourishes your skin. Bergamot essential oil can be used for making DIY skincare formulas.
Product Specifications
| | |
| --- | --- |
| Product Name: | Bergamot Essential Oil |
| Botanical Name: | Citrus Bergamia |
| CAS#: | 8007-75-8 |
| Country of Origin: | India |
| F.E.M.A #: | 2153 |
| Specific Gravity: | 0.863 - 0.873 @ 20°C |
| Optical Rotation: | +20 to +40 |
| Refractive Index: | : 1.460 |
| Flash Point: | 55° C |
| Origin of part used: | Seeds |
| Form: | Liquid |
| Shelf Life: | 4 years |
| Packaging Type: | As Per Requirement |
| Extraction or Processing Method: | Steam Distillation |
| Solubility: | SOLUBLE IN ALCOHOL AND OILS. |
| Color & Odor: | Yellow or green in color & it exhibits a sweet citrusy odor. |
| Major Constituents: | Bergamot Seed Extract |
| Blends with: | Patchouli, Lavender, and Lime essential oils. |
| Aromatic Scent: | Bergamot Essential Oil has a spicy-sweet characteristic scent |
| Strength of Aroma: | Medium |
| COA: | |
| MSDS: | |
CAUTION: It is meant only for external use. Do a patch skin test before applying it to your skin. Dilute it before topical application. Avoid direct exposure to sunlight. Pregnant women should consult a doctor before using it.
Packaging Sizes
Please Note: The packaging shown above is a General Representation of the various sizes and types of packaging available for this product. Not all sizes and types of packaging for this product maybe available at all times.
Buy Bergamot Essential Oil Online In USA at Low Prices
VedaOils is one of the leading Wholesale suppliers, manufacturer, and exporter of Organic Bergamot Essential Oil and other Essential oil in USA. We offer the purest forms of essential oils to our customers. No chemicals, additives, or fillers are added to them. They also do not contain any artificial colors, preservatives, and fragrances. Therefore, they prove to be ideal for daily use. Though entirely natural, you should dilute bergamot essential oil before using it for topical application as it is highly concentrated.
We employ numerous tests and quality checks to ensure that only premium-quality bergamot essential oil reaches you. The highest quality and packaging standards are employed to deliver desirable results on usage. Also, our portal uses a secure payment gateway to safeguard your transactions. Buy Bergamot Oil Online from VedaOils according to requirements at the best competitive prices in the market. You can order bergamot essential oil for your daily purposes such as dark circles, skin lightening, hair growth, arthritis, digestion, and better oral health. Check out Bergamot oil price per lb, and even you can purchase this essential oil in bulk quantity.
We also export our High-Quality Bergamot Essential Oil to the Canada, UK, Australia, and other countries. Our products follow the highest standards when it comes to quality and purity. We also deliver the products throughout the world using our logistic partners DHL, FedEx, USPS, UPS, etc. Do not miss this excellent opportunity to buy chemical-free, fresh, and multi-purpose Bergamot oil from VedaOils.
Frequently Asked Questions
Q: Which oils blend perfectly with Bergamot Essential Oil?
Q: Can I take Bergamot oil internally?

A: No, this oil is made for external use only.

Q: Can I use Bergamot oil for making soap?

A: Yes, Bergamot essential oil can be used for soap making due to its refreshing scent and skin nourishing properties.

Q: Which is the main constituent of Bergamot essential oi?

A: Limonene is the major constituent (35%) of Bergamot essential oil.

Q: How to store Bergamot oil?

A: Store it in a cool place (at or below 24-degree Celsius). Also, ensure that the place is moisture-free and do not expose the bottle under direct sunlight.

Q: Can I Use bergamot oil for high blood pressure?

A: bergamot essential oil may lower cholesterol level and heart rate.

Q: Is Bergamot oil safe for dogs and cats?

A: No, Do not use this oil on pets.

Q: Where to buy bergamot essential oil in bulk?

A: Bergamot oil is used to treat depression, stress, tension, fear, hysteria, and infection. It can also heal acne and loss of appetite and has general therapeutic properties. Vedaoils is the leading manufacture, supplier, and exporter of top-quality Bergamot Essential Oil.