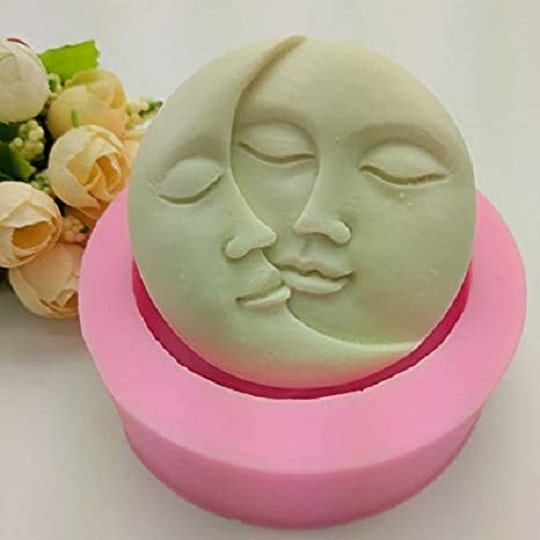 Our Certifications
3D Sun Moon Soap Mould
3D Sun Moon Soap Mold is a unique and beautiful casting stencil that helps to craft decorative Candles for your home. The mould is made of high-quality silicone, making it incredibly sturdy and simple. These Overlapping Balls Sphere Moulds are formed of elastic and reusable materials that can produce attractive polished crafts. You can use them for a long time, durable to durable silicone material. This mould can also be used as a baking mould or handmade candle making.
Sun Moon Soap Mould casting stencil creates lovely decorating pieces and thus it is a great gifting option. Since this mould offers multiple applications, it is popularly used by small and large businesses to make unique and beautiful DIY crafting items.
3D Sun Moon Soap Mould Uses & Benefits
Multi-Purpose
Apart from Soap making, 3D Sun Moon Soap Mold can be used as a baking mould to produce Candles, cakes, mousses, and chocolates. It can even be used to make handcrafted soap moulds. Appropriate for creating handcrafted resin art that may be used as decoration.
Attractive Design
Unique Sun Moon Face and spongy designs help to make beautiful art and decoration pieces. 3D Sun Moon Face Mold Soap can make Perfect Gift items since they can be used to make different products like candles, and resin art.
High-Quality Silicone Mold
3D Soap Sun Moon Face Mould is made of high-quality silicone, making it incredibly durable and simple. This mould can be reused many times. You need to wash it with soapy water to reuse it.
Reusable & Durable
3D Sun Moon Soap Mould are made of resilient silicone material that is elastic and washable, resulting in attractive crafts pieces. You can use this mould for a long time as it is not easily broken.
Easy to Use
Sun Moon Face mould makes it very simple to produce soaps. Melt Soap Base, Add Fragrance Oils, Essential Oils and Soap Color and add hot soap base in to the mold, wait till it become cold and solid and finally take out the Soaps.
Easy to Clean & Store
3D Sun Moon Soap Mould may be washed in the dishwasher. Alternatively, a simple cleaning with warm soapy water may suffice. Once cleaned, store the mould in a cool, dry area away from direct sunlight until the next time it's needed.
Product Specifications
| | |
| --- | --- |
| Brand: | VedaOils |
| Product Name: | 3D Sun Moon Soap Mold |
| Dimensions: | 90mm*30mm |
| Color: | White |
| Material: | Silicone |
| Total Weight: | 100 oz |
| Country of Origin: | India |
| Quantity Per Pack: | 1 Unit |
| Suitable for: | Soap Making, Home Decor |
Buy 3D Sun Moon Soap Mould Online at Wholesale Price
Wholesale Price: VedaOils is a renowned bulk distributor and supplier of the supreme quality 3D Sun Moon Soap Mould. We guarantee that our soap casting silicone mould will be available at the most affordable price.
Payment Options: VedaOils ensures that your payment transaction is secure and hassle-free. We offer a secure gateway to protect your transactions and take debit and credit cards for payment.
Worldwide Delivery: VedaOils ships the highest quality 3D Sun Moon Soap Mold to various countries like the United States, UK, Dubai, New Zealand, Canada, etc., through our logistics partners DHL, FedEx BlueDart, India Post, and others.
High-Quality: 3D Sun Moon Soap Mould by VedaOils are made from high-quality components. We use the best quality silicone which is easy-to-use and reusable. You can even use this for multiple applications.
Frequently Asked Questions