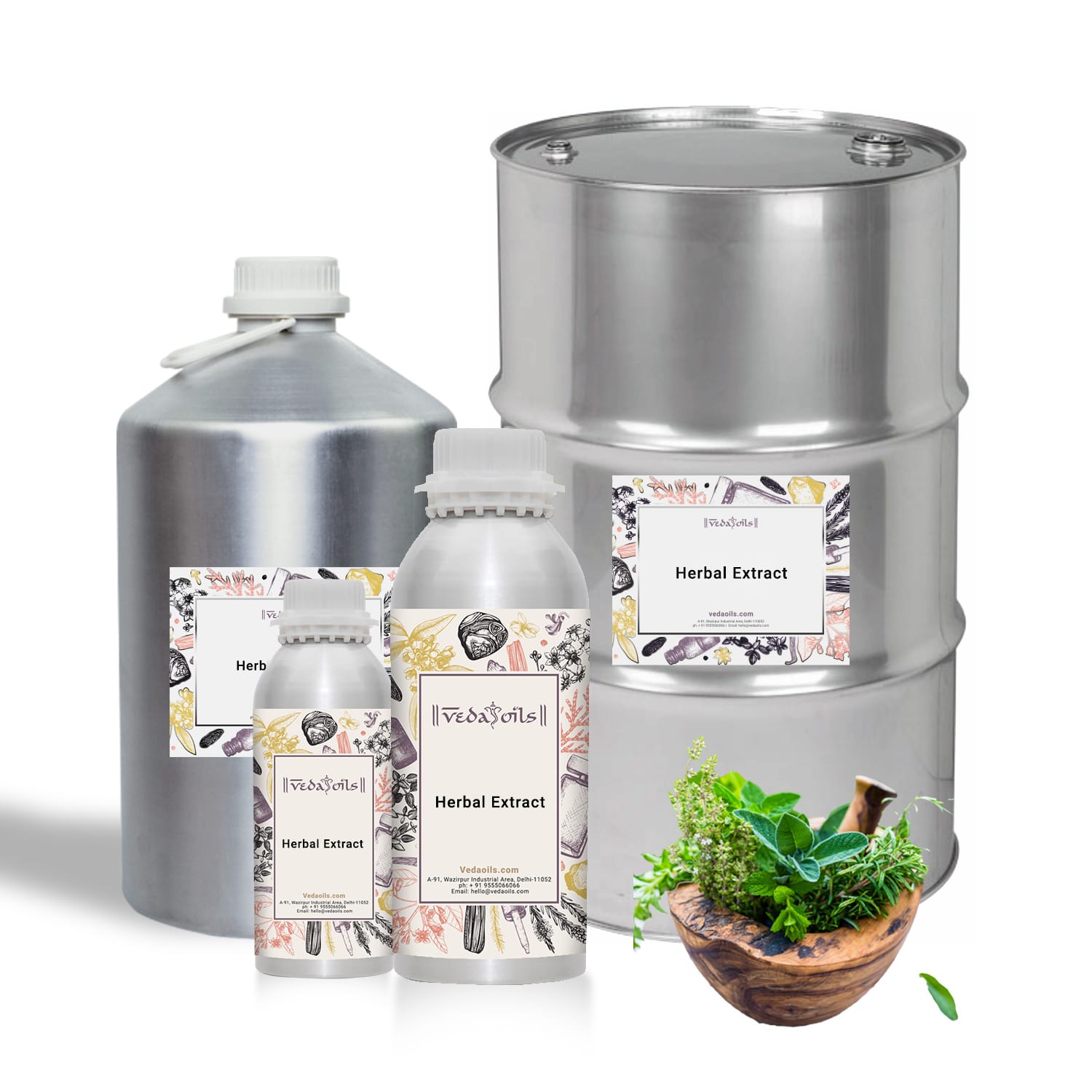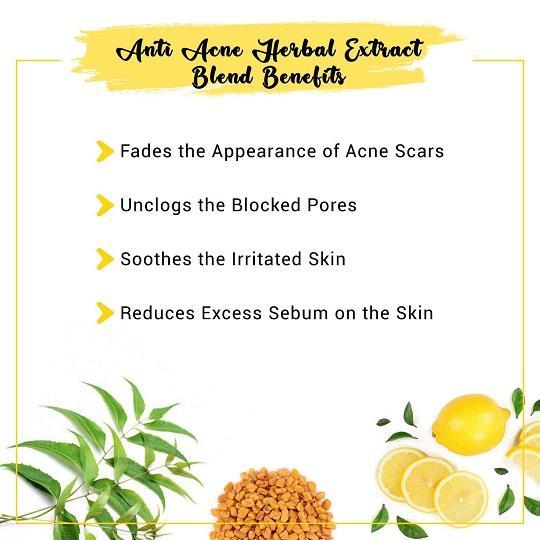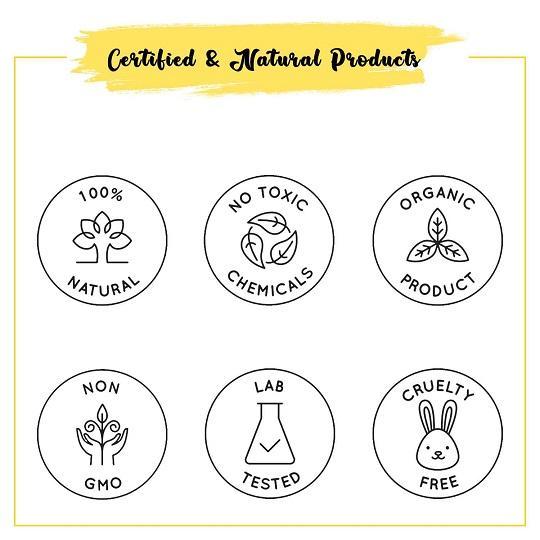 Our Certifications
Anti Acne Herbal Extract Blend
Get over the nightmare of nasty acne and pimple marks with the Veda Oils Anti-Acne Extract Blend that gives you clear, hydrated skin free from blemishes and dark spots. Rich in Vitamin C and Vitamin E, it nourishes the skin protecting it from sun damage and external pollutants that contribute to acne-causing bacteria. In addition, it absorbs impurities and excess oil, unclogging pores and reducing both blackheads and whiteheads.
Unique blend of more than a dozen herbal extract blends contributes to making your skin healthy, soft, smooth, and supple. It speeds up the healing of the acne-prone skin reducing inflammation and redness and giving you a clear skin tone. The non-sticky and lightweight formula get absorbed quickly in the skin, treating acne scars, acne marks, dark spots, and pimples.
A rich source of Vitamin C and phenolics, Rose extracts soothe the skin and reduce the swelling and inflammation caused by acne. Removes excess oil from the skin and kills the acne-causing bacteria. Tulsi present in blend rich in medicinal and therapeutic properties, it helps to inhibit acne-causing bacteria, clearing skin pores, and removing dead cells. Soaks up excess oil of the skin and removes toxins from the skin.
Our Anti Acne Blend Effective in killing bacteria and healing acne breakouts. Lavender present in blend helps to calm skin irritations and reduce the redness caused by acne. Fades acne scars and clears the skin with a bright glow. Blend loaded with Vitamin C and other essential vitamins, it helps heal the redness and swelling caused by acne. Fights free radicals that make acne worse by increasing inflammation.
Anti Acne Herbal Extract Blend Ingredients
Neem
Powerful anti-bacterial properties of neem help to disinfect the skin. It prevents the clogging of pores that leads to pimples and acne. Helps to control sebum production and oil secretion of the skin.
Manjistha
Rich in anti-inflammatory, anti-bacterial, and anti-androgenic properties, it helps prevent and effectively treat acne. It controls the acne-causing bacteria and also the inflammation associated with acne.
Fenugreek
With a soothing effect on the skin, fenugreek is known to possess antiseptic and anti-inflammatory properties. It helps to remove acne scars and clears the skin of dark patches.
Lemon
Rich in Vitamin C and citric acid, it acts as a detoxifying agent for the skin. It has high astringent qualities because of its excessive acidic levels. It controls oil secretion and prevents breakouts on the skin.
Calendula
Loaded with antibacterial properties, it helps to neutralize the bacteria in the skin pores that lead to the formation of acne and skin breakouts. Its anti-fungal properties keep the skin free from infections.
Arnica
Reduces redness and inflammation caused by acne. It acts as an anti-bacterial agent inhibiting the growth of bacteria that contributes to pimples and acne.
Anti Acne Herbal Extract Blend Benefits
Natural antioxidants of the extract blend effectively treat the redness and inflammation caused by acne and pimples. In addition, it reduces skin irritations and itchiness caused by skin disorders.
Acne and pimples can leave stubborn dark spots, acne scars, and brown spots that mar your beauty. Regular use of anti acne blend reduces melanin production in the skin and fades away brown spots and blemishes.
Non-sticky and lightweight anti-acne extract blend contain herbal extracts that are holistically healthy and free from silicones, parabens, toxic chemicals, and artificial colours. Made of 100% natural products, they suit almost all skin types.
Packaging Sizes
Please Note: The packaging shown above is a General Representation of the various sizes and types of packaging available for this product. Not all sizes and types of packaging for this product maybe available at all times.
Frequently Asked Questions
Q: How to use Anti-Acne Extract Blend?

A: Apply 2-3 drops of the anti-acne extract blend on a cotton bud and gently press it against the can or pimple/affected area; for best results, leave it overnight for better absorption and more effective treatment.

Q: How many times a week can this blend be applied?

A: There is no particular number prescribed, but applying the Veda Oils Anti-Acne Extract Blend twice a week can show good results. If needed, you can use it more frequently without worrying as it is toxic-free and made of entirely natural ingredients.

Q: Is there any age restrictions on using the Veda Oils Anti-Acne Extract Blend?

A: There are no age restrictions; however, it is advised to keep it away from children below 6. It can safely be used by both males and females, especially teenagers facing acne issues.

Q: Does this Anti-Acne Extract Blend help in the reduction of open pores?

A: Anti Acne Extract Blend is loaded with the benefits of natural ingredients and herbal extracts that are rich in Vitamin C, citric acid, Vitamin E, B5, and B2. These vital nutrients act as natural astringent and skin healing agents that help shrink open pores and prevent acne and pimples.

Q: Does it work well on oily skin?

A: Yes, our Anti-Acne Extract Blend is formulated to control sebum production and regulate excess oil secretion that clogs your pores and leads to increased instances of acne and pimple.

Q: Can I apply it only on the affected area or on the whole face?

A: Ideally, it should be applied on the acne spot areas and on the skin that suffers break out. However, if you notice dark spots and acne scars on other face areas, then a small quantity of the blend can be applied to the whole face. As it is made of natural ingredients, you can safely apply it all over the face.

Q: Does this Anti-Acne Extract Blend have any side effects?

A: Made of 100% natural ingredients, our Anti-Acne Extract Blend is free from harsh and toxic chemicals and safe for most skin types. It shows visible results of reduced acne, pimples, and breakouts within a few applications. It not only prevents acne but also effectively treats acne-prone skin.