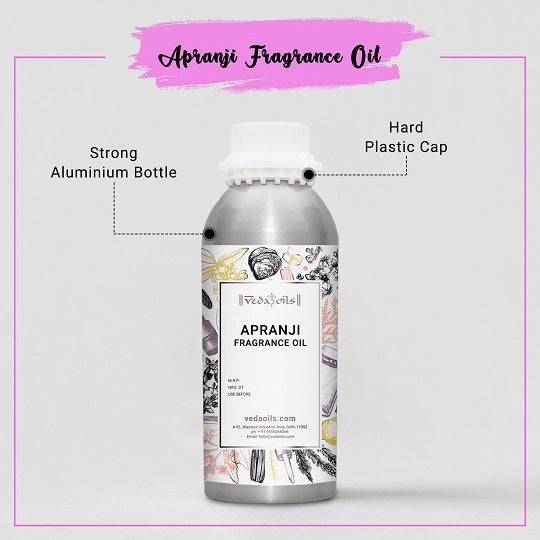 Our Certifications
Apranji Fragrance Oil
Apranji Fragrance Oil is an intense floral fragrance that is derived from real Apranji plants. The wonderful aroma of Apranji Scented Oil contains herb and leafy scent which uplifts the mood. The exotic scent of Apranji aromatic oil is quite crisp and shower-fresh. It also contains hints of herbal and blooming leaf-like aroma. The fruity and greeny aroma of Apranji Fragrance Oil helps to effectively calm the mind and body.
The refreshing and reviving scent of Apranji herbage flower is used for therapeutic uses. Because this fragrance oil is naturally made from Aparanji it can be easily used in various cosmetic, skincare, and beauty products. The Grassy and Verdure notes of Aparanji scented oil have a unique accent which is used as a base fragrance in many mist, body cologne, perfumes, and deodorants. It is also one of the most commonly used fragrances in much herbal soap because of its distinct odor. Aparanji Oil is also used to infuse perfume in incense sticks and cones.
VedaOils is manufacturing the best products for the last two decades so it offers premium quality Fragrance oils. Our Apranji Perfume Oil can be used in a diverse range of products. You can even add Apranji Scented Oil in DIY Products like scented candles, bath bombs, bath salts, etc. It is also free from chemical-based ingredients so you can use it without the fear of getting any side effects.
Apranji Fragrance Oil Uses & Benefits
Herbal Soaps
Apranji floral fragrance oil has a herby and grassy scent which is used to make soap bars and bathing bars. Apranji scented oil can easily gel with melt and pour soap base as well as a liquid soap base.
Candle Making
Scented candles use Apranji fragrance oil to infuse it with a clear and crisp scent, making the atmosphere refreshing. Apranji aromatic oil can easily be used with any type of candle waxes.
Incense Sticks & Cones
Organic and herbal incense sticks and cones use this fragrance oil because of this unusual and distinct aroma. Apranji aroma oil is free from chemicals so it is completely safe for health.
Cosmetic Products
Many moisturizers, lotions, creams, and body scrubs use the naturally made Apranji fragrance oil because it is safe for the skin. It does not contain any allergens so it does not react to the skin.
Perfumes & Deodorants
Body Mist, cologne, perfume, and deodorants that use this fragrance oil as the base scent because of its mild and settling aroma. These perfumes do not trigger any allergies or sensitivities.
Hair Care Products
Hair Care products like shampoo, conditioner, dry shampoo, hair masks, etc. soaps and even scented candles, which use Apranji Fragrance oil because of its refreshing herbal and floral aroma.
How to Use Apranji Fragrance Oil?
Scented Candle: Scented candles with Calm and comforting aromas are made using Fragrance oil. You can use 0.06 fl oz of Rose oil for 0.5 lbs candle wax flakes to obtain perfect smelling scented candles. Make sure you measure your quantities correctly so that the Apranji fragrance doesn't get overpowered.
Soap Making: A nice fragranced soap bar gives a luxurious and rich feel to the skin. You can add your favorite 0.16 fl oz of aroma oil in a 2 lbs soap base to get perfectly scented soap bars.
Aromatic Bath: A good aromatic bath in a bathtub helps to relax and calm the body. You can add 5-6 drops of Apranji fragrance oil in a bathtub to enjoy a rejuvenating and relaxing session of the aromatic bath.
Skin Care & Cosmetic Products: Mild and gentle scented cosmetic products are made using Apranji Fragrance oil in very little proportion to react to the skin.
Note: Make sure you use the fragrance oil in calculated quantities so that it does not react with your skin.
Product Specifications
| | |
| --- | --- |
| Product Name: | Apranji Fragrance Oil |
| INCI Name: | N/A |
| Country of Origin: | India |
| Foam: | Liquid |
| Flash Point: | N/A |
| Color: | Pale yellow to amber in color. |
| Aroma: | Fresh, Earthy, and Sweet Floral fragrance |
| Suitable for: | Bath Bombs, Lipsticks, Lip Balms, Facial and Body Scrubs, Creams, Perfume Oils |
| Packaging Type: | As per requirement |
| Storage: | Store in a Cool & Dry place. |
| Shelf Life: | 2 years |
| COA: | |
| MSDS: | |
CAUTION: It is meant only for external use. Therefore, do not consume rose fragrance oil internally and also keep it away from your eyes as it might irritate.
Packaging Sizes
Please Note: The packaging shown above is a General Representation of the various sizes and types of packaging available for this product. Not all sizes and types of packaging for this product maybe available at all times.
Buy Apranji Fragrance Oil at Wholesale Price
VedaOils Apranji Fragrance Oil is made from the natural Apranji plant. The aroma of this scented oil is very floral and herb-like which gives a refreshing and revitalizing feeling altogether. The mild and delightful scent of this fragrance oil is quite versatile hence it is used in a variety of products.
We are one of the largest manufacturers, distributors, suppliers, and wholesalers of the Finest-quality Apranji Fragrance Oil. We provide all of the fragrance oil available on our website at wholesale prices and in bulk quantities. They are completely free from any kind of chemical-based ingredients like SLS, parabens, phthalates, etc. They are also Vegan-friendly and Cruelty-free so they will be safe for your skin. Our Aromatic oils are highly stable so they can ideally be added to make various DIY products.
We make sure to follow certain standard packaging methods and quality check measures while packing our high-quality Apranji fragrance oil so that you can receive them in perfect condition at your doorsteps. VedaOils offer its Apranji Scented Oil Online in packages of different quantities (3.5 oz, 1.1 lb, 2.2 lb, 11 lb, 22 lb & 44 lb) so that you can order them as per your needs from our website. We export our Apranji Aroma Oil in bulk quantities to various countries like The USA, UK, Canada, Australia, etc., through our logistic partners USPS, UPS, FedEx and DHL, etc.
Frequently Asked Questions