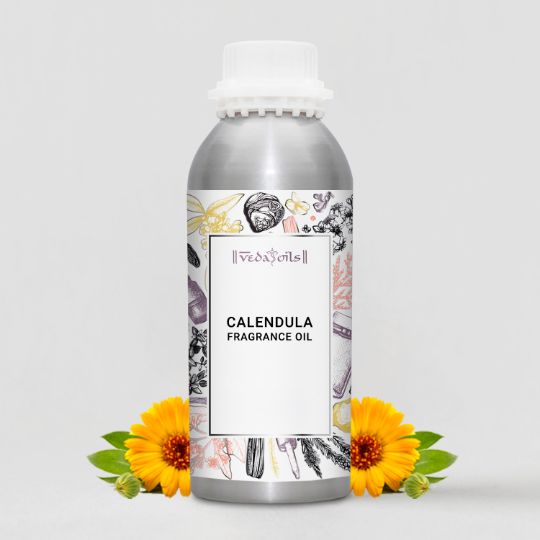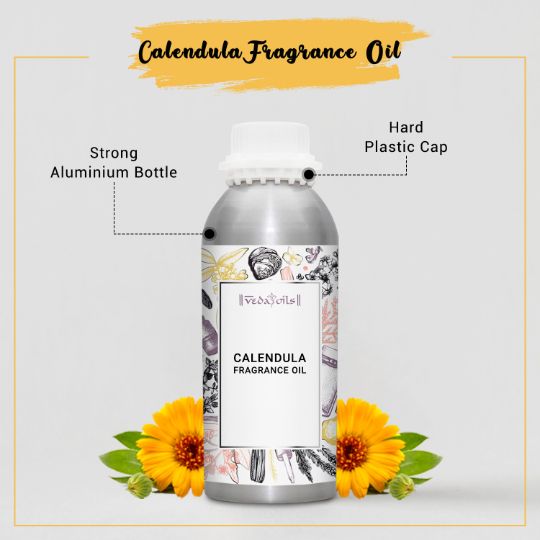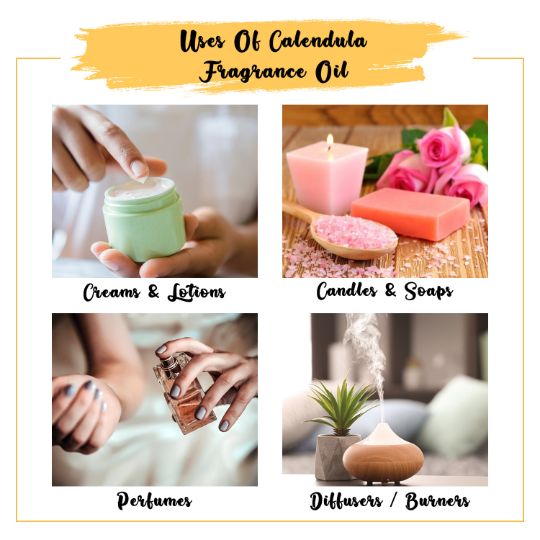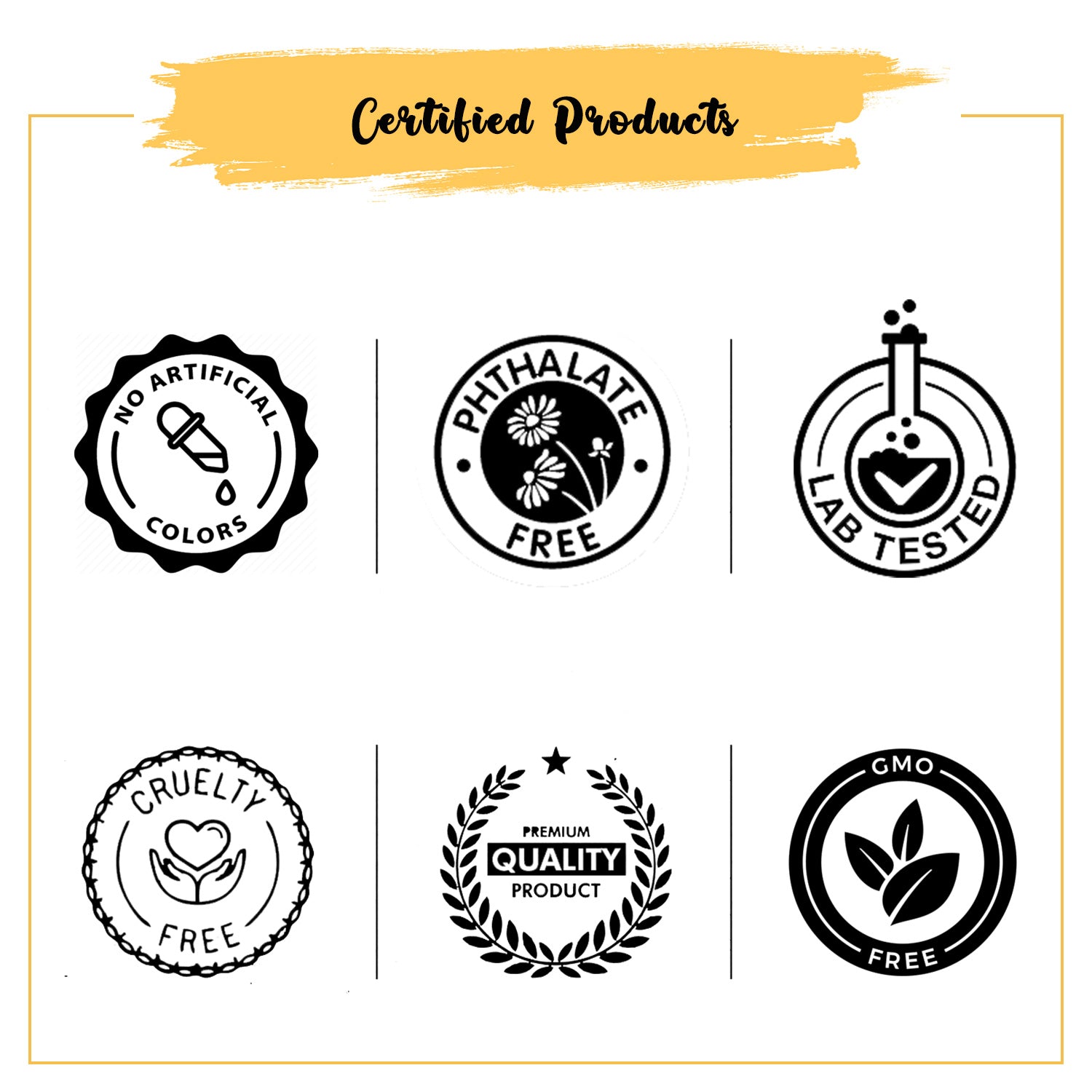 Our Certifications
Calendula Fragrance Oil
Calendula oil has a unique aroma described as wooden and musky. It has an instantly recognisable aroma that is quite distinctive from other herbs or fragrance oil. Extracted from the flowering tops of the marigold flowers, this fragrance oil is recognised for its excellent scent that infuses the environment instantly. The sweet and musky calendula-type fragrance of the oil fade during the various DIY products-making preparations like scented soaps, candles and leaves them with a delicate herbal aroma. The natural and light scent of Calendula fragrance oil is soothing for the mind and makes a good choice to prepare room fresheners, incense sticks and various skin products.

The soothing, rich, and the somehow golden scent of Calendula flowers is beautifully captured in Calendula fragrance oil which contains many beneficial compounds. These compounds help Calendula fragrance oil heal and protect skin; thus, it is a great choice of fragrance oil to be added to cosmetic and skincare products. Veda Oils provide premium quality Calendula fragrance oil with no added preservatives and completely natural ingredients to help you curate products inspired by nature.
Calendula Fragrance Oil Uses & Benefits
Soap Making
Calendula fragrance oil is one great choice of ingredient for making scented cold-pressed and melt-and-pour bath soaps to promote rich and musky notes of scent to your soaps to enjoy a captivating and luxurious bathing experience
Candle Making
Calendula fragrance oil is perfect for use in the production of scented candles to produce a calming and restful atmosphere with its luxurious and refreshing perfume. The aroma from these candles has a powerful cast that instantly fills the space with a crisp, clean scent.
Room Freshener
When mixed with carrier oils and diffused in the air, the floral and musky fresh calendula fragrance oil works as an air and room refresher. This can eliminate any harmful germs that may be present nearby and also purges the air of any unpleasant scents.
Incense Sticks
Calendula fragrance oil is a great choice to add a sweet and floral smell to the incense sticks. Calendula fragrant incense sticks help create a perfect spiritual ambience for prayers, puja and meditation by bringing mental peace with its floral scent.
Skincare Products
The rejuvenating scent of calendula flowers and musk in the Fruity, fresh fragrance oil is used in scrubs, moisturisers, lotions, face washes, toners, and other skincare items. The fragrance oil contains no allergens, making them entirely safe for use on the skin.
Perfumes
Calendula-type fragrances have musky pungency that is used to produce various perfumes and body mists. It has an aroma that is quite distinctive and is different from other floral scents. The smell imparted in the perfumes from this fragrance oil is long-lasting.
How to Use Calendula Fragrance Oil?
Scented Candle: Scented candles with Calm and comforting aromas are made using Calendula Fragrance oil. You can use 0.06 fl oz of Rose oil for 8.8 oz candle wax flakes to obtain perfect smelling scented candles. Make sure you measure your quantities correctly so that the fragrance doesn't get overpowered.
Soap Making: A nice fragranced soap bar gives a luxurious and rich feel to the skin. You can add 0.16 fl oz of Calendula aroma oil in a 2.2 lbs soap base to get perfectly scented soap bars.
Aromatic Bath: A good aromatic bath in a bathtub helps to relax and calm the body. You can add 5-6 drops of Calendula fragrance oil in a bathtub to enjoy a rejuvenating and relaxing session of the aromatic bath.
Skin Care & Cosmetic Products: Mild and gentle scented cosmetic products are made using Fragrance oil in very little proportion so that it doesn't react to the skin.
Tip: Make sure you use the fragrance oil in calculated quantities so that it does not react with your skin.
Product Specifications
| | |
| --- | --- |
| Product Name: | Calendula Fragrance Oil |
| INCI Name: | CALENDULA OFFICINALIS |
| Country of Origin: | India |
| Foam: | Liquid |
| Flash Point: | N/A |
| Color: | Pale yellow to amber in color. |
| Aroma: | Fresh, and Sweet Floral fragrance |
| Suitable for: | Bath Bombs, Lipsticks, Lip Balms, Facial and Body Scrubs, Creams, Perfume Oils |
| Packaging Type: | As per requirement |
| Storage: | Store in a Cool & Dry place. |
| Shelf Life: | 2 years |
| COA: | |
| MSDS: | |
CAUTION: It is meant only for external use. Therefore, do not consume fragrance oil internally and also keep it away from your eyes as it might irritate.
Packaging Sizes
Please Note: The packaging shown above is a General Representation of the various sizes and types of packaging available for this product. Not all sizes and types of packaging for this product maybe available at all times.
Buy Calendula Fragrance Oil at Wholesale Price
VedaOils Calendula Fragrance Oil contain a sweet and nutty aroma which is very mild and gentle to smell. This fragrance comes from organic Calendula. This aromatic oil can be used in many products because of its versatile nature. The sensory pleasure and olfactive notes of this scented oil contain a hint of milk and mossy notes.

We are a well-known manufacturer, distributor, supplier, and wholesaler of the Best-Quality Calendula Fragrance Oil. All of the products on our website are available at wholesale prices and in bulk quantities. Our Calendula Fragrance Oil is free from toxins and alcohol-based ingredients. It is also Vegan-friendly and Phthalate-free so it will be safe for your skin. This Aromatic oil is highly stable so it can ideally be added to various DIY products.

We ensure to follow certain packaging standards while packing our high-grade fragrance oil so that you can receive them in perfect condition at your doorsteps. VedaOils offer its Calendula Perfume Oil Online in packages of different quantities (3.5 oz,1.1 lbs, 2.2 lbs,11 lbs,22 lbs, and 44 lbs) so that you can order them as per your needs from our website. We export our Aroma Oil in bulk quantities to various countries like The USA, UK, Canada, Australia, etc. using our logistic partners DHL, FedEx etc.
Frequently Asked Questions