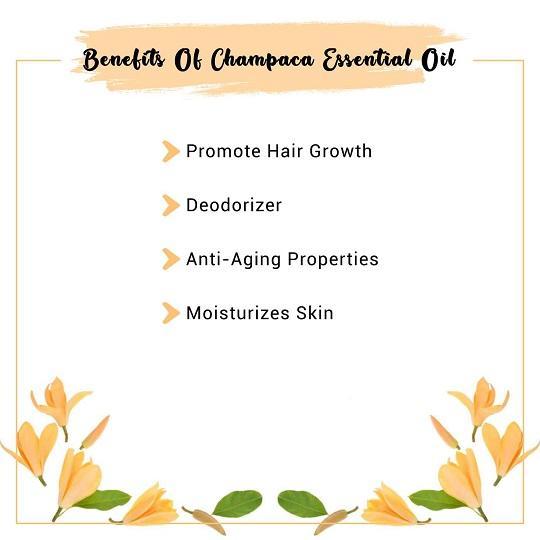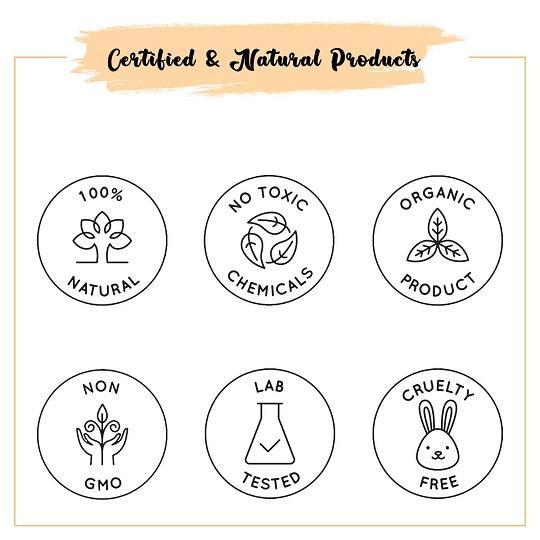 Our Certifications
Champaca Essential Oil
Prepared from the flowers and leaves of the Champaca plant, the Champaca Essential Oil is known for its mesmerizing aroma that has a soothing effect on your mind and body. It is widely used in the cosmetic industry and also proves to be effective for aromatherapy. It is a beautifully charming fragrance and it is widely used in the perfumery industry for its dark and complex citrus aroma to create very fascinating scents. In the massage therapy it is used to support joints and muscles.
We are providing high-quality essential oil that is derived from the Champa or Champak flowers that has a warm and energizing aroma of the Champaca flowers. Moreover, it also possesses pain-relieving and antispasmodic properties that can be used for treating several skin conditions.
You can also diffuse Pure Champaca oil to make the ambiance of your house pleasant and serene. It blends with a wide range of other essential oils and therefore, it is used for making different types of diffuser blends as well. Our pure Champaca Essential Oil suits all skin types and can be incorporated into a regular skincare routine. It also possesses strong antioxidants that can be used for treating several skin conditions and issues.Its mesmerizing fragrance makes it an ideal contender for aromatherapy.
Champaca Essential Oil Uses
Aromatherapy Bath Oil
Add a few drops of our fresh Champaca Essential Oil in bath water and enjoy a rejuvenating and refreshing bathing session. It can also be mixed with sea salts for a better experience. You can even use it for making DIY Aromatherapy Bath Oils.
Heals Muscle Pain
Our Pure Champaca Essential Oil soothes all types of body aches and muscle stiffness due to its antispasmodic properties. It is used for massages to provide instant relief from body pain, muscle strain, spasms, etc. u You can also use it for making pain-relieving ointments.
Prevents Skin Pigmentation
If your skin is patchy or pigmented then you can incorporate our natural champaca essential oil in your daily skincare routine. The nourishing effects of this essential oil treat skin dryness and restore the elasticity of your skin to reduce skin pigmentation.
Deodorants & Soap Making
Fresh floral scent of Pure Champaca Essential Oil makes it useful for manufacturing Soaps, Deodorants, Scented Candles, Colognes, body sprays, and perfumes. It is also used in perfume blends due to its ability to gel with essential oils having different types of aromatic notes.
Aids Breathing
Due to the expectorant properties of Champaca Essential Oil, it is used to support free and healthy breathing patterns. This essential oil also provides quick relief from cold, cough, and congestion by clearing the mucus present in your nasal passages.
Hair Growth Products
Anti-inflammatory properties of our Organic champaca essential oil curbs scalp infection and swelling. Its antimicrobial qualities eliminate the toxins and dirt from your scalp and hair roots and enhance the strength of your hair strands. It also boosts hair growth naturally.
Champaca Essential Oil Benefits
Fights Aging
Powerful antioxidants present in our Organic Champaca Essential Oil provides a protective shield against the aging of the skin. It reduces skin scars and blemishes and can be used for acne treatment as well. As a result, it proves to be an ideal ingredient in anti-aging solutions.
Soothes Skin Inflammation
If your skin is inflamed due to cuts or burns then you can apply champaca absolute essential oil on the affected area after diluting it with sweet almond or any other suitable carrier oil. It will soothe the burning sensation and will also prevent the spreading of infection.
Deodorizes Air
The warm and uplifting fragrance of our best Champaca Essential Oil eliminates the foul odor from the air and deodorizes it. As a result, it is also used for manufacturing several types of air fresheners and room sprays. You can also diffuse it for experiencing similar benefits.
Moisturizes Skin
Emollient properties of our Natural Champaca Essential Oil help it to moisturize your skin. It also bestows a bright complexion to your skin by revitalizing the skin cells. Therefore, it is an excellent ingredient for making body lotions and moisturizers.
Calms Mind
Powerful fragrance of Champaca Absolute Oil has a soothing or calming effect on your mind. Professional aroma therapists use it to treat anxiety and reduce the stress levels of their patients. It also improves self-confidence by promoting a sense of positivity and comfort.
Natural Aphrodisiac
Alluring scent of our fresh Champaca Essential Oil makes it a natural aphrodisiac. Diffuse Champaca Oil in your home to instill passion and romance in the ambiance. It also keeps the surroundings cheerful which might help you to seduce your partner.
Product Specifications
| | |
| --- | --- |
| Product Name: | Champaca Essential Oil |
| Botanical Name: | Michelia alba |
| CAS No: | 92457-18-6 |
| Country of Origin: | China |
| F.E.M.A #: | N/A |
| Specific Gravity: | 0.860 - 0.950 @ 25°C |
| Optical Rotation: | +12 to +25° |
| Moisture Content: | N/A |
| Refractive Index: | 1.492 @ 20°C |
| Flash Point: | Above 180°C |
| Acid Value: | 1.86mgKOH/g |
| Moisture: | 0.02 % |
| Relative Density: | 0.897g/ml |
| Origin of part used: | Flowers and Leaves |
| Form: | Liquid |
| Shelf Life: | 2 years |
| Packaging Type: | As Per Requirement |
| Extraction or Processing Method: | Steam Distillation |
| Solubility: | Soluble in alcohols and fixed oils, Insoluble in water |
| Consistency: | Thin |
| Color | Brown to Reddish Brwon |
| Alternative Name | Champaca Flower, Champa, frangipani, Champak Sapu |
| Odor | Characteristic |
| Blends with | Lemon, Cedarwood, Clove, Cistus, and Coriander essential oils and all types of carrier oils. |
| COA: | |
| MSDS: | |
CAUTION: It is meant only for external use. Do a patch skin test before applying it to your skin. Dilute it before topical application. Avoid direct exposure to sunlight. Pregnant women should consult a doctor before using it.
Packaging Sizes
Please Note: The packaging shown above is a General Representation of the various sizes and types of packaging available for this product. Not all sizes and types of packaging for this product maybe available at all times.
Buy Champaca Essential Oil Online In USA at Low Prices
VedaOils is one of the leading Wholesale suppliers, manufacturer, exporter of Champaca essential oil and other Essential Oils in USA. We offer the purest forms of essential oils to our customers. No chemicals, additives, or fillers are added to them. They also do not contain any artificial colors, preservatives, and fragrances. Therefore, they prove to be ideal for daily use. Though entirely natural, you should dilute champaca flower oil before using it for topical application as it is highly concentrated.
We employ numerous tests and quality checks to ensure that only premium-quality Champaca leaf essential oil reaches you. The highest quality and packaging standards are employed to deliver desirable results on usage. Also, our portal uses a secure payment gateway to safeguard your transactions. Buy Champaca oil from VedaOils online according to requirements at the best competitive prices in the market. You can order Champaca oil for personal and business purposes. Check out Champaca essential oil price per lb, even you can purchase this essential oil in bulk quantity.
We also export our high-quality champaca essential oil to the Canada, UK, Australia and other countries. Our products follow the highest standards when it comes to quality and purity. We assure you that you will not regret choosing us! We also deliver champaca absolute essential oil acrss different countries using our logistic partners DHL, FedEx, USPS, etc. Do not miss this excellent opportunity to buy chemical-free, fresh, and multi-purpose Champaca essential oil from VedaOils.
Frequently Asked Questions