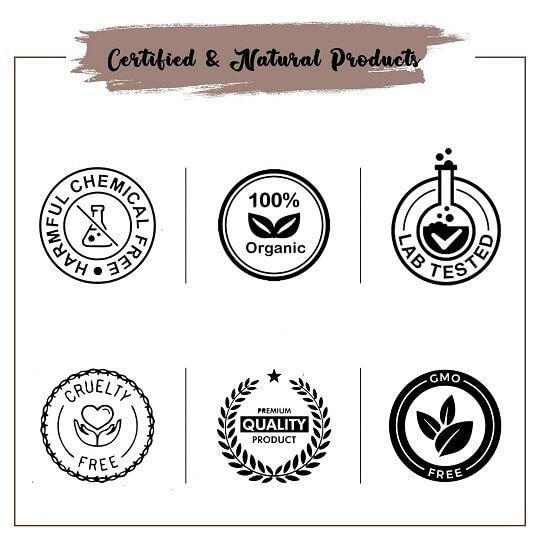 Our Certifications
Organic Cocoa Butter
Organic Cocoa Butter is a vegetable fat that is made from processing fermented cocoa beans and mixing it with pure Shea Butter. The fragrance of Cocoa butter is very mild and sweet. It acts as a natural skin moisturizer because it is Ultra-hydrating. Cocoa butter has many healthful properties which are beneficial for the skin as well as the body. Whipped Cocoa Butter contains a significant amount of polyphenol and flavonoid Antioxidants which are beneficial for overall health. Pure and Organic Cocoa Butter also contains an agent phytochemical compound which protects the skin from UV Rays and locks the moisture in the skin.
Cocoa Butter can help in improving the texture and health of the skin that is why it is used in various commercial beauty products, Skin Care products, Edible products, etc. Cocoa butter lip balms, creams, Scented Candles, face lotions and moisturizers because it forms a layer over the skin which holds the moisture. The dense and smooth texture of Cocoa butter feels very luxurious when it is applied to the skin.
Unrefined Cocoa butter contains different types of fatty acids like Stearic acid, Myristic acid, Palmitic acid, Lauric acid, Arachidic acid, etc., which Hydrates and Nourishes Skin. It improves skin elasticity, smoothens acne scars, reduces the appearance of stretch marks, and diminishes acne and pimple marks. Organic Cocoa Butter has proved to be effective against premature aging and certain skin diseases like dermatitis and eczema.
VedaOils is offering the finest quality of Organic Cocoa butter. All of our products are Vegan-friendly, cruelty-free, and completely natural & organic. The Antioxidants present in Cocoa Butter helps in lowering inflammation, improving immunity, and improving Heart Health. You can use our pure Cocoa Butter for creating your DIY recipe at home. So, hurry up and get the Premium quality Cocoa Butter from VedaOils.
Cocoa Butter Suitable For: Beauty Products, candles, Skincare Products, Soap, Chocolates.
Cocoa Butter Used For: Moisturizer, Lotions, Sunscreen, Anti-allergy Creams, sunblocks, Soap making, Lip balm, Hair conditioner, Lip Gloss, Hair mask, Stretch mark & anti-wrinkle creams, chocolates, and Medical purpose.
Organic Cocoa Butter Uses
Skincare Products
Organic Cocoa butter is used in lotions, moisturizers, creams, soaps, shower gels as it hydrates the skin and locks the moisture in the skin. It contains nutrients that help in repairing skin damage and helps in skin lightening.
Anti-aging Creams
Pure Cocoa Butter is used in anti-aging as it prevents premature aging and it also increases skin elasticity. It is also used to minimize the appearance of fine lines, wrinkles, and other marks on the skin.
Cosmetic Products
Unrefined Cocoa Butter is used in foundations, lip balms, lip gloss, lipsticks, perfumes, eyeliners, kajal, makeup cleansers, sunscreens because it has a sweet fragrance and its texture is very smooth.
Hair Mask & Shampoo
Hair mask and shampoos also use natural cocoa butter as it reduces frizziness and makes hair very silky and shiny. Use products made up of Cocoa butter for hair to nourish hairs completely.
Candle & Soap Making
Pure Cocoa Butter is used to make Soap and Candles because it has a very rich and luxurious fragrance that refreshes the mind and body. It is ultra-hydrating, so it moisturizes the skin.
Anti-allergic Creams
Organic Cocoa butter proves to be effective against rashes, infections stretch marks as it reduces the inflammation and soothes the allergic area. It is also effective against skin problems like eczema and dermatitis.
Cocoa Butter Benefits
Rich in Antioxidants
Cocoa Butter heals and moisturizes skin that has been exposed to various skin damages as it is rich in antioxidants. It also acts as a sunblock by protecting the skin from harmful UV rays.
Youthful & Radiant Skin
Organic Cocoa Butter also improves the skin texture and elasticity and it also diminishes the appearance of stretch marks and other scars. It also removes the dead skin and rejuvenates the skin.
Protects Skin
Natural Cocoa butter is a healthy vegetable fat that nourishes and moisturizes the body. The fat and moisturizing agent in Cocoa Butter helps in protecting the oils that are naturally present in the skin.
Soft and Moisturized Skin
Unrefined Cocoa Butter is one of the finest nourishing and moisturizing skin care products as it is enriched with vitamins, antioxidants, and natural oils that make skin radiant.
Anti-inflammatory
Organic raw cocoa butter has inflammatory properties which protect the skin from rashes, irritation, inflammation, acne, pimples, and skin damage from sunburns.
Improves Skin Texture
Cocoa Butter is beneficial for improving the texture of the skin by coping up with skin issues like dryness, roughness, and scaly skin. The rich and luxurious feel of this body butter makes the skin soft and supple.
Product Specifications
| | |
| --- | --- |
| Product Name: | Organic Cocoa Butter |
| Botanical Name: | Theobroma Cacao Seed |
| Country of Origin: | India |
| CAS No: | N/A |
| Appearance: | White To Light Yellow Fat When Solid,Light Yellow Oil When Fluid |
| Color: | Yellow |
| Free Fatty Acid: | 10.0 % Max |
| Saponification Value: | 170 - 185 |
| Melting Point: | 15-19 °C (59-66.2 °F) |
| Flash Point: | 91ºC |
| Odor: | Blend To Very Slightly Cocoa |
| Solubility: | Insoluble in Water |
| Type: | Body Butter |
| Application Area: | Face, Hair, Body |
| Free From:: | Chemicals, Preservatives, Parabens, Phthalates, Sulfates, SLS, SLES |
| Stroage: | Store in a Cool and Dry place. |
| Shelf Life: | 2 years |
| COA: | |
| MSDS: | |
CAUTION: It is meant only for external use. Do a patch test before applying it to your skin.
Packaging Sizes
Please Note: The packaging shown above is a General Representation of the various sizes and types of packaging available for this product. Not all sizes and types of packaging for this product maybe available at all times.
Buy Cocoa Butter Online at Wholesale Prices
VedaOils is one of the leading Manufacturer and Wholesale Suppliers of Organic & Pure Cocoa Butter in USA. We are the biggest Distributor and Exporter of Cocoa Butter that supplies the finest quality Cocoa butter in bulk quantities and at such discounted prices. Our Raw Cocoa Butter is plant-based so it is organic, natural, raw, chemical-free, and beneficial to skin and overall health. Thus, they can be ideally be used daily for Cosmetics, Skincare, and even edible purpose.
We offer chemical-free, additive-free, and completely natural Cocoa Butter in Bulk at wholesale Price. Our Cocoa Butter is free from any artificially added preservatives, colors, or fragrances. No chemicals, pesticides, sulfates, and parabens were being used in the manufacturing of our products. Our Unrefined Cocoa butter is made up of all plant-based ingredients hence it is completely Vegan-friendly, Cruelty-free, and free from animal-derived ingredients.
Our Pure Cocoa Butter is rich in vitamins and minerals, which will help to nourish and heal your skin, lips, and hair. Our Organic Cocoa Butter packages vary in quantities (14 oz, 7 lb, 55 lb, 2200 lb) so that you can Buy Best Cocoa Butter Online as per your requirement. In addition, you can use the Cocoa Butter from VedaOils for commercial use and as well as make DIY Skin Care and Hair Care products at your home.
VedaOils export our Cocoa Butter worldwide, including the UK, Australia, Dubai, USA, Canada, etc. We also deliver the products worldwide using our logistic partners USPS, UPS, FedEx and DHL, etc. We ensure to deliver the supremely packaged and premium quality products to be delivered at your doorstep. So grab and buy your very own organic, pure, and chemical-free Cocoa Butter from VedaOils.