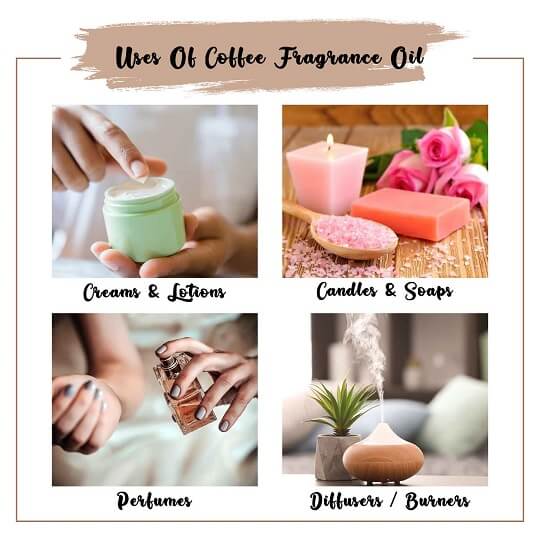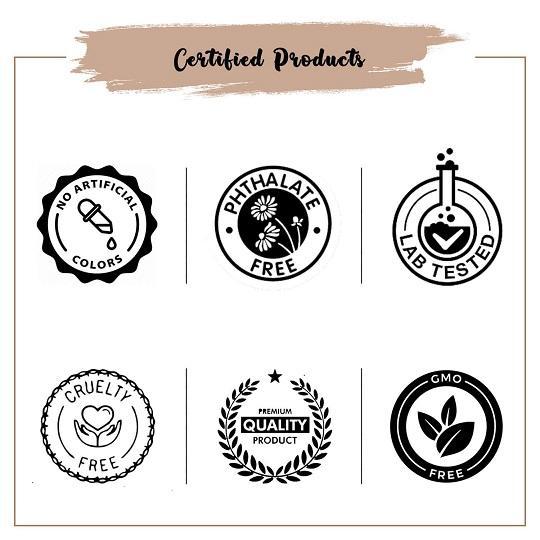 Our Certifications
Coffee Fragrance Oil
Coffee Fragrance Oil has a deep and striking aroma of coffee beans and creamy Vanilla. It also has conspicuous notes of Tonka beans, cocoa, coconut, and amber. The noticeable essences of this aroma oil provide a warm and earthy smell that grabs the attention of many people. Coffee Candle Scent Oil has a decent throw of Coffee fragrance which provides great sensory pleasure.
Aroma oil made from freshly brewed coffee beans contains indulgent scents of roasted coffee and other complementary flavors which floods the room with a delightful scent. Its bold and inviting aromatic notes provide an ultimate bliss by awakening the senses. The fresh and invigorating fragrance of this product also effectively helps to revive the mood and energy.
Coffee Perfume Oil leaves a wonderful trail of deep and cozy aroma that is popularly used to make DIY soap, candles, lotions, etc. This aromatic oil is used to make luxurious and high-end perfumes, colognes, deodorants, and body sprays. Its addicting and obsessive fragrance is a well-known product for making skincare products and bathing products due to its pleasant accent.
Coffee Fragrance Oil Uses & Benefits
Candle Making
Addictive aroma of freshly grounded coffee beans, vanilla, and milk is extremely therapeutic. The restorative aroma of coffee Scented Oil is used for making scented candles at home.
Soap Making
Coffee Fragrance Oil use for soap and cleansing bars to fill them with warm and delightful aroma of roasted coffee beans. It can easily get mixed with melt soap base and liquid soap base.
Perfumes and Deodorants
Aromatic Body sprays like Perfumes, cologne, body mist, and deodorants use coffee bean fragrance oil due to its long-lasting and unique aroma which can catch attention of many people.
Fragrance Diffuser
Air fresheners or Fragrance Diffusers like room freshener, reed diffusers, toilet scents, aromatic car spray use coffee candle scent oil because of the presence of freshly grounded Coffee.
Skincare Products
Body Butter, Lotions, moisturizers, face washes, and toners use coffee perfume oil to instill products with a sweet and distinct aroma. These products are safe for skin and it does not contain allergen.
Lip care Products
Lip products like lip exfoliating scrub, lip balms, lip gloss, lipstick, etc., use coffee scented oil due to its luxurious and rich aroma. This scented oil is completely safe if used in a limited quantity.
How to Use Coffee Fragrance Oil
Aromatic Candle: You can make your favorite scented Candles by imbuing them with a Calm and comforting coffee candle scent oil from Vedaoils. All you need is to mix 0.06 fl oz of fragrance oil for 0.5 lb of candle wax flakes and let it sit for a couple of hours. Make sure you measure your quantities correctly so that the fragrance doesn't bother your sensitivities.
Relaxing Aromatic Bath: Reviving and restoring an aromatic bath in a bathtub helps to relax the mind and body. To enjoy the most amazing aromatic bath You can add 5-6 drops of your favorite fragrance oil in a bathtub full of lukewarm water. Viola! Your aromatic bath is ready for you.
Scented Soap Making: A lightly scented soap bar is appreciated by everyone. Using the fragranced soap helps to provide a luxurious bathing experience. To make your favorite bathing or soap bar you need to add 0.16 fl oz of your favorite aroma oil in a 1 lb soap base and let it sit for a day or so.
Skin Care and Cosmetic Products: Mild and gentle scented cosmetic products and skincare products are liked by almost everyone. But make sure you use your Fragrance oil in very little proportion so that it doesn't react to the skin.
Tip: Make sure you use the fragrance oil in calculated quantities so that it does not react with your skin. You must also conduct all the necessary tests before you apply any of the products directly to your skin.
Product Specifications
| | |
| --- | --- |
| Product Name: | Coffee Fragrance Oil |
| INCI Name: | Coffea |
| Country of Origin: | India |
| Foam: | Liquid |
| Flash Point: | N/A |
| Color: | N/A |
| Aroma: | Fresh, Earthy, and Sweet Floral fragrance |
| Suitable for: | Bath Bombs, Lipsticks, Lip Balms, Facial and Body Scrubs, Creams, Perfume Oils |
| Packaging Type: | As per requirement |
| Storage: | Store in a Cool & Dry place. |
| Shelf Life: | 2 years |
| COA: | |
| MSDS: | |
CAUTION: It is meant only for external use. Therefore, do not consume Coffee Fragrance Oil internally and also keep it away from your eyes as it might irritate.
Packaging Sizes
Please Note: The packaging shown above is a General Representation of the various sizes and types of packaging available for this product. Not all sizes and types of packaging for this product maybe available at all times.
Buy Coffee Fragrance Oil At Wholesale Price
Vedaoils Coffee Perfume oil is one of the most addictive and attention-grabbing scents due to its rich fragrance of roasted coffee, vanilla, and cream. Its lovely and obsessive aroma is quite awakening and refreshing to smell. Coffee aromatic oil is a very versatile product so it can easily be added to infuse the fragrance of Coffee in many products.
We are a leading manufacturer, distributor, supplier, and wholesaler of the best quality Coffee Perfume Oil. We offer all of the fragrance oil on our website at wholesale prices and in bulk quantities. We do not use any chemical-based ingredients like SLS, Parabens, Phthalates, etc., in the manufacturing of our Coffee Fragrance Oil. It is also Vegan-friendly and Cruelty-free so it will be safe for your skin. Our Aromatic oil is highly stable so it can ideally be added to various DIY products.
We ensure to follow certain standard packaging methods and quality check measures while packing our high-grade Scented oil so that you can receive them in perfect condition at your doorsteps. VedaOils offer its Coffee scented oil in packages of different quantities (3.5 oz, 1.1 lb,2.2 lb ,11 lb,22 lb & 44 lb) so that you can order them as per your needs from our website. We export our Coffee Aroma Oil in bulk quantities to various countries like The USA, UK, Canada, Australia, etc., through our logistics partners DHL, FedEx, USPS etc.