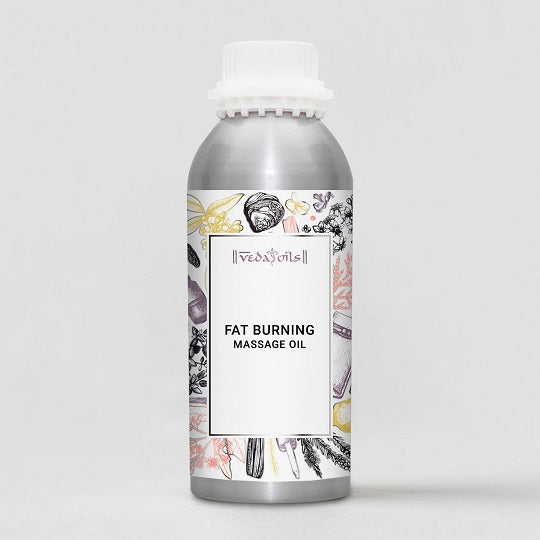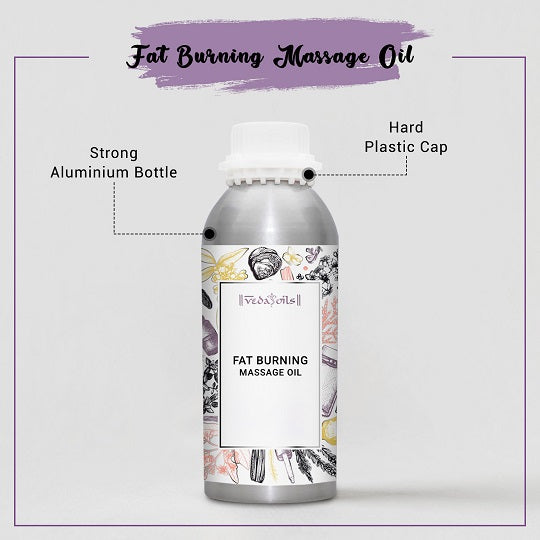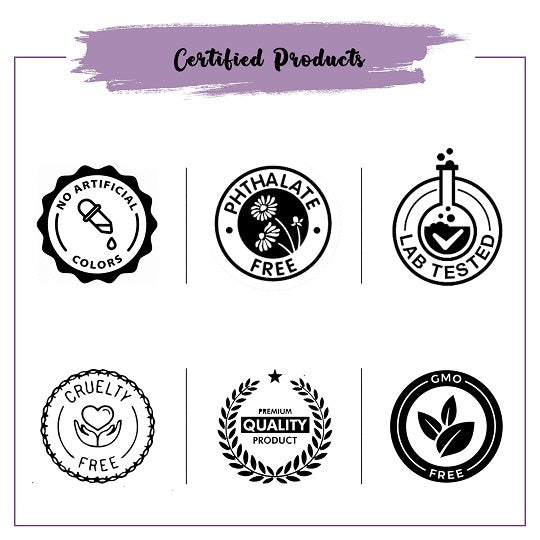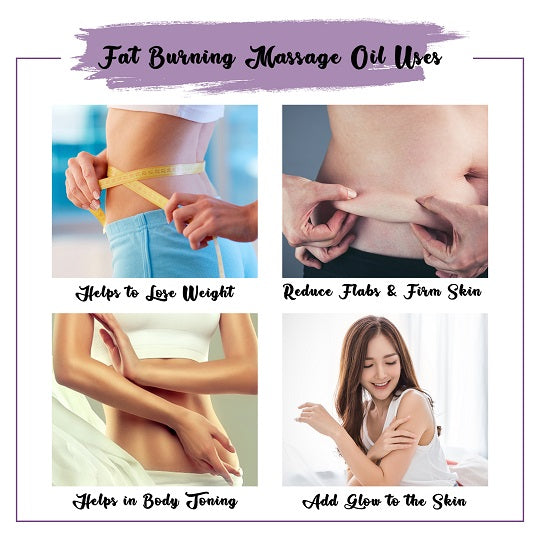 Our Certifications
Fat Burning Massage Oil
Vedaoils Fat burning massage oil is an ayurvedic oil containing a blend of 6 essential oils. Sesame oil, Turmeric essential oil, and Cypress essential oil are among the amazing herbal products that work together to battle stubborn fat and leave your skin smooth, giving your body back its youthful glow. It assists in body toning and skin firming. To help reduce the lumpy look of cellulite, this light body oil is easily absorbed into deeper layers of the skin.
This body oil will slide over your skin effortlessly during your massage without making it greasy. All skin types may use this full-body massage oil. Our natural slimming oil makes skin look younger by promoting skin tightening, slimming, and fighting excess cellulite from the thighs, buttocks, belly, and abdomen. Use this massage oil in conjunction with a balanced diet and an active way of life to lose weight healthily.
Fat Burning Massage Oil Ingredients
Ajwain Essential Oil
Ajwain is also useful for reducing cellulite accumulation's scars and markings left behind. By removing these scars, your body will look clearer and more youthful. It also functions as an antioxidant and clears the body of harmful buildup.
Turmeric Essential Oil
Turmeric Essential Oil is used in massages and boosts the body's natural healing process, increases skin suppleness and firmness, and eases localized discomfort. Creams for spots and markings frequently contain turmeric. When taken consistently, turmeric oil can help you have clear skin by fading scars.
Sesame Oil
Sesame oil defends your skin against oxidative damage caused by free radicals. Its abundance of beneficial fats and lack of trans fats prevents weight gain. It includes a lot of lignans, notably sesamol, which can aid in fat burning. It has been shown to deeply penetrate all seven layers of skin by penetrating your skin pores.
Peppermint Essential Oil
As a powerful appetite suppressor that manages cravings for sugar and other foods, peppermint oil helps prevent overeating. A natural stimulant that increases energy, eases tiredness and sharpens the mind. It can help you feel fuller more quickly and reduces hunger cravings. It also helps the digestive system work better and calms an unsettled stomach.
Lime Essential Oil
Lime essential oil can aid in preventing weight gain. It has been demonstrated that d-limonene can help cure and prevent high cholesterol, blood sugar, and high fat levels. The oil boosts energy levels, improves good digestion, and aids in the removal of toxins from the body. Lemon essential oil's aroma uplifts your spirit and encourages the breakdown of body fat.
Linseed Oil
Alpha-linolenic acid can be found in abundance in flaxseed oil/ linseed oil. The body transforms this necessary polyunsaturated fatty acid into omega-3 fatty acids, which aids in weight management. The necessary fatty acids lessen inflammation. Additionally, flaxseeds are a fantastic source of thermogenic, a substance that burns fat.
Fat Burning Massage Oil Benefits
Adds Glow to the Skin
Hydrating qualities, the vital fatty acids and vitamin E in fat burning massage oil aid in keeping skin cells moisturized and retaining skin elasticity. Because of its high concentration of vital fatty acids, it is excellent for adding glow to the skin.
Helps to Lose Weight
A significant amount of the anti-inflammatory enzyme in this fat burning massage oil aids in the reduction of fat or fatty tissue. Together, these components tighten skin, aid in weight loss and lessen the appearance of cellulite.
Helps in Body Toning
Our fat burning massage oil provides skin with a firmer and more toned appearance by tightening slack tissues, detoxifying the body, and flushing out stored salt and water. Vitamin E helps to reduce the onset of aging symptoms.
Relaxes Joints & Muscles
Antispasmodic, anti-inflammatory, relaxing, and antioxidant qualities of our natural fat burning massage oil aid to ease muscle and joint strain. It also reduces pain, spasms, and cramps in the muscles.
Detox and Cleansing
By purifying the body from the inside out, D-limonene, which is present in this massage oil, aids in removing toxins from the body. By firming, toning, and sculpting the fatty tissues already existing, detoxifying the body eventually leads to removing extra fat.
Reduces Flabs & Firm Skin
To tone the body and get rid of fat and stretch marks, massage oil is the ideal solution. Increased blood flow helps tighten skin and treat stretch marks and saggy skin, and fat burning massage oil does both of these very well.
Product Specifications
| | |
| --- | --- |
| Product Name: | Fat Burning Massage Oil |
| Brand: | VedaOils |
| Country of Origin: | India |
| Ingredeints List: | Sesame Oil, Turmeric Oil, Ajwain Oil, Lemongrass Oil, Linseed Oil, Lime Oil |
| Foam: | Liquid |
| Alcohol-Free: | Yes |
| Usage/Application: | Body Massage / Aromatherapy |
| Packaging Type: | As per requirement |
| Storage: | Store in a Cool & Dry place. |
| Shelf Life: | 2 years |
| Aroma | No Smell |
| Color | Light To Dark Yellow |
CAUTION: It is meant only for external use. Do a patch skin test before applying it to your skin. Dilute it before topical application. Avoid direct exposure to sunlight.
Packaging Sizes
Please Note: The packaging shown above is a General Representation of the various sizes and types of packaging available for this product. Not all sizes and types of packaging for this product maybe available at all times.
Buy Fat Burning Massage Oil Online at Wholesale Price
VedaOils is one of the leading Wholesale Suppliers, Manufacturer, and Exporter of Belly Fat Burning Massage Oil and other Massage Oil in USA. We offer the purest forms of Fat Burner Massage Oil for to our customers. No chemicals, additives, or fillers are added to them. They also do not contain any artificial colors, preservatives, and fragrances. Therefore, they prove to be ideal for daily use.
We employ numerous tests and quality checks to ensure that only Premium-quality Fat Burner Massage Oil reaches you. The highest quality and packaging standards are employed to deliver desirable results on usage. Our portal uses a secure payment gateway to safeguard your transactions. Buy Belly Fat Burning Massage Oil from VedaOils Online according to requirements at the best competitive prices in the market.
We export our high-quality massage oils to the US, Canada, UK, Australia, and other countries. Our products follow the highest standards when it comes to quality and purity. We assure you that you will not regret choosing us! We also deliver the products of different packages Sizes ( 3.5 oz, 1.1 lb,2.2 lb,11 lb,22 lb and 44 lb) throughout the world using our logistic partners DHL, FedEx etc. Do not miss this excellent opportunity to buy chemical-free, fresh, and multi-purpose fat burning body massage oil from VedaOils.
Frequently Asked Questions