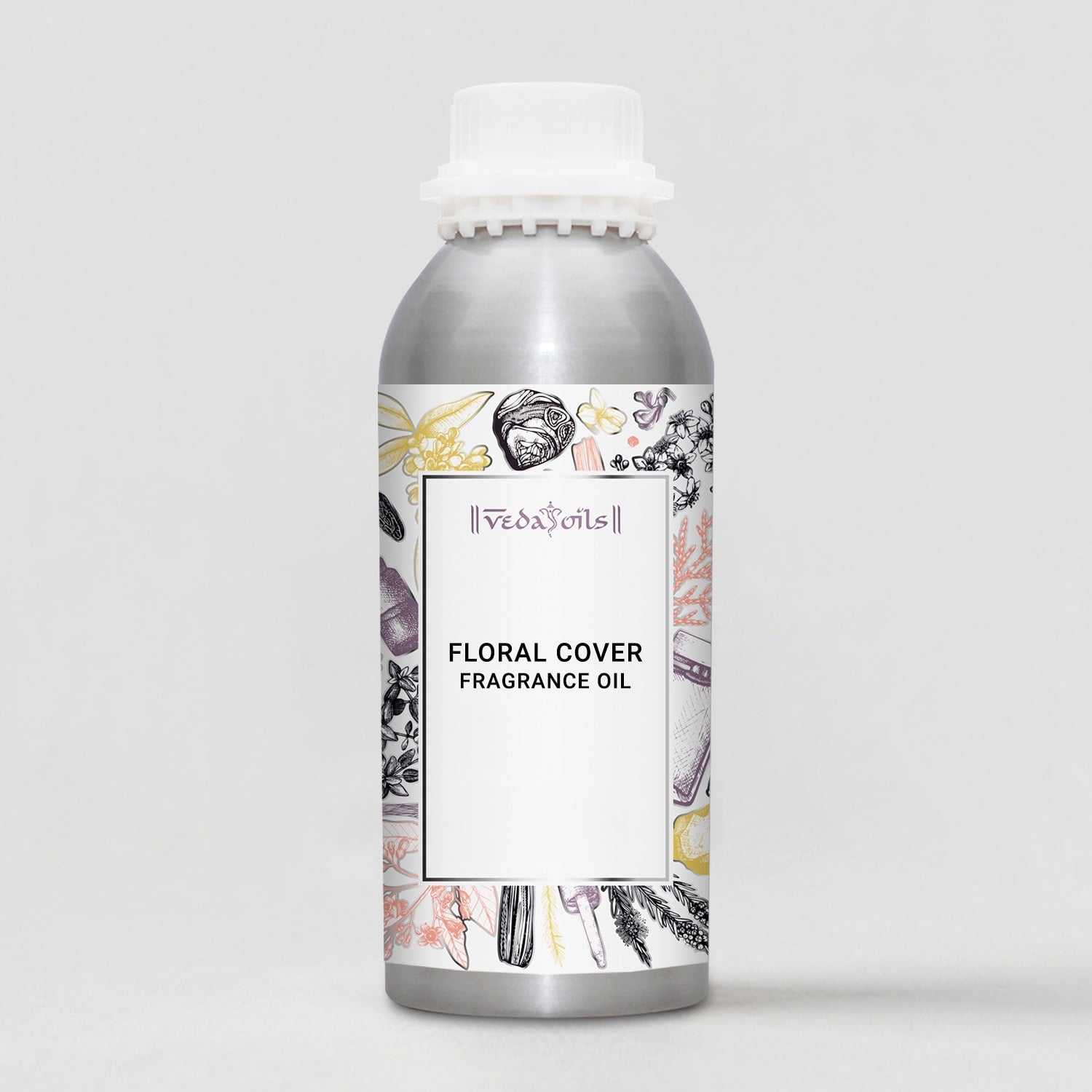 Our Certifications
Floral Cover Fragrance Oil
Floral cover fragrance oil spreads the magic of exotic aroma of an amazing blend of scent notes of flowers like Jasmine, White flower, Rose and Lavender. The exotic blend of Floral cover fragrance oil is perfect for curating candles, scented soaps, perfumes, cosmetics and bath care products.
The exotic contrast of Jasmine with rose, lavender and white flower makes this fragrance even more captivating. The presence of natural ingredients makes this fragrance oil add to different skincare products as well. VedaOils offer the finest quality Floral Cover Fragrance oil crafted using the most potent organic ingredients. Ideal fragrance oil for creating products inspired by nature.
Floral Cover Fragrance Oil Uses & Benefits
Room Freshner
The subtle amalgamation of Rose and Lavender floral scents diffuses a refreshingly sweet and herbal scent. Using floral cover fragrance oil in room fresheners and diffusers helps eradicate the bad odour from the environment.
Candle Making
Another way to use the versatile aroma of floral cover fragrance oil is for candle making. The sweet floral notes of Jasmine and rose have the ability to enhance one's mood. The oil has the ability to make the atmosphere comforting and relaxing.
Scented Soap Making
Floral cover fragrance oil features the most natural scents of flowers like white flowers, Jasmine rose, and lavender, which are ideal ingredients for making a different kinds of scented soaps. The fragrance is perfect for curating liquid soap bases as well.
Cosmetics Care Products
Cosmetic products like face toners, body mists, and face packs use Floral cover fragrance oil to infuse the magical fragrance of rose, lavender and Jasmine. The floral and refreshing aroma of the fragrance oil leaves a long-lasting smell.
Bathing Products
Floral cover fragrance oil has a pleasant scent that can enhance the overall impact of your bath care items, such as shower gels, bathing oils, bath bombs, and more. The fragrance oil floral extracts freshness will keep you feeling good all day.
Incense sticks
Fragrant incense sticks help us spiritually and add a refreshing vibe to the environment. Adding floral cover fragrance oil to incense sticks brings home a relaxing natural aroma that purifies the air and calms the mind.
How To Use Floral Cover Fragrance Oil?
Scented Candle: Scented candles with Calm and comforting aromas are made using Fragrance oil in a calculated quantity. You can use 0.5 fl oz of Rose oil for 8.8 oz candle wax flakes to obtain a perfect smelling scented candles. Make sure you measure your quantities correctly so that the fragrance doesn't get overpowered.
Soap Making: A nice fragranced soap bar gives a luxurious and rich feel to the skin. You can add your favorite 0.3 fl oz of aroma oil in a 5.2 oz soap base to get perfectly scented soap bars.
Aromatic Bath: A good aromatic bath in a bathtub helps to relax and calm the body. You can add 5-6 drops of fragrance oil in a bathtub to enjoy a rejuvenating and relaxing session of the aromatic bath.
Skin Care and Cosmetic Products: Mild and gentle scented cosmetic products are made using Fragrance oil in a very little proportion so that it doesn't react to the skin.
Note: The concentration of pure Floral Cover Fragrance Oil needs to be varied according to the purpose of use.
Product Specifications
| | |
| --- | --- |
| Product Name: | Floral Cover Fragrance Oil |
| INCI Name: | Rosa Damascena |
| Country of Origin: | India |
| Foam: | Liquid |
| Flash Point: | N/A |
| Color: | Pale yellow to amber in color. |
| Aroma: | Fresh, Earthy, and Sweet Floral fragrance |
| Suitable for: | Bath Bombs, Lipsticks, Lip Balms, Facial and Body Scrubs, Creams, Perfume Oils |
| Packaging Type: | As per requirement |
| Storage: | Store in a Cool & Dry place. |
| Shelf Life: | 2 years |
| COA: | |
| MSDS: | |
CAUTION: It is meant only for external use. Therefore, do not consume floral cover fragrance oil internally and also keep it away from your eyes as it might irritate.
Packaging Sizes
Please Note: It is meant only for external use. Therefore, do not consume floral cover fragrance oil internally and also keep it away from your eyes as it might irritate.
Buy Floral Cover Fragrance Oil at Wholesale Price
VedaOils is a leading manufacturer, distributor, and wholesaler of premium quality Floral Cover Fragrance Oil in USA. Our Pure Floral Cover Fragrance Oil is free from toxins and alcohol-based ingredients. It is also Vegan-friendly and Cruelty-free so that you can add it to any ingredients of your choice. The formula and consistency of this Fragrance oil are perfect for adding in any DIY product as it is highly stable.
We offer Natural Floral Fragrance Oil wholesale price in bulk quantities for personal and commercial purposes. It is extracted from the natural amber notes. This aroma oil has boundless uses and benefits. It is also very versatile. The olfactive notes of this scented oil contain hints of honey, mossy, spicy, and fruity fragrance, which can be used in different ways.
Now you can order floral cover fragrance oil at best-assured prices. Get big discounts, cashback offers, and great deals while buying fragrance oils online from the VedaOils platform. We follow certain packaging standards while packing our high-grade fragrance oil so that you can receive them in perfect condition at your doorsteps.
VedaOils offers its Pure Floral Cover Fragrance Oil in packages of different quantities (3.5 oz, 1.1 lb, 2.2 lb,11 lb,22 lb,44lb) so that you can order them as per your needs from our website. We export our Aroma Oil in bulk quantities to various countries like The USA, UK, Canada, Australia, etc., through our logistic partners DHL, FedEx etc.
Frequently Asked Questions