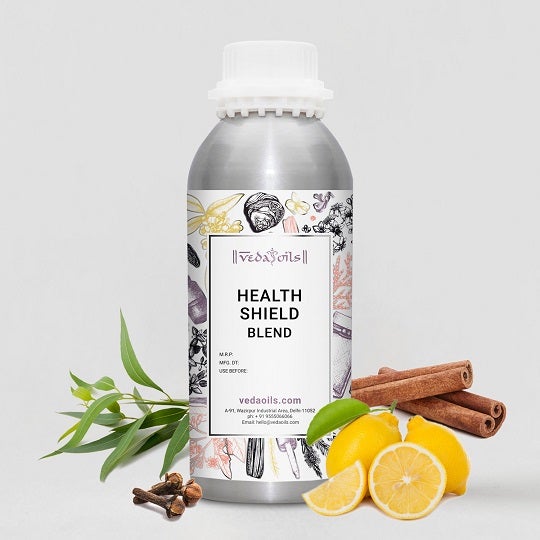 Our Certifications
Health Shield Blend Ingredients
Clove Essential Oil
Clove essential oil is rich in antimicrobial properties that help to kill bacteria and germs that cause viral disease or fever. Clove essential oil used in Health Shield Essential Oil Blend allows it to protect your body from external threats and aid your immune system.
Cinnamon Essential Oil
Enriched with antifungal and anti-inflammatory properties Cinnamon leaf essential oil has a variety of health and beauty benefits. It can also be used in aromatherapy as a relaxant. The strong aroma of cinnamon leaf oil eases anxiety and stress.
Rosemary Essential Oil
Inhaling rosemary essential oil helps cure virals, cold, and cough. Inhalation of rosemary oil makes it an effective remedy for your respiratory health. Health benefits of rosemary oil allow Health Shield Blend to work effectively for strong immunity.
Lemon Essential Oil
Lemon essential is a great disinfectant; it is not only popular for its fresh citrusy smell but also for its numerous health and therapeutic benefits. Lemon essential oil-induced this synergy blend improves your mood and relaxes you after a long tiring day.
Eucalyptus Essential Oil
Eucalyptol has been shown to have strong antibacterial, antiviral, and anti-fungal action, this oil itself is a miracle. Health Shield Essential Oil Blend oil does wonders for the immune system and your energy levels.
Thyme Essential Oil
Thyme Essential oil is a natural antibiotic that demonstrates good efficacy against bacteria and germs. Thyme oil-induced Health Shield Essential Oil creates a protective barrier when applied topically that does not let germ and virus come near to your body.
Health Shield Blend Benefits
Aromatherapy Oil
VedaOils' Health Shield Essential Oil Blend kills bacteria and promotes a healthy immune system. Aromatherapy of Health safety blend cures many viral, cold, cough, and other diseases caused by germs, bacteria, and fungus.
Massage & Bath Oil
Rich in anti-inflammatory and pain-relieving properties VedaOils' Health Shield Oil Blend is a topical ailment for eases the pain and restlessness of viral fever and so on. Pour a few drops to either massage oil or bath oil for ultimate relaxation.
Insect Repellent
Antibacterial properties of Health synergy blend not only kills bacteria but also repel insects and mosquitos. You can pour few drops of health oil blend into carrier oil and rub it to your exposed hands and legs to keep mosquitoes and insects away.
Skin Care
Our Health Shield Blend is packed with antioxidants and anti-inflammatory properties that help treat many skin issues like, acne, blemishes, uneven skin tone, and open large pores. It is a great natural cleanser too.
Relives Swelling
Our Health Care Essential Oil Blend is the best Ayurvedic remedy for relieving swelling, inflammation, bruising, and tensed muscle. You can use it topically with carrier oil or pour a few drops in aromatherapy.
Boost Immunity
Health Shield Synergy Blend provides protection against germs and promotes a healthy immune system. You can use it topically or in aromatherapy to benefit from its numerous medicinal and therapeutic qualities.
Packaging Sizes
Please Note: The packaging shown above is a General Representation of the various sizes and types of packaging available for this product. Not all sizes and types of packaging for this product maybe available at all times.
Frequently Asked Questions