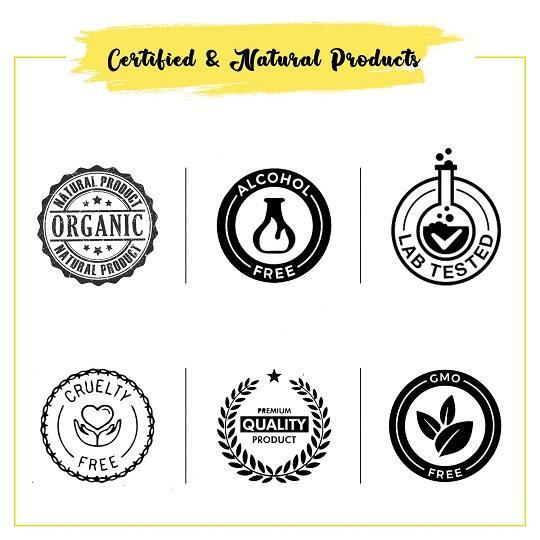 Our Certifications
Helichrysum Hydrosol Water
Helichrysum is well known for its unparalleled skin toning and healing properties. It is excellent as a stand alone skin toner for all skin types, especially mature and/or very dry skin. Herbalists also use it in pain remedy formulas for bruises, sprains and sore muscles. It holds a warm - vaguely spicy scent that would blend well, if desired, with other hydrosol waters or worked into a lotion or healing salve recipe.
Obtained from the flowering tops of the Helichrysum plant via steam distillation, Helichrysum Hydrosol exudes a herbal aroma with earthy and sweet notes. It is generally useful for treating skin irritation. Therefore, you may find it in several cosmetic and skincare applications. Its gentle and honeyed scent enables you to include it in body mists, deodorants, and other fragrances.
Due to its dilute nature, you may apply it on your skin directly without mixing it with any diluent like carrier oils. As Helichrysum Floral Water soothes the mind and senses, it is often considered for aromatherapy treatments. When added to hair care or skincare products, it acts as a perfume enhancer and improves their therapeutic benefits. You may also use it for massages as it heals different types of body pain. It may also be diffused to tackle issues like low mood or sleeplessness.
Helichrysum Hydrosol can be used in lotions, creams, bath preparations or straight on the skin. They provide mild tonic and skin cleansing properties and are generally safe for all skin types. We manufacture our waters with their therapeutic value to the skin and body in mind, we do not market our waters as a scent additive - though of course all waters will have a unique scent, some will be significantly lighter in scent than others will this is because of the plant material they are steamed from.
Helichrysum Hydrosol Uses
SkinCare: Helichrysum from Corsica is a precious treasure for the skin. It excels at enhancing skin health & beauty. This aromatic water rejuvenates, stimulates collagen production, enhances microcirculation, reduces age spots, and if used over time, reduces facial lines & wrinkles.
Heal Tissues Faster: Regenerates, purifies and speeds healing. Supportive for injured areas, womb (moon cycle discomfort, after birth or miscarriage), breasts, and skin imbalances.
Aromatherapy: Considered a wish-fulfilling gem, our helichrysum hydrosol enhances spiritual practice and editation. Uplifts, stimulates creativity, and aids manifestation.
Herbal therapies: Regenerates tissue and supports health when a woman has experienced trauma in the reproductive area. Best when used with other herbal therapies for a holistic approach.
Face Toner
Our natural Helichrysum Hydrosol is exceptional when it comes to giving a firm yet soft texture to your skin. You may incorporate it in your beauty-care regime as it reduces dull and saggy skin to give a youthful appearance to your face.
Aromatic Bath
Adding our immortelle hydrosol to bath water will reduce body pain and relax your nerves. You can take this bath before going to bed to deal with insomnia. Aromatherapists often include in their therapies to support the mental health of their patients.
Linen Sprays
Amazing scent of Helichrysum Hydrosol can prove to be perfect for making linen sprays. You may even include it in room sprays to eliminate bad odor from your rooms. Makers of car sprays can also add them to their products.
Perfumes
Rich and invigorating fragrance of Helichrysum Hydrosol enables you to add it in perfume blends. It can also be added to deodorants, body sprays, colognes, etc., as its herbal aroma with a twist of earthy notes prevents foul odor due to sweat, dust, and others.
Moisturizers
Due to the high water content of helichrysum hydrosol, it gets absorbed in your skin pores readily. It also conditions your skin and heals sensitive, dry, and delicate skin. All these properties make it a good choice for makers of body lotions and moisturizers.
Stretch Marks Remover
Soothing properties of our best Helichrysum italicum flower water, along with its ability to heal damaged skin, make it a key ingredient of stretch mark remover. You may also use it to heal cut marks and other irregularities of your face.
Helichrysum Hydrosol Benefits
Soothes Sunburns
Anti-inflammatory properties of immortelle hydrosol can be capitalized to make creams and ointments that heal sunburns, wounds. You may also apply it directly over the affected area to reduce the inflammation associated with cuts and burns.
Heal Sore Muscles
Athletes or other people who engage in strenuous physical activities can use this floral water to heal or repair their sore muscles. Our organic Helichrysum Hydrosol compresses the muscle groups, and its cooling effect instantly reduces the strain.
Refreshes Mood
Diffuse helichrysum floral water to revive your spirits if you feel low or depressed after work or exercise. It not only refreshes your mind but also eases stress and anxiety. It may also provide relief from fatigue and negative thoughts.
Cleanses Skin
Incorporate helichrysum hydrosol in your regular skincare regime for deep cleansing of your skin. It removes unwanted oil, dirt, and other toxins to replenish your skin's natural tone and softness. You may also use it to make DIY face scrubs, body washes, and similar products.
Soothe Scalp Irritation
Helichrysum italicum flower water improves the health of your hair by making it strong. It does so by promoting healthy blood circulation in the scalp region, and it also boosts hair growth and keeps your scalp dandruff free. It also proves to be effective in soothing scalp irritation.
Cough Relief
Inhale helichrysum hydrosol or use it via aromatic baths to get relief from cold and cough. It provides relief by breaking mucus and caters to relief from congestion by supporting healthy breathing. By diffusing it, you can deodorize the surrounding air and prevent chances of cold and viral infection.
Product Specifications
| | |
| --- | --- |
| Product Name: | Helichrysum Hydrosol Water |
| INCI Name: | Helichrysum Italicum |
| Raw Material Source: | Helichrysum leaves |
| Extraction Process: | Steam Distillation |
| CAS Number: | 90045-56-0 |
| Country of Origin: | India |
| Suitable For: | Skincare Items, Haircare, Cosmetic Products, Perfume etc. |
| Color: | Colorless |
| Solubility : | Soluble In Water And Alcohol, Insoluble In Fixed Oils |
| Storage: | Store in a Cool & Dry place. |
| Shelf Life: | 2 years |
| COA: | |
| MSDS: | |
Packaging Sizes
Please Note: The packaging shown above is a General Representation of the various sizes and types of packaging available for this product. Not all sizes and types of packaging for this product maybe available at all times.
Shop Helichrysum Hydrosol at Low Price - US Bulk Supplier
Vedaoils is the largest manufacturer, supplier, wholesaler and seller of Helichrysum Hydrosol. We promise to indulge you in the freshness and quality of our wide-range products, including our Organic Helichrysum Flower Water. Vedaoils do not compromise the quality of the products when it concerns your health and beauty. We assure you that we adopt the highest quality standards in production and packaging, delivering the ultimate, premium quality product to you.
We follow strict packaging standards while packing our high-grade Helichrysum Hydrosol so that you can receive them in perfect condition at your doorstep. We offer Vedaoils Pure Distilled Helichrysum Floral Water in packages of different quantities to order them as per your needs from our website. We aim to provide you with the finest of the goods, giving you the richness and the goodness of purely natural ingredients.
You can purchase Vedaoils Helichrysum Italicum Flower Water from our online store, from the comfort of your home at the most affordable prices and safe payment methods. Our Helichrysum Flower Water not only caters to your cosmetic and beauty needs but also the preparation of cleaners, room sprays and more. Check out the bulk prices of our products and avail of huge discounts.
Besides being a fine manufacturer in the Indian market, Vedaoils quickly emerges as a leading producer and exporter of Organic Immortelle Hydrosol. Therefore, it does not contain chemicals or artificial preservatives and is an excellent alternative to synthetic fragrances and oils. We export products globally to countries such as UK, Canada, Australia and many more. Our logistics partners like UPS. USPS,DHL, FedEx, etc.
Frequently Asked Questions