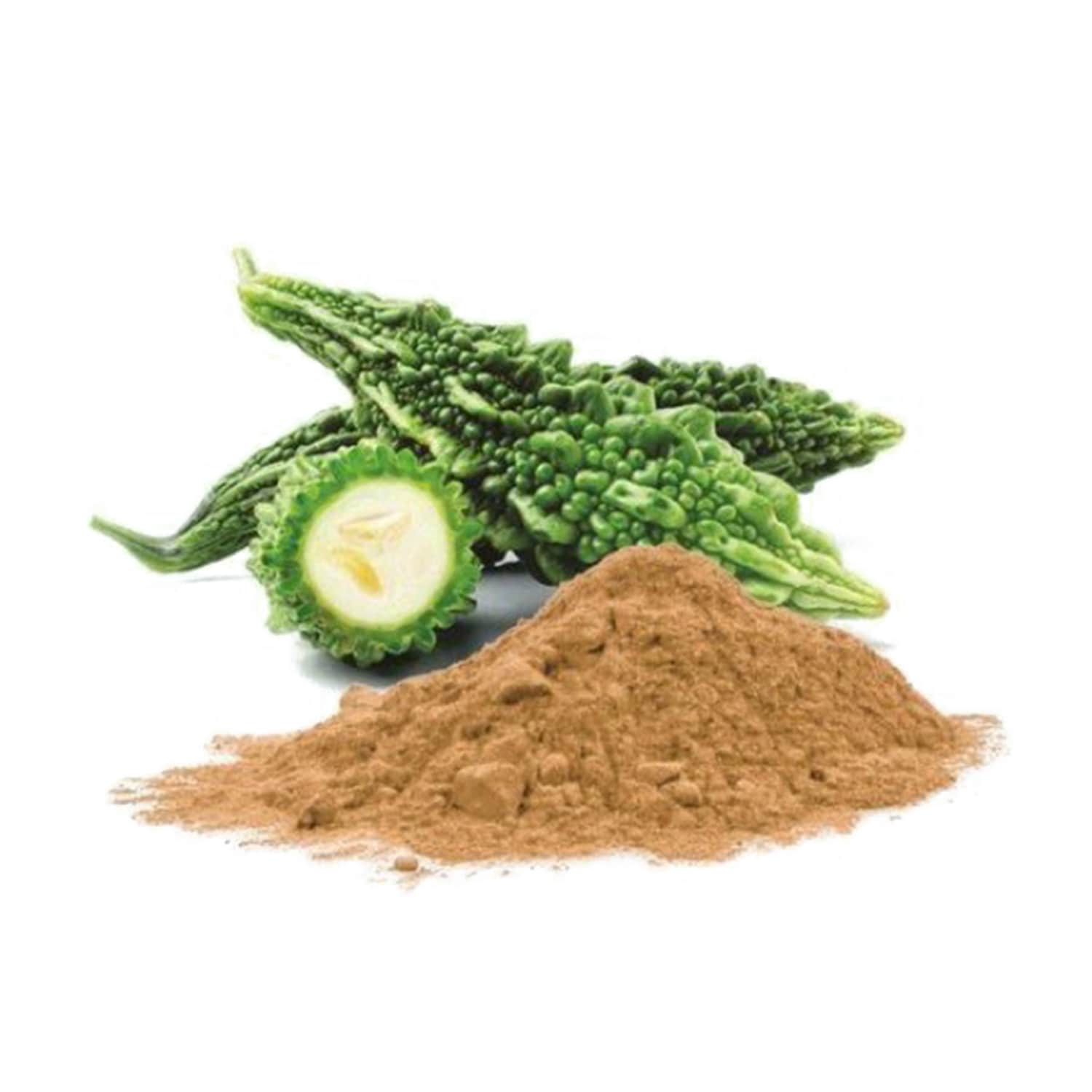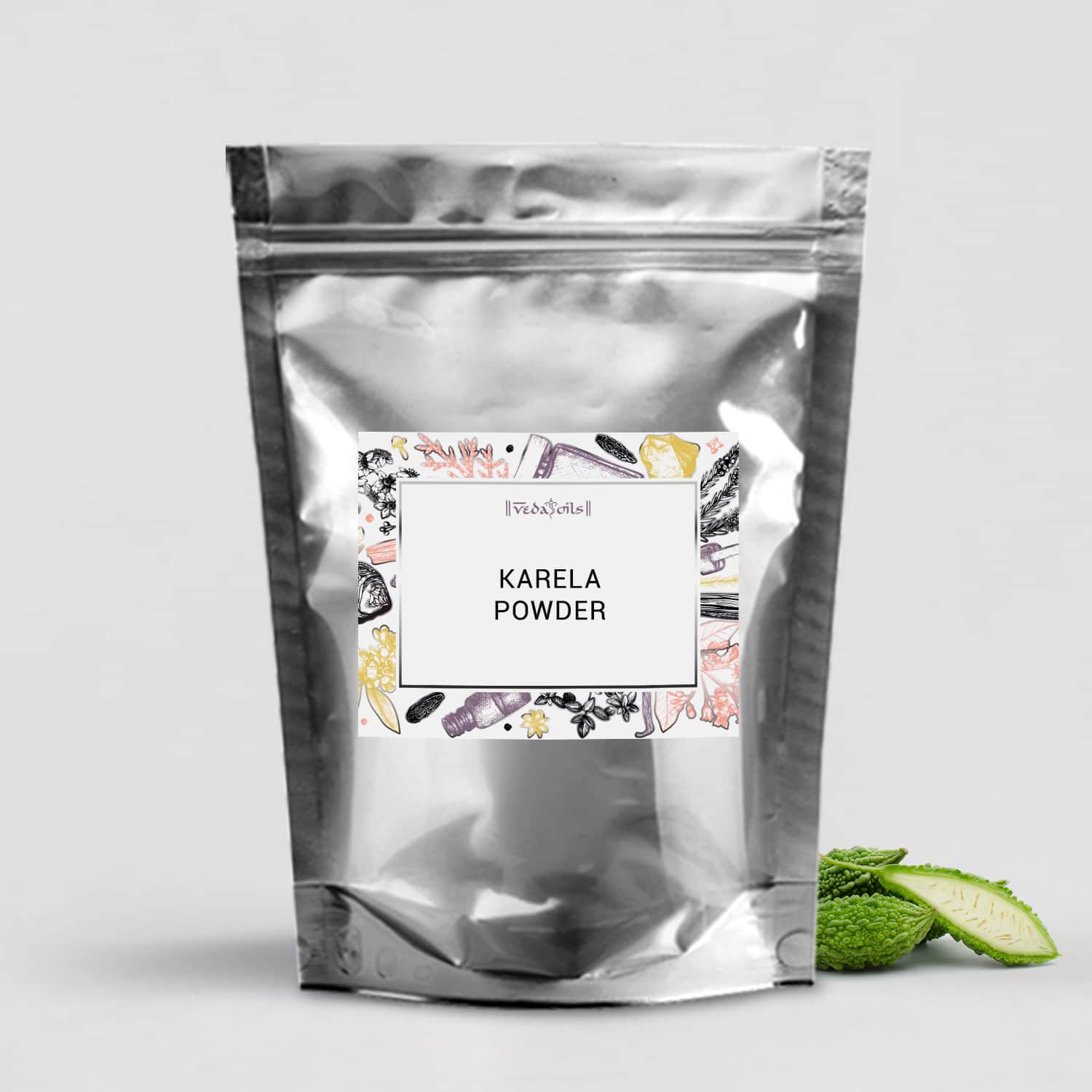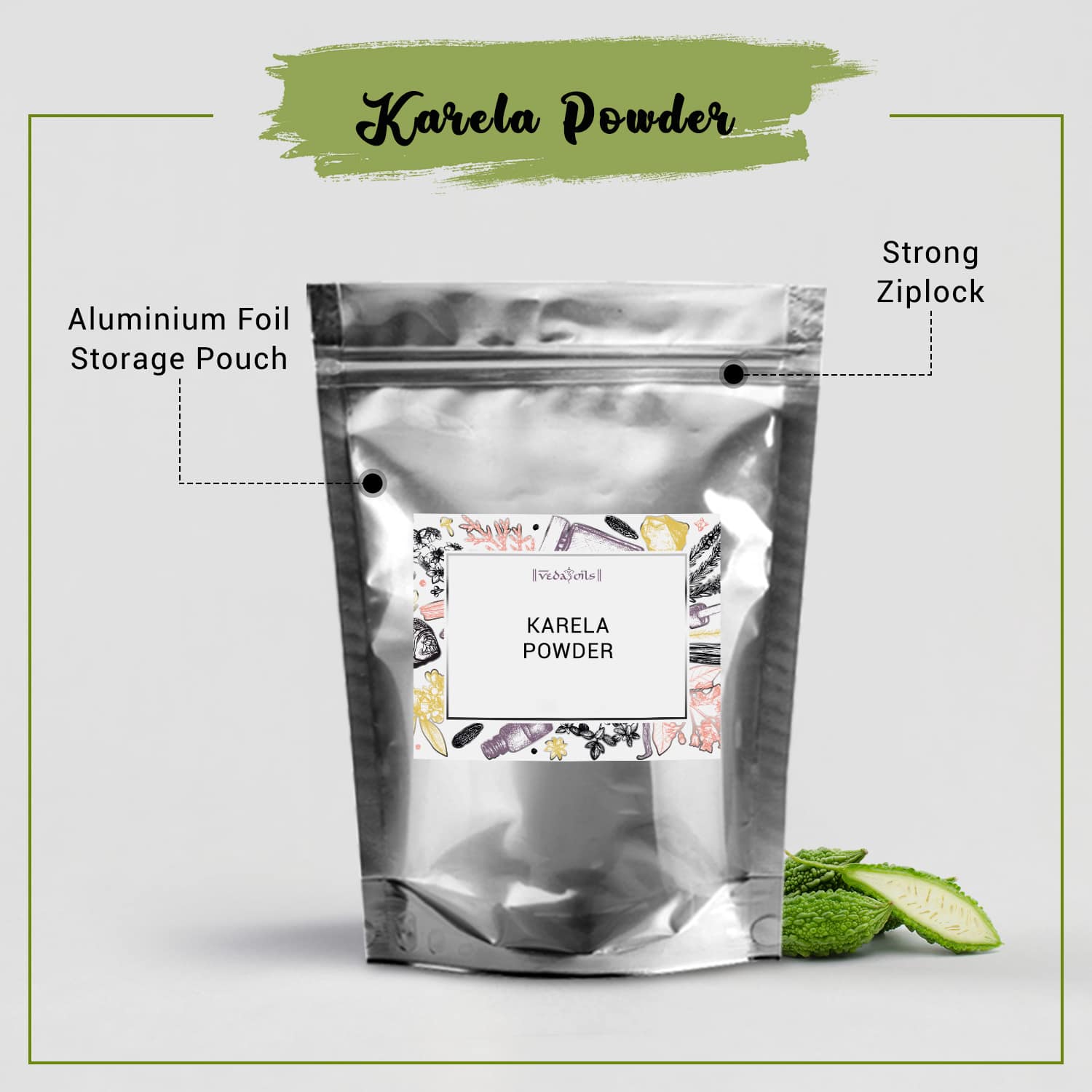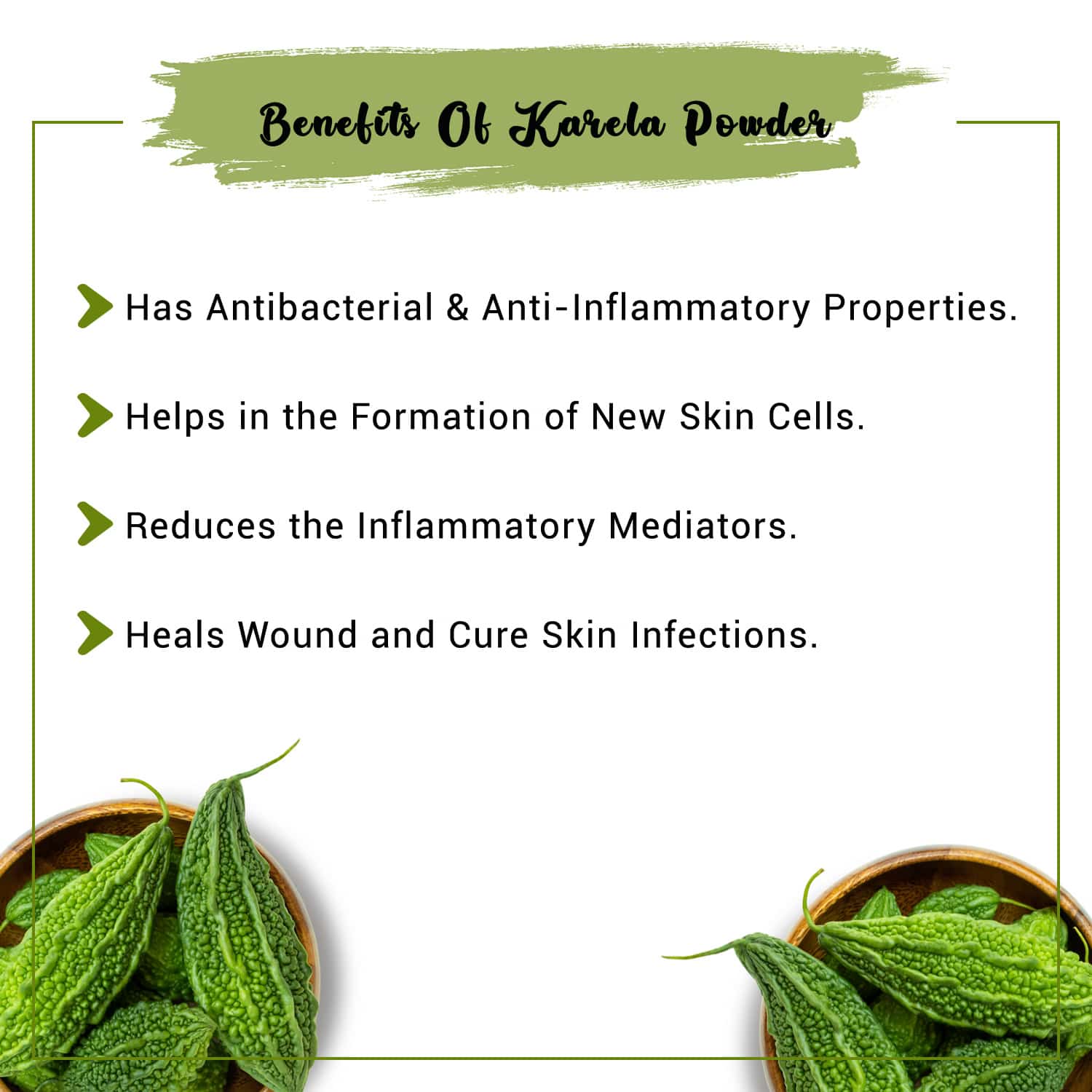 Our Certifications
KARELA POWDER
Karela powder is used to cleanse toxins from the skin and overall body. The powder regulates carbohydrate metabolism and manages blood sugar levels. The powder is very effective on skin for combating tiching, scabies and other fungal infections. Karela powder has antioxidants that protect skin from sideases and cell damages.

Karela powder is rich in antioxidants and vitamins that are very useful for the skin. The powder reduces signs of aging and fights acne. The powder is useful in treating skin infections and used in hair care products too. Karela powder combats dandruff, hair loss and the issues of split ends.
Benefits of Karela Powder
Improves Skin Health
Antioxidants and vitamins A and C, which are both good to the skin, are abundant in karela powder. It fights acne and other skin flaws while also slowing down the ageing process. It can be used to treat ringworm, psoriasis, and itching, among other skin conditions.
Healthy Hair
Karela powder adds shine to hair and helps to prevent dandruff, hair loss, and split ends. It also adds volume to hair, making it more luminous. This powder is also good for your scalp because it soothes irritable and greasy scalps.
Controls Diabetes
A molecule in bitter gourd acts similarly to insulin. It helps persons with type I and type II diabetes lower their blood glucose levels. Diabetics must reduce their medication dose when consuming karela powder because it is so effective.
Increases Immunity
Karela powder is a wonder ingredient for battling infections, especially in the colder months. It also aids in the relief of indigestion, constipation, and other digestive issues that are common during this time of year. Bitter gourd is abundant in antioxidants, which assist to protect the body from free radical damage.
Beneficial for Vision
Karela powder, high in Vitamin A and Beta Carotene, improves vision and helps to avoid vision problems including cataracts and macular degeneration. It is also recommended for children who develop nearsightedness at a young age since it helps to limit the following loss of vision.
Gout Relief
Karela powder, which is abundant in iron, potassium, magnesium, and other critical vitamins and minerals, relieves pain and lowers uric acid levels in the body. It also helps to relieve the swelling and inflammation that gout causes.
Uses of Karela Powder
Blood Purifier
Karela powder is an instant blood purifier due to its antibacterial and antioxidant properties. Increase blood circulation, eradicate infections from the blood, and flush out toxins by consuming this wonderful veggie powder at least twice a week.
Skincare Remedies
Karela powder is frequently applied to the skin to keep it smooth, clean, and youthful-looking. It can be used as a topically applied exfoliator to exfoliate dead skin cells and prevent acne and clogged pores.
Health Supplements
Karela powder boosts your immune system and protects you from a variety of illnesses. The nutrients in this powder aid in wound healing, bodily tissue growth, and damaged cell regeneration, among other things.
Herbal Tea and Juices
Karela powder contains health-promoting components that help boost the body's immunity, which is why it's used in herbal teas and smoothies. They are high in vitamins and antioxidants, both of which are beneficial to your general health.
Haircare Products
Topically, karela powder is used to enhance hair growth and scalp health. This antioxidant-rich powder may aid in the decrease of oxidative stress and, as a result, hair growth.
Medicinal Remedies
Constipation, intestinal worms, and ulcers are among the digestive and stomach ailments that karela powder can help with. It includes antioxidants, which aid to prevent free-radical damage and is employed in many therapeutic therapies.
Product Specifications
| | |
| --- | --- |
| Product Name: | Karela Powder |
| Brand Name: | VedaOils |
| INCI Name: | Momordica Charantia |
| Manufacturing Process: | It is made from dried karela. |
| Country of Origin: | Made in India |
| Storing Instruction: | Cool and dry place |
| Shelf Life: | 1 years |
CAUTION: It is meant for external purposes. Keep it away from the reach of your kids and avoid direct contact with eyes.
Packaging Sizes
Please Note: The packaging shown above is a General Representation of the various sizes and types of packaging available for this product. Not all sizes and types of packaging for this product maybe available at all times.
Buy Karela Powder from VedaOils
Vedaoils is one of The USA's major manufacturers and distributors of Karela Powder. It manufactures herbal powders at its facilities using high-quality plant-based components and scientific procedures. VedaOils herbal powder is vegan-friendly, cruelty-free, and fully natural. There are no artificial colors, chemicals, or scents added.

Our Karela Powder has no chemicals, parabens, sulfates, or pesticides. We make certain that high-quality packing requirements are followed in order to deliver the best quality Karela Powder to your door. You may Buy Herbal Powder Online from VedaOils at a discounted price for both business and personal use. It has excellent texture and consistency, therefore it may be used for any DIY project at home.

We sell our pure Karela Powder in bulk as well as in packets of varied sizes so that you may buy it as needed. We ship natural herbal powder all over the world, including the United Kingdom, Australia, Dubai, Canada, etc. We ship our products all around the world with the help of several logistics partners. So, don't pass up this opportunity and get the best premium quality herbal powder from VedaOils.
Frequently Asked Questions