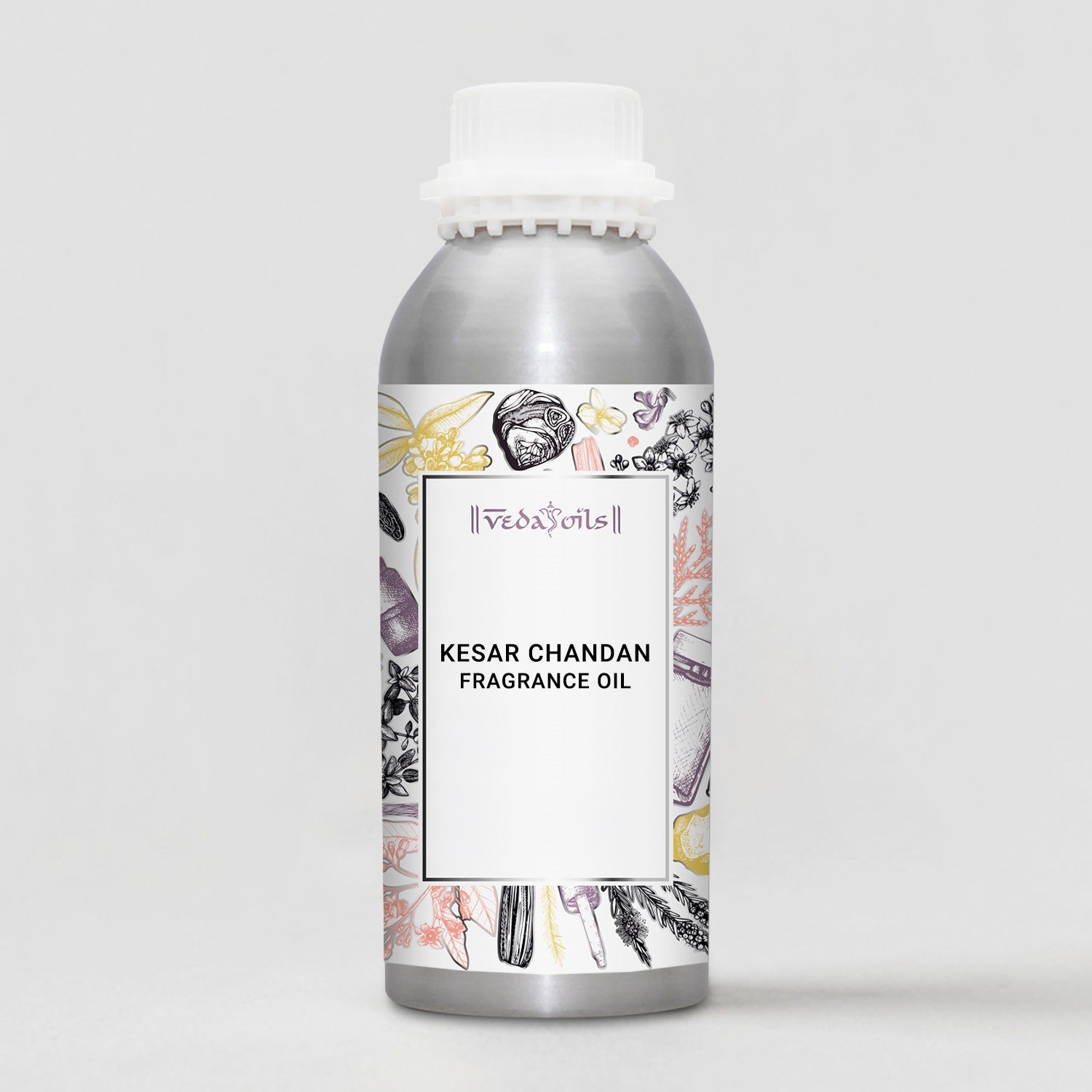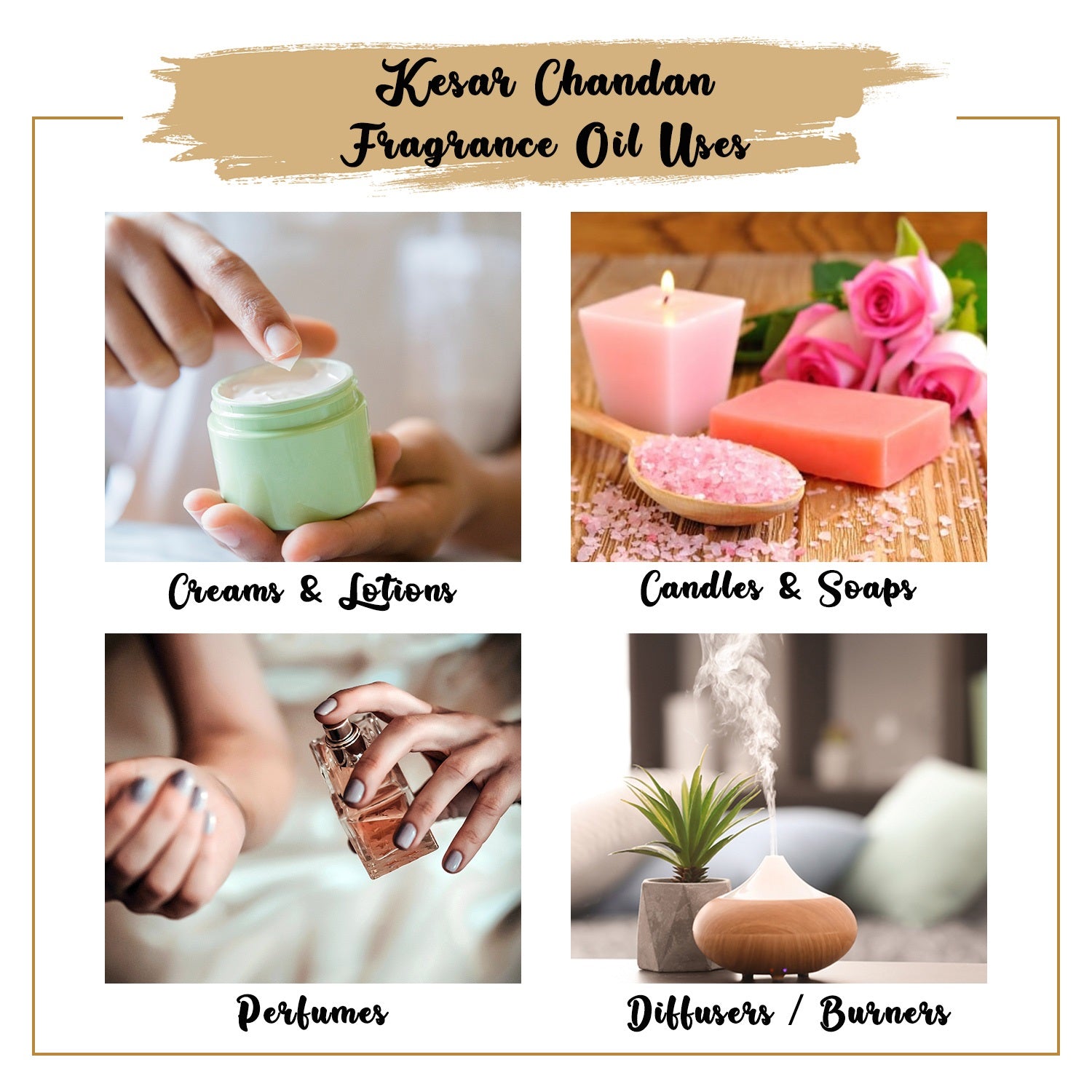 Our Certifications
Kesar Chandan Fragrance Oil
Kesar Chandan is a perfect blend of precious oils that deliver a long-lasting soothing natural fragrance with a sweet and citrusy top note, spicy yet floral mid notes, and woody and musky base notes. Kesar Chandan's magical and enchanting natural fragrances infuse vibrant energy.
These long-lasting and captivating fragrances are truly works of art, as well as wonderful gifts for your loved ones. Kesar Chandan fragrance oil has a very enticing aroma.
Kesar Chandan fragrance oil is appropriate for both men and women. It has a long-lasting fragrance. This fragrance oil has a warm, deep, and woody scent and is great for making perfumes, deodorants, and colognes.
This fragrance oil has a strong scent and is used to make soaps, candles, incense sticks, and other DIY products. It is also a popular cosmetic and bathing product ingredient. This scented oil was created specifically to work with melt-and-pour soap bases and other products.
VedaOils 100% pure Kesar Chandan oil is extremely long lasting, which is an important feature for staying active throughout the day.
Kesar Chandan Fragrance Oil Uses & Benefits
Candle Making
Kesar Chandan Fragrance Oil's classic earthy sweet and musky floral aroma makes it suitable for candle-making. The mystic, sweet, and smooth aroma of Kesar Chandan fragrance oil uplifts and energizes the mood while relaxing and comforting the environment.
Soap Making
Kesar Chandan Fragrance Oil's luxuriously musky, sweet, smooth yet spicy aroma makes it suitable for use in the preparation of scented soaps. This fragrance oil can be added to make both cold-process soap and melt-and-pour soap.
Diffusers
Kesar Chandan fragrance oil will fill your space with a sweet, woody, and musky aroma. When used in a diffuser, Kesar Chandan Fragrance Oil will refresh your senses. Your room will have a lively, soothing scent thanks to this fragrance.
Agarbatti or Incense Sticks
Kesar Chandan Fragrance Oil imparts the classic musky and smooth aroma of incense sticks. Kesar Chandan fragrance oil's pleasant and floral sweet aroma helps to soothe the mind and body, relieving tension and elevating mood.
Air Fresheners
Kesar Chandan Fragrance Oil is used in the production of carrier oils and diffusers that act as air and room fresheners, removing any harmful microbes as well as foul odors. This fragrance oil can be used in making room, bathroom, and car fresheners.
Cosmetic Care Products
The woody and floral Kesar Chandan Fragrance Oil can be added to toners, moisturizers, face washes, face packs, and other similar products to infuse the aromatic fragrance of sandalwood and saffron, which is refreshing, and safe for the skin.
Product Specifications
| | |
| --- | --- |
| Product Name: | Kesar Chandan Fragrance Oil |
| INCI Name: | Crocus Sativus |
| Country of Origin: | India |
| Foam: | Liquid |
| Flash Point: | N/A |
| Color: | Light Yellow |
| Aroma: | Saffron, Sandalwood |
| Suitable for: | Bath Bombs, Lipsticks, Lip Balms, Facial and Body Scrubs, Creams, Perfume Oils |
| Packaging Type: | As per requirement |
| Storage: | Store in a Cool & Dry place. |
| Shelf Life: | 2 years |
| COA: | N/A |
| MSDS: | N/A |
CAUTION: It is meant only for external use. Therefore, do not consume kesar chandan fragrance oil internally and also keep it away from your eyes as it might irritate.
Packaging Sizes
Please Note: The packaging shown above is a General Representation of the various sizes and types of packaging available for this product. Not all sizes and types of packaging for this product maybe available at all times.
Buy Kesar Chandan Fragrance Oil at Wholesale Price
VedaOils Kesar Chandan Fragrance Oil is made from freshly extracted kesar chandan. It has a fresh and aquatic aroma with the hint of wild mint-like fragrance. The mild and gentle scent of this scented oil does not trigger any allergy and neither does it cause any headache. This aromatic oil is a versatile product so it can be added to infuse kesar chandan fragrance in many products.
We are a leading manufacturer, distributor, supplier, and wholesaler of the best-quality kesar chandan scented oil. We offer all of the fragrance oil on our website at wholesale prices and in bulk quantities. We do not use any chemical-based ingredient like SLS, parabens, phthalates, etc., in the manufacturing of our Kesar Chandan Fragrance Oil. It is also Vegan-friendly and Cruelty-free so it will be safe for your skin. Our Aromatic oil is highly stable so it can ideally be added to various DIY products.
We ensure to follow certain standard packaging methods and quality check measures while packing our high-grade fragrance oil so that you can receive them in perfect condition at your doorsteps. VedaOils offer its kesar chandan scented oil in packages of different quantities (3.5 oz, 1.1 lbs,2.2 lbs,11 lbs,22 lbs,44 lbs) so that you can order them as per your needs from our website. We export our kesar chandan aroma oil in bulk quantities to various countries like The USA, UK, Canada, Australia, etc., through our logistics partners DHL, FedEx etc.
Frequently Asked Questions