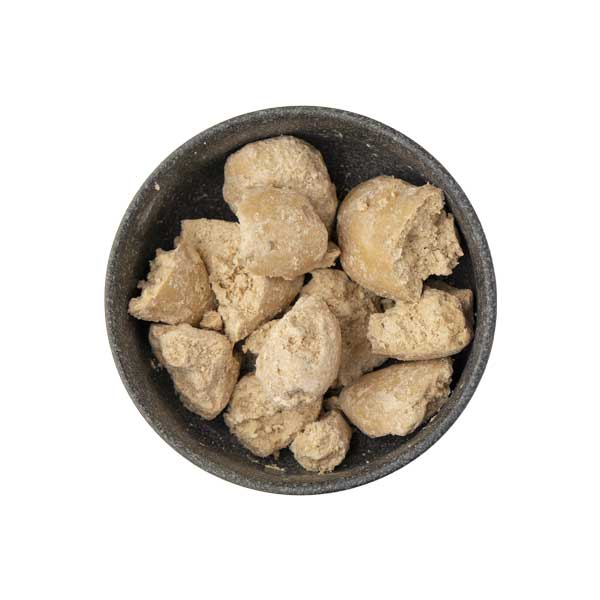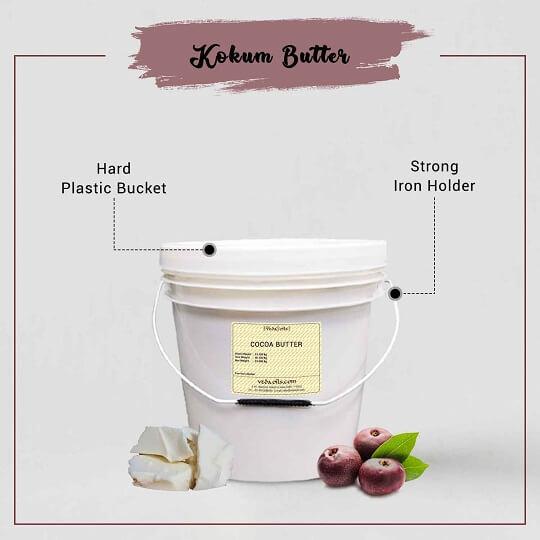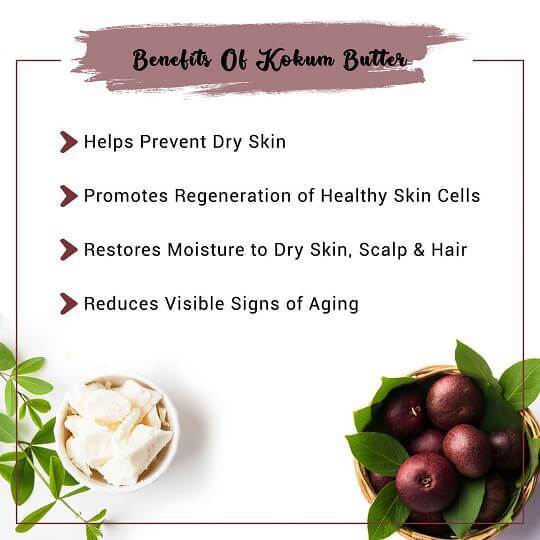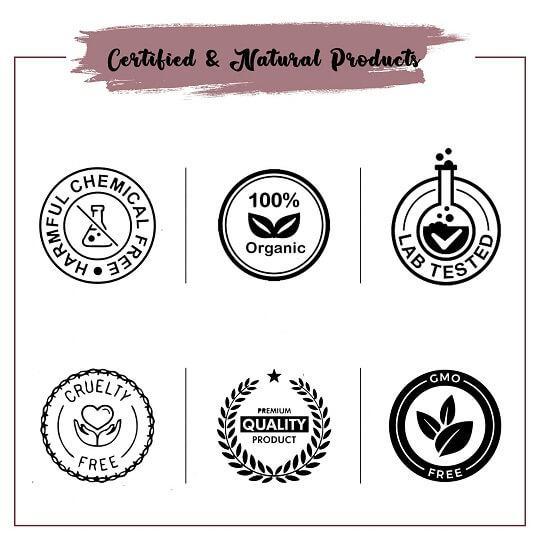 Our Certifications
Kokum Butter
Organic Kokum Butter is made from the oil extracted from the Kokum tree or Garcinia Indica Tree, which is predominantly grown in USA. The fragrance of Kokum butter is slightly earthy and nutty. Pure Kokum butter is used for a variety of Cosmetic, Skin Care, Culinary, and Medicinal applications. Kokum Butter is high in essential saturated fatty acids like Omega 6 and Omega 3 which prevent regularly skin damage by making Skin Healthier and Balancing Moisture in the skin.
Unrefined Kokum butter provides the skin with extreme hydration and moisturization. It consists of a high Anti-inflammatory property that helps to reduce inflamed skin and issues like allergies, infections, rashes, and irritation. Kokum Butter is also enriched with Antioxidants and Vitamin E which helps to immune the skin against free radicals and toxins.
The moisturizing agent in the Raw and Pure Kokum butter prevents the skin from dehydrating and promotes skin cell regeneration. It also combats the visible signs of aging by preventing issues like decoloration, fine lines, and wrinkles. Kokum butter not only Benefits Skin Health but can also boost the Health of the Immune System and cell functioning.
Whipped Kokum Butter is proven to be beneficial for hair by promoting Hair Growth. It locks the moisture deep into the skin and nourishes the itchy & dry scalp and also reduces Dandruff & Hair Fall. Organic and unrefined Kokum butter is an ideal ingredient for lip balms, lip gloss, lotions, moisturizers, and ointments because of the presence of rich emollients in it.
Kokum butter is Non-comedogenic so it does not clog pores or cause acne. You can also use whipped Kokum butter for eczema and acne scars. When it is applied on a regular basis the skin will automatically soften and restore its elasticity. The shelf life of Kokum butter is quite long as compared to any other body butter because of the high oxidative stability.
We at VedaOils, are offering premium quality Organic and Raw Kokum Butter that is completely chemical-free, plant-based, vegan-friendly, and cruelty-free. No added preservatives, colors, chemicals, and fragrances were added in the manufacturing of our Kokum butter. So, it is completely safe for your Skin, Hair, and Overall Health. Our Kokum butter has the perfect texture and consistency so you can DIY any of your favorite recipes from it. So, Grab is now for a wonderful experience.
Kokum Butter Suitable For: Sunblock, skin elasticity, wrinkles, skin hydration creams, baby products, hair care products.
Kokum Butter Uses: Lotions, moisturizers, anti-aging creams, sunscreens, hair mask, hair conditioner, soaps, scented candles, lip balms, lip gloss, cosmetic purpose, and Medicinal uses.
Organic Kokum Butter Uses
Lotions & Creams
Use pure Kokum butter as it has a high concentration of stearic acid which thickens the formula and makes the texture smooth so it is easy to apply it on the skin. It also makes skin plump and hydrated.
Soap & Candle Making
Organic Kokum butter is used to make soaps and scented candles because the fatty acids in it improve its emulsion stability. It melts and glides on the skin very easily when applied to skin.
Lip Care Products
Lipsticks, lip balms, lip gloss contains pure Kokum butter as it nourishes and hydrates the lips completely. It also helps to treat chapped, cracked, and dry lips and make them look fuller and healthy.
Scrubs & Exfoliators
Kokum butter is used for making moisturizing scrubs and exfoliators by mixing essential exfoliating oils in it. These scrubs cleanse all the dirt and dust from the skin and unclog all the closed pores.
Cosmetic Products
Cosmetic products like make-up foundation, lipstick, cleansing balms, skin tonics, shaving cream, etc., consist of raw Kokum butter as it has it rich in vitamins, nutrients, antioxidants, and anti-inflammatory properties.
Immunity Booster Products
Natural kokum butter is used for many medicinal purposes like ointments for rashes, allergies, and infections. It is also used in immunity booster and cell regenerative tablets.
Organic Kokum Butter Benefits
Skin Cell Regeneration
Unrefined kokum butter prevents skin degeneration before it can start and promotes cell regeneration. It penetrates deep into the layers which help the skin to heels faster.
Reduces Wrinkles & Fine Lines
Organic Kokum butter contains emollient properties which help to lock the moisture in the skin. It treats and prevents the skin from wrinkles, lost elasticity, and dryness.
Fights acne
Whipped Kokum butter is non-comedogenic so it prevents the skin from breaking out. It has the ability to treat acne by preventing excess oil production and fighting bacterial overgrowth.
Reduces Dandruff & Scalp Itchiness
Kokum butter is used to treat the unhealthy scalp and promote healthy hair growth by moisturizing and releasing natural oils in the scalp which will eventually reduce scalp issues.
Soothe Skin Irritation & Rashes
Anti-inflammatory properties in organic Kokum butter eliminates inflamed skin issues like irritation and rashes. Unrefined Kokum butter also enhances your natural skin barrier.
Moisturizes Skin
Kokum butter has powerful moisturizing properties that will help the moisture to absorb deep into the layers of the skin. It also revitalizes the skin and makes it younger-looking.
Product Specifications
| | |
| --- | --- |
| Product Name: | Kokum Butter |
| Country of Origin: | India |
| CAS No: | 68956-68-3 |
| Appearance: | Semi-solid fat |
| Color: | Pale yellow |
| Free Fatty Acid: | 14.8 |
| Saponification Value: | 170 - 185 |
| Melting Point: | 39 °C |
| Flash Point: | >200ºC |
| Odor: | Characteristic |
| Solubility: | Insoluble in Water |
| Type: | Body Butter |
| Application Area: | Face, Hair, Body |
| Free From:: | Chemicals, Preservatives, Parabens, Phthalates, Sulfates, SLS, SLES |
| Stroage: | Store in a Cool and Dry place. |
| Shelf Life: | 2 years |
| COA: | |
| MSDS: | |
CAUTION: It is meant only for external use. Do a patch skin test before applying it to your skin.
Packaging Sizes
Please Note: The packaging shown above is a General Representation of the various sizes and types of packaging available for this product. Not all sizes and types of packaging for this product maybe available at all times.
Buy Organic Kokum Butter at Wholesale Price
VedaOils is one of the well-known bulk manufacturers, vendors, and wholesale suppliers of Pure and Organic Kokum Butter in USA. We provide our customers with an excellent quality of Kokum Butter at the most affordable price. Our organic Kokum Butter is safe for your hair, skin, and overall health.
Our Unrefined Kokum butter is free from any added preservatives, chemicals, flavors, and colors.it is completely Vegan-friendly, cruelty-free, and chemical-free. No sulfates, parabens, pesticides, or chemicals were used in the manufacturing of our Raw Kokum butter. We ensure to follow exceptional and high-grade packaging standards so that you can find the Finest Quality Kokum butter near your home by ordering it online.
You can buy the best quality Unrefined and Pure Kokum Butter in Bulk for commercial purposes as well as to DIY your favorite recipe. We ensure to provide you with our excellent customer support service in case you have any queries regarding the Kokum Butter. We offer our pure Kokum butter packages in various quantities (14 oz, 7 lb, 55 lb, 2200 lb) so that you can purchase them as per your needs.
We export our Raw Kokum Butter worldwide, including the UK, Australia, Dubai, USA, Canada, etc. We deliver our products using our logistic partners USPS, UPS, FedEx and DHL, etc. So get the supreme quality Kokum Butter from VedaOils for a great experience.