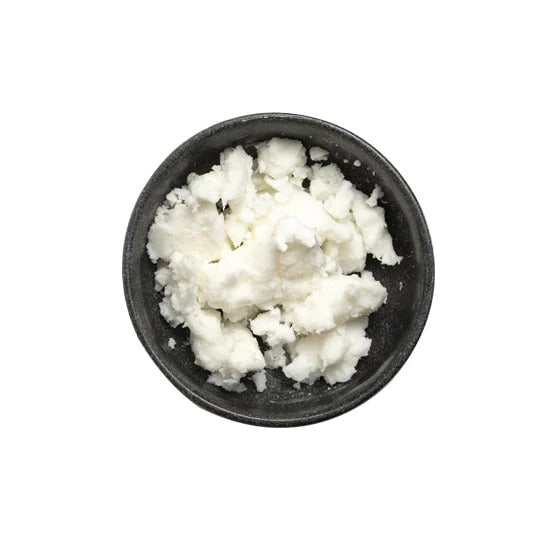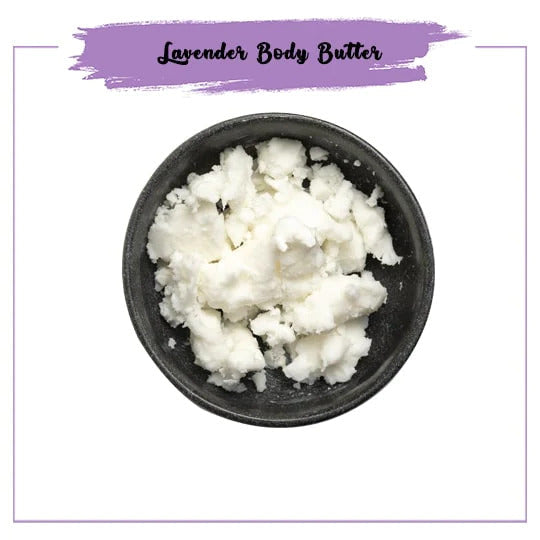 Our Certifications
Lavender Body Butter
Natural Lavender Body Butter, enriched with the benefits of lavender oil, is a miraculous recipe that replenishes dry skin, minimises blemishes, and imparts a radiance that no other beauty product can rival. Lavender body butter, which contains critical nutrients and Vitamin E, deeply hydrates and softens the skin, offering quick relief from dry and flaky skin. Lavender Butter also promotes skin suppleness and collagen synthesis.

Organic Lavender Whipped Body Butter firms the skin and promotes skin cell renewal. It is ideal as a skin treat after a bath or as a moisturiser. Lavender's mood-lifting scent leaves your skin smooth, moisturised, and invigorated. Its lightweight composition immediately absorbs into the skin, leaving it soft, silky, and non-greasy.
Lavender Body Butter Uses
Soap Making
Minerals, vitamins, and antioxidants abound, all of which aid in the production of high-quality soaps and bath bars. Lavender butter moisturises skin and adds a beautiful scent to soaps thanks to its rich creamy texture and flowery essence.
Skin Care Products
Pure lavender cleansing body butter's rich emollient characteristics make it easy to mix with lotions, creams, and other healthcare products like face creams, scrubs, and sunscreen lotions.
Aromatherap
Lavender body butter is perfect for aromatherapy and massage balms because of its lovely flowery scent and enticing texture. It calms and relaxes the muscles by relaxing and soothing them.
Moisturizers & Lotions
Natural lavender whipped body butter has a rich creamy texture and a pleasant floral scent that improves the quality and texture of moisturisers. It's an excellent component for healing and removing dryness from your skin.
Cosmetic Products
Lavender cleansing butter is a key element in cosmetics because of its strong floral scent and light-weight structure. It enhances the scent and feel of cosmetics while also providing a natural basis that is safe for the skin.
Mosquito Repellent Creams
Organic lavender butter is a vital ingredient in mosquito and insect repellent creams since lavender repels bugs and mosquitos. It quickly spreads on the skin and protects against mosquito bites.
Lavender Body Butter Benefits
Acts as Body Moisturizer
Lavender whipped body butter's rich moisturising characteristics deeply hydrate skin while also combating dryness and rashes. Skin becomes soft, smooth, and supple with regular application.
Promotes Mental Calmness
Lavender body butter has a silky texture and a lovely floral scent that promotes relaxation and well-being. It improves sleep quality and reduces anxiety and emotional stress.
Reduces Skin Irritations
Lavender body butter has antibacterial characteristics that aid in the healing of skin wounds and irritations such as rashes, scars, and acne. It improves the appearance of blemishes, dark patches, and acne scars.
Reduces Aging Signs
Natural lavender body butter is high in antioxidants, which neutralise damaging free radicals, preventing skin ageing and other symptoms of age such as wrinkles, fine lines, and sagging skin.
Skin Healer
Lavender body butter has a variety of vitamins and minerals that help to treat skin that has been affected by skin problems such as eczema and psoriasis, acne, or severe dryness.
Repels Insects & Bugs
Lavender body butter's rich flowery scent is particularly effective at repelling mosquitoes, pests, and mites. It's simple to apply to the skin and leaves a long-lasting odour that repels mosquitoes and insects.
Product Specifications
| | |
| --- | --- |
| Product Name: | Lavender Body Butter |
| Botanical Name: | Lavandula angustifolia |
| Country of Origin: | India |
| CAS No: | 90063-86-8 |
| Appearance: | Waxy Solid |
| Color: | White to off White |
| Free Fatty Acid: | 14.7 |
| Saponification Value: | 170 - 185 |
| Melting Point: | 41.6°C |
| Flash Point: | 91ºC |
| Odor: | Characteristic |
| Solubility: | Insoluble in Water |
| Type: | Body Butter |
| Application Area: | Face, Hair, Body |
| Free From:: | Chemicals, Preservatives, Parabens, Phthalates, Sulfates, SLS, SLES |
| Stroage: | Store in a Cool and Dry place. |
| Shelf Life: | 2 years |
| COA: | |
| MSDS: | |
Buy Lavender Body Butter at Wholesale Price
VedaOils is a leading manufacturer and distributor of Lavender Body Butter in USA. It is manufactured using high-quality plant-based components. VedaOils body butter is vegan-friendly, cruelty-free, and fully natural. There are no artificial colors, chemicals, or scents added. This natural and unrefined lavender body butter contains vegetable oils, essential oils, and other natural substances that will improve the health of your skin and hair.

Chemicals, parabens, sulfates, and pesticides are not present in our unrefined and Organic Lavender Butter. We make certain that high-quality packing requirements are followed in order to deliver the best quality body butter to your door. You may Buy Lavender Body Butter Online from VedaOils for both business and personal usage at wholesale prices. It has excellent consistency and may be used for any DIY project at home.

We sell our pure lavender cleaning butter in bulk as well as in packs of varied sizes so that you may buy it as needed. We ship Whipped body butter all over the world, including the United Kingdom, Australia, Dubai, and Canada. We ship our items all around the world with the help of several logistics partners such as DHL, FedEx BlueDart, and others. So, don't pass up this opportunity and get the highest premium grade Lavender Butter from VedaOils.
Frequently Asked Questions