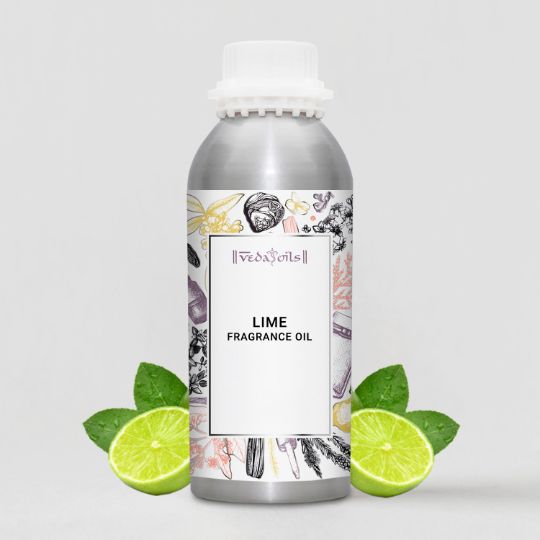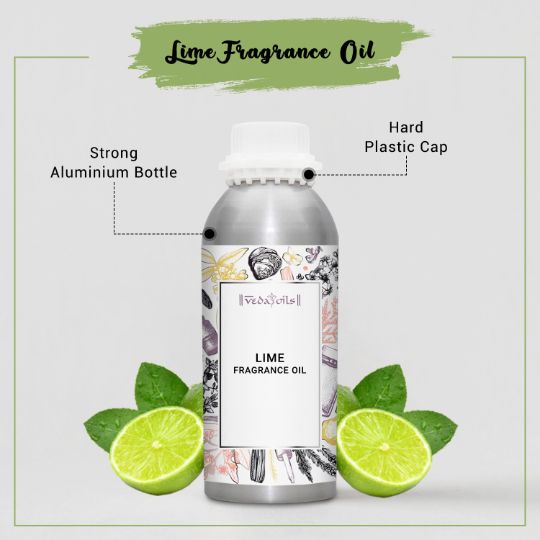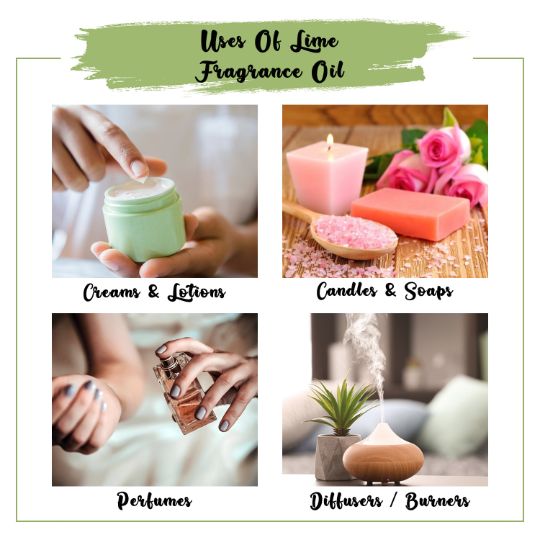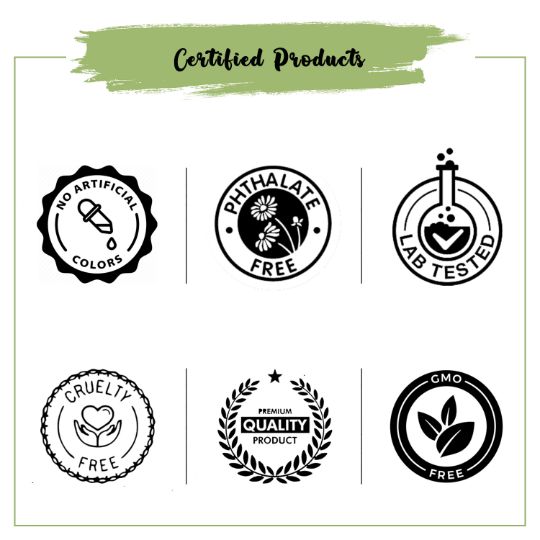 Our Certifications
Lime Fragrance Oil
Organic Lime Fragrance Oil uses fresh lime juice to create its citrus and fruity scent. The delightful revitalizing and rejuvenating perfume of lime fragrance oil offers untold advantages for the mind and heart. While the latency of freshly squeezed lime juice lessens stress and anxiety, the presence of lime zest activates all the senses. VedaOils' goal is to provide customers with an all-organic, high-quality lime fragrance oil with various gourmet smells, including fresh, zesty, sweet, and slightly tart.
Natural Lime fragrance oil contains strong citrusy and sweet notes that make a space smell good while acting as a natural household cleaner. You can use potent citrusy fragrance oil to give your favorite product a natural scent. Natural Lime Fragrance Oil can be used in many items, including scented candles, diffusers, and even reviving soap bars. It has sweet, sour, and fruity aromatic flavors. It can also be used to create deodorants and perfumes that last a long time, are safe for the body, and have the aroma of carrying fresh citrus fruits in your pocket. This fragrance oil is frequently incorporated into cosmetic, bath, and skincare products. Owing to its revivifying and calming aroma.
Lime Fragrance Oil Uses & Benefits
Bathing Products
Lime fragrance oil is used to create bath and body products like shower gels, body washes, body lotions, etc. that can assist to keep the body feeling renewed and revitalized throughout the day. Products with lime fragrance oil also make them smell refreshing and zesty.
Candle Making
Lime fragrance oil is used to create scented candles with sweet, aromatic tones that are both fresh and restorative. These candles have an excellent scent throw, so the room is immediately filled with a clean, fresh, sweet, and refreshing perfume.
Scented Soap Making
Organic lime fragrance oil is used to create soap bars and bathing bars, which have a zesty, fruity scent that compliments their bacteria-killing capabilities. Both melt-and-pour soap bases and cold-pressed soaps can easily gel with this fragrance oil. Leaves a lime fragrance with You.
Skin Care Products
Lime fragrance oil is used to create skincare products including scrubs, moisturizers, lotions, face washes, toners, and more that have a reviving, sweet, and zesty scent. These goods are absolutely safe for the body.
Perfumes
Lime fragrance oil is used to create bath and body products like shower gels, body washes, body lotions, etc. that can assist to keep the body feeling renewed and revitalized throughout the day. Products with lime fragrance oil also make them smell refreshing and zesty.
Incense sticks or Agarbatti
By incorporating lime fragrance oil, scented incense sticks can be made to taste more revivingly zesty, sweet, and calming. This fragrant oil transforms your incense stick into a simulator that promotes mental relaxation.
How To Use Lime Fragrance Oil?
Scented Candle: Scented candles with Calm and comforting aromas are made using Fragrance oil in a calculated quantity. You can use 0.5 fl oz of Lime oil for 8.8 oz candle wax flakes to obtain a perfect smelling scented candles. Make sure you measure your quantities correctly so that the fragrance doesn't get overpowered.
Soap Making: A nice fragranced soap bar gives a luxurious and rich feel to the skin. You can add your favorite 0.3 fl oz of aroma oil in a 5.2 oz soap base to get perfectly scented soap bars.
Aromatic Bath: A good aromatic bath in a bathtub helps to relax and calm the body. You can add 5-6 drops of fragrance oil in a bathtub to enjoy a rejuvenating and relaxing session of the aromatic bath.
Skin Care and Cosmetic Products: Mild and gentle scented cosmetic products are made using Fragrance oil in a very little proportion so that it doesn't react to the skin.
Note: The concentration of pure Lime fragrance oil needs to be varied according to the purpose of use.
Product Specifications
| | |
| --- | --- |
| Product Name: | Lime Fragrance Oil |
| INCI Name: | CITRUS AURANTIFOLIA |
| Country of Origin: | India |
| Foam: | Liquid |
| Flash Point: | N/A |
| Color: | Pale yellow to amber in color. |
| Aroma: | Fresh & Lime fragrance |
| Suitable for: | Bath Bombs, Lipsticks, Lip Balms, Facial and Body Scrubs, Creams, Perfume Oils |
| Packaging Type: | As per requirement |
| Storage: | Store in a Cool & Dry place. |
| Shelf Life: | 2 years |
| COA: | |
| MSDS: | |
CAUTION: It is meant only for external use. Therefore, do not consume lime fragrance oil internally and also keep it away from your eyes as it might irritate.
Packaging Sizes
Please Note: The packaging shown above is a General Representation of the various sizes and types of packaging available for this product. Not all sizes and types of packaging for this product maybe available at all times.
Buy Lime Fragrance Oil at Wholesale Price
VedaOils is a leading manufacturer, distributor, and wholesaler of premium quality Lime Fragrance Oil in India. Our Pure lime Fragrance Oil is free from toxins and alcohol-based ingredients. It is also Vegan-friendly and Cruelty-free so that you can add it to any ingredients of your choice. The formula and consistency of this Fragrance oil are perfect for adding in any DIY product as it is highly stable.
We offer Natural Lime Fragrance Oil wholesale price in bulk quantities for personal and commercial purposes. It is extracted from the natural lime plant. This aroma oil has boundless uses and benefits. It is also very versatile. The olfactive notes of this scented oil contain hints of honey, mossy, spicy, and fruity fragrance, which can be used in different ways.
Now you can order lime fragrance oil at best-assured prices. Get big discounts, cashback offers, and great deals while buying fragrance oils online from the VedaOils platform. We follow certain packaging standards while packing our high-grade fragrance oil so that you can receive them in perfect condition at your doorsteps.
VedaOils offers its Pure Lime Fragrance Oil in packages of different quantities (3.5 oz, 1.1 lbs,2.2 lbs,11 lbs,22 lbs,44 lbs) so that you can order them as per your needs from our website. We export our Aroma Oil in bulk quantities to various countries like The USA, UK, Canada, Australia, etc., through our logistic partners DHL, FedEx etc.
Frequently Asked Questions