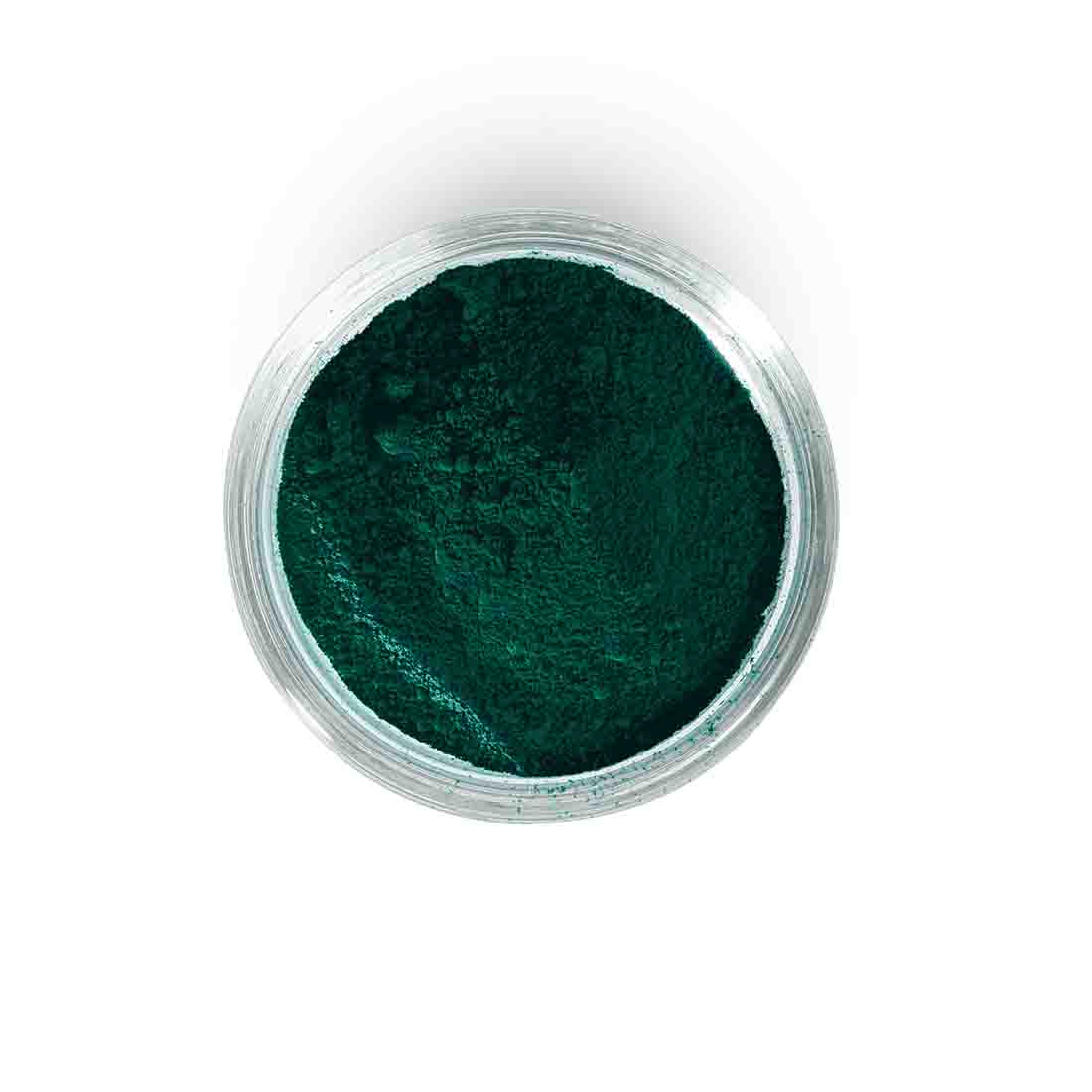 Our Certifications
Woodland Green Pigment Powder
Matte woodland Green, earlier referred to as chromium oxide green powder, is a pigment powder, pure in form, used popularly as a colourant in the cold process soap industry. When used in soap making, as a major pigmenting powder, it gives your soaps a bright, natural and a brilliant forest green colour.
Mica Green Pigment Powder product can be used to add colour to a product, the colour of which may range from matte light forest green to a very deep, matte, dark green colour. When used in a white base, the Vedaoils Woodland Green Soap Powder produces a pastel, bright forest green pigmentation.
High quality, extra fine colourant powder is dispersible in water as well as in oil and rich in non-bleeding, non-morphing and non-fading properties. Being rich in mica, the matte woodland green pigment powder is a highly desirable ingredient in a variety of different industries.
Matte Woodland Green Pigment Powder Uses
Cosmetic Products
Mineral enriched Green Pigment Powder gives smooth and silky makeup texture. It absorbs oil, prevents caking and can be used in making blushes, eye shadows, foundations and other beauty items.
Candle Making
Matte Green Pigment powder serves as efficient product in process of candle-making. It has ability to work in types of wax, including paraffin, soy, gel or beeswax, pigment powder naturally and ethically.
Soap Making
High quality pastel woodland green colouring ingredient is use in the soap-making industry. It has fabulous ability to create matte and depth effects in the various types of scented soaps prepared.
Nail Paints & Eye Shadows
Green Soap Powder allows you to prepare various shade of nail paints and eye shadows. Vibrant in nature, nail paints and eye shadows prepared using pigment powder which gives effective results.
Art and Craft
Efficiency of green soap powder enables to different activities, including soap making, candle making or cosmetic care products, DIY projects and art & craft items. It is safe for use, non-toxic and ethical.
Lipsticks & Lip Gloss
Green Soap Powder enriched with mica, a popular ingredient in beauty industry due to non-bleeding and non-morphing properties. It is used as colorant in lipsticks, lip gloss, minerals, make up items.
Product Specifications
| | |
| --- | --- |
| Product Name: | Matte Woodland Green Pigment Powder |
| INCI Name: | N/A |
| Country of Origin: | India |
| Foam: | Powder |
| Flash Point: | N/A |
| Color: | Green |
| Aroma: | Fresh |
| Suitable for: | bath and body products as well as cosmetics |
| Packaging Type: | As Per Requirement |
| Storage: | Store in a Cool & Dry place. |
| Shelf Life: | 2 Years |
| COA: | |
| MSDS: | |
CAUTION: The packaging shown above is a General Representation of the various sizes and types of packaging available for this product. Not all sizes and types of packaging for this product maybe available at all times.
Packaging Sizes
Please Note: It is meant for external purposes. Keep it away from the reach of your kids and avoid direct contact with eyes.
Buy Matte Woodland Green Pigment Powder Online At Wholesale Prices
Vedaoils is a leading manufacturer, distributor, and wholesaler of premium quality Mica Woodland Green Pigment Powder in USA. Our Green Soap Powder is free from toxins and alcohol-based ingredients. It is also Vegan-friendly and Cruelty-free so that you can add it to any ingredients of your choice. The formula and consistency of this Fragrance oil are perfect for adding in any DIY product as it is highly stable.
You can buy Green Soap Powder from the Vedaoils online store, being in the comfort of your home at the most affordable prices and 100% safe payment methods. Our Matte Green pigment powder caters to your cosmetic and beauty needs and your art and DIY projects. So, shop from our treasure house of ethical, natural and organic products, thereby pampering your daily skincare, hair care and cosmetic care needs.
We are exporting Mica Green Pigment Powder globally to countries like the UK, Canada, Australia and many more. So, check out the bulk prices of our products and avail of huge discounts. VedaOils, in association with delivery partners DHL, FedEx, USPS, UPS, ensures you highest and finest quality of products delivered with safety and on time, at your doorstep. So, shop for our wide range of products that are, organic and non-toxic!