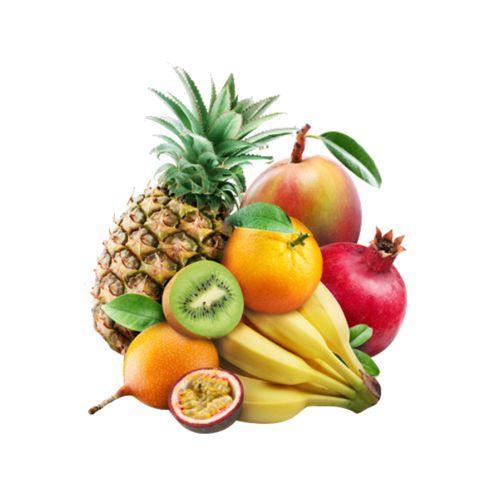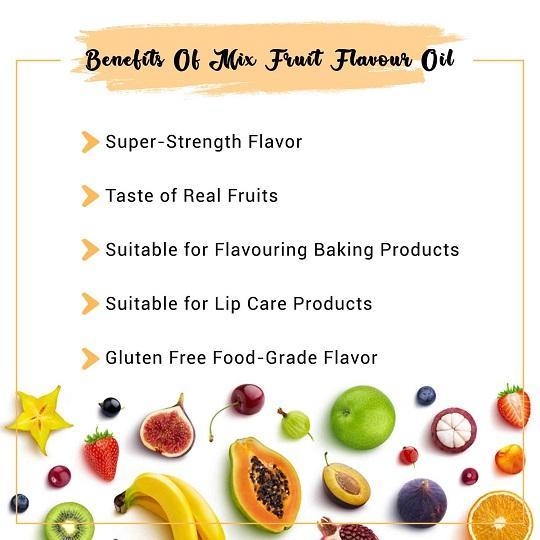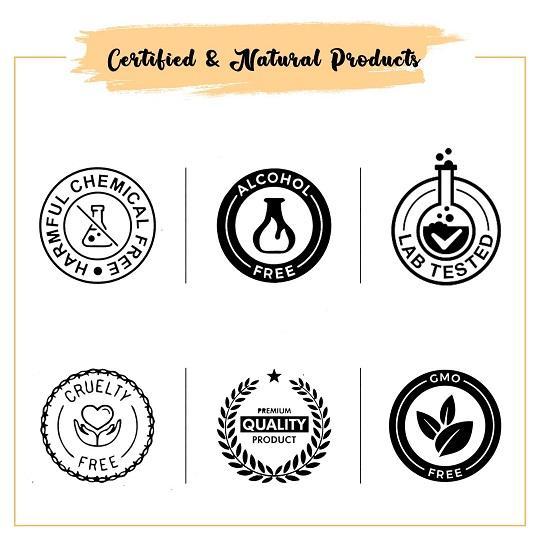 Our Certifications
Mix Fruit Flavor Oil
Experience the rich combination of fresh and juicy flavors with VedaOils Mix Fruit Flavor Oil. It is specially made to flavor your jams, jellies, chocolates, and desserts of various types. Its sweet and tangy combination will give a special treat to your taste buds. Your kids will fall in love with the candies, chocolates, cakes, and pastries that are made from this mix fruit flavoring oil.
Do not worry while using VedaOils mix fruit flavored oil as it is made from pure and natural ingredients only. Our mix fruit flavour oil is suitable for baking purposes and since it is water-soluble, you can use it in a variety of food items and juices as well. The liquid essence of mixed fruits is strong enough to provide the desired flavor to your food items with a small quality. Also, this mix fruit flavoring essence retains its aroma and taste even when used at extremely high temperatures.
VedaOils employ the highest quality and safety standards to provide premium food-grade mix fruit flavouring oil to our customers. Kindly read the labels thoroughly for understanding the dosage, directions, and warnings completely as it is a concentrated flavor. Also, we recommend using our flavors at low dosages for the best results. We are now offering it at cost-efficient rates and therefore, you can order Mix Fruit Flavour Oil Online in bulk for commercial and personal use.
Mix Fruit Flavor Oil Uses
Lip Care Products
Utilization of mix fruit flavor oil in readiness of lip care items now not just offers it a staggering smell, but a characteristic, vegetarian and a cruelty free bend.
Chocolates & Candies
Uniqueness and the adorable, sweet character and smell of the mixed fruit flavor oil can demonstrate to be an awesome asset in the preparation of enhanced chocolates for adolescents.
Baking
New and exemplary sweet flavor oil will transfer an uncommon reach and pizazz to your plans and ends up being particularly valuable for seasoning bakery preparations.
Ice Creams
Utilizing the mixed fruit flavor oil in candy store items can most adequately help with enhancing them brilliantly, including an inclination of uniqueness to your bread shop.
You can add an enormous conventional curve to your frozen yogurts through adding the pure mix fruit flavor oil to the blend, making your frozen yogurts fragrant and delectable.
Treats
Desserts and cakes ready with the utilization of mixed fruit flavored oil end up being a significant hit at birthday occasions as it empowers the pleasantness to pastries at your festivals.
Mix Fruit Flavor Oil Benefits
Mix Fruit Flavoring Essence
Mixed fruit essence is very amazing and focused enhancing pith. Even several drops of pure mix fruit flavoring oil is sufficient to add the ideal taste and smell to your food items and drinks.
Fruity Aroma
Remember that it doesn't make your lip analgesics and lipsticks taste sweet as it adds taste just when utilized with a sugar. It is utilized in these items to just add the fruity fragrance of newly sliced fruits to them.
Secure & Organic
Mixed fruit flavor oil is detailed to be of food-grade top notch. As they don't fuse any added substances and hurtful synthetic mixtures like liquor, gluten, etc. You might utilize this oil with wellbeing.
Tangy Sweetness
Explore endless possibilities with this unique blend of juicy and tangy flavor. You may even use Food grade mix fruit flavouring oil to add a special taste to your fruit juices and mocktails.
Perfect For Cakes
Natural Mix Fruit Flavoured oil is perfect for flavoring baked items like cakes, pastries, muffins, etc. as mixed fruit flavoured oil adds a rich and tantalizing aroma and taste to them.
Rich Flavor
Mix fruit essence gives the desired flavor to your food. It does not spoil or alter the texture and color of your food and drinks in any way as it is colorless and has a thin consistency.
Product Specifications
| | |
| --- | --- |
| INCI Name: | Mixed Fruit Flavoring Essence |
| Raw Material Source: | Various Fruit Extracts |
| Manufacturing Process: | It is manufactured by blending various fruit extracts with propylene glycol. |
| Flavor Oil Suitable For: | Ice Creams, Jams, Jellies, Milkshakes, Chocolates, Candies, juices, and other bakery items and beverages. |
| CAS Number: | NA |
| Tested On Animals?: | No |
| GMO: | It is GMO-free since no plant-derived ingredients are used for making it. |
| Vegan: | As it is free from animal-derived ingredients, vegans can use it without any doubts. |
| Alcohol-Free: | Yes |
| Storage: | Store the bottle in a cold and dry place away from direct sunlight for prolonged use. |
| Shelf Life: | 2 years |
CAUTION: Do not consume mix fruit flavored oil directly as it to be used in food items only. Keep it away from the reach of your kids and avoid direct contact with eyes.
Packaging Sizes
Please Note: The packaging shown above is a General Representation of the various sizes and types of packaging available for this product. Not all sizes and types of packaging for this product maybe available at all times.
Buy Mix Fruit Flavor Oil Online at Low Prices
VedaOils is one of the leading Wholesale suppliers, manufacturer, and exporter of Mix Fruit Flavour Oils and Food Flavour Oil in USA. We specialize in both oil and water-soluble flavoring oils and our catalog is wide enough to serve all your requirements. Our food flavor oils are gluten-free and naturally prepared.
Buy Mix Fruit flavor oil at the best price in USA through VedaOils online portal. We ensure smooth and safe transactions. We also employ a high standard of delivery to supply your order in the best quality. You can buy Mix Fruit essence oil at wholesale prices as we are offering them in bulk quantities.
We also export our high-quality Mix Fruit flavoring oil to the Canada, UK, Australia, and other countries. Our products follow the highest standards when it comes to quality and purity. We assure you that you will not regret choosing us! We also deliver the products throughout the world using our logistic partners DHL, FedEx, USPS, UPS, etc.
Q: How to Use Mix Fruit Flavor Oil?

A. It is a flavoring agent and to be used in very small quantities. Therefore, it does not add any nutritional value to your food preparations and is to be used only for flavoring purposes. The recommended usage level of this mix fruit flavouring oil should not exceed 2.7ml per 2 lb of food items. Similarly, do not use more than 0.8ml per liter when you use it for flavoring beverages.

Q: Can I use mix fruit flavor oil for edible purposes?

A. Yes. VedaOils Mix Fruit Flavor Oil is edible grade, gluten-free and ideal for baking.

Q: Can I use this oil to flavor lip balms?

Yes, You can use Fruit Flavour in Your Lip Balm or Lip Gloss.