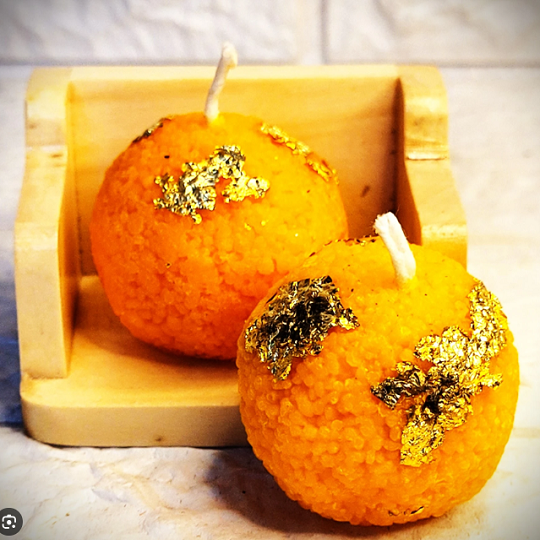 Our Certifications
Motichoor Ladoo Candle Mold
The "Motichoor Ladoo" candle mold is a unique and specialized design crafted for shaping candles that mirror the beloved Indian confection known as "Motichoor Ladoo." This sweet treat is created by frying tiny spherical droplets of gram flour (besan) to a golden perfection and subsequently molding them into small, round, delectable sweets. The candle molds are dedicated to crafting decorative candles that faithfully replicate the charming appearance of Motichoor Ladoo, making them a distinctive and delightful addition to Indian-inspired decor, religious rituals, or festive celebrations.
Motichoor Ladoo Candle mould Uses & Benefits
Easy To Use
Motichur Laddu Candle are simple to use because when filled with melted wax, they take on the shape of the mold. You can use your imagination to create gorgeous candles for festival decorations and other special events.
Easy to Clean & Store
Motichoor Ladoo Candle Silicone Mold are reusable and washable; thus they can be used many times for making unique candles. These molds are sturdy and durable, making them easy to store.
Ideal Motichoor Ladoo Candles
Motichoor Ladoo Candle Mold is perfect for making premium and luxury Motichoor candles. You can easily mould and demould the silicone mold using hand easily
Product Specifications
| | |
| --- | --- |
| Brand: | VedaOils |
| Product Name: | Motichoor Ladoo Silicone Candle Mould |
| Cavity: | 4 |
| Mold Dimensions: | 10*9.8*4.1 Cm |
| Item Dimensions: | 3.8*3.8*3.8 Cm |
| Color: | Purple |
| Material: | Silicone |
| Total Weight: | 385 Grams |
| Country of Origin: | India |
| Quantity Per Pack: | 1 Unit |
| Suitable for: | Candle Making, Home Decor |
Buy Motichoor Ladoo Mold in USA
High-Quality: VedaOils Motichoor Ladoo Candle Mold are built from high-quality components. We use high-quality Motichoor Ladoo Candle Mold that is both easy to use and reusable. You may even utilize this for numerous purposes.
Wholesale Price: VedaOils is a well-known wholesale distributor and supplier of high-quality Motichoor Ladoo Silicone Mold and other candle making supplies. We promise that our candle casting Silicone Mold will be at affordable price.
Payment Options: We assures that your payment transaction is safe and simple. We provide a secure payment gateway to protect your transactions and accept debit and credit cards.
Worldwide Delivery: VedaOils supplies the finest quality Motichoor Ladoo Candle Mold to countries such as the United States, United Kingdom, Dubai, New Zealand, Canada, and others via our logistics partners DHL, FedEx BlueDart, India Post, and others.
Frequently Asked Questions