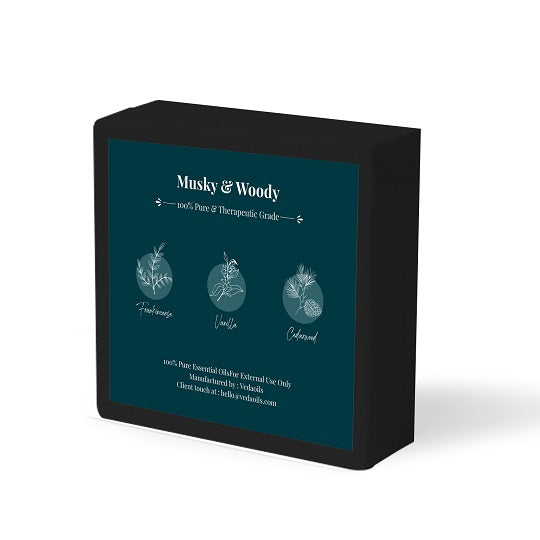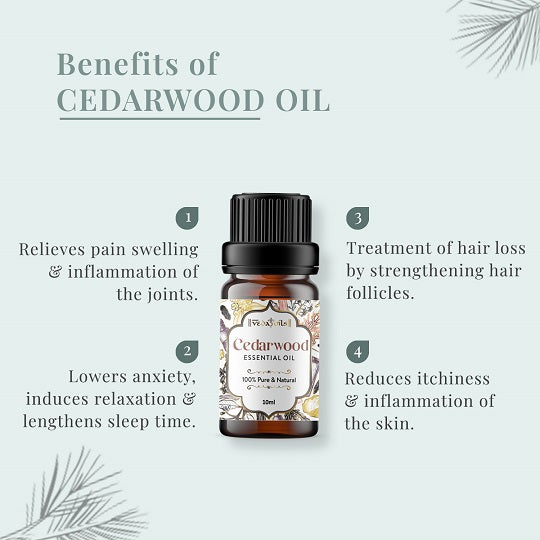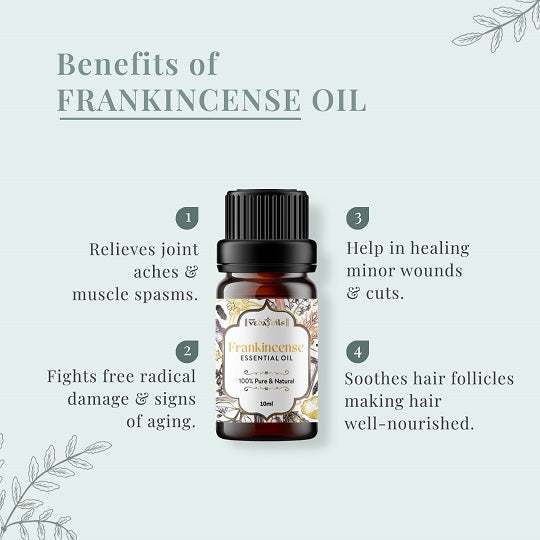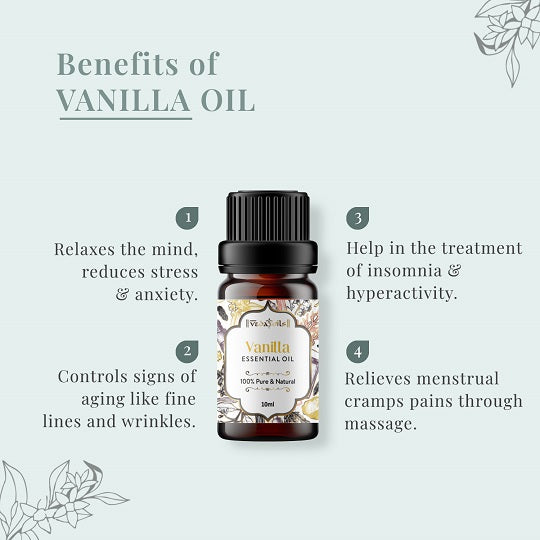 Our Certifications
Musky & Woody Essential Oils Gift Set
Set of 3 Essential Oils is a great combo of 100% pure, steam distilled, undiluted oils that are free of additives and fillers. Essential Oils come in a kit of 3 Glass bottles each containing 10 oz of the heavenly oil. Set of Musky & Woody Essential Oils promises a range of pure essential oils each of which is loaded with therapeutic and healing properties that nourish, soothe and relax your mind and senses.
They promise good health, great skin, and holistic wellness in general. Serves as the perfect gift for a beloved's Birthday, Anniversary, Valentine's Day, Teacher's Day or to pamper your loved ones with the care, nourishment, and warmth that our Set of Musky & Woody Essential Oils brings. The Musky & Woody Essential Oils Pack takes you to the paradise of aromatherapy where they can be conveniently used as a massage oil, in diffusers and humidifiers to refresh your rooms, carpets, and linen.
Veda Oils Set of Musky & Woody Essential Oils is specially designed and curated to give you the best in haircare, skincare, face care, foot care and pamper your body with all the health and goodness it truly deserves. Discover the magic that flows from our iconic Set of 3 Essential Oils and how each one of them contributes to making this a heavenly treat for the senses.
Musky & Woody Essential Oils
Frankincense Oil
Aroma of frankincense oil reduces stress and anxiety and brings about relaxation. Anti-inflammatory properties of frankincense oil are highly beneficial for healing skin wounds and repairs. It reduces scars, acne marks, and pigmentation marks on the skin. The stimulating blood circulation of the scalp strengthens hair follicles and promotes hair growth.
Vanilla Essential Oil
Vanilla Essential oil has a calming and seducing effect on the mind and body. It helps to relieve tension and promotes relaxation. Packed with Vitamin B and other essential compounds like niacin, thiamin, and pantothenic acid, vanilla oil helps prevent the signs of ageing. It helps achieve clear skin and complexion free from blemishes and pigmentation.
Cedarwood Oil
Loaded with a calming and grounding effect relaxes both the mind and soul. Used both topically and for aromatic purposes, Cedarwood oil is loaded with cleansing properties that make it a perfect toner for the skin. It clears the skin of impurities and dirt, making it look perfect and flawless. It also serves as an ideal and natural oil for repelling bugs, insects, and germs that infect the surroundings.
Musky & Woody Essential Oils Benefits
Skincare & Haircare
Use Essential Oils topically for skin care and hair care. You can dilute these oils with a carrier oil and make them a part of your skincare and hair care regime. They act as a perfect base for face packs, hair masks, and face creams and serums.
Aromatherapy
Packed with medicinal and therapeutic values essential oils are a perfect companion for your aromatherapy sessions. They can be inhaled for both their invigorating scent and therapeutic aromas.
Massage Oil
Essential oils are the ideal choice for massage to reduce the physical aches and pains of joints and muscles. They aim at reducing pain and focus on relaxation and mindfulness.
Mood Booster
Essential Oils are infused with natural aromas and scents that when inhaled uplift the mood and senses. They instantly infuse relaxation and calmness whether inhaled or applied topically on the skin. It fights insomnia and promotes calmness and sound sleep other symptoms of stress.
Soap & Candles
Essential oils like Vanilla, Cedarwood & Frankincense are the perfect match to add a pleasing scent to your candles and soaps. They rejuvenate the senses and add a touch of warmth and calmness to the senses. Inhaling the scents of these essential oils heals a stressed-out mind.
Perfect Gift
Veda Oils Musky & Woody Essential Oils Set come in a handy and attractive package make a perfect gift for your loved ones. Use it as a gifting option on Anniversaries, Birthdays, House warming parties, or to celebrate special occasions with a worthy gift that makes sense and adds utility to the gift.
Product Specifications
| | |
| --- | --- |
| Brand: | VedaOils |
| Product Name: | Musky & Woody Essential Oils Set |
| Oils Name | Frankincense Oil, Vanilla Essential Oil & Cedarwood Oil |
| Total Units : | 3 |
| Quantity: | 3 * 10 oz |
Musky & Woody Essential Oils - How to Use
Frankincense Essential Oil: The therapeutic and healing properties of VedaOils Frankincense Oil is used widely in the practice of aromatherapy. It is also used to relieve chronic stress, pain, and inflammation.
Bath Soak: For a relaxing bath, Add 6-7 drops of frankincense oil to a hot bath.
Anti-aging Blend: To get younger-looking skin, Mix 6 drops of oil with 3 Tbsp of carrier oil, and apply it directly to the skin.
Pain Reliever: Combine 8 drops of frankincense oil with jojoba oil to massage your muscles and joints.
Disinfectant: Use this oil in a diffuser to help reduce indoor pollution and disinfect any surface or space in your home.
Vanilla Essential Oil: The comfort, euphoria, and relaxation imparted by VedaOils Vanilla Essential Oil have sedative properties in the body. It also appears to improve skin and hair health.
Calming Diffuser: Add this oil to the diffuser or inhaler and breathe in to help release stress.
Soothing Balm: To improve skin health, add 2–3 drops to your daily face lotion or moisturizer.
Promoting Sleep: Inhale 3–5 drops of vanilla oil before bed to promote relaxation.
Cedarwood Essential Oil: Cedrol, a compound in Vedaoils Cedarwood Essential Oil is a natural sedative that helps in calming and promoting sleep. It also carries many physical benefits as well.
Promoting Sleep: To improve your sleep quality add a few drops of oil to a cloth and keep it on your bedside table.
Dry Skin Moisturiser: Add 2 drops of cedarwood oil to 1 tablespoon of any moisturiser and apply to your dry skin.
Air Purifier: Add 4 drops of oil to your diffuser to detoxify and purify the air.
Frequently Asked Questions