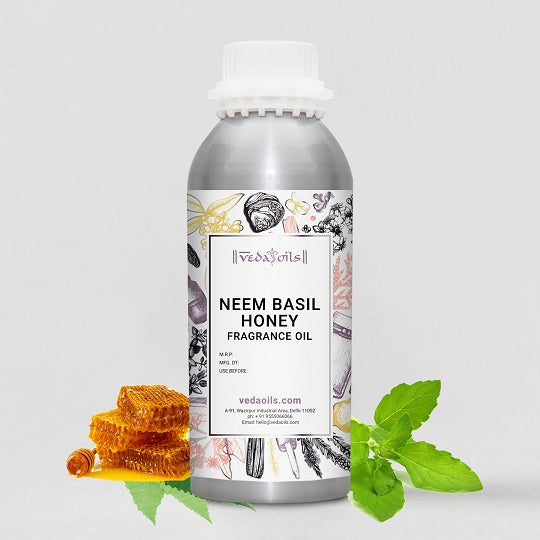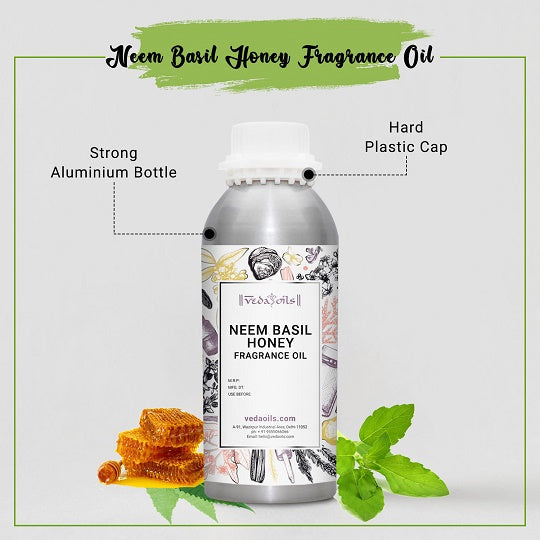 Our Certifications
Neem Basil Honey Fragrance Oil
Made by blending honey with Neem and Basil extracts, Natural Neem Basil Honey Perfume Oil is known for its rich blend of sweet, spicy, and herbal aroma. Rich in fragrance, our natural neem basil & honey aroma oil will add a captivating fragrance to your bath care and cosmetic products. The soothing aroma of Basil combines with the deep scent of Neem and the inviting aroma of Honey to provide a unique fragrance to this oil. You may add our organic neem basil honey scented oil to DIY skincare and hair care products as it is made only of natural ingredients that are safe to use. Calming effects of Neem Basil and Honey Fragrance Oil on your mind and body enable you to include it in aromatherapy treatments. It gives relief from stress and may also prove to be useful for soothing anxiety and other mental issues. All these properties make it versatile fragrance oil in the industry.
How to use Neem Basil Honey Fragrance Oil?
Making soaps - Make soaps using Honey Basil & Neem Aroma Oil but add only 0.3 floz in 5.2 oz of soap base. It blends well with both melt-and-pour and liquid soap bases.
Cosmetics - Add this perfume oil sparingly in cosmetics and skincare products as it is a concentrated oil. It helps to provide a gentle yet refreshing scent to these products.
Candle making - Candle making is an art and including our pure basil will make your candles smell much better. Add only 0.5 floz in 8.8 oz of wax to make high-quality scented candles.
Bath care - Pour 5 to 6 drops of honey neem basil perfume oil in a bathtub to explore the rejuvenating effects of Neem Basil Honey Fragrance Oil. It will ease your thoughts and provide relaxation to your body and mind.
Note: The concentration of Neem Basil Honey Fragrance Oil should vary as per the purpose of use.
Product Specifications
| | |
| --- | --- |
| Product Name: | Neem Basil Honey Fragrance Oil |
| INCI Name: | N/A |
| Country of Origin: | India |
| Foam: | Liquid |
| Flash Point: | N/A |
| Color: | N/A |
| Aroma: | Mildly, Earthy, Sweet, and Spicy |
| Suitable for: | Bath Bombs, Lipsticks, Lip Balms, Facial and Body Scrubs, Creams, Perfume Oils |
| Packaging Type: | As per requirement |
| Storage: | Store in a Cool & Dry place. |
| Shelf Life: | 2 years |
| COA: | |
| MSDS: | |
CAUTION: It is meant only for external use. Therefore, do not consume fragrance oil internally and also keep it away from your eyes as it might irritate.
Packaging Sizes
Please Note: The packaging shown above is a General Representation of the various sizes and types of packaging available for this product. Not all sizes and types of packaging for this product maybe available at all times.
Buy Neem Basil Honey Fragrance Oil At Wholesale Prices
As a leading manufacturer, distributor, and supplier of rich-quality fragrance oils, VedaOils is committed to providing a satisfying experience to the users. We are offering honey basil neem fragrance oil in bulk quantities and at wholesale prices so that it would be easy to use for commercial purposes. Retail packages of 100 grams are available for personal use whereas commercial users can order our Neem Basil Honey Perfume Oil in packages of ( 3.5 oz, 1.1 lb,2.2 lb,11 lb,22 lb and 44 lb) respectively.
Our user-friendly website and prompt delivery service help us to deliver your orders quickly to your doorstep. Do not worry as we employ high packaging and quality standards so that only effective and highly powerful fragrance oils reach you.
Rich and inviting aroma of Organic Neem Basil Honey Aroma Oil makes it versatile and highly effective as a scent obtained from organic sources. It does not contain any chemicals or artificial preservatives and is, therefore, a good alternative to synthetic fragrances and oils. Our logistics partners like DHL, FedEx, etc. help us to provide basil honey and neem scented oil to customers residing in the UK, USA, Canada, Australia, etc. with ease.
Frequently Asked Questions