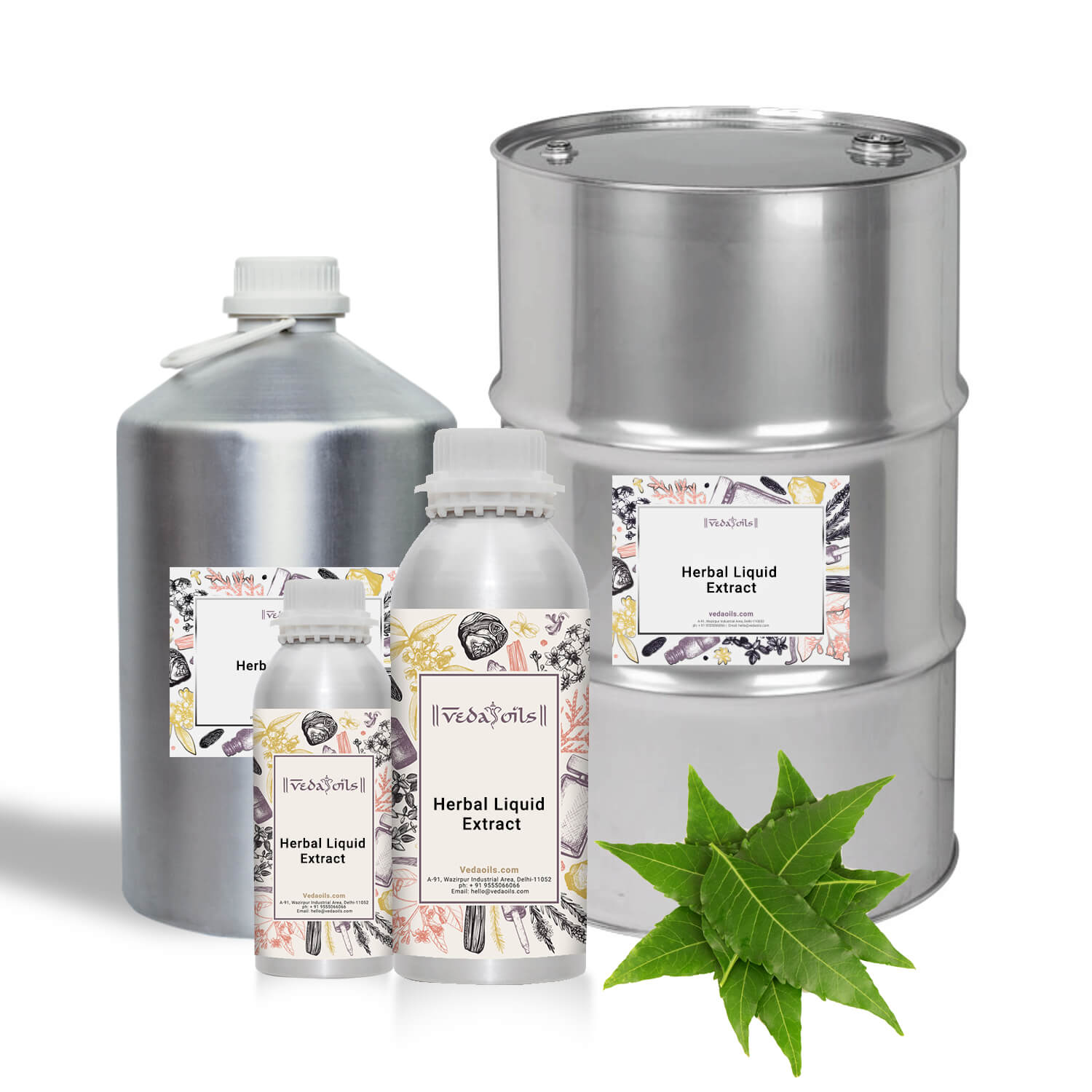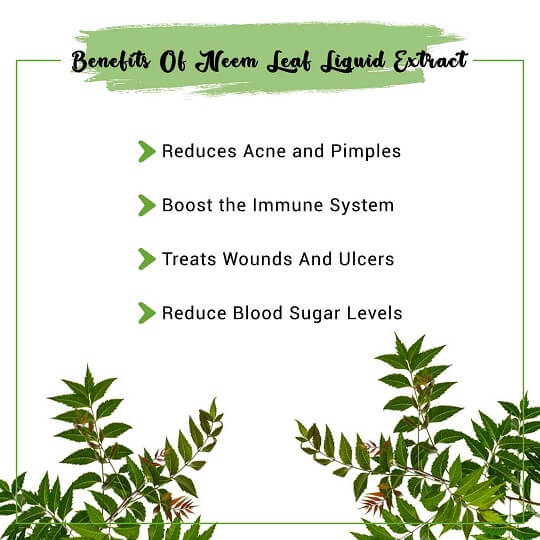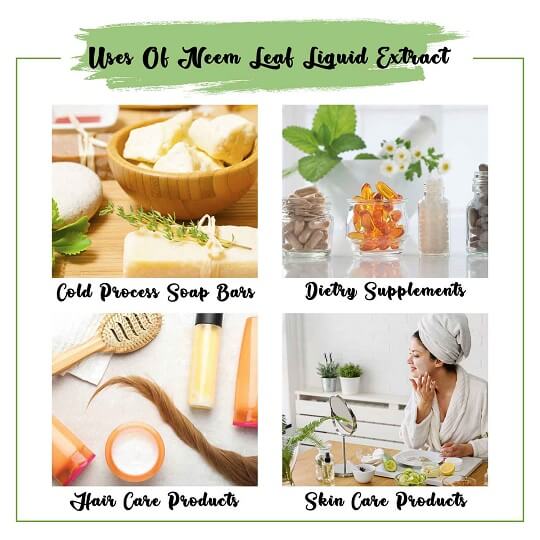 Our Certifications
Neem Leaf Liquid Extract
A natural herb that comes from the Indian lilac tree, Neem has a special significance in Ayurvedic medicine. Loaded with Antimicrobial Properties, Neem Leaf Liquid Extract is extensively used in pesticides and repellants to ward off insects, bacteria, and viruses. Greatly effective against mosquitoes, neem leaf extract is considered to have anti-malarial properties that help to cure or reduce the risk of malaria-the deadly disease caused by mosquito bites.
Almost all parts of the Neem plant including the bark, flowers, fruits, and leaves are used to prepare different products. Neem Extracts are also used to cure various health ailments like asthma, constipation, cough, indigestion, periodontal diseases, and urinary tract infections. It has great Healing Properties and is used to treat various skin diseases, wounds, skin ulcers, head lice and is also used as a skin softener.
The liquid extracts of neem Often called the 'Panacea For All Diseases'<, the root, bark, stem, and fruit of the Neem plant are often used as a tonic or astringent. Neem leaf extracts are often used to treat bleeding nose, intestinal worms, loss of appetite, stomach disorders, diseases of the heart and blood vessels. As a very promising plant, Neem leaf extracts have properties that help in birth control by reducing the quality of male sperms, thereby interfering in the reproductive capacity.
Neem Leaf Liquid Extract Benefits
Good for Dental Health
Neem liquid extracts work well to fight plaque build-up on teeth and other oral infections like gingivitis. It also helps to fight the build-up of bacteria that may result in cavity formation and other oral infections. The germ-killing properties also help in overcoming bad breath and prevent swelling and bleeding of gums.
Aids Digestion
Loaded with anti-flatulent and astringent properties, neem extract liquid with its bitter taste is highly effective in reducing the formation of gas, bloating, flatulence, and other digestive issues. The natural antacids in neem leaves prevent the formation of acids in the stomach thereby promoting smooth digestion.
Purifies Blood and Improves Skin
The humble leaves have an outstanding detoxifying property that helps in the natural purification of blood. It helps to remove toxins from the blood and promotes smooth blood circulation. Backed by these qualities, Neem organic leaf extract is highly beneficial in treating skin disorders like eczema, boils, acne, and psoriasis
Beneficial for Skin Problem
The antimicrobial and anti-inflammatory properties of pure liquid extract of neem leaf help to treat diseases of the scalp like dandruff, itching, and folliculitis. It nourishes the hair follicles and promotes hair growth. It prevents hair fall and strengthens the hair.
Boosts Immunity
Neem leaf liquid herbal extract help to fight germs and bacteria, thus strengthening your immune system against various infections. It has strong anti-microbial, anti-fungal, anti-viral and anti-bacterial properties, all of which help your body fight external infections.
Acts as an Insect Repellant
Neem leaf and its extracts help to ward off bugs, pests, and other insects that are the carriers of various germs and viruses. Therefore neem leaf extracts are a major component of various insect repellants and pesticides.
How to Use Neem Leaf Liquid Extract?
Recommended dosage includes 2-3 drops of Neem Leaf Liquid Extract in water or juice, 1-3 times daily or as directed by your healthcare practitioner. Shake well before using. Store in a cool dry place.
Product Specifications
| | |
| --- | --- |
| INCI Name: | Azadirachta Indica |
| Alternative Name: | Indian lilac, Margosa, Nimgacha |
| Raw Material Source: | Dried roots of the shrub plant |
| Manufacturing Process: | Extracted via distillation at low temperatures under strict quality standards and procedures from the Certified Organic neem plant. |
| Form: | Liquid |
| CAS Number: | NA |
| Physical Appearance | Transparent Liquid |
| Colour | Brown/Green |
| Solubility | Soluble in alcohol and fixed oils |
| Shelf Life: | 1 years |
| COA | |
| MSDS | |
CAUTION: No herb-drug interactions are known but caution should be observed with external applications. Keep it away from the reach of your kids and avoid direct contact with eyes.
Packaging Sizes
Please Note: The packaging shown above is a General Representation of the various sizes and types of packaging available for this product. Not all sizes and types of packaging for this product maybe available at all times.
Buy Neem Leaf Liquid Extract Online at Wholesale Prices
VedaOils offers Neem Leaf liquid Extract Online as we are one of the leading herbal extract manufacturers in USA. We manufacture them by following a standard method that enables us to tap all the beneficial active ingredients present in the herbs or fruits. The concentration of the diluent used in the liquid extracts depends on the concentration and the number of active compounds that are derived from them.
You can now place orders in bulk quantity of best Neem extract liquid, and we ensure timely delivery of the products through the competitive and broad connection of our logistic partners. Our payment gateway is secure and enables you to complete the payment process quickly without any issues. We also export our high-quality liquid Neem extract to the Canada, UK, Australia and other countries.
Frequently Asked Questions