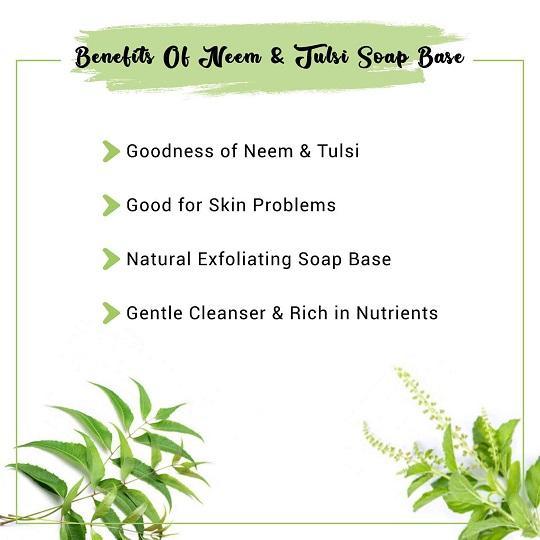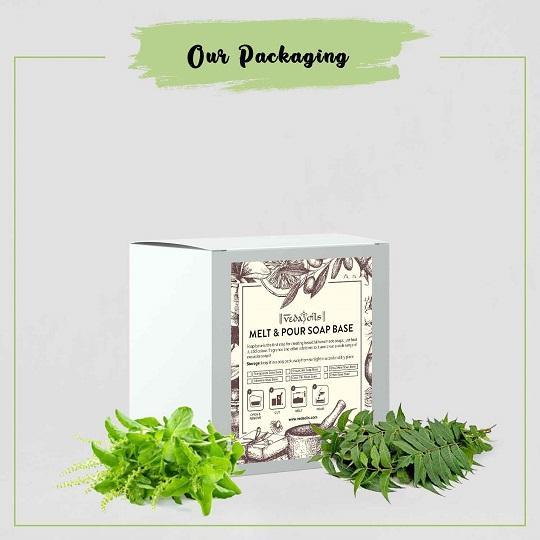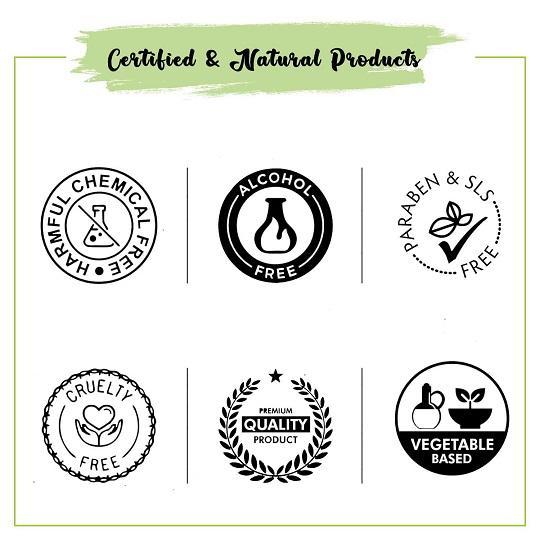 Our Certifications
Neem Tulsi Melt and Pour Soap Base
Neem Tulsi Melt and Pour Soap Base is filled with the health benefits of both Neem as well as Tulsi. The Neem present in this soap base holds Anti-aging and Medicinal Properties which help to soothe irritated skin and treat acne. Tulsi on the other hand is a fantastic herb that helps in Tightening and Healing the Skin. This amazing Skin Benefiting duo makes the appearance of skin younger and smoother.
The natural vegetable fats and essential oils present in Neem and Tulsi make this soap base nutrients-packed. The exotic and refreshing fragrances of the herbs help to fight sweat and body odor. It effectively treats skin conditions such as acne, rashes, sunburn. Neem and Tulsi Soap Base also naturally tones the skin and even out its texture.
VedaOils uses organic Neem and Tulsi plants to make a soap base that is a storehouse of Skin-benefiting properties. It helps in Cleansing and Purifying the skin by eliminating all the toxins and dirt from the skin. It also has natural skin healing properties as it is a Powerful Antiseptic. The Neem and Tulsi Soap Base provides moisture to the skin and makes it look Beautiful and Healthy.
Our soap base does not contain any additives or preservatives so it is safe and healthy for the skin. We do not even add any artificial color or fragrance in our Neem and Tulsi Melt and Pour Soap Base. It is an ideal soap base for making DIY Soap Bars at home using dried herbs and flowers.
Tulsi Neem Melt and Pour Soap Base Benefits and Uses
Soap Making
Natural Neem Tulsi Melt and Pour Soap Base is used for making Soap Bars as it has exfoliating, nourishing, and moisturizing properties. DIY soap bars can be made at home using various ingredients.
Clear Skin
Neem Tulsi Soap Base helps in detoxifying the skin. It helps in warding off all the impurities such as dirt, pollution, grime, and germs from the skin and preventing skin from cell degeneration.
Acts as Sunblock
Neem Tulsi Melt and Pour Soap base contain antioxidants that act as sunblock and protect skin against sun damage. It aids skin problems like skin rashes, and inflammation that are caused due to sunburn.
Anti-acne Properties
Neem Tulsi Melt and Pour soap base contains cleansing properties that help to get rid of excess oil and impurities from the skin which causes breakouts. It protects the skin from irritation and inflammation.
Removes Body Odor
Fragrance of Neem Tulsi Melt and Pour Soap Base is quite refreshing and woody which helps to get rid of body odor. It also adds a cooling and soothing effect which controls excessive Sweating.
Anti-aging Properties
Antioxidants present in this soap base helps to delay premature aging. It also tightens the skin and makes it look firmer and younger. This soap base also reduces blemishes and marks.
How to Use Neem Tulsi Soap Base?
Open & Cut Soap Base
Cut the Neem Tulsi Soap Base into small chunks of 1 inch (2.54-centimeter) with a clean, sharp knife. You do not have to cut it into the exact size, but make sure the pieces are not too large, as small chunks will help the soap base melt faster and smoother.
Melt Soap Base in Microwave
Place Neem Tulsi Soap base chunks in a microwave-safe dish and melt the soap base for 3 minutes. Set the timer to 3 min and stop every 30 sec to check the soap base. Stir once or twice if required. Do not boil the Neem Tulsi soap base or put it directly on flames.
Add Oils to Melted Soap Base
After the Neem Tulsi soap base is melted completely, let it cool down for few minutes. Now add your favorite Essential Oils and Fragrance Oils to attain your soap's desired fragrance and qualities. Make sure to use oils that are pure and safe for use.
Mix Ingredients in Melted Soap Base
Stir in soap-making ingredients such as Pigment powder, Colors, or Dry Flowers to give your soap a unique essence if you desire. Use ⅛ teaspoon of dye or pigment powder per 1 pound of soap. Stir it well before you move onto next step.
Pour Soap Base into Mold
Now all additives are added into the Neem Tulsi soap base. Mix it well and pour it into your desired soap-making molds. If you are using a plastic mold, coat the inside with petroleum jelly for effortless results. Let it cool down for 12 to 24 hours at room temperature.
Release Soap Base from Mold
Remember patience is a virtue, do not get impatient while releasing soap from mold. Instead, gently pull the edges of the mold away from the soap, then turn the mold upside-down and pop the soap out. Allow the Neem Tulsi Soap to complete drying.
Product Specifications
| | |
| --- | --- |
| Product Name: | Neem Tulsi Melt & Pour Soap Base |
| Color: | N/A |
| Melting Point: | 135 Fahrenheit |
| Ingredients: | Water, Propylene Glycol, Sodium Stearate, Neem Powder, Tulsi Powder (5%) Glycerin, Surcose, Sodium Laurate, EDTA |
| TFM: | N/A |
| pH: | 8.0-9.0 |
| Sulfate-Free: | Yes |
| Preservative Free: | Yes |
| Origin: | India |
| Detergent: | No |
| Organic: | Yes |
| SLS & SLES Free: | Yes |
| Paraben Free: | Yes |
| Alcohol-Free: | Yes |
| Solubility: | Soluble in alcohols and oils |
| Fragrance Scent: | Odorless |
| Type: | Bathing Soap |
| Application Area: | Face, Hair, Body |
| 100 % Vegetarian: | Yes |
| Shelf Life: | 2 years |
| COA: | |
| MSDS: | |
CAUTION: It is meant for external purposes. Keep it away from the reach of your kids and avoid direct contact with eyes.
Packaging Sizes
Please Note: The packaging shown above is a General Representation of the various sizes and types of packaging available for this product. Not all sizes and types of packaging for this product maybe available at all times.
Buy Neem Tulsi Soap Base Online at Wholesale Price
VedaOils is one of the Largest Manufacturers, wholesalers, and suppliers of the premium quality Neem Tulsi Melt and Pour Soap Base. Buy our Neem Tulsi Melt and Pour Soap Base Online which is 100% Organic and Pure in Bulk at Wholesale Price. This Soap Base is safe for all skin types so it can easily be used to make DIY Soap Bars at your home.
Our Organic Neem Tulsi Soap Base is free from any alcohol or toxic content. It is known to enhance the overall quality of skin as it contains the nutrients present in the two most beneficial Medicinal Plants. It helps to cleanse and detoxify the impurities from the skin. The natural emollient present in this soap base makes skin supple and soft.
We at VedaOils offer Vegan-friendly and Cruelty-free Neem Tulsi Melt and Pour Soap Base as it is derived from natural ingredients. We do not test any of our products on animals. Our soap bases are also free from sulfate and parabens. It does not even contain additives or preservatives.
We export our Neem Tulsi Soap base to countries like The UK, Canada, Dubai, Australia, etc. through our logistics partners DHL, FedEx, UPS, USPS, etc. So, order the finest quality Neem Tulsi soap base from the VedaOils website.
Frequently Asked Questions