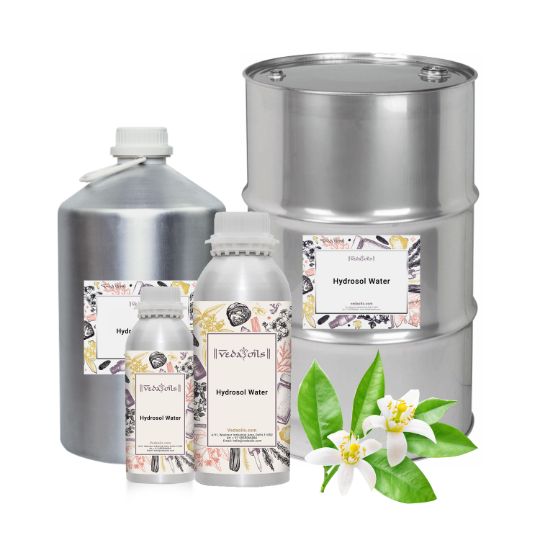 Our Certifications
Neroli Hydrosol Water
Prepared by the steam distillation of the neroli essential oil enriched with the lovely fragrance of flowers of Neroli i.e. Bitter Orange Trees, the Neroli Hydrosol is known for its typical aroma that is almost similar to that of Orange Flower Water but has a much more powerful and stimulating effect on your mind. It is prepared for its unique and complex scent structure.
Neroli Floral Water is what remains after steam or water distillation of the Neroli essential oil. It's slightly orange, with strong spikes of bold notes that could resemble spice. It is one of those crossover scents that appeal to both men and women. The plant matter used in essential oil distillation imparts the hydrosol with water-soluble aromatic and therapeutic properties of the plant.
It is a powerhouse when it comes to antioxidants and is used to treat several skin issues and conditions. Its amazing fragrance has a soothing effect on our mind and it is also used to create a romantic ambience due to its aphrodisiac properties.
Neroli Flower Water can be used in place of water for the creation of natural fragrances, lotions, creams, facial toners, room sprays, air fresheners, cosmetic care products, and other different types of products. All forms of Neroli Hydrosol are used in the beauty care industry. Organic Neroli Hydrosol is also a natural antibacterial and assists with topical pain management of minor skin abrasions and small cuts. You can use this product as a spray, directly over your skin, or add to any beauty care recipe.
Neroli Flower Water Uses
Face Toner
Neroli is an excellent face toner ingredient. Neroli hydrosol is even more effective in regulating excess sebum because it's water-based. After cleansing and drying your face, put some onto cotton and dab it onto your face, and then apply moisturizer.
Hair Care Products
Neroli Flower has been considered one of the best-distilled waters intended for hair care. It strengthens roots, boosts hair growth, and prevents thinning. Its effectiveness increases twofold when mixed in natural oil and applied to hair.
Cosmetic Care Products
Being a naturally extracted product, the Neroli hydrosol is the best ingredient for the preparation of make-up setters. Spritzing some hydrosols after doing the make-up helps it stay in place for a longer period and gives a pretty dewy appearance to the skin.
Astringent
Being extracted from flowers from the bitter orange tree, there's no surprise that Neroli Hydrosol has natural astringent properties that all citrus hydrosols and essential oils including oranges, bergamot, and lemon possess.
Aromatic Bath
Neroli Floral Water is a therapeutic grade hydrosol. It gives you a good aromatic bath in a bathtub helps to relax and calm the body. You can add a few drops of this hydrosol in a bathtub to enjoy a rejuvenating and relaxing aromatic bath.
Diffusers
Neroli Hydrosol Water when used in diffusers can help open up and refresh the senses. Most commonly used in aromatherapy, candle-lit diffusers are the only and the best method for diffusing the orange blossom hydrosol.
Neroli Flower Water Benefits
Cleansing
Neroli Hydrosol has a deep skin cleansing action that drives out stale sebum, dirt, and pollution from deep within the pores. Instead of plain water use this hydrosol which contains alpha-hydroxy acids that help exfoliate skin and remove impurities.
Anti-inflammatory
Neroli Flower Water anti-inflammatory properties can be used to soothe and calm skin inflammation including acne, eczema, psoriasis, etc., redness and itchiness effectively and instantly, caused by bacterial, fungal, and viral infections.
Cuts & Wounds
It offers tremendous antibacterial, antimicrobial and antifungal properties, the Neroli Floral Water can be used for the preliminary treatment of cuts, wounds, and minor scrapes. Take some hydrosols onto a cotton pad and gently dab over the thoroughly washed wound.
Regenerative
Neroli Hydrosol is rich in vitamin C, which is known for its collagen-boosting and cell turnover properties. It helps regenerate damaged skin including sunburns, scars, dead skin cells etc. Also provides protection from sunburns.
Astringent
Being extracted from flowers from the bitter orange tree, there's no surprise that Neroli Hydrosol has natural astringent properties that all citrus hydrosols and essential oils including oranges, bergamot, and lemon possess.
Uplifting Mood
Use Neroli Flower Water in room spray formulation, since it helps in ridding the room of foul odors. Apart from this, it balances the energies in the room, thereby uplifting, energizing, and refreshing your mood.
Product Specifications
| | |
| --- | --- |
| Product Name: | Neroli Hydrosol Water |
| INCI Name: | Organic Citrus Aurantium Amara (Neroli) distillate |
| Raw Material Source: | Neroli leaves |
| Extraction Process: | Steam Distillation |
| CAS Number: | N/A |
| Country of Origin: | India |
| Suitable For: | Creams, Lotions, Facial steam |
| Color: | Colorless |
| Odour: | Soft, Slightly Green, Fresh, Swwet Anise/Licorice-Like Aroma |
| Solubility : | Soluble In Water And Alcohol, Insoluble In Fixed Oils |
| Storage: | Store in a Cool & Dry place. |
| Shelf Life: | 2 years |
| COA: | |
| MSDS: | |
Packaging Sizes
Buy Neroli Flower Water Online In USA at Low Prices
VedaOils is the largest manufacturer, supplier, wholesaler and seller of varied types of hydrosols, We promises to indulge you in the freshness and quality of our wide-range products, including our Organic Neroli Flower Water. VedaOils do not compromise with the quality of the products when it concerns your health and beauty. We assure you that we adopt the highest quality standards both in production and packaging, delivering to you the ultimate, premium quality product.
We follow strict packaging standards while packing our high-grade hydrosol so that you can receive them in perfect condition at your doorstep. We offer VedaOils Pure Distilled Neroli Floral water in packages of different quantities (1 oz, 2 oz, 4 oz, 8 oz, 16 oz, 32 oz) so that you can order them as per your needs from our website. We aim to provide you with the finest of the goods, giving to you the richness and the goodness of pure natural ingredients.
You can purchase VedaOils Neroli Flower Water from our online store, from the comfort of your home at the most affordable prices and safe payment methods. Our Neroli hydrosol not only caters to your cosmetic and beauty needs, but also to preparation of cleaners, room sprays and more. Check out the bulk prices of our products and avail huge discounts.
Apart from being a fine manufacturer in the US market, VedaOils is quickly emerging as a leading producer, and exporter of global quality natural Bitter Orange Blossom Hydrosol. We are exporting products globally to countries like the USA, India, UK, Canada, Australia and many more. It does not contain any chemicals or artificial preservatives and is, therefore, a good alternative to synthetic fragrances and oils. Our logistics partners like USPS, UPS, FedEx and DHL etc.
Frequently Asked Questions