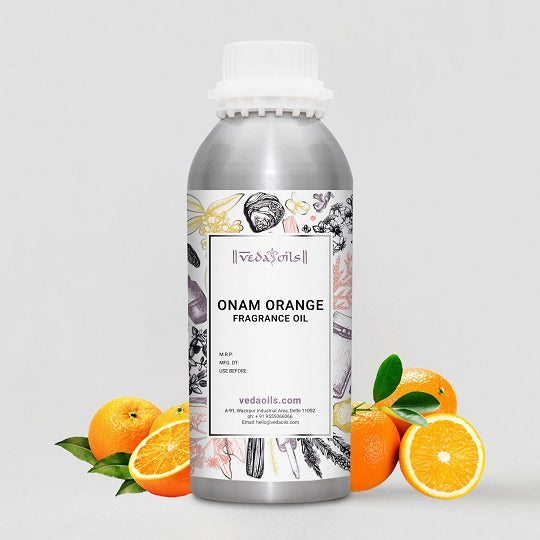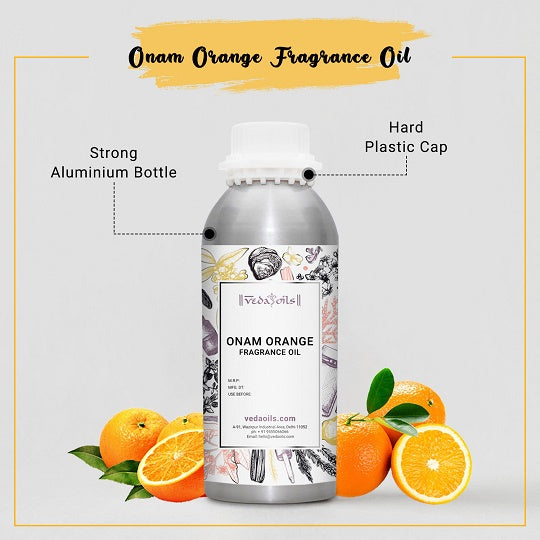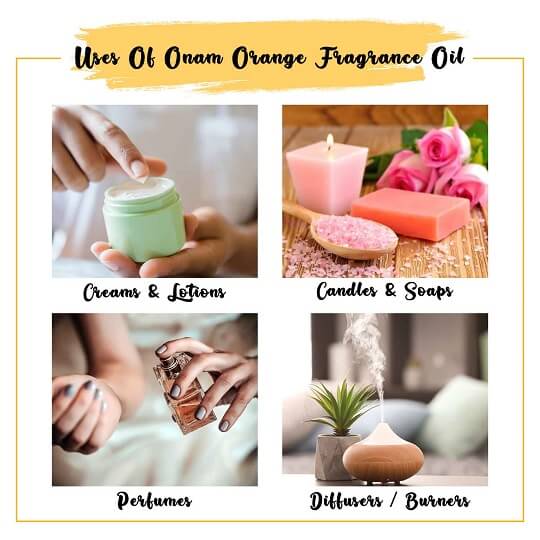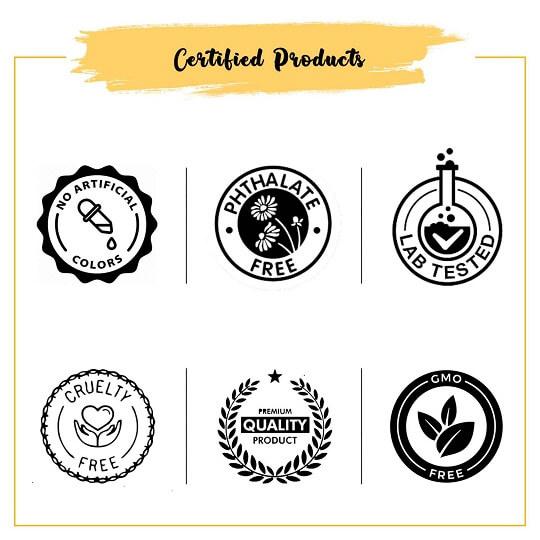 Our Certifications
Onam Orange Fragrance Oil
Made from fresh, sweet, ripe, and juicy oranges, Sweet Onam Orange Fragrance Oil will fill your heart with the refreshing and zesty fragrance of citrus fruits. Though it has an aroma that is similar to the scent of oranges, it also has a crisp citrusy scent that has a relaxing effect on your mind and body.
Due to its energizing scent, you may diffuse our natural Onam Orange Blossom Perfume Oil to eliminate foul odour from your living and workspaces. Also, it proves to be a preferred choice of many soap makers and manufacturers of personal care products due to its captivating aroma. Onam Orange Aroma Oil is made from freshly plucked Organic Oranges.
You may see it in many dish cleaners and cleaning products as it leaves a fresh fragrance after use. Moreover, our pure Onam Orange Scented Oil is also preferred by aromatherapists as it has a positive influence on your energy and mood. Get this wonderful fragrance oil in your home and introduce a fresh and energizing aroma in your rooms.
Onam Orange Fragrance Oil Uses & Benefits
Bath Care products
Natural Sweet Onam Orange Scented Oil is a perfect addition to bath care products as its soothing fragrance makes you feel energetic. It also helps you to calm your nerves and deal with stress issues.
Skin Care & Cosmetics
Skincare and cosmetic products may contain our organic onam orange blossom perfume oil as it is completely safe and skin-friendly. Moreover, it helps you give a unique and wonderful smell to your applications.
Perfumes & Deodorants
Including Original Orange Fragrance Oil in perfumes, cologne sprays, and deodorants are recommended as its citrusy aroma sustains throughout the day and keeps you energetic, fresh, and lively.
Soap Making
Soap makers would like to add the aroma of fresh ripe oranges to their products so, they use blood orange perfume oil. Also, after infusing this fresh scent to the soaps, they will soothe your skin and revive your senses.
Scented Candles
Add Onam Orange Blossom Scent Oil while making scented candles to provide unique and exuberating candles to your users. By lighting these candles, surroundings will be filled with positivity and energy.
Air fresheners
Incorporating our best orange fragrance oil to make air fresheners is a good choice due to its ability to keep away foul odour. The refreshing scent of tropical oranges also keeps the environment cheerful.
How to use Onam Orange Fragrance Oil?
Making candles: While making candles, you can add 15ml of our Natural Onam Orange Scented Oil to 1 lb of wax. Don't overuse the fragrance oil as it may give an overpowering fragrance to the candles.
Rejuvenating baths: To experience a wonderful feeling after bathing, you can add 5 to 6 drops of our pure Onam Orange Perfume Oil to your bath water.
Making Soaps: Making soaps smell awesome has never been so easy as you can include 10ml of our Sweet Orange Fragrance Oil in 0.5 lb of soap base to manufacture premium grade soap bars.
Cosmetic products: To make gentle and pleasant-smelling cosmetic and skincare applications, you just need to add a few drops of Onam Orange Aroma Oil to your products. However, be careful as overusing it is not recommended due to its highly concentrated nature.
Note: The concentration of Onam Orange Blossom Fragrance Oil needs to be varied as per the purpose of use and requirements.
Product Specifications
| | |
| --- | --- |
| Product Name: | Onam Orange Fragrance Oil |
| INCI Name: | N/A |
| Country of Origin: | India |
| Foam: | Liquid |
| Flash Point: | N/A |
| Color: | N/A |
| Aroma: | Fresh, Earthy, Citrus and Fruity fragrance |
| Suitable for: | Bath Bombs, Lipsticks, Lip Balms, Facial and Body Scrubs, Creams, Perfume Oils |
| Packaging Type: | As per requirement |
| Storage: | Store in a Cool & Dry place. |
| Shelf Life: | 2 years |
| COA: | |
| MSDS: | |
CAUTION: It is meant only for external use. Therefore, do not consume fragrance oil internally and also keep it away from your eyes as it might irritate.
Packaging Sizes
Please Note: The packaging shown above is a General Representation of the various sizes and types of packaging available for this product. Not all sizes and types of packaging for this product maybe available at all times.
Buy Onam Orange Fragrance Oil At Wholesale Prices
As a leading manufacturer, distributor, and supplier of rich-quality fragrance oils, VedaOils is committed to providing a satisfying experience to the users. We are offering Onam Sweet Orange Perfume Oil in bulk quantities and at wholesale prices so that it would be easy to use for commercial purposes. Retail packages of 100 grams are available for personal use whereas commercial users can order our Onam Sweet Orange Fragrance Oil in packages of (5 oz, 2 oz,16 oz,5 lb,25 lb & 100 lb) respectively.
Our user-friendly website and prompt delivery service help us to deliver your orders quickly to your doorstep. Do not worry as we employ high packaging and quality standards so that only effective and highly powerful fragrance oils reach you. The rich floral and inviting aroma of Organic Onam Blood Orange Fragrance Oil makes it versatile and highly effective as a scent obtained from organic sources.
It does not contain any chemicals or artificial preservatives and is, therefore, a good alternative to synthetic fragrances and oils. The amazing sweet, relaxing, and fresh aroma of Onam Orange Blossom Perfume Oil allows you to explore its use in multiple applications and products. Our logistics partners like DHL, USPS, FedEx, etc. help us to provide fragrance oils to customers residing in the UK, USA, Canada, Australia, etc. with ease.
Frequently Asked Questions