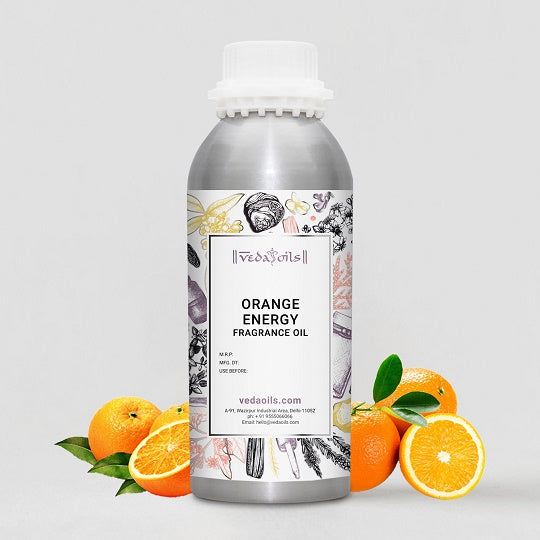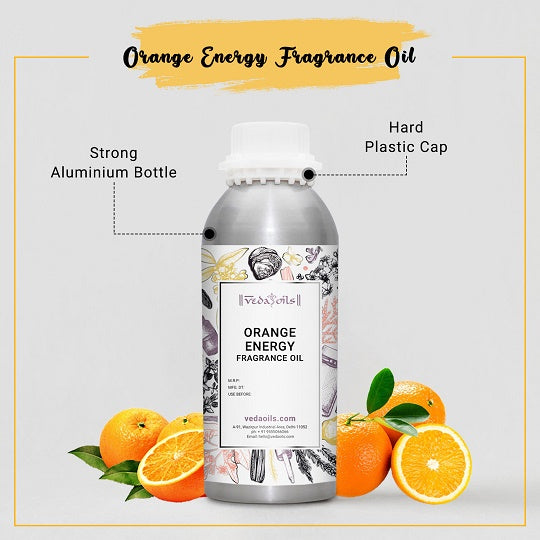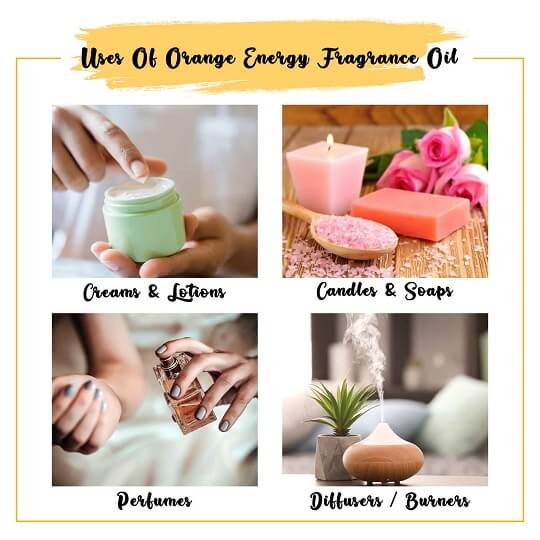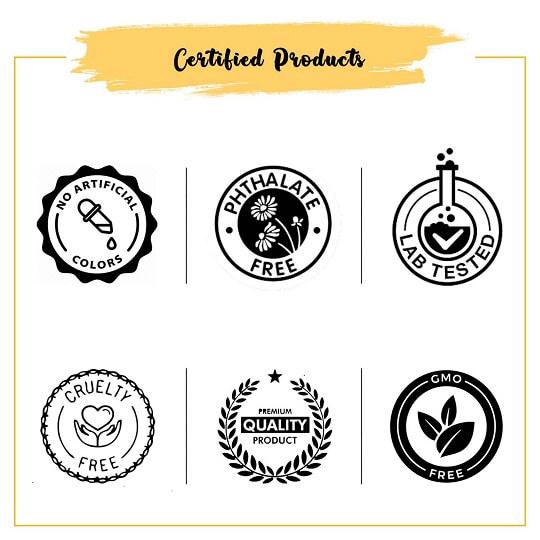 Our Certifications
Orange Energy Fragrance Oil
Made from the juicy and fresh extracts of Lemon, Jasmine, Pineapple, Cucumber, Lime, and Grapefruit, the Orange Energy Fragrance Oil is a premium quality fragrance with a citrusy, crisp, and clean scent. The deep, energizing effects of this fragrance oil can get rid of stale odor from the surroundings. They can also be used to give a bright and fresh fragrance to soaps.
Manufacturers of body sprays, deodorants, and perfumes love the citrusy aroma of this oil as it allows them to create mesmerizing blends. Though the base of this oil has a tinge of lemon and orange, it also contains the fruity tropical scent of Pineapple and the floral odor of Jasmine that provide it with a sweet and appealing twist. Inhaling Orange Energy Fragrance Oil will help you to recover from dullness and fatigue. Get this magical fragrance blend now and use it in various ways for commercial or personal use!
Orange Energy Fragrance Oil Uses & Benefits
Making Candles
Powerful and fresh scent of Orange Energy Fragrance Oil can be added to scented candles to give them an invigorating scent. In addition, these candles can be lighted to make the ambiance fresh and free from bad odour.
Diffusers & Air Purifiers
Our pure Energy Orange Fragrance Oil has a natural and clean scent that will help you to remove stale odor from the ambiance. You may even diffuse it to experience a refreshing aroma in your workspaces.
Perfumes & Deodorants
Ability of this fragrance oil to linger on your body for hours makes it a perfect contender for making perfumes, deodorants, body sprays, and colognes. Orange Energy Scent Oil has a unique aroma that mesmerizes everyone.
Cosmetic Products
Utilize Orange Energy Essence Oil to infuse a perfect blend of fruity, refreshing odor with an undertone of floral notes in cosmetic products. For example, it can be used in body lotions, face packs, moisturizers, scrubs, etc.
Premium Soaps
Add Fragrance of Orange Energy Oil to your melt and pour soap bases to make high-quality soaps. You may even incorporate it for making liquid soaps that exude an inviting fragrance and cleanse your body.
Incense Sticks
Orange Energy Perfume Oil will give a unique fragrance to your incense sticks with a magical scent of flowers and tropical fruits. Lighting them will make your religious ceremonies peaceful and stress-free.
How to Use Orange Energy Fragrance Oil?
Making Soaps: Pour 10ml of your favorite Energy Orange Fragrance Oil to around 150 grams of soap base while making scented soaps. It will revive your senses and make your skin feel special.
Bath Oils: Bathing with bath oil with a refreshing scent will alleviate stress and make you feel better. Around 5 to 6 drops of Orange Energy Essence Oil would be enough for a bathtub of water.
Skincare Products: It is a powerful and concentrated fragrance oil, so use it sparingly while making skincare and cosmetic products.
Scented Candles: Add 15ml of our organic Orange Energy Scent Oil to around 250 grams of wax to make scented candles of premium quality. Don't overuse it as it may give a strong scent to the candles.
Note: You may use Orange Energy Fragrance Oil as per your requirements as it depends on the kind of ingredients you are using in your products.
Product Specifications
| | |
| --- | --- |
| Product Name: | Orange Energy Fragrance Oil |
| INCI Name: | N/A |
| Country of Origin: | India |
| Foam: | Liquid |
| Flash Point: | N/A |
| Color: | N/A |
| Aroma: | Fresh |
| Suitable for: | Bath Bombs, Lipsticks, Lip Balms, and Body Scrubs, Creams, Perfume Oils |
| Packaging Type: | As Per Requirement |
| Storage: | Store in a Cool & Dry place. |
| Shelf Life: | 2 Years |
| COA: | |
| MSDS: | |
CAUTION: It is meant only for external use. Therefore, do not consume Orange Energy Fragrance Oil internally and also keep it away from your eyes as it might irritate.
Packaging Sizes
Please Note: The packaging shown above is a General Representation of the various sizes and types of packaging available for this product. Not all sizes and types of packaging for this product maybe available at all times.
Buy Orange Energy Fragrance Oil at Wholesale Price
A leading manufacturer, distributor, and supplier of premium-quality Orange Energy Fragrance Oil, Vedaoils strives to provide the best and highly effective natural products and supplies. Our pure Fragrance of Orange Energy Oil does not include any toxins or chemicals that may harm your health in any way. It is free from alcohol, animal-based ingredients, and artificial preservatives.
Therefore, even vegans may use it as per their requirements. The high stability of our fragrance oils enables you to add them to numerous DIY and commercial products. Extracted from different fruits and floral extracts, Orange Energy Fragrance Oil is multi-purpose oil as it can be used for different purposes. This oil's fresh, citrusy, and slightly sweet aroma with a tinge of floral notes make it perfect for personal care, cosmetic, and skincare products.
We offer Orange Energy Perfume Oil at cost-effective and wholesale prices for commercial users and provide discounted rates and offers to make them economical for everyone. Our quick delivery and high standards of quality and packaging enable us to deliver effective and high-quality products at your doorsteps. Our natural Orange Energy Fragrance Oil is available in packages of (5 oz, 2 oz,16 oz,5 lb,25 lb & 100 lb). We are providing them in various countries like the UK, US, Australia, and Canada through our website. Our logistics partners like FedEx, USPS, DHL, etc., make it possible to deliver our products in real-time.
Frequently Asked Questions