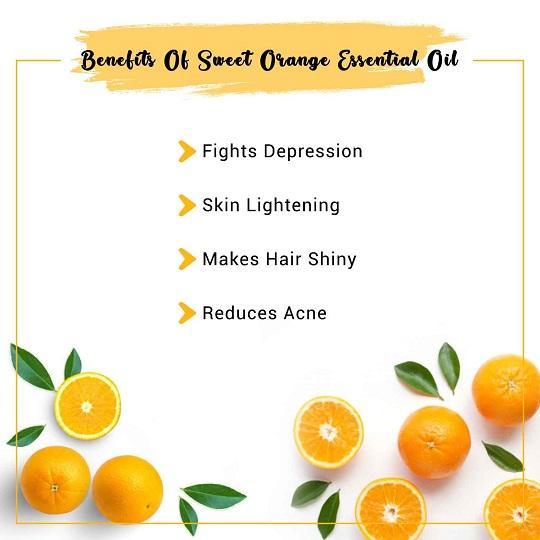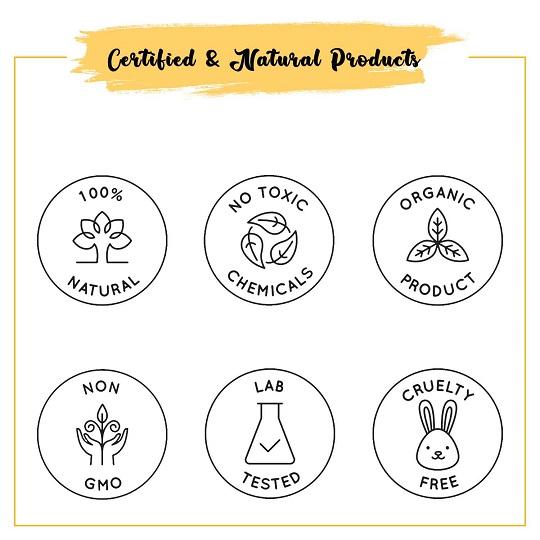 Our Certifications
Sweet Orange Essential Oil
Sweet Orange Essential Oil is made from the peels of Sweet Orange (Citrus Sinensis). It is known for its sweet, fresh, and tangy aroma that is pleasant and loved by everyone, including the kids. The uplifting aroma of orange essential oil makes it ideal for diffusing. Also, used in cosmetic applications on a wide scale due to its nourishing properties.
It is also useful for adding citrusy fragrance to cosmetic and skin care applications. Sweet Orange Essential oil exhibits antimicrobial properties and packed with powerful antioxidants that protect your skin from external conditions and pollutants. It is a natural antidepressant and is well-known for its anti-inflammatory properties.
Natural Orange Essential Oil is used to treat dry and irritated skin as it comprises emollient properties as well. It is also sometimes used in cleaning products to impart a refreshing fragrance to it after use. All these benefits make it a multi-purpose essential oil. We have only used fresh and natural ingredients while making orange essential oil. Therefore, it does not cause any issues after use. However, since it is a concentrated essential oil, you will have to dilute it before using it for massages and topical application.
Uses of Sweet Orange Essential Oil
Making Perfumes
The refreshing, sweet, and tangy scent of Orange Essential Oil adds up to a unique fragrance when used in making natural perfumes. Use it to improve the aroma of your homemade skin care recipes.
Surface Cleaner
Sweet Orange Essential Oil is known for its surface cleansing properties as well. Therefore, you can make a DIY home cleaner with the help of this oil and some other ingredients.
Aromatherapy Massage Oil
It promotes speedy muscle recovery when used for massage purposes. Mix Sweet Orange essential oil with a suitable carrier oil and massage your pressure points for pain relief.
For Candle Making
The bad odor of your rooms can be eliminated by using this sweet orange oil as a room freshener. You can also use it for making scented candles or diffuse it directly in an oil or reed diffuser.
Scented Soaps
It removes toxins, oil, and dirt from your skin to make it nice, soft, and supple. Add a few drops of orange essential oil with carrier oil or your skincare products such as Soaps, Shampoos to attain natural skin cleanser.
Mood Booster
The soothing, sweet, and tangy fragrance of orange essential oil will elevate your mood by reducing stress. It helps relax your mind and calm your senses after a busy day.
Sweet Orange Essential Oil Benefits
Anxiety Treatment
People who suffer from anxiety or depression can inhale it directly or via diffusing. Orange Essential Oil also promotes clarity of thoughts and boosts the overall well-being of a person
Stress Buster
Antidepressant properties of orange oil help in reducing stress and anxiety. It promotes a feeling of happiness and a sense of positivity when used for aromatherapy purposes.
Heals Wounds & Cuts
Anti-inflammatory properties of orange oil used for healing the pain or inflammation associated with wounds and cuts. It also promotes faster recovery of minor cuts and injuries.
Treating Infections
Skin infections can be treated by using Sweet Orange Essential Oil due to their antiseptic and antibacterial properties. It also cools and calms down dry and irritated skin.
Treating Acne
Antimicrobial properties and antioxidants of orange peel oil make it perfect for the treatment of dry or acne-prone skin. It also helps to maintain the oil balance of your skin.
Aphrodisiac
Amazing scent of Sweet Orange Essential Oil can induce a romantic mood when diffused. Therefore, you can also use it as an aphrodisiac to entice the feelings of your partner.
Product Specifications
| | |
| --- | --- |
| Botanical Name: | Citrus Sinensis |
| CAS#: | 8008-57-9 |
| Country of Origin: | India |
| F.E.M.A #: | 2825 |
| Specific Gravity: | 0.8450 - 0.8490 @ 20°C |
| Optical Rotation: | +94 to +99 |
| Refractive Index: | 1.4720 - 1.4740 |
| Flash Point: | 43° C |
| Shelf Life: | 3 years |
| Packaging Type: | As Per Requirement |
| Extraction or Processing Method: | Cold Pressed |
| Solubility: | It is soluble in water |
| Color & Odor: | Color ranges from yellow to colorless & has a sweet citrusy odor. |
| Major Constituents: | Sweet Orange Peel Extract |
| Blends with: | Lavender, Bergamot, Lemon, Clary Sage, Myrrh, Sandalwood, Nutmeg, Cinnamon Bark and Clove Bud. |
| Aromatic Scent: | Sweet Orange Essential Oil has a sweet, citrus smell much like the orange peels it is derived from, only more intense and concentrated. |
| COA: | |
| MSDS: | |
CAUTION: Organic sweet orange essential oil is meant only for external use. Do a patch skin test before applying it to your skin. Dilute it before topical application. Avoid direct exposure to sunlight. Pregnant women should consult a doctor before using it.
Packaging Sizes
Please Note: The packaging shown above is a General Representation of the various sizes and types of packaging available for this product. Not all sizes and types of packaging for this product maybe available at all times.
Buy Sweet Orange Essential Oil Online In USA at Low Prices
VedaOils is one of the leading wholesale suppliers, manufacturer and exporter of best sweet orange essential oil in USA and other essential oils. We offer the purest forms of essential oils to our customers. No chemicals, additives, or fillers are added to them. They also do not contain any artificial colors, preservatives, and fragrances. Therefore, they prove to be ideal for daily use. Though completely natural, you should dilute essential oil before using it for topical application as it is highly concentrated.
We employ numerous tests and quality checks to ensure that only premium-quality and pure orange oil reach you. The highest quality and packaging standards are employed to deliver desirable results on usage. Also, our portal uses a secure payment gateway to safeguard your transactions.
Buy Orange Essential Oil online at best prices in USA at VedaOils. You can use orange peel oil for your daily purposes, and we also sell it in bulk for those who need it. We also deliver the products throughout the world using our logistic partners DHL, FedEx BlueDart, etc. Do not miss this wonderful opportunity to buy chemical-free, fresh, and multi-purpose essential oils from VedaOils.
Frequently Asked Questions
Q: Is Orange essential oil safe for your skin?

A: Yes, it is safe to use. However, don't forget to dilute it and if you have sensitive skin then you can also perform a patch test on your elbow to check its compatibility with your skin.

Q: Does orange oil whiten teeth?

A: Yes, sweet orange oil helps in teeth whitening and also suitable for gum health due to its anti fungal properties.

Q: Which Oils blend perfectly with Sweet Orange Essential Oil?

A: Essential oils like Bergamot, Myrrh, Sandalwood, Jasmine, Cinnamon, Clove, etc. blend well with sweet orange essential oil.

Q: Can Cold Pressed Oil be ingested?

A: No, We have formulated sweet orange essential oil for external use only.

Q: Is orange essential oil good for hair?

A: Sweet Orange Oil holds the right amount of Vitamin C helps in hair dandruff issues and acts as a moisturizer for brittle hair.

Q: Does Sweet Orange Essential Oil helps in sleep?

A: Yes, You can use organic sweet orange oil for better sleep, the aroma of oil lift your mood and soothe the mind.

Q: Can I Buy Orange Essential Oil Online in bulk quantity?

A: You can order sweet orange essential oil in bulk at VedaOils. We also export this oil around the globe, including the UK, Australia, USA, Canada, and other countries.