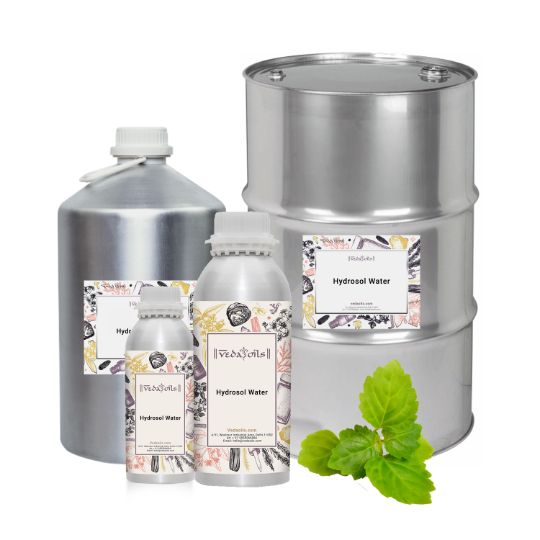 Our Certifications
Patchouli Hydrosol Water
Patchouli Hydrosol holds antidepressant, anti-inflammatory, and bactericidal properties. It is generally used for oily to normal skin types, or for those who have acne or acne-prone issues. This water is much more "mellow" in scent than patchouli essential oil. Patchouli Flower Water is what remains after steam or water distillation of the Patchouli essential oil, which is obtained from the leaves of Pogostemon patchouli shrub and provides a rich, sweet, earthy fragrance. The plant matter used in essential oil distillation imparts the hydrosol with water-soluble aromatic and therapeutic properties of the plant.
Unlike the Patchouli essential oil that should be diluted prior to application to the skin, the Patchouli Hydrosol is much gentler than its essential oil counterpart, and can generally be used directly on the skin without further dilution. This hydrosol water can be used for all types of skin. It helps in supporting healthy, flawless, and blemish-free skin. Both the patchouli floral water & essential oil have similar scents and functional properties, but the hydrosol water is less concentrated.
Patchouli Hydrosol has a medium intensity patchouli scent and is water-soluble. It helps in soothing the skin and enhancing the skin barrier whilst ensuring deep hydration. It penetrates easily and efficiently to the deepest layer of the skin without clogging the pores and does not leave a greasy residue. Organic Patchouli Hydrosol is a moisture-enhancing misty solution that soothes sensitive skin and the skin exposed to ultraviolet light. It is mineral-rich hydrosol which also helps in regenerating the skin, increasing the moisture supply, and forming a protective layer that prevents moisture loss.
Patchouli Flower Water can be used in place of water for the creation of natural fragrances, lotions, creams, facial toners, room sprays, air fresheners, cosmetic care products, and other different types of products. All forms of this Hydrosol are used in the beauty care industry. This is no wonder since it holds a variety of therapeutic benefits. This Hydrosol Water is also a natural antibacterial and assists with topical pain management of minor skin abrasions and small cuts.
Patchouli Hydrosol Uses
Facial Toners
Patchouli is an excellent face toner ingredient. Patchouli hydrosol water is even more effective in regulating excess sebum because it's water-based. After cleansing and drying your face, put some onto cotton and dab it onto your face, and then apply moisturizer
Hair Care Products
Patchouli hydrosol water has been considered one of the best-distilled waters intended for hair care. It strengthens roots, boosts hair growth, and prevents thinning. Its effectiveness increases twofold when mixed in natural oil and applied to hair.
Cosmetic Care Products
Being a naturally extracted product, the Patchouli hydrosol water is the best ingredient for the preparation of make-up setters. Spritzing some Patchouli hydrosol water after doing the make-up helps it stay in place for a longer period and gives a pretty dewy appearance to the skin.
Room Freshener
Patchouli hydrosol water is used as a room freshener and spritzed in the air for air purification purposes. It can help in getting rid of any harmful microbes present around and also rids the air of any foul odors.
Aromatic Bath
A good aromatic bath in a bathtub helps to relax and calm the body. You can add a few drops of Patchouli hydrosol water in a bathtub to enjoy a rejuvenating and relaxing aromatic bath.
Bug Repellents
The patchouli hydrosol water can be spritzed on clothes and window curtains to repel bugs like mosquitoes, flies, and such. Using patchouli hydrosol water in home cleansing activity can help disinfect surfaces.
Patchouli Hydrosol Benefits
Acne Control
Many acne sufferers have acne that's itchy, dry, and painful, especially those with cystic acid. You can add Patchouli hydrosol into a fine mist spray bottle. Spritz on your face as needed.
Treat Skin Redness
Patchouli hydrosol water can be used to treat the redness and itchiness of the skin effectively and instantly. You can add Patchouli hydrosol onto a fine mist spray bottle. Spritz on acne as needed throughout the day.
Treats Cuts & Wounds
It offers tremendous antibacterial, antimicrobial and antifungal properties, the Patchouli hydrosol water can be used for the preliminary treatment of cuts, wounds, and minor scrapes. Take some hydrosol water onto a cotton pad and gently dab over the thoroughly washed wound.
Hydrates Skin
It helps remove any blemishes from the skin, the Patchouli hydrosol water also helps in refining the skin pores by cooling the skin. The great hydration and cooling properties of Patchouli floral water also help in controlling skin breakouts.
Relieves Cough
Patchouli hydrosol can be used as a soothing, hydrating, antibacterial, and pain-relieving throat spray. Simply Patchouli hydrosol to the throat spray tube. Use whenever your throat gets dry, feels gritty, and is itchy.
Uplifting Mood
Use Patchouli hydrosol water in room spray formulation, since it helps in ridding the room of foul odors. Apart from this, it balances the energies in the room, thereby uplifting, energizing, and refreshing your mood.
Product Specifications
| | |
| --- | --- |
| Product Name: | Pogostemon Cablin |
| INCI Name: | Pogostemon cablin (patchouli) hydrosol water |
| Raw Material Source: | N/A |
| Extraction Process: | Steam Distillation |
| CAS Number: | N/A |
| Country of Origin: | India |
| Suitable For: | N/A |
| Solubility: | Water Soluble |
| Color: | N/A |
| Storage: | Store in a Cool & Dry place. |
| Shelf Life: | 2 years |
| COA: | |
| MSDS: | |
CAUTION: It is meant for external purposes. Keep it away from the reach of your kids and avoid direct contact with eyes.
Packaging Sizes
Please Note: The packaging shown above is a General Representation of the various sizes and types of packaging available for this product. Not all sizes and types of packaging for this product maybe available at all times.
Buy Patchouli Hydrosol Online In USA at Low Prices
VedaOils is the largest manufacturer, supplier, wholesaler and seller of varied types of hydrosol, We promises to indulge you in the freshness and quality of our wide-range products, including our Organic Patchouli Hydrosol. Vedaoils do not compromise with the quality of the products when it concerns your health and beauty. We assure you that we adopt the highest quality standards both in production and packaging, delivering to you the ultimate, premium quality product.
We follow strict packaging standards while packing our high-grade hydrosol so that you can receive them in perfect condition at your doorstep. We offer VedaOils Pure Distilled Patchouli Hydrosol in packages of different quantities (5 oz, 2 oz,16 oz,5 lb,25 lb & 100 lb) so that you can order them as per your needs from our website. We aim to provide you with the finest of the goods, giving to you the richness and the goodness of pure natural ingredients.
You can purchase VedaOils Patchouli Flower Water from our online store, from the comfort of your home at the most affordable prices and safe payment methods. Our Patchouli hydrosol not only caters to your cosmetic and beauty needs, but also to preparation of cleaners, room sprays and more. Check out the bulk prices of our products and avail huge discounts.
Apart from being a fine manufacturer in the USA market, VedaOils is quickly emerging as a leading producer, and exporter of global quality natural Patchouli Hydrosol. We are exporting products globally to countries like the UK, Canada, Australia and many more. It does not contain any chemicals or artificial preservatives and is, therefore, a good alternative to synthetic fragrances and oils. Our logistics partners like DHL,USPS, FedEx, etc.
Frequently Asked Questions