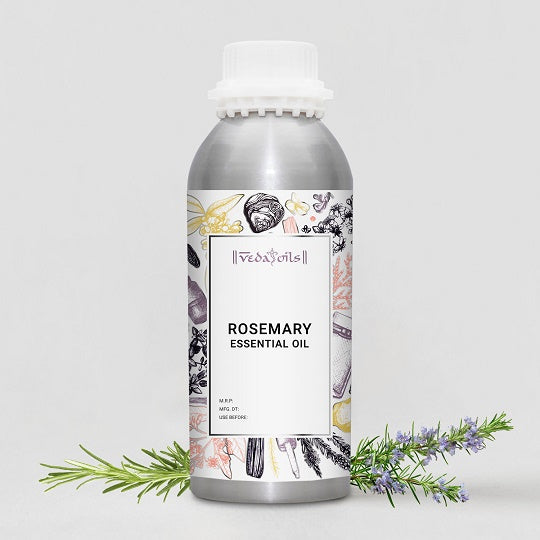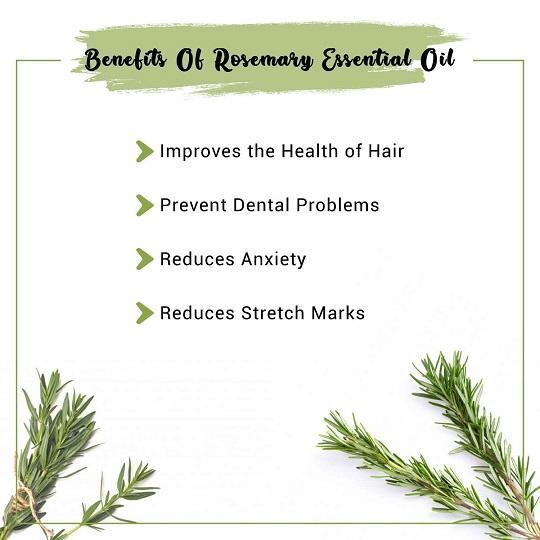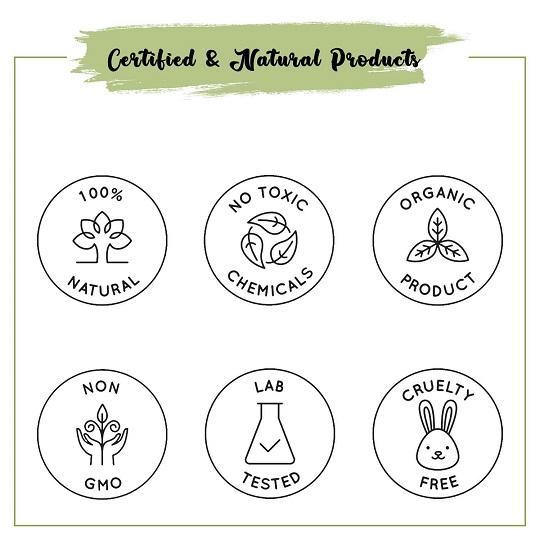 Our Certifications
Rosemary Essential Oil
Rosemary is one of the rare herbs that is used as a medicinal plant for centuries. Rosemary essential oil is a concentrated essential oil that is obtained from the flowering tops of the Rosemary (RosmarinusOfficinalis) herb. This herb belongs to the same mint family that Lavender, Clary Sage, Basil, etc. belong to. It is mainly known for its cleansing properties and it is also used in cosmetic products due to its beautifying properties. It also contains powerful antioxidants that make it an ideal ingredient for skincare and hair growth purposes.
Pure Rosemary Oil has many therapeutic benefits as well. Due to its stimulating properties and refreshing fragrance, you can also use it for aromatherapy sessions. This plant is mainly found in the Mediterranean region and can be used as a pain reliever due to its anti-inflammatory effects on your skin. You can identify rosemary oil by its herbal and citrusy aroma that gives it a perfect blend of fresh and green fragrance. Its color ranges from pale yellow to clear liquid form. This essential oil loses some of its viscosity after the steam distillation process but it remains powerful and invigorating. Therefore, you need to dilute it before applying it directly to your skin.
Rosemary Essential Oil Uses
Aromatherapy
When used in aromatherapy, Rosemary oil can improve mental clarity and provide relief from fatigue and stress. It has a positive effect on your mood and can be used to reduce anxiety as well.
DIY Soap & Candles
Amazing aroma of Rosemary essential oil makes it a useful ingredient for making scented Candles, Soaps, Incense sticks, etc. You can also use it to make DIY natural perfumes and deodorants.
Skin Care Products
Rosemary essential oil can be added to face masks, toners, face washes, soaps, creams, and moisturizers as it gives you fresh, younger, and blemish-free skin. It keeps your skin hydrated and smooth for a long time after application.
Room Freshener
The refreshing scent of rosemary oil makes it ideal for eliminating the foul odor from your rooms. For that, you need to dilute it with water and add it to an oil diffuser.
Treating Congestion
You can inhale Rosemary essential oil to get instant relief from nasal and throat congestion. It clears your respiratory tract and promotes smooth and healthy breathing.
For Irritated Scalp
People suffering from the itchy or dry scalp can massage a diluted form of rosemary oil on their scalp. It also prevents premature greying of your hair to some extent.
Rosemary Essential Oil Benefits
Promotes Hair Growth
Rosemary essential oil boosts blood circulation in your hair roots and promotes healthy hair growth. You can add a few drops of rosemary essential oil to your regular hair oils and shampoos.
Relieves Muscle Pain
Rosemary Essential Oil can relieve the stress and pain from your muscles. It proves to be an excellent massage oil due to its analgesic properties.
Rich in Vitamins
Rosemary is rich in vitamins A and C that are one of the key ingredients of skincare and hair care products. Therefore, you can use this oil for improving the overall health of your skin and hair.
Immunity Booster
You can inhale rosemary oil directly or you can also use it for aromatherapy, it supports your immune system. It also makes your internal system strong enough to fight cold and other diseases.
Anti Aging
Rosemary essential oil reduces eye puffiness and gives you glowing and healthy skin. It combats skin issues like wrinkles, fine lines, etc. that are associated with the aging of the skin.
Protects Skin
Rosemary essential oil protects your skin from sun damage. You can use it to obtain nourished and glowing skin free from toxins and dirt as it has a detoxifying effect on your skin.
Product Specifications
Botanical Name:

Rosmarinus Officinalis

CAS#:

8000-25-7

Country of Origin:

India

F.E.M.A #:

2992

Specific Gravity:

0.89800 - 0.92200 @ 25°C

Optical Rotation:

-5 to +10

Refractive Index:

1.46600 - 1.47000 @ 25°

Flash Point:

47.3°C

Form:

Liquid

Shelf Life:

2 years

Packaging Type:

As Per Requirement

Extraction or Processing Method:

Steam Distillation

Solubility:

Insoluble in water, soluble in alcohols and oils

Color & Odor:

Pale yellow to colorless & herbal, and woody odor

Other Name:

Rosemary Oil

Major Constituents:

Rosemary Flowering top & Leaves Extract

Blends with:

Lavender Oil, Jasmine Oil, Wild Orange Oil, and Lemon Essential Oil

Strength of Aroma:

Strong

COA:
MSDS:
CAUTION: It is meant only for external use. Do a patch skin test before applying it to your skin. Dilute it before topical application. Avoid direct exposure to sunlight. Pregnant women should consult a doctor before using it.
Packaging Sizes
Please Note: The packaging shown above is a General Representation of the various sizes and types of packaging available for this product. Not all sizes and types of packaging for this product maybe available at all times.
Buy Rosemary Essential Oil Online In USA at Low Prices
VedaOils is one of the leading wholesale suppliers, manufacturer and exporter of best rosemary oil in USA and other essential oils. We ensure that all our products adhere to the highest standards of safety and quality. We offer the purest forms of essential oils to our customers. No chemicals, additives, or fillers are added to them. They also do not contain any artificial colors, preservatives, and fragrances. Therefore, they prove to be ideal for daily use. Though completely natural, you should dilute essential oil before using it for topical application as it is highly concentrated.
We employ numerous tests and quality checks to ensure that only premium-quality and effective oils reach you. The highest quality and packaging standards are employed to deliver desirable results on usage. Check out rosemary oil price per gallon and get a discount while ordering in bulk quantity.
Order Certified Rosemary Oil from our safe and secure payment gateway to safeguard your transactions. You can purchase rosemary oil online for your daily purposes. You can also order rosemary essential online in bulk quality. We also export this oil around the globe including the UK, Australia, Canada, and other countries. We also deliver the products throughout the world using our logistic partners DHL, FedEx, UPS, USPS, etc. Do not miss this wonderful opportunity to buy chemical-free, fresh, and multi-purpose Rosemary Oil from VedaOils.
Q: What is Rosemary Essential Oil well-known for?

A: Rosemary Essential Oil is renowned for its therapeutic, pain-relieving, soothing, and stimulating properties.

Q: Does rosemary oil repel mosquitoes?

A: Yes, It contains eucalyptol which acts as natural mosquito and insect repellents.

Q: What Oil blends with rosemary essential oil?

Rosemary essential oil blends well with Lemon Oil , Wild Orange Oil, Jasmine Oil, and Lavender Essential Oil

Q: Which are the top medicinal properties of this essential oil?

A: Antibacterial, antiseptic, analgesic, detoxifying, anti-inflammatory, and decongestant properties are the top medicinal properties of Rosemary essential oil.

Q: How is Rosemary Oil extracted?

A: It is usually extracted through a process known as steam distillation process.

Q: Can Rosemary Essential oil be applied directly to scalp?

A: Yes, You can apply rosemary oil on scalp. Take 3-5 drops of oil and massage uniformly into your scalp, after shower. You can also mix jojoba oil & coconut oil, if you want.

Q: Is Rosemary Oil good for hair loss?

A: Yes, You can use Rosemary oil to strengthens hair follicles and circulation of blood supply, prevent hair loss.

Q: Where I can Buy Rosemary Oil Online in bulk quantity?

A: You can order Rosemary Oil from VedaOils Online, leading manufacturer, distributor & supplier of bulk orders in USA. We also export them to other countries around globe such as USA, UK, UAE, Canada, Australia, New Zealand etc.

Q: It is rosemary essential oil or rosemary oil. Do you have anything to prove it is pure essential oil

It is pure rosemary essential oil, we can provide you a certificate of analysis to attest the same.