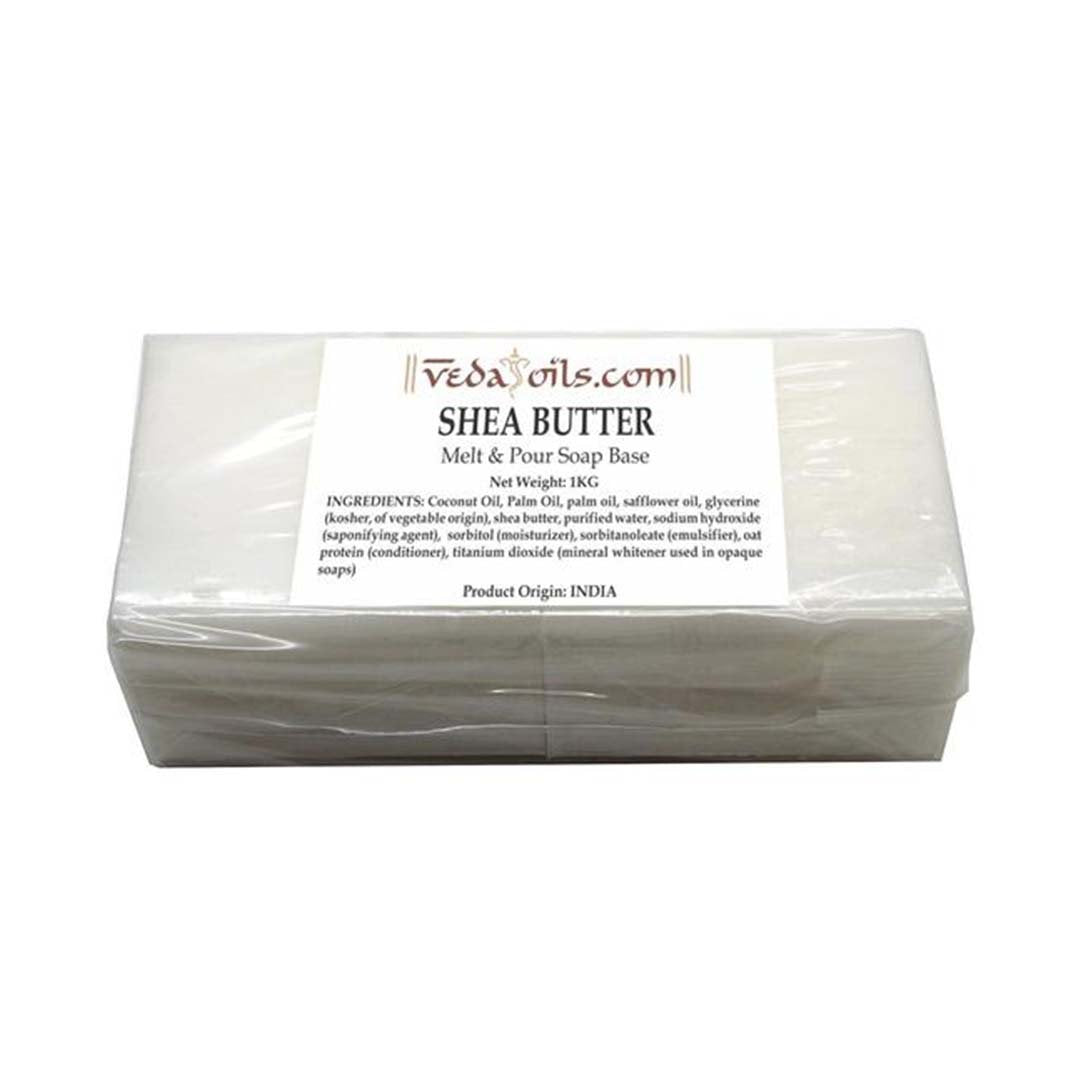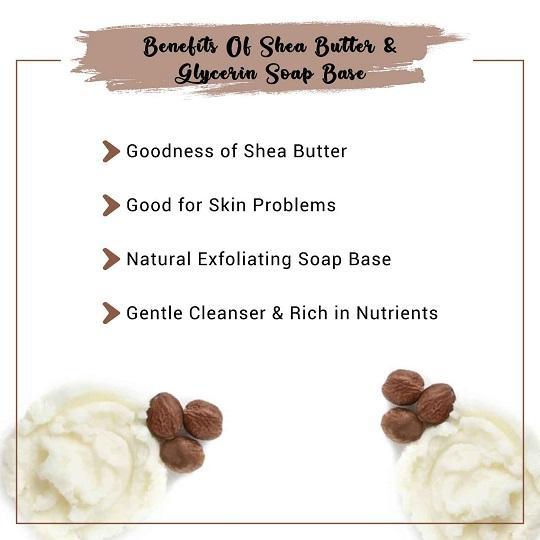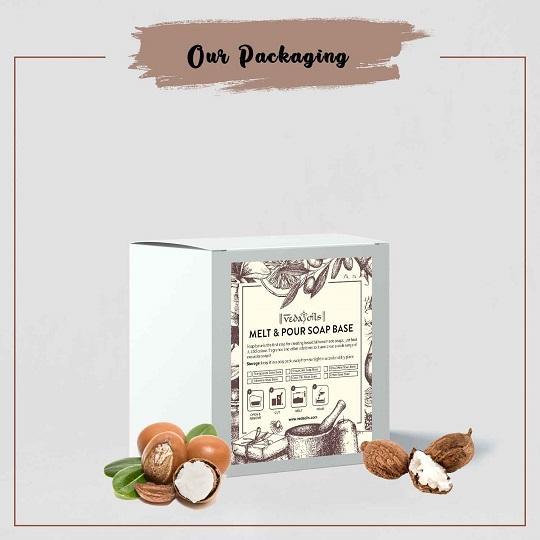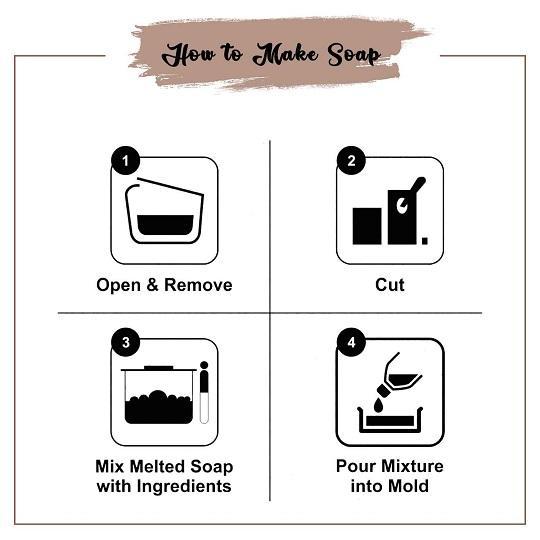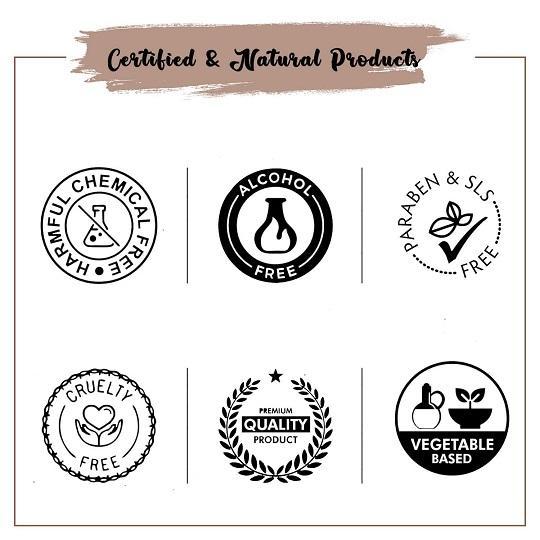 Our Certifications
Glycerin Shea Butter Melt and Pour Soap Base
VedaOils Shea Butter soap base acts as a skin moisturizer and soothing agent for irritated and chapped skin. It's derived from the Karite tree found in West Africa. Soap Expressions Shea Butter Soap Base has a neutral odor so the fragrance really comes alive when added. Shea butter is one of the most popular additives to soaps because of its superior skincare, it's known for its soothing and emollient properties.
With a high concentration of fatty acids and vitamins, Shea Butter is a major ingredient for various cosmetic products. Extracted from the nuts of the Karite tree, Shea butter has an off-white or ivory hue. With a volatile and easy-to-spread consistency, Shea butter is an ideal choice for soap bases and face packs. Shea soap base has great smoothing, soothing and moisturizing properties.
VedaOils Natural Shea Butter Soap Base acts as an emollient when used in soaps and is great for smoothening the skin and reducing swelling and itchiness. Through thick and solid at room temperature, yet it has a buttery texture that makes it ideal for lip balms, eye creams, and body lotions. With over 60% fat content, Shea butter penetrates well in the skin providing deep conditioning. Shea butter base is anti-inflammatory and anti-aging properties make it a miracle remedy for dull and lifeless skin.
Loaded with chemical compounds like triterpenes that deactivate collagen fiber destruction, Organic Shea Butter Soap Base contributes to making the skin look younger and plumper. Shea melt and pour soap base soothes the skin with ample moisture and essential fatty acids. These fatty acids also serve as a defense barrier protecting wounds and cuts from external environmental irritants. With a high concentration of fats, vitamins, and moisturizing properties, Shea butter is the ultimate choice for natural and organic cosmetic products designed to give your skin a new life.
Buy Premium 100% Natural Shea Butter Melt & Pour Soap Base made from high-quality ingredients, such as coconut oil, palm oil, safflower oil, glycerin (kosher, of vegetable origin), shea butter, purified water, sodium hydroxide (saponification agent), sorbitol, propylene glycol (made from vegetable glycerin), sorbitan oleate (emulsifier), oat protein (conditioner), titanium dioxide (mineral whitener used in opaque soaps) is extremely easy to work with, providing endless possibilities. With your creativity and personal touch, you can transform this bar of soap into something amazing!
Shea Butter Soap Base Benefits & Uses
Soap Making
Multiple healing properties, Shea butter glycerin soap base is the first choice for natural soap makers. It is loaded with a complex fat which when processed and applied topically, melts easily and is instantly absorbed by the body.
Skin Moisturizing
Rich in linoleic, oleic, stearic, and palmitic acids, Besides adding moisture to the skin, Shea butter's fatty acids are of superior quality such that when applied topically, is easily absorbed by the skin, improving its quality and without making it oily.
Dry Hair
Its rich moisturizing quality Shea butter soap base is a good conditioner for dry, damaged, and brittle hair. Organic Soap Base Reducing the occurrence of dandruff and dry scalp, improves hair and scalp health, thus making hair stronger.
Treat Skin Disorders
Anti-fungal and anti-inflammatory properties, Shea butter soap base helps in improving skin disorders like eczema, psoriasis, rashes, and itching. It's easy to absorb formula provides quick relief in flare-ups. It also protects it from harmful UV rays and acts as a natural sunblock when added to everyday soaps.
Preventing Acne
Loaded with natural compounds in Shea butter melt and pour soap base restore just the correct amount of moisture into your skin without making it abnormally oily. The restoration of the natural balance of oils clears the skin of dead cells, preventing the occurrence of acne and pimples.
Extremely Flexible
Shea butter soap base works great with soap colorants and essential oils for fragrance. Providing an opportunity to create your own custom beautiful Shea butter homemade soap bar. Shea butter soap base is an excellent moisturizer for the skin, with a rich lather, along with lots of vitamins and nutrients.
How to Use Shea Butter Soap Base?
Open & Cut Soap Base
Cut the Shea Butter Soap Base into small chunks of 1 inch (2.54-centimeter) with a clean, sharp knife. You do not have to cut it into the exact size, but make sure the pieces are not too large, as small chunks will help the soap base melt faster and smoother.
Melt Soap Base in Microwave
Place Shea Butter Soap base chunks in a microwave-safe dish and melt the soap base for 3 minutes. Set the timer to 3 min and stop every 30 sec to check the soap base. Stir once or twice if required. Do not boil the shea butter soap base or put it directly on flames.
Add Oils to Melted Soap Base
After the shea butter soap base is melted completely, let it cool down for few minutes. Now add your favorite Essential Oils and Fragrance Oils to attain your soap's desired fragrance and qualities. Make sure to use oils that are pure and safe for use.
Mix Ingredients in Melted Soap Base
Stir in soap-making ingredients such as Pigment powder, Colors, or Dry Flowers to give your soap a unique essence if you desire. Use ⅛ teaspoon of dye or pigment powder per 1 pound of soap. Stir it well before you move onto next step.
Pour Soap Base into Mold
Now all additives are added into the shea butter soap base. Mix it well and pour it into your desired soap-making molds. If you are using a plastic mold, coat the inside with petroleum jelly for effortless results. Let it cool down for 12 to 24 hours at room temperature.
Release Soap Base from Mold
Remember patience is a virtue, do not get impatient while releasing soap from mold. Instead, gently pull the edges of the mold away from the soap, then turn the mold upside-down and pop the soap out. Allow the Shea Butter Soap to complete drying.
Product Specifications
| | |
| --- | --- |
| Color: | White |
| Melting Point: | 135 Fahrenheit |
| Ingredients List: | Water, Propylene Glycol, Organic Shea Butter, Sodium Stearate, Glycerin, Surcose, Sodium Laurate, EDTA, Titanium Dioxide |
| Mixing Temperature of Fragrance Oil : | Approx 138-140 degrees |
| Mixing Temperature of Soap Color: | Approx 180° - 185° |
| TFM: | Above 40% |
| pH: | N/A |
| Sulfate-Free: | Yes |
| Preservative Free: | Yes |
| Origin: | India |
| Detergent: | No |
| Organic: | Yes |
| SLS Free: | Yes |
| Paraben Free: | Yes |
| Alcohol-Free: | Yes |
| Solubility: | Insoluble in water, soluble in alcohols and oils |
| Fragrance Scent: | Odorless |
| Type: | Bathing Soap |
| Application Area: | Face, Hair, Body |
| 100 % Vegetarian: | Yes |
| Shelf Life: | 2 years |
CAUTION: It is meant for external purposes. Keep it away from the reach of your kids and avoid direct contact with eyes.
Packaging Sizes
Please Note: The packaging shown above is a General Representation of the various sizes and types of packaging available for this product. Not all sizes and types of packaging for this product maybe available at all times.
Shop Shea Butter Soap Base Online at Wholesale Price on Veda Oils
VedaOils is one of the largest manufacturers, suppliers of Organic Shea Butter Soap Base Bulk and herbal products in USA with a promise to instill health and freshness in your everyday life through its wide range of products. Veda Oils offers 100% naturally organic Shea Butter melt and pour soap base is ideal for making a customized soap bar to suit your skin and body type. Our Natural Shea Butter Soap Base is all Vegetable Oil-based with no alcohol or toxic content. It cleanses and enhances your skin quality without stripping off the natural oils of your skin.
Devoid of animal fat content, our raw melt and pour shea butter soap base does not lather like artificial soaps and neither leaves a soapy film behind. Free from surfactants and propylene glycol, our Shea Butter Melt and Pour Soap Base is smooth, buttery rich with natural emollient properties making us a front-runner in the Shea butter soap base wholesale business.
Frequently Asked Questions