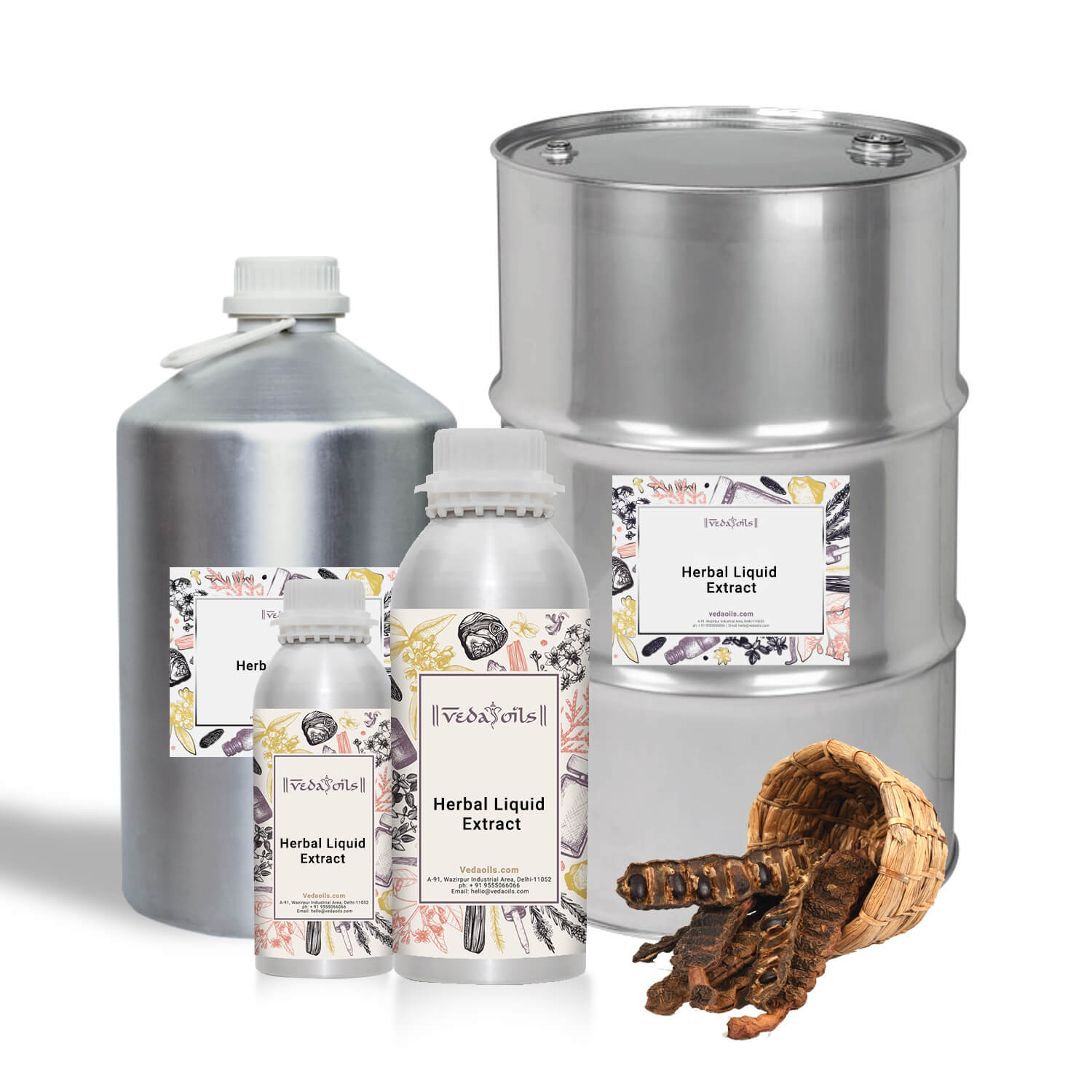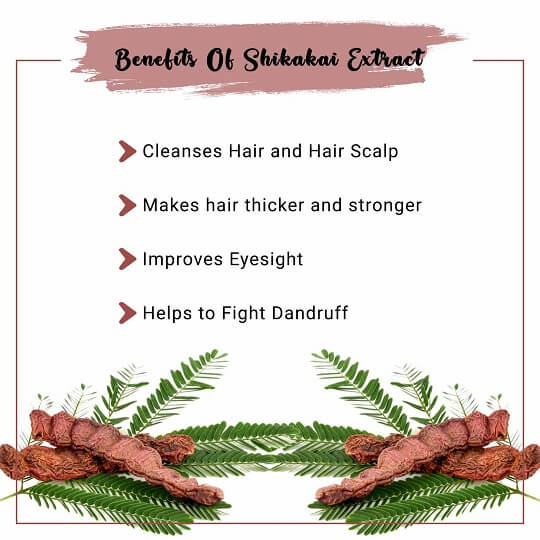 Our Certifications
Shikakai Extract Liquid
Shikakai is a climbing shrub with dark brown color pods and pink flowers found mostly in the tropical forests of the Indian subcontinent. Used as a potent hair medicine in the traditional Ayurvedic system, it is often called the 'hair fruit'. It works effectively to strengthen hair roots, control hair fall, controls dandruff, and prevents scaling, itchiness, and dryness of the scalp.
Besides being an effective remedy for hair problems, it is also used widely to treat other health ailments like abdominal distension, jaundice, fever, skin disorders, piles, herpes, swelling, intestinal worms, etc. It stimulates smooth blood circulation in the scalp thus preventing hair fall and adding strength and added volume to your hair. It improves the texture of hair making them smooth and shiny.
Shikakai Liquid Extract pods act as a natural suppository. It is highly beneficial in treating constipation and intestinal swelling. It helps in the movement of feces through the bowel system ensuring a smooth and healthy digestive system in the body. The anti-bacterial properties of Shikakai help in the treatment of gum and tooth infections. Highly effective in the treatment of gum infections like gingivitis, Shikakai prevents the build of plaque thus avoiding the chances of tooth decay.
Shikakai Extract Liquid also stimulates the secretion of bile from the liver and aids in the recovery of liver diseases like jaundice. As a therapeutic and medicinal shrub, Shikakai has great significance in Ayurveda and is believed to treat many diseases besides being a big cure for hair problems.
Shikakai Liquid Extract Benefits
Promotes Stronger and Thicker Hair
The active compounds in Shikakai provide the essential oils and Vitamins that are necessary for the growth of strong and thick hair. Such nourishment obtained from Shikakai Liquid Extract strengthens hair follicles, reduces hair breakage, and prevents split ends.
Cleanses Hair and Hair Scalp
The anti-fungal and anti-microbial properties of Shikakai Liquid Extract help in acting as a natural cleanser for the hair scalp. It cures lice of the scalp and prevents them from coming back. It provides a soothing and calming effect on the infected and inflamed scalp, providing relief instantly.
Heals Infection
Due to its soothing and calming properties, Shikakai is effectively used in treating infections especially those of the scalp like itchiness, dryness, and flakiness caused by bacteria. It helps to cleanse the skin of the scalp and protect it from excessive dryness.
Aids Digestion
With good fiber content and its suppository and purgative nature Shikakai liquid extract prevents constipation and aids in the smooth functioning of the bowel system.
Relieves Stress
With its natural cooling properties, Shikakai Liquid Extract is often used as a stress reliever for gentle hair massages. These massages reduce headaches and calm down the nerves. A combination of Shikakai, Amla, Reetha, and yogurt is often used to provide relief from a headache on a hot summer day.
Helps to Fight Dandruff
The anti-fungal and anti-bacterial properties of Shikakai Liquid Extract helps in removing lice and dandruff from the hair scalp. It maintains the oil balance of the scalp without making it unreasonably dry or scaly, thus preventing dandruff.
How to Use Shikakai Extract Liquid?
Recommended is 0.4% to 1.2% or as directed by your healthcare practitioner. Shake well before using.
Product Specifications
| | |
| --- | --- |
| Product Name Name: | Shikakai Liquid Extract |
| INCI Name: | Acacia Concinna |
| Raw Material Source: | Leaves, barks, and fruit pods |
| Manufacturing Process: | Extracted via distillation at low temperatures under strict quality standards and procedures from the Certified Organic shikakai shrubs. |
| Form: | Liquid |
| Alternative Name: | Amala, Satala, Ban Reetha |
| CAS Number: | NA |
| Physical Appearance | Transparent liquid |
| Colour | Light reddish to brown |
| Solubility | Soluble in alcohol and fixed oils |
| Shelf Life: | 2 years |
| COA | |
| MSDS | |
CAUTION: No herb-drug interactions are known but caution should be observed with external applications. The application in their prescribed doses may be considered safe. Not to be used during pregnancy. Consult a physician before using if nursing or taking any medications. Keep it away from the reach of your kids and avoid direct contact with eyes.
Packaging Sizes
Please Note: The packaging shown above is a General Representation of the various sizes and types of packaging available for this product. Not all sizes and types of packaging for this product maybe available at all times.
Buy Shikakai Liquid Extract Online at Wholesale Prices
VedaOils offers Shikakai liquid Extract Online as we are one of the leading herbal extract manufacturers in USA. We manufacture them by following a standard method that enables us to tap all the beneficial active ingredients present in the herbs or fruits. The concentration of the diluent used in the liquid extracts depends on the concentration and the number of active compounds that are derived from them.
You can now place orders in bulk quantity of best Shikakai extract liquid, and we ensure timely delivery of the products through the competitive and broad connection of our logistic partners. Our payment gateway is secure and enables you to complete the payment process quickly without any issues. We also export our high-quality liquid Shikakai extract to the US, Canada, UK, Australia and other countries.
Q: If I wanted to use this shikakai extract in my own hair shampoo and conditioner I make from scratch and also for internal use, which one would be the best choice? Water-soluble or oil-soluble? Which one is the most potent please. Also same question for Amla and bhringraj too. Thank you!

Water-soluble shikakai extract is more commonly used in shampoos as it can be easily incorporated into the water-based formulation of the shampoo. It has excellent foaming and cleansing properties that help to remove dirt and oil from the hair without stripping away the natural oils, leaving the hair clean, soft, and manageable. Water-soluble shikakai extract is also easier to rinse off, making it ideal for people with fine or oily hair.

On the other hand, oil-soluble shikakai extract is more suitable for dry, damaged, or coarse hair types, as it helps to nourish and moisturize the hair and scalp. It can be added to oil-based shampoos or conditioners, where it helps to improve the texture and shine of the hair, while also promoting hair growth and reducing dandruff.