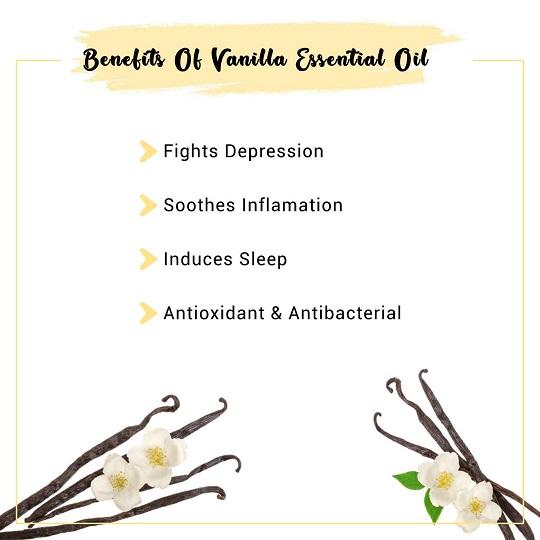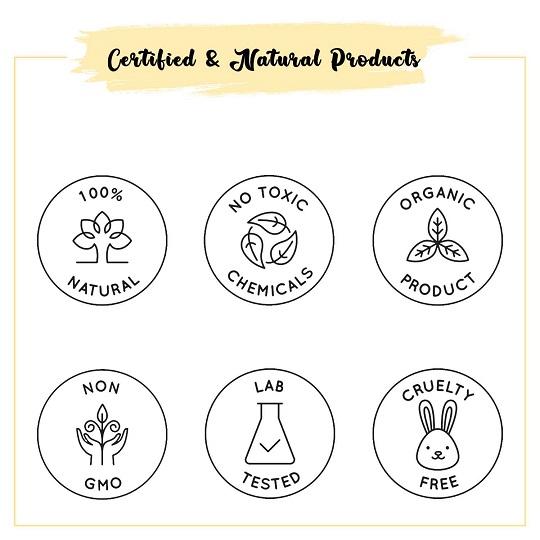 Our Certifications
Vanilla Essential Oil
Extracted from the Vanilla beans, the Vanilla Essential Oil is known for its sweet, tempting, and rich fragrance. Many cosmetic and beauty care products are infused with vanilla oil due to its soothing properties and amazing fragrance. It is also used for reversing the aging-effects as it contains strong antioxidants.
Vanilla Extract is widely used as a flavoring agent in ice creams, cakes, desserts, and sweets, this essential oil is to be strictly used for external use only. You can use it as a natural perfume by mixing it with a diluent or carrier oil. It is not easy to extract Vanilla Oil from the beans. The beans i.e. the fruit pods are dried and then extracted via a solvent extraction method. However, no chemicals, fillers, additives, or preservatives are used for making it. As a result, it is safe for regular use.
Vanilla Essential Oil is also used to treat several skin issues and you will often find it in body butter, lip balms, creams, body lotions, etc. This essential oil is also used in several hair care products as it not only makes your hair silky smooth but also promotes hair growth. You can also utilize vanilla oil in aromatherapy as it has a positive effect on your thoughts and mood.
Vanilla Essential Oil Uses
Room Freshener
It eliminates the foul smell and instills a fresh and inviting aroma in the atmosphere. Vanilla essential oil transforms any place into a refreshing and tranquilized space as a room freshener.
Perfumes & Soaps
Vanilla oil proves to be an excellent ingredient for making perfumes, soaps and incense sticks. You may also add it to your natural bath oils to enjoy a great bathing experience.
Aromatherapy Massage Oil
Add vanilla essential oil to a diffuser or Humidifier for making the ambiance blissful. Its aroma has a positive effect on the mind. It also reduces stress and anxiety to some extent.
Skin Cleanser
Prepare a natural face scrub by mixing it with fresh lemon juice and brown sugar. Massage it nicely and then rinse off with lukewarm water to obtain a clean and fresh-looking face.
Hair conditioner & Mask
Melt Vanilla Essential Oil in Shea butter and then blend it with an almond carrier oil to give a silky and smooth texture to your hair. It also imparts a wonderful scent to your hair.
DIY Products
Get refreshing scent of vanilla oil to your cosmetic, homemade candles and beauty care applications. Pour a few drops of vanilla essential oil in them. You will love its rich and deep aroma quite a lot.
Vanilla Essential Oil Benefits
Antibacterial & Anti-inflammatory
Vanilla Oil is known for its anti-inflammatory and antibacterial properties. These properties make it an effective agent that works against skin infections, irritations, and burns.
Aphrodisiac
The wonderful scent of Vanilla essential oil also works as an aphrodisiac. The aromatic scent of vanilla induces a euphoric and relaxing sense and creates a romantic ambiance in your room.
Acne Treatment
Vanilla oil possesses antibacterial properties. It also cleanses your skin and prevents the formation of acne and pimples. As a result, you get clean and fresh-looking skin after use.
Healing Wounds
You can use Vanilla Essential Oil as a home remedy for the treatment of cuts, scrapes, and wounds. Its anti-inflammatory properties assist speedy recovery and soothe the pain as well.
Anti-aging
Issues like fine lines, wrinkles, dark spots, etc. can be resolved by incorporating vanilla essential oil into your skincare regime. Dilute it before applying it to your skin or face.
Relieves Nausea
Add a few drops of Vanilla essential oil to a diffuser or steam inhaler to relieve nausea, vomiting, and dizziness. Its invigorating aroma creates a relaxing environment and calms you.
Product Specifications
| | |
| --- | --- |
| Product Name: | Vanilla Essential Oil |
| Botanical Name: | Vanilla Planifolia |
| CAS No: | : 8047-24-3 |
| Country of Origin: | India |
| F.E.M.A #: | 3104 |
| Specific Gravity: | 0.90200 - 1.00200 @ 20°C |
| Optical Rotation: | N/A |
| Moisture Content: | 0.01% |
| Refractive Index: | 1.459 |
| Flash Point: | >70°C |
| Acid Value: | >2.0 mgKOH/g |
| Relative Density: | 0.912g/ml |
| Form: | Liquid |
| Consistency: | Thin |
| Shelf Life: | 2 years |
| Packaging Type: | As Per Requirement |
| Extraction or Processing Method: | Solvent Extraction of a residous obtained from fermented |
| Solubility: | Soluble in Alcohol & Fixed Oils. |
| Color & Odor: | Color ranges from brown to dark brown. It exhibits a sweet odor. |
| Major Constituents: | Vanilla Bean Extract |
| Blends with: | Vanilla Essential Oil blends well with essential oils of Lemon, Orange oil, Jojoba, Neroli, Lavender, Chamomile and Sandalwood Oil |
| COA: | |
| MSDS: | |
CAUTION: It is meant only for external use. Do a patch skin test before applying it to your skin. Dilute it before topical application. Avoid direct exposure to sunlight. Pregnant women should consult a doctor before using it.
Packaging Sizes
Please Note: The packaging shown above is a General Representation of the various sizes and types of packaging available for this product. Not all sizes and types of packaging for this product maybe available at all times.
Frequently Asked Questions
Q: Is Vanilla essential oil good for skin?

A: Vanilla essential oil contains powerful antioxidants that protect your skin from environmental pollutants and sun damage. It also rejuvenates the skin and reverses skin that has been damaged due to chemicals and other reasons.

Q: What are the key benefits of Vanilla oil?

A: It enhances libido, protects your skin from pollutants and infections, and calms inflammations.

Q: Which are the main therapeutic properties of Vanilla planifolia oil?

A: Vanilla oil acts as a Aphrodisiac, antioxidant, febrifuge, anti carcinogenic, sedative, antidepressant, relaxing and tranquilizing. These are its main therapeutic properties.

Q: Can I use Vanilla bean oil for treating sunburns?

A: The anti-inflammatory properties of vanilla oil allow you to use it for healing sunburns.

Q: Does Vanilla essential oil repel bugs?

A: You can use vanilla oil with citronella oil to repel bugs, after mixing they produce a fragrance that can repel mosquitoes.

Q: Where to buy Vanilla essential oil in bulk?

A: Yes, you can order Vanilla oil in bulk at VedaOils. We also export this oil around the globe, including the UK, Australia, USA, Canada, and other countries.

Q: Do I have to use Vanilla Oil with a carrier oil on my skin or can I apply it directly?

A: Use Vanilla Essential Oil by mixing it with a suitable carrier oil before applying it to your skin.

Q: Can we use Vanilla essential oil for soap making?

A: Yes, you can use our Vanilla essential oil for making soaps and scented candles.