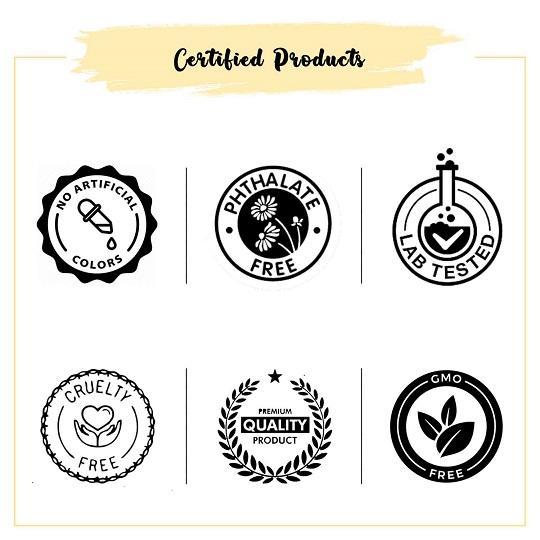 Our Certifications
Vanilla Fragrance Oil
Natural Vanilla Bean Perfume Oil, having a sweet, creamy, comforting and a warm aroma, is extracted purely from fresh vanilla beans. The sweet, delectable scent of vanilla energizes and relaxes the atmosphere, thereby beautifully complimenting your personal unique scent.
Having buttery undertones, vanilla fragrance oil is a popular choice for the preparation of skin and cosmetic care products (toners, face packs, face washes, moisturizers and such), hair as well as body perfumes, colognes, air fresheners, diffuser oils, scented candles, scented soaps (both melt and pour as well as cold process) and body washes.
However, the Organic Vanilla Scent Oil is a highly concentrated and refined one. So, keeping in mind the strength of the fragrance oil, it is advised that they should not be applied directly to the skin. Always disperse the fragrance oil into a carrier oil of your choice or a product base before usage.
Vanilla Fragrance Oil Uses & Benefits
Cosmetic Care Products
Natural Vanilla Bean Perfume Oil can be added to toners, moisturizers, face washes, face packs, face creams and such to infuse the aromatic fragrance of pure vanilla beans which is refreshing and is good for skin.
Hair Perfumes
Hair perfumes made from vanilla scented oil have refreshing, creamy, warm and comforting aroma that leaves a creamy trail. Hair perfumes made from this fragrance oil leave your hair smelling beautiful and refreshing.
Air fresheners
Carrier oils can be mixed with vanilla perfume oil. If diffused in air, It acts as air and room fresheners which can get rid of any harmful microbes present around and also rids the air of any foul odours.
Candle Making
Classic sweet aroma of vanilla perfume oil makes it suitable for the candle making process. The mystic, sweet aroma uplifts and energizes the mood and makes the atmosphere relaxing and comfortable.
Scented Soaps
Luxurious and comforting aroma of vanilla scented oil makes it suitable for use in preparation of scented soaps. It can be used in both cold process soap making as well as in melt and pour soap making.
Body Wash
Body wash recipes prepared from vanilla fragrance oil have a refreshing, creamy, comforting and a warm aroma. Fragrance oils are synthetic, non-toxic scents and are an easy and a fun way to explore your creativity.
How to Use Vanilla Fragrance Oil?
Soap Making: A refreshingly fragranced soap bar gives a luxurious and rich feel to the skin. You can add your favourite 10 ml of warm vanilla perfume oil in a 0.30 lbs soap base to get perfectly scented soap bars.
Scented Candle: Scented candles with calm and comforting aromas are made using fragrance oil in a calculated quantity. To obtain perfect smelling scented candles, you can use 15 ml of vanilla cashmere fragrance oil for 0.5 lbs candle wax flakes. Make sure you measure your quantities correctly so that the fragrance doesn't get overpowered.
Skin Care & Cosmetic Products: Mild and gentle scented cosmetic products are made using vanilla scented skin & body oil in very little proportion to not react to the skin.
Aromatic Bath: A good aromatic bath in a bathtub helps to relax and calm the body. You can add 5-6 drops of fragrance oil in a bathtub to enjoy the aromatic bath's rejuvenating and relaxing session.
Note: The concentration of pure Vanilla Perfume Oil needs to be varied according to the purpose of use.
Product Specifications
| | |
| --- | --- |
| Product Name: | Vanilla Fragrance Oil |
| INCI Name: | N/A |
| Country of Origin: | India |
| Foam: | Liquid |
| Flash Point: | N/A |
| Color: | N/A |
| Aroma: | Creamy, Warm, Comforting, and Exotic |
| Suitable for: | Bath Bombs, Lipsticks, Lip Balms, Facial and Body Scrubs, Creams, Perfume Oils |
| Packaging Type: | As per requirement |
| Storage: | Store in a Cool & Dry place. |
| Shelf Life: | 2 years |
| COA: | |
| MSDS: | |
CAUTION: It is meant only for external use. Therefore, do not consume fragrance oil internally and also keep it away from your eyes as it might irritate.
Packaging Sizes
Please Note: The packaging shown above is a General Representation of the various sizes and types of packaging available for this product. Not all sizes and types of packaging for this product maybe available at all times.
Buy Vanilla Fragrance Oil At Wholesale Prices
We, at VedaOils do not compromise with the quality of the products when it concerns your health and beauty. We assure you that we adopt the highest quality standards both in production and packaging, delivering to you the ultimate, premium quality product.
Being the largest manufacturer and supplier of varied types of fragrance oils, VedaOils promises to indulge you in the freshness and quality of our wide-range products, including our best Vanilla Bean Fragrance Oil. We aim to provide you with the finest of the goods, giving to you the richness and the goodness of pure natural ingredients.
You can purchase VedaOils non discolouring vanilla scented oil from our online store, from the comfort of your home at the most affordable prices and safe payment methods. Our vanilla oil not only caters to your cosmetic and beauty needs, but also to preparation of soaps, candles and more. Check out the bulk prices of our products and avail huge discounts.
VedaOils offer its vanilla perfume oil in packages of different quantities (.5 oz, 2 oz, 16 oz, 25 lb, & 100 lb). You can order them as per your needs from our website. Apart from being a fine manufacturer and seller in the Indian market, VedaOils is quickly emerging as a leading producer, supplier and exporter of global quality fragrance oils. We are exporting Indian products globally to countries like the USA, UK, Canada, Australia and many more.
Frequently Asked Questions