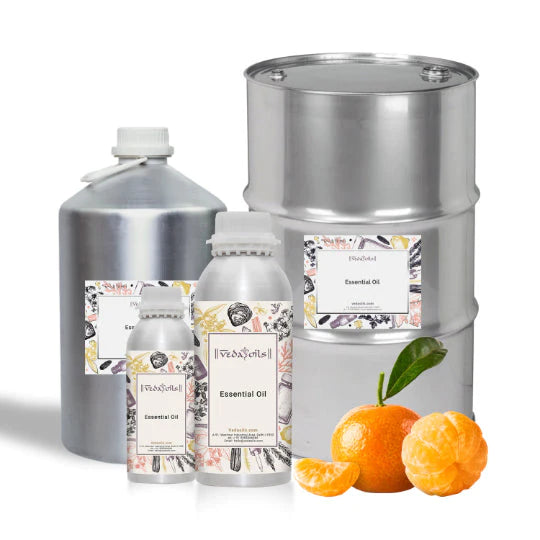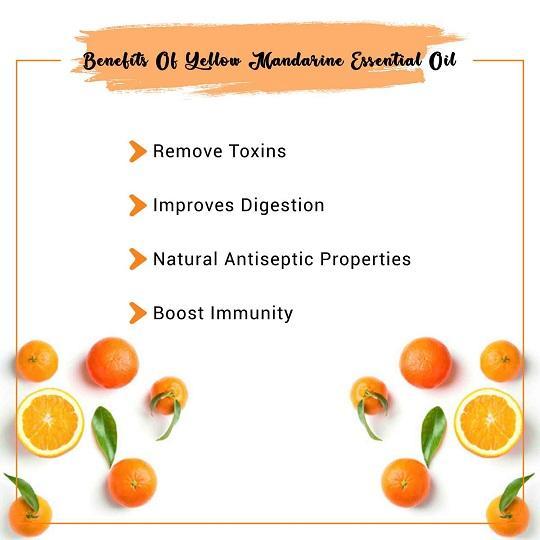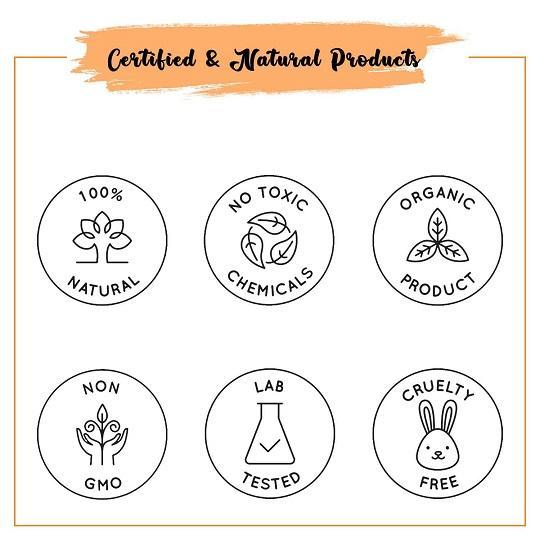 Our Certifications
Yellow Mandarin Essential Oil
Yellow Mandarin Essential Oil has a bright and delicious scent that spreads a pleasant aroma. It is made by cold pressing the peel of the fruit. Yellow Mandarin Oil has a prominent zesty and floral aroma that will leave you spellbound. Citrus Reticulata Peel Oil exhibits cleansing properties due to the presence of limonene.
The fruity and tangy aroma of the Citrus Reticulata Oil makes it a good ingredient in natural perfumes. It is highly beneficial for the skin as this cleanses the skin surface and maintains its moisture level. It is also a well-known remedy for digestion.
Natural Yellow Mandarin Essential Oil is a member of the orange family. It is known to be the safest citrus essential oil for fragrance, flavors, and aromatherapy. This essential oil has various therapeutic uses like digestive, cytophylactic, anti-spasmodic, and antiseptic.
Yellow Mandarin Essential Oil Uses
Soaps Making
Citrus Nobilis Oil consists of limonene, antiviral, antibacterial, and expectorant qualities. Mandarin Oil also has a pleasantly sweet and zesty aroma. It makes your soaps skin-friendly and safe because of their antibacterial, antioxidant, astringent, antiseptic, and balancing properties.
Relieves Spasms
Citrus Reticulata Essential Oil is beneficial when it comes to muscular spasms. Cramps are excruciatingly painful as they contract your muscle. A few drops of Organic Mandarin Essential Oil on your skin will help you get instant relief from muscle soreness and spasms.
Secnted Candles
Organic Yellow Mandarin Essential Oil has a pleasantly fruity, sweet, and floral aroma. Adding a few drops of this essential oil while making candles gives a unique combination of sweet and citrusy aromas to make the ambiance fresh and free from the sour aroma.
Hair Care Products
Presence of linalool and limonene makes it helpful in preventing hair loss as these chemical compounds tend to make your hair roots strong. Citrus Nobilis Essential Oil helps in conditioning your hair. It strengthens your hair and promotes hair growth.
Aromatherapy & Diffuser Blends
Pure Yellow Mandarin Essential Oil is quite helpful in aromatherapy because it helps to keep stress and anxiety levels in check. It also promotes a feeling of relaxation and well-being that can prevent many mental disorders and issues.
Face Creams
Skin-lightening properties of Citrus Reticulata Leaf Oil make it an ideal contender for face lotions and fairness creams. You can also use it in steam baths to get a natural facial to make your skin soft and smooth.
Yellow Mandarin Essential Oil Benefits
Alleviates Insomnia
Pure Mandarin Oil exhibits sedative properties. Therefore, it helps people with insomnia by calming down the nerves and thus promotes good sleep. In addition, it allows you to get rid of stress and anxiety, which are mainly responsible for insomnia or sleeplessness.
Spotless Skin
Pure Mandarin Essential Oil is very beneficial for your skin. It maintains the moisture balance of the skin. As a result, it treats acne, diminishes scars, stretch marks, and fat cracks. In addition, it helps to get rid of dry skin and can be used to treat skin irritation.
Antibacterial
The skin regenerative properties of Yellow Mandarin essential oil can be used to recover from injuries and wounds quickly. The antibacterial and antiseptic properties of this essential oil also prevent the wounds from spreading and getting septic.
Improves Blood Circulation
Natural Mandarin Oil helps in improving blood circulation and lymph, especially right below the skin. It also keeps our skin rejuvenated, vibrant and gives a youthful look. Better circulation of blood also provides relief from joints pains and aches.
Skin Cleanser
Due to its Exfoliating properties, Organic Mandarin Oil can be in skin cleansers, face washes, and body washes. It removes the debris of dust, excess oil, sweat, and dirt particles from your skin pore to give you a smooth and flawless complexion.
Heal Wounds
Natural Mandarin Essential Oil is used to heal wounds and avoid bacterial or fungal infections. This essential oil has got anti-fungal and antibacterial properties that help it to kill germs. In addition, it creates a protective layer when applied to the skin.
Product Specifications
| | |
| --- | --- |
| Product Name: | Yellow Mandarin Essential Oil |
| Botanical Name: | Citrus reticulata Blanco |
| CAS No: | 8008-31-9 |
| Country of Origin: | India |
| F.E.M.A #: | 2334 |
| Specific Gravity: | 0.860 - 0.950 @ 25°C |
| Optical Rotation: | -27 to +24° |
| Moisture Content: | 0.01% |
| Refractive Index: | 1.459 |
| Flash Point: | 100°C |
| Acid Value: | 0.04% |
| Relative Density: | 0.886 gm/ml |
| Origin of part used: | Leaves |
| Form: | Liquid |
| Shelf Life: | 2 years |
| Packaging Type: | As Per Requirement |
| Extraction or Processing Method: | Steam Distillation |
| Solubility: | Soluble in Alcohols and Fixed oils. |
| Consistency: | Thin |
| Color | Yellow |
| Alternative Name | Yellow Manadrine Oil |
| Odor | Floral aroma |
| Yellow Manadrine Oil Blends with | With Sister oil, Green Mandarin, as well as other favorite citruses like Tangerine oil, Wild Orange oil, and Bergamot oil. |
| COA: | |
| MSDS: | |
CAUTION: It is meant only for external use. Do a patch skin test before applying it to your skin. Dilute it before topical application. Avoid direct exposure to sunlight. Pregnant women should consult a doctor before using it.
Packaging Sizes
Please Note: The packaging shown above is a General Representation of the various sizes and types of packaging available for this product. Not all sizes and types of packaging for this product maybe available at all times.
Buy Yellow Mandarin Oil Online at Low Prices
VedaOils is one of the leading Wholesale Suppliers, Manufacturer, and Exporter of Yellow Mandarin Essential Oil and other Essential oil in USA. We offer the purest forms of essential oils to our customers. No chemicals, additives, or fillers are added to them. They also do not contain any artificial colors, preservatives, and fragrances. Therefore, they prove to be ideal for daily use. Though entirely natural, you should dilute Yellow Mandarin Essential Oil before using it for topical application as it is highly concentrated.
We employ numerous tests and quality checks to ensure that only Premium-quality Mandarin Essential Oil reaches you. The highest quality and packaging standards are employed to deliver desirable results on usage. Also, our portal uses a secure payment gateway to safeguard your transactions. Buy Yellow Mandarin Oil from VedaOils Online according to requirements at the best competitive prices in the market. You can order Blue Lotus oil for different purposes such as Soap Bar Manufacturing, Aromatherapy oil, Skincare, Haircare, and Cosmetic Products. Check out Yellow Mandarin Oil price per Kg, and even you can order mandarin peel oil in bulk quantity from Vedaoils online and get heavy discounts.
We also export our high-quality Mandarin Orange Oil to the US, Canada, UK, Australia, and other countries. Our products follow the highest standards when it comes to quality and purity. We assure you that you will not regret choosing us! We also deliver the products worldwide using our logistic partners DHL, FedEx Blue Dart, India Post, etc. So do not miss this excellent opportunity to buy chemical-free, fresh, and multi-purpose Yellow Mandarin Oil from VedaOils.
Frequently Asked Questions