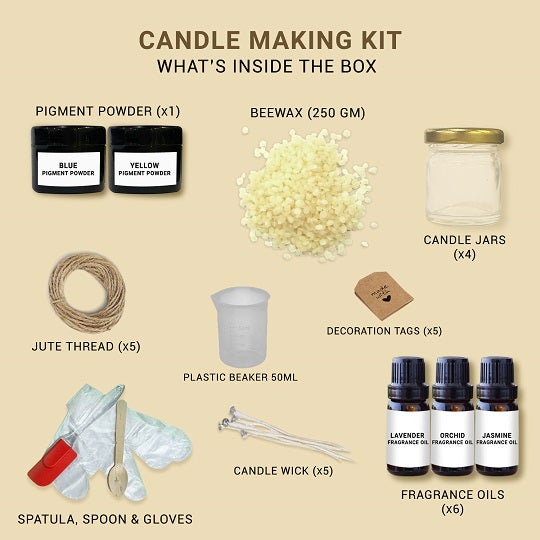 Our Certifications
DIY Candle Making Kit - Make Your Own Candle Kit
Vedaoils DIY Candle Making Kit is one of the best candle DIY'ing kits as it contains all the essentials for making your own candles. The components present in this kit are quite easy to work with. Veda Oils offers 'Candle Making Kits,' which lets users purchase all of the candle-making components at once.
Our Candle Making Complete Kit includes a Personalized Candles Jar, Candle wax, Candle Wicks, Candle Colors, Refreshing Fragrance Oils, Hand Gloves, and everything you need to make your own candle. It also comes with an easy-to-follow instruction manual that walks you through the entire procedure of candle making. VedaOils provides a carefully curated Candle Wax Kit which can be used by beginners as well as professionals.
The candle scents, wicks, wax, and even color that we provide in this kit are of high quality. These handcrafted candle-making kits can be used for fun and hobby purposes. Our Candle Making Kit Set is so affordable that scented candle producers can purchase them for commercial usage as well. You can also give this DIY Candle Kit as a gift to yourself or to someone who creates or is interested in making scented candles!
DIY Candle Making Kits - Recipe Steps
Melt Candle Wax
Add Beeswax pellets into a Melting pot and keep it above a low heat. Stir the candle wax continuously until it turns completely liquid. The melting process should take 10-15 minutes. Don't let the wax boil.
Add Pigment Color
Add 5-10 oz colored pigment to the melted candle wax. Use a spatula to stir the melted candle wax until the colored tint is completely blended with the wax.
Add Fragrance Oils
Add two or three drops of your preferred Fragrance oil to the colored melted wax mixture. Mix the candle wax blend well. Remember, a little goes a long way with fragrance oils.
Prepare Candle Jar
Once everything is melted, remove the pouring pot from the heat and let it cool for 5 Minutes. Meanwhile, place cotton wick in the center of the glass jar.
Pour into Candle Jar
Pour the hot wax slowly into a mason jar, and make sure to keep the wick in place as you pour. Ensure it stays centered during the drying process.
Decorate Candle Glass Jar
Cool your candle at room temperature for about four hours until it is completely solidified. After the candle is settled, you can easily decorate your mason jar using jute thread and gum.
Candle Making Kit Ingredients
Fragrance Oils
Lavender, Lemon, Oceanic, Jasmine, Orchid & Smooth Fragrance oils present in Candle Making Kit are used to add a pleasant scent to your handmade candles. These oils are designed to throw out a clean scent, so they will be able to enchant you and your guests
Candle Waxes
Beeswax is regarded as the most ideal candle wax for the reason that It has a very warm flame, and it burns more slowly than other candles waxes. Beeswax candles wax also tends to have better scent throwing capabilities.
Candle Colors
Candle Pigment colorant or colored tints will make your DIY handmade candles even more attractive and beautiful. It also provides a glossy, shiny and stylish finish to the homemade candles.
Candle Jars
Candle Jars With the glass containers included with this candle kit, you can enhance the candles' intended appearance and feel. Clear glass containers are visually striking and go well with cool colors.
Beaker, Hand Gloves, Spatula
Scented Candle Making Kit come with a beaker which is used to mix melted candle wax, color and scent. It also comes with a mixing spatula and gloves to keep your hands clean and safe.
Wick Sustainer & Jute thread
Wick Sustainer present in candle making kit will keep the cotton wick firmly in place in the bottom of the container and prevent it from floating to the surface when you pour in the molten wax. While the Jute thread is for decorating the glass jar.
Product Specifications
| | |
| --- | --- |
| Brand: | VedaOils |
| Product Name: | Candle Making Kit |
| Candle Jars: | 4 Unit - 0.5 Oz |
| Candle Wax: | Beewax - 8.8 Oz |
| Candle Colors : | Any Color [ Blue or Yellow] - 0.5 oz |
| Lavender Fragrance Oil: | 0.5 Oz |
| Jasmine Fragrance Oil: | 0.5 Oz |
| Orchid Fragrance Oils: | 0.5 |
| Lemon Fragrance Oils: | 0.5 Oz |
| Oceanic Fragrance Oils: | 0.5 Oz |
| Smooth Fragrance Oils: | 0.5 Oz |
| Beaker: | 1 Unit |
| Hand Gloves: | 1 Pair |
| Spatula: | 1 Unit |
| Decoration Tag: | 5 Tags |
| Jute Thread: | 5 Units |
| Pre Candle Wicks : | 5 Wicks |
| Wooden Spoon: | 1 Unit |
Buy Candle Making Set at Lowest Price in the USA
VedaOils is a well-known manufacturer & Wholesale dealer of Candle-Making DIY kits. Our candle making starter kit is an excellent starter set for a novice or a professional because it offers all of the required substances and materials for one to get their hands on Candle Making. This premium-grade Candle Crafting kit incorporates the best resources for anybody who desires to make homemade candles either on a price range or for fun.

DIY Scented Candle making kit that we provide at VedaOils has the first-rate satisfactory components which are absolutely chemical-free. The elements are free from components like Paraben, Sulfate, and SLS. Using the VedaOils website, you can purchase an easy-to-use best candle making kit for a great price in the USA. This package will inspire you to make increasingly more Candles for rest and meditation.

We ensure to observe standard packaging and take a look at measures while packing our high quality candle making kit for adults. We vacuum seal our Candle Making Kits objects so you can get hold of them safely at your doorsteps. We deliver our merchandise everywhere in the globe the usage of our logistics partner.

Frequently Asked Questions