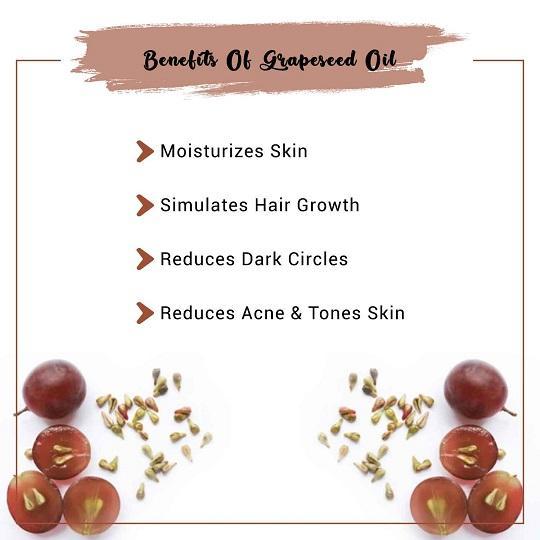 Our Certifications
Grapeseed Oil
Extracted from grape seeds, the Grapeseed Oil is rich in Omega-6 fatty acids, linoleic acid, and vitamin E that can provide several health benefits. It contains many therapeutic benefits owing to its Antimicrobial, Anti-inflammatory, and Antimicrobial properties. Due to its Medicinal Benefits you can incorporate it into Making Soaps, Scented Candles, Perfumery or you can also use organic grape seed oil for Aromatherapy.
VedaOils is providing pure and natural Grapeseed Oil that is ideal for improving the health of your skin and hair. Incorporating Grapeseed oil in your skin care routine will provide a smooth, soft, and Blemish-free Complexion to your skin. Our organic Grapeseed oil also protects your skin from environmental pollutants.
Pure Grapeseed Oil can be used along with Avocado, Jojoba, and Almond oil to treat several skin issues effectively. Regular use of Grapeseed Oil for skin purposes has shown slowing down of the aging process in several studies. Manufacturers of Skin Care and Hair Care applications have started using it widely in their products. You can get this multifaceted oil today and relish its multiple skincare and hair care benefits.
Grapeseed Oil Uses
Hair Conditioners
Grapeseed Oil is lightweight oil that moisturizes your scalp and conditions it naturally. Your hair does not feel sticky or heavy after applying Grapeseed oil. You may use it to make DIY hair masks or add them to your shampoos or conditions.
Sun Screen Lotions
The vitamin E, D, and C along with beta-carotene and polyphenols that are present in our best Grapeseed Oil protect your skin from harsh wind, UV light, pollutants, dust, and other toxins. It is widely used for producing sunscreens as well.
Aromatherapy
Using Grapeseed oil as carrier oil in Aromatherapy reduces anxiety and stress effectively. You may diffuse it along with essential oils of your choice and adding it as a diluent for massages can also provide similar benefits.
Scented Candle
The mildly fruity and sweet aroma of our organic Grapeseed Oil proves to be perfect for making scented candles. It is especially preferable for those who do not like a strong odor in their candles. You may even find it in perfume blends and deodorants.
Soap Making
The cleansing and healing properties of our natural Grapeseed Oil make it perfect for use while making soaps. It also lends a sweet and lingering scent to the soaps that can make them appealing. It is a great ingredient for soap makers.
Massage Oil
Grapeseed Oil proves to be great massage oil as it makes your skin soft and smooth without being messy. It is odorless and can be used in several massage blends seamlessly. Grapeseed Oil also prevents dryness and itchiness of the skin.
Grapeseed Oil Benefits
Anti-aging
The ability of our pure Grapeseed oil to boost collagen makes it effective against fine lines and wrinkles. It boosts the repair process of damaged skin and its powerful antioxidants protect your skin from free radicals. Manufacturers of anti-aging creams can use them in their products.
Evens Your Skin Tone
Along with treating dry skin and oily skin, Grapeseed Oil can also prove to be effective for reducing hyperpigmentation. When you use Grapeseed oil regularly in your skincare regime, it balances your skin tone and makes your skin softer and fuller.
Effective Moisturizer
Grapeseed Oil is an effective moisturizer due to its non-comedogenic properties. You can apply Grapeseed oil directly or through moisturizers or body lotions after cleansing your skin. It makes your skin lighter, smoother, and healthier.
Influences Hair Growth
The vitamin E, linoleic acids, and flavonoids that are present in Grapeseed oil make it perfect for improving hair growth. You may add it in your hair oils for receiving this benefit or massaging it directly will also help to make your hair thick and long.
Acne Removal
The antibacterial properties of our organic Grapeseed Oil fight against acne formation and the anti-inflammatory properties and powerful antioxidants of this oil work to remove the acne scars. Makers of anti-acne creams will love the Grapeseed oil.
Reduces Inflammation
Anti-inflammatory properties of our fresh Grapeseed Oil can be used to head inflammation. It proves to be effective against the inflammation. Manufacturers of wound healing creams use it as one of the key ingredients for their applications.
Product Specifications
| | |
| --- | --- |
| Product Name: | Grapeseed Oil |
| Botanical Name: | Vitis Vinifera |
| CAS No: | 8084-22-4 |
| Country of Origin: | India |
| F.E.M.A : | 2406 |
| Specific Gravity: | 0.928 gm/ml |
| Optical Rotation: | -14 to -5 @20°C |
| Refractive Index: | 1.483 |
| Acid Value: | 0.04% |
| Flash Point: | 421°F |
| Origin of part used: | Grape Seed |
| Form: | Liquid |
| Shelf Life: | 2 years |
| Packaging Type: | As Per Requirement |
| Extraction or Processing Method: | Cold Pressed |
| Solubility: | Soluble In Alcohol |
| Color | Light yellow to green |
| Odor | Characteristic |
| Grapeseed Oil Blends with: | Juniper Berry, Lavender, and Frankincense essential oils |
| COA: | |
| MSDS: | |
CAUTION: It is meant for external purposes. Avoid direct exposure to sunlight. Do not let it come in direct contact with your eyes. Keep out of the reach of children.
Packaging Sizes
Please Note: The packaging shown above is a General Representation of the various sizes and types of packaging available for this product. Not all sizes and types of packaging for this product maybe available at all times.
Buy Grapeseed Oil Online In USA at Low Prices
VedaOils is one of the leading Wholesale Suppliers, Manufacturer, and Exporter of Grapeseed oil and other Essential oil in USA. We offer the purest forms of essential oils to our customers. No chemicals, additives, or fillers are added to them. They also do not contain any artificial colors, preservatives, and fragrances. Therefore, they prove to be ideal for daily use. Though entirely natural, you should dilute Grapeseed oil before using it for topical application as it is highly concentrated.
We employ numerous tests and quality checks to ensure that only Premium-quality and Grapeseed oil reaches you. The highest quality and packaging standards are employed to deliver desirable results on usage. Also, our portal uses a secure payment gateway to safeguard your transactions. Buy Grapeseed Oil from VedaOils Online according to requirements at the best competitive prices in the market. You can order Grapeseed oil for your daily purposes such as dark circles, skin lightening, and hair growth. Check out Grapeseed oil price per lb, even you can purchase Grapeseed oil in bulk quantity.
We export our high-quality essential oils to the US, Canada, UK, Australia and other countries. Our products follow the highest standards when it comes to quality and purity. We assure you that you will not regret choosing us! We also deliver the products throughout the world using our logistic partners DHL, FedEx Blue Dart, India Post, etc. Do not miss this excellent opportunity to buy chemical-free, fresh, and multi-purpose Grapeseed oil from VedaOils.
Frequently Asked Questions