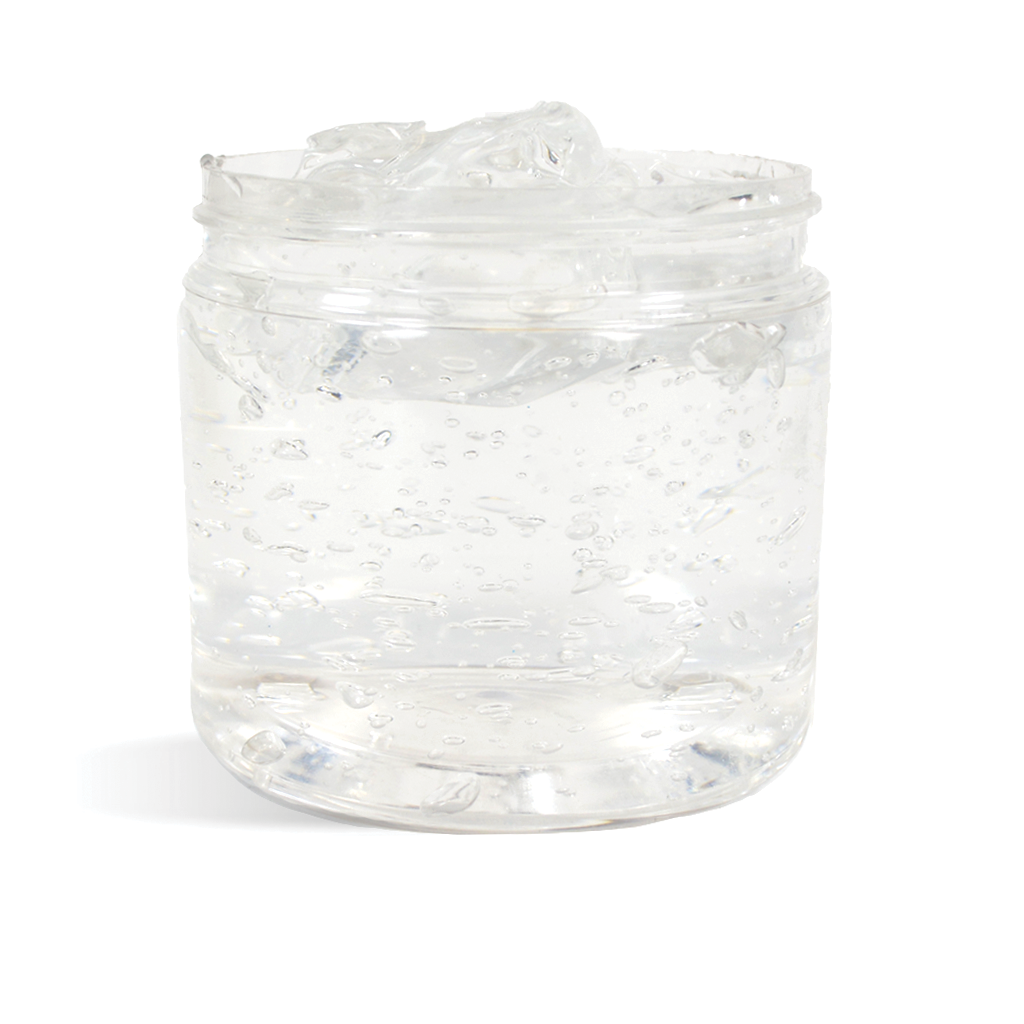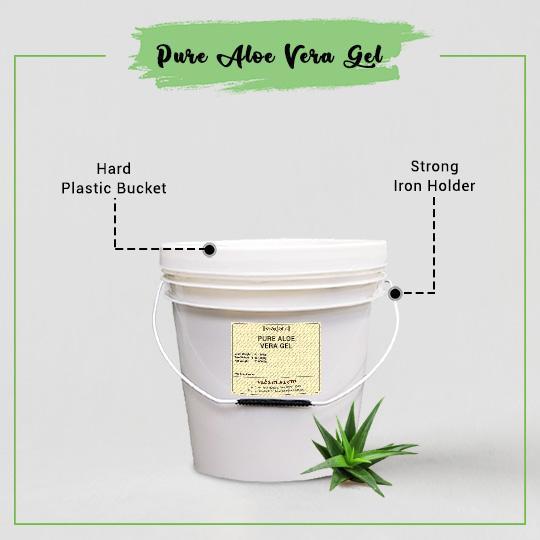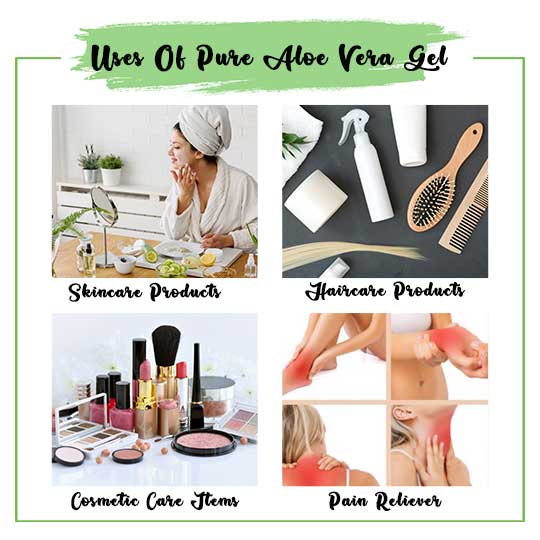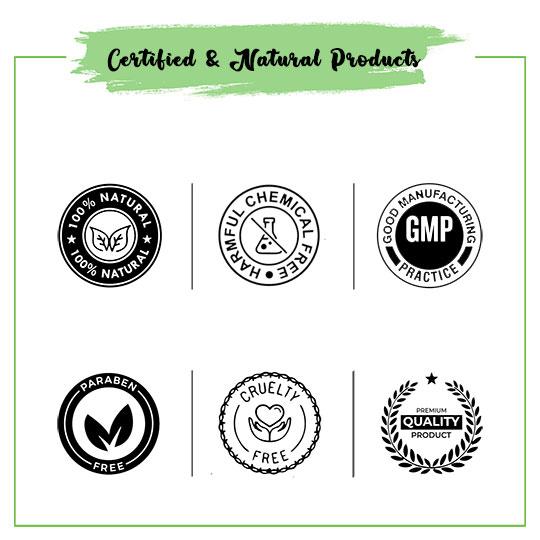 Our Certifications
Pure Aloe Vera Gel
Aloe Vera Gel is obtained from the freshly cultivated leaves of the Aloe Barbadensis (Miller). After the extraction process, the obtained gel goes through a purification procedure so that all the active ingredients remain intact. The organically obtained aloe gel has a clear formula that contains 99% water and the rest is made up of polymannose, lipids, sterols, amino acids, and vitamins.
The presence of phenolic compounds, polysaccharides, vitamins that are soluble in water, and minerals make Pure Aloe Vera Leaf Gel biologically active. The complex polysaccharides present in Aloe Gel are responsible for their gel-like consistency and also make it hygroscopic. Organic Aloe Vera Gel inhibits the collagenase enzyme in Clostridium histolyticum which helps in the generation of new skin cells. These compounds along with the organic acids hold potential soothing and hydrating properties.
Deliquescent molecules present in Aloe Gel create a layer of protection around your skin cells and enhance their healing properties. Natural Aloe Vera Gel also contains naturally occurring substances that can bind with water molecules easily making it one of the key ingredients in cosmetic and skin care applications. The use of fresh Aloe Vera gel in pharmaceutical preparations can help to treat various skin-related ailments.
How to use Pure Aloe Vera Gel?
Cosmetic Products
Potent skin benefiting properties of Aloe Vera Gel are incorporated while making cosmetic products like foundations, makeup cleansers, facial creams, etc. because they tend to encourage skin restoration. These cosmetic products are also absolutely free from toxins and chemicals.
Skincare Products
Skincare products made from Aloe Vera gel are made up of mostly water so they provide ultra-moisturizing and hydrating properties. Aloe vera products are beneficial for all the skin types as it has calming and soothing nature. Aloe gel products are suitable for men, women, and babies as it is completely safe.
Hair Care Application
Aloe vera gel is widely used to make hair care products like shampoo, conditioner, hair masks, etc. because they tend to improve the overall texture and quality of hair. Many hair styling products like fixing spray, dry shampoo, hair gels, and mousse also use this gel to prevent hair from damage.
Anti-allergic Creams
Active ingredients present in Natural Aloe vera gel are used to make pharmaceutical and medicinal products that help to prevent the skin from the attack of free radicals and bacteria's. Organic aloe vera leaf is also used in several homemade remedies to cure various skin problems.
Sunscreen
Sunblocks and sunscreens made from Organic Aloe Vera Gel act as a barrier against harmful UVA and UVB radiations which cause sun damage and skin problems like discoloration, hyperpigmentation, sunburn, redness, inflammation, etc. The sunscreens also effectively prevent skin tanning.
Mouthwash
Antibacterial and antimicrobial properties present in aloe vera gel is used to make natural mouthwashes that can be an effective and safer alternative to chemical-based mouthwashes. Fresh aloe vera leaf gel will constructively block plaque and provide relief from gums and teeth-related problems.
Pure Aloe Vera Gel Benefits
Heals Cuts & Wounds
Natural antibacterial and analgesic properties of natural Aloe Vera gel helps to reduce wound contraction and also enhances the growth of the scar repairing tissues so that the deep cuts can be healed. The anthraquinones compound present in Aloe Gel promotes quicker healing and it also constructively reduces the pain
Soothes Skin
Organic aloe vera gel contains more than 75 potentially active constituents which help to soothe the irritated and inflamed, making it much calmer. Its application on the skin effectively helps to soothe burns, frostbite, dryness, cold sores, eczema, and other skin-related problems. Aloe Vera gel is also completely safe to apply on babies skin.
Prevents Sun Damage
Aloe Vera gel acts as a protective shield against harmful UV Rays and constructively protects the skin from sun damage because of the presence of active compounds called polysaccharides, which help in repairing the skin cells. Aloe gel also treats the symptoms of sun damage like sunburn, blemishes, dark spots, etc.
Treats Oral Conditions
Herbal Aloe Vera gel not only takes care of your skin and hair but also helps to treat common oral conditions like blisters and cold sores and canker sores in the mouth. Organic aloe vera gel helps to ease the swelling, pain, and discomfort caused in gums which may be caused due to inflammation or bacterial infection.
Minimizes Wrinkles & Fine Lines
Pure Aloe Vera Gel stimulates fibroblast which increases the production of collagen, making the skin younger-looking and radiant. It enhances the elastin fibers in the skin which help to prevent premature aging and improve the skin's overall texture. Aloe gel has cohesive effects on retaining the skin's lost moisture.
Promotes Hair Growth
Richness of antioxidants like Vitamin A (beta-carotene), C, and E help to knock out free radicals which act as obstacles against healthy hair growth. Vitamin B12, folic acid, and choline present in Aloe gel helps to strengthen the hair and prevents problems like hair loss, breakage, and split-ends.
Product Specifications
| | |
| --- | --- |
| Raw Material Source: | Aloe Vera Leaves |
| Manufacturing Process: | It is made by extracting gel like substance from Aloe Vera Leaves which is then preserved using natural preservatives. |
| Chemical Composition: | Water (Upto 98%), Polysaccharides, Cellulose, Hemicellulose, Pectin, acemannan, etc. |
| Chemical Formula: | C16H13NO3 |
| CAS Number: | 85507-69-3 |
| IUPAC Name: | Aloe Barbadensis Miller Extract |
| INCI Name: | Aloe Barbadensis Leaf Extract |
| Molecular Weight: | 267.279 grams/mole |
| Specific Gravity: | N/A |
| Boiling Point: | 442.5±45.0 °C |
| Flash Point: | 210.2±21.5 °C |
| Odor: | Faint vegetable like odor |
| PH Level: | 3.5 to 4.7 |
| HLB Value: | N/A |
| Color: | Greenish gel |
| Grade Standard: | Technical Grade |
| Shelf Life: | 24 months |
| Purity (%): | 100% |
| Form: | Thick gel |
| Alternative Names: | Aloe Vera Solution |
| Solubility: | Yes |
| Applications: | Cosmetic |
CAUTION: Due to the presence of electrolytes, this organic Aloe vera gel might make your emulsions unstable. Therefore, design your products accordingly and add stabilizers if required.
Packaging Sizes
Please Note: The packaging shown above is a General Representation of the various sizes and types of packaging available for this product. Not all sizes and types of packaging for this product maybe available at all times.
Buy Pure Aloe Vera Gel Online in US at Low Prices
VedaOils is the leading manufacturer, wholesaler, retailer, and supplier of the premium quality Aloe Vera Gel in USA. Our Aloe Vera Gel is made from toxin-free and chemical-free ingredients so it is completely safe for the skin. Its transparent, clear, and odorless formula can be used to make any of your favorite products. You can even DIY your favorite recipe using the World's Best Aloe Vera Gel Extract.
We ensure to follow certain packaging and quality check measures while packing our Raw Aloe Vera Gel so that you can receive them in perfect condition at your doorsteps. Our Aloe Vera Gel Price is very affordable because we want every customer of ours to enjoy using it so that they can make the best out of it without spending much on it.
Our pure and organic Aloe Vera Gel is completely Vegan-friendly and cruelty-free because it is free from animal-derived ingredients. Therefore, they are preferred by vegans as well. We offer our Pure Aloe Vera Gel Online in Bulk as well as in the packaging of different quantities (1 lb, 2 lb, 3 lb) so that you can buy them according to your needs. Order Aloe Vera Gel from the VedaOils website to get Discounts, great deals, and fast shipping on your orders.