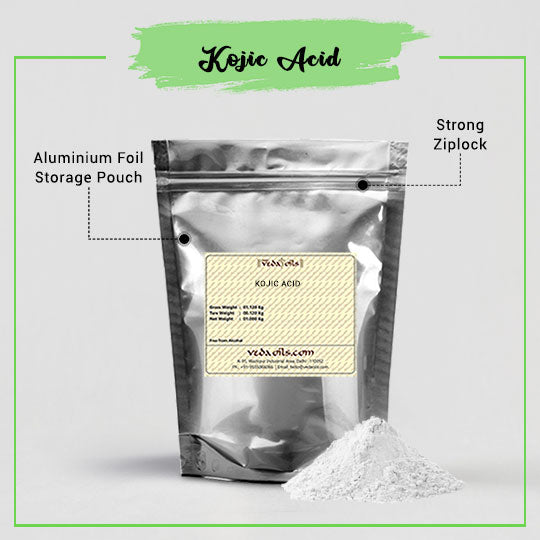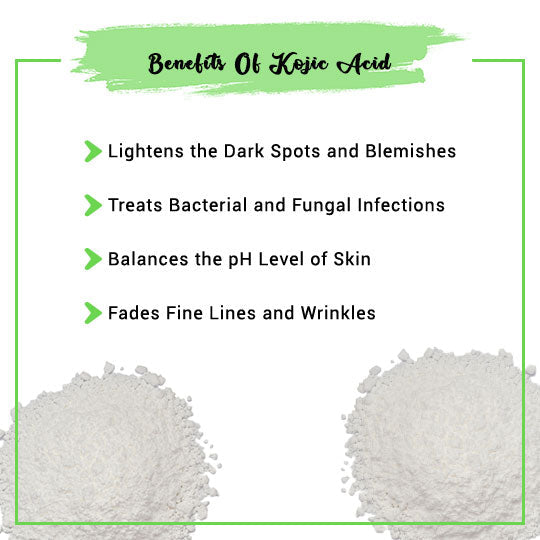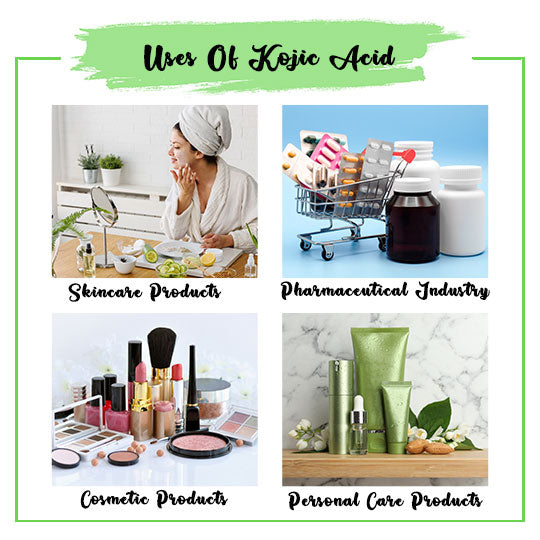 Our Certifications
Kojic Acid
Kojic Acid Powder is a special type of acid that is obtained from various fungi types. This product is produced by fermenting malting rice. It is widely used in cosmetic applications and can also be manufactured to be a chemosensitizer for fungicides. Therefore, its derivatives can be extensively used in pharmaceutical products as well. It occurs naturally as an inhibitor during the melanin synthesis in animal tissues and is also found in plant pigments in smaller amounts.
Kojic Acid is available in powdered form and is of an off-white color. Moreover, it is water-soluble as well. While using it in cosmetic applications, the concentration of this acid should range from 1 to 3%. It is mostly known for its skin-lightening properties but also exhibits antimicrobial properties to some extent.
The color of our skin mainly depends on the pigment called melanin and its production is supported by tyrosine, an amino acid. An increase in melanin production darkens your skin and Kojic Acid blocks the formation of tyrosine which is mainly responsible for melanin production. As a result, it indirectly reduces the production of melanin to a great extent which in turn lightens the color of your skin cells.
Kojic Acid Benefits
Used in Cosmetics Products: It is used as one of the key cosmetic ingredients in skin lightening applications.
Skin Moisturizer: Kojic Acid is mostly used for skincare products that are meant for hands and face, you can also apply its products on other parts of your body that are not sensitive.
Anti-aging Effect: It makes your complexion lighter it may also fade dark spots and aging spots easily. Therefore, it can also be an effective cosmetic raw material in anti-aging products.
Prevents Scars and Acne Formation: Scar marks, acne marks, and discoloration of cuts and bruises can be reduced by using the products that contain this acid. Though it does not work on the tissues or texture of these marks, their lightening will ensure that they are less visible than before.
Antifungal Properties: Its antifungal properties enable you to treat infections that are caused by fungi such as yeast infections, athlete's foot, etc. Since it possesses antibacterial properties, it can prove to be an effective solution against bacterial infections as well.
Even skin Tone: Kojic acid can prove to be a good addition to creams and lotions that are meant to provide a balanced skin tone to the users. Apart from using its chemical properties, it is also used for preserving or stabilizing the colors of skincare products.
Antimicrobial Properties: Kojic Acid reduces the degradation of cosmetic applications as it has the potential to stop the microbial and chemical deterioration of formulas.
How to use Kojic Acid?
The concentration level of this acid should not exceed 3% and it should be added to the formulas when it is in the water phase. The temperature should be between 25 to 40-degree Celsius while adding it to the formulas. If you add it when the temperature is greater than 40-degree Celsius it might lose some of its properties due to oxidation.
Product Specifications
| | |
| --- | --- |
| Raw Material Source: | Rice or corn starch |
| Manufacturing Process: | Manufactured by subjecting sugars (Aspergillus species) through fungus fermentation. |
| Chemical Formula: | C6H6O4 |
| CAS Number: | 501-30-4 |
| INCI Name: | Allantoin |
| IUPAC Name: | 5-Hydroxy-2-(hydroxymethyl)-4H-pyran-4-one |
| Molecular Weight: | 142.11 g/mol |
| Boiling Point: | N/A |
| Flash Point: | N/A |
| Odor: | Mild odor |
| PH Level: | 4-9 |
| HLB Value: | N/A |
| Color: | White |
| Grade Standard: | N/A |
| Shelf Life: | 24 months |
| Purity (%): | 99% |
| Form: | Powder |
| Alternative Names: | Glyoxyldiureide; 5-Ureidohydantoin |
| Solubility: | Soluble in Water |
CAUTION: This product is only meant for external application. Therefore, avoid using it internally, and do not use it if you are suffering from any skin ailments.
Frequently Asked Questions