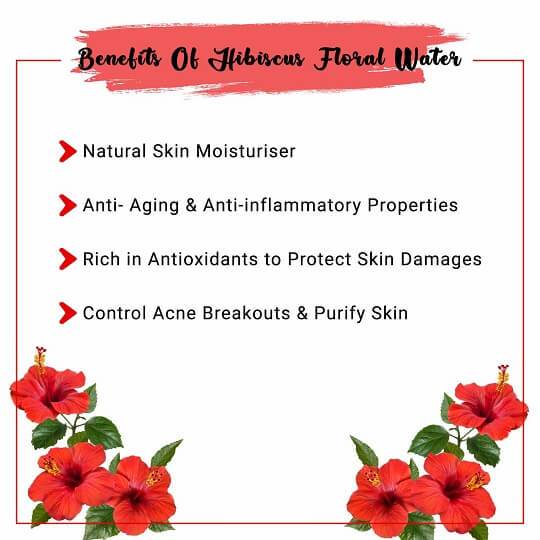 Our Certifications
Hibiscus Hydrosol
Hibiscus Hydrosol is obtained by steam distillation of fresh and exotic hibiscus flowers. Due to the rich content of AHA i.e. Alpha Hydroxy Acids present in natural Hibiscus water, it is widely used in Skin Care, Cosmetic products. It also act as a natural skin toner.
You can incorporate natural Hibiscus Hydrosol in your daily beauty care treatments, for obtaining fresh, smooth, and flawless skin. Making DIY face packs, face scrubs, and face masks with it will help to cleanse your skin naturally. The sweet and blissful fragrance of Hibiscus Floral Water makes you feel lively and energetic and these benefits can be incorporated in aromatherapy treatments as well.
Our natural Hibiscus Water is effective in balancing the pH level of your skin. You can combine it with seaweed extracts and tea tree oils to obtain a glowing complexion for your face. Hibiscus water contains anti-inflammatory properties that can be used to soothe skin irritation and rashes. The antioxidants present in pure Hibiscus Hydrosol fight aging effects.
Hibiscus Floral Water Uses
Skin Toners
Natural Hibiscus Hydrosol Water is an effective pore tightener that seals the pores after removing unwanted oils and dirt from them. Pure Hibiscus floral water is widely used in skin toners as it refreshes your skin, cleanses, and shrinks your skin pores naturally.
Makeup Removers
Natural Hibiscus Hydrosol Water's ability to cleanse your skin pores by eliminating dust, dead skin cells, oil, and other toxins make it a useful ingredient in makeup removers. While removing debris from makeup products, will also soothe your face and make you look lively.
Moisturizers
Hydrating properties of Hibiscus Hydrosol Water make it a favorite ingredient for the manufacturers of moisturizers and body lotions. It locks moisture in your skin without giving the greasy or sticky feel of cosmetic moisturizers. Hibiscus Hydrosol can enhance the nourishing qualities of your moisturizers.
Anti-acne Solutions
Clogged pores due to dirt, oil, and dead skin cells often lead to issues like pimples and oils. The excess dirt and oil can be removed with our best Hibiscus Hydrosol Water. Therefore, it can be a good addition to anti-acne solutions or can be used in DIY treatments to unclog skin pores.
Anti-aging Products
Hibiscus Hydrosol Water increases the elasticity of your skin naturally and promotes smoother, softer, and youthful skin. Makers of anti-aging products can incorporate these properties in their applications. You may also make DIY beauty care face masks and face packs.
Under-arm Mists
Amazing and fresh aroma of Hibiscus Hydrosol Water make it ideal for making under-arm mists and body sprays. Its gentle yet soothing aroma will keep you fresh and lively throughout the day. It may also be used to add a mild aroma to cosmetics and skincare products.
Hibiscus Floral Water Uses Benefits
Soothes Redness
Soothing effects of Hibiscus Water can be used to treat skin irritation or redness. Its anti-inflammatory properties make it effective against skin issues like eczema, dermatitis, etc. It suits all skin types without causing any side effects.
Dry Skin Treatment
If you are suffering from dry, patchy, or scaly skin, you may utilize our natural Hibiscus Hydrosol to restore its natural moisture and suppleness. It not only nourishes your skin but also acts as a skin protectant from external damage.
Relaxes the Mind
Calming fragrance of our natural Hibiscus Hydrosol can be blended with the stress-busting properties of bath salts to make effective foot soaks and bath care products. It not only heals your mind but also helps you to sleep peacefully at night.
Brightens Skin
You may mix our organic Hibiscus Water with besan or rice flour and add Aloe Vera gel and honey to make DIY skin brightening face masks. It will also tone your skin naturally and leave behind a refreshing and cool feeling on your face.
Lightens Scars
AHAs present in our pure Hibiscus Hydrosol may fade the scars and blemishes from your face. It does so by improving skin elasticity and by making it supple and luscious. Obtain a spotless complexion by using it daily while cleansing your face or removing makeup.
Cleanses & Calms skin
Our Hibiscus Hydrosol may even soothe minor cuts and burns due to its calming effects on the skin. It facilitates faster healing of skin and its exfoliating properties keep your skin healthy and hygienic. It helps those who have excessively dry and sensitive skin.
Product Specifications
| | |
| --- | --- |
| Product Name: | Hibiscus Hydrosol Water |
| INCI Name: | Hibiscus Rosa-Sinensis Flower Water |
| Raw Material Source: | Hibiscus leaves |
| Extraction Process: | Steam Distillation |
| CAS Number: | N/A |
| Country of Origin: | India |
| Suitable For: | Creams, Lotions, Facial steam |
| Color: | Colorless |
| Odour: | Soft, Slightly Green, Fresh, Swwet Anise/Licorice-Like Aroma |
| Solubility : | Soluble In Water And Alcohol, Insoluble In Fixed Oils |
| Storage: | Store in a Cool & Dry place. |
| Shelf Life: | 2 years |
| COA: | |
| MSDS: | |
Packaging Sizes
Buy Hibiscus Hydrosol Online at Low Prices
VedaOils is one of the prominent manufacturers, suppliers, & wholesale distributors of Hibiscus Water and other Floral Water in USA. We offer a wide range of Premium Quality Hydrosol Water Online. Our best pure Hibiscus water do not contain any additives, chemicals, artificial colors, or fragrances.
Hibiscus Hydrosol contains many therapeutic qualities and can be used for treating various skin issues. You may also use them for Making DIY Cosmetics and Soaps. We formulate our best quality Hibiscus water preserving its therapeutic value to the skin and body.
Buy Hibiscus Water online through VedaOils' Online Portal. Our portal uses a secure payment gateway to run smooth and safe transactions. You can also buy pure distilled rose water in bulk quantities at VedaOils. Leave a query in our Bulk Enquiry section to Buy Hibiscus Hydrosol in Bulk at the lowest price in USA.
Frequently Asked Questions