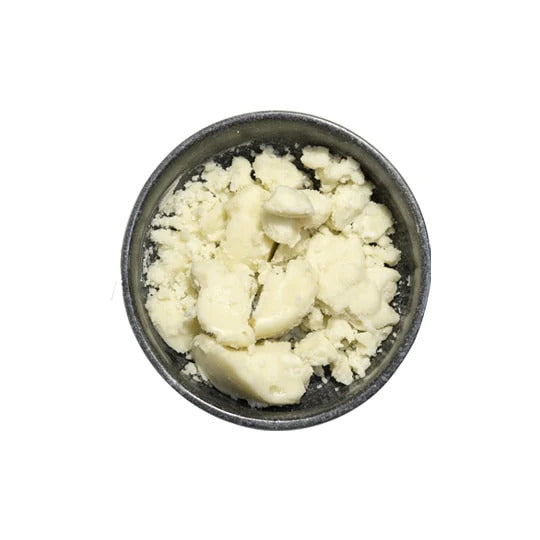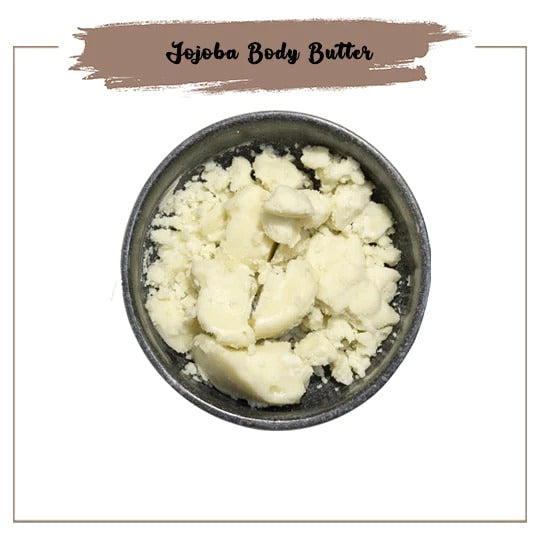 Our Certifications
Jojoba Body Butter
Natural Jojoba Body Butter works well as a moisturizer, softener, and conditioner for all skin types. Jojoba butter has a smooth texture and a rich consistency. It's thick and creamy, thanks to the right combination of jojoba oil, plant wax, and hydrogenated vegetable oils. Organic Jojoba Whipped Body Butter includes a variety of nutrients, including Vitamin E, B complex vitamins, and minerals such as silicon, chromium, copper, iodine, and zinc.

Jojoba Butter's moisturizing characteristics aid in the treatment of acne, canker sores, cold sores, athlete's foot, and warts. Its ultra-nourishing and moisturizing characteristics assist to battle dry and dull skin. The Jojoba Body Butter, with its jojoba goodness, aids in the secretion of sebum, which gradually declines with age. It does not clog pores and instead aids in the rapid healing of skin and wounds.
Jojoba Body Butter Uses
Skin Care Products
Jojoba possesses characteristics that are similar to those found in human sebum. As a result, jojoba body butter is commonly used in moisturisers, body lotions, and creams to lock in moisture and alleviate dryness and skin irritations.
Hair Masks
Organic jojoba body butter is high in vitamins and emollients, making it a fantastic hair mask. It's also used in hair conditioners and hair care products to soothe irritated scalps and dry hair.
Soap Bars
Natural jojoba whipped body butter is a significant element in soap and bath bars since it is enriched with jojoba oil. It not only protects and nourishes the skin, but it also regulates excessive oil production.
Sunscreens
Jojoba cleaning body butter is an active ingredient in sunscreen lotions and creams because it creates liquid wax esters that protect the skin from the sun's harmful UV radiation.
Lip Balms
Jojoba body butter is high in antioxidants and soothes and refreshes the skin. It's also high in fatty acids, which soften and preserve the skin's outer layer. It's commonly found in lip balms to hydrate and nourish chapped lips.
Creams & Lotions
Because jojoba oil penetrates deep into the skin, the creamy variant, jojoba cleaning body butter, can be used in massage creams and lotions to soothe and relax skin tissues and muscles.
Jojoba Body Butter Benefits
Moisturizes Skin
Because jojoba behaves similarly to the skin's natural oils, it is a great moisturiser that soothes and softens the skin. It moisturises the skin, restoring its natural oils and freshness.
Softens Lip
Jojoba cleaning body butter heals chapped lips without leaving them greasy or sticky, thanks to its high content of natural minerals and vitamins. It relieves dryness and darkening of the lips.
Relieves Sunburn
Because it is high in Vitamin E and strong antioxidants, jojoba whipped body butter is an excellent therapy for sunburns. It reduces inflammation and speeds up cell regeneration in the body.
Prevents Skin Bacterial Growth
Because of the presence of iodine, jojoba body butter has a lot of antimicrobial qualities. This stops germs from growing, which can cause acne breakouts and other skin irritations.
Reduces Aging Signs
Vitamin B complex and Vitamin E both aid in the fight against free radicals and the healing of cell damage. Fine lines, wrinkles, and dark spots are significantly reduced as a result of this treatment.
Natural Make-up Remover
Jojoba butter, which is made up of all-natural components, eliminates dirt and filth from the skin without robbing it of its natural oils. It removes makeup softly without harming the skin.
Product Specifications
| | |
| --- | --- |
| Product Name: | Jojoba Body Butter |
| Botanical Name: | Simmondsia Chinensis |
| Country of Origin: | India |
| CAS No: | 90063-86-8 |
| Appearance: | Waxy Solid |
| Color: | Off white to very pale yellowish |
| Free Fatty Acid: | 12.4 |
| Saponification Value: | 170 - 185 |
| Melting Point: | 49.5°C |
| Flash Point: | 91ºC |
| Odor: | Characteristic |
| Solubility: | Insoluble in Water |
| Type: | Body Butter |
| Application Area: | Face, Hair, Body |
| Free From:: | Chemicals, Preservatives, Parabens, Phthalates, Sulfates, SLS, SLES |
| Stroage: | Store in a Cool and Dry place. |
| Shelf Life: | 2 years |
| COA: | |
| MSDS: | |
Buy Jojoba Body Butter at Wholesale Price
VedaOils is a leading manufacturer and distributor of Jojoba Body Butter in USA. It is manufactured using high-quality plant-based components. VedaOils body butter is vegan-friendly, cruelty-free, and fully natural. There are no artificial colors, chemicals, or scents added. This natural and unrefined hemp body butter contains vegetable oils, essential oils, and other natural substances that will improve the health of your skin and hair.

Chemicals, parabens, sulfates, and pesticides are not present in our unrefined and organic jojoba butter. We make certain that high-quality packing requirements are followed in order to deliver the best quality body butter to your door. You may Buy Jojoba Body Butter Online from VedaOils for both business and personal usage at wholesale prices. It has excellent consistency and may be used for any DIY project at home.

We sell our pure jojoba butter in bulk as well as in packs of varied sizes so that you may buy it as needed. We ship Whipped body butter all over the world, including the USA, UK, Australia, Dubai, and Canada. We ship our items all around the world with the help of several logistics partners such as DHL, FedEx BlueDart, and others. So, don't pass up this opportunity and get the highest premium grade Jojoba Butter from VedaOils.
Frequently Asked Questions