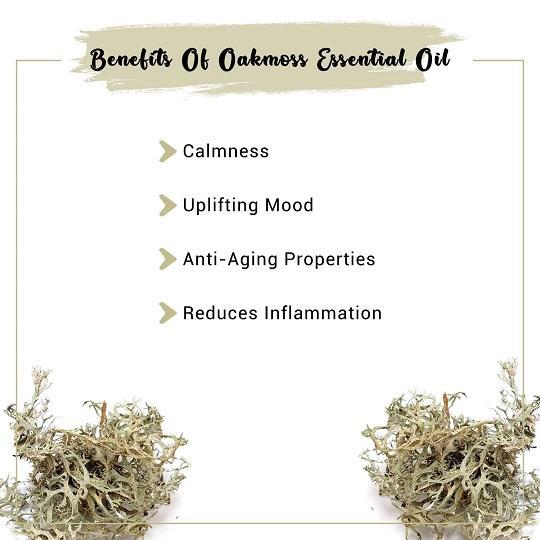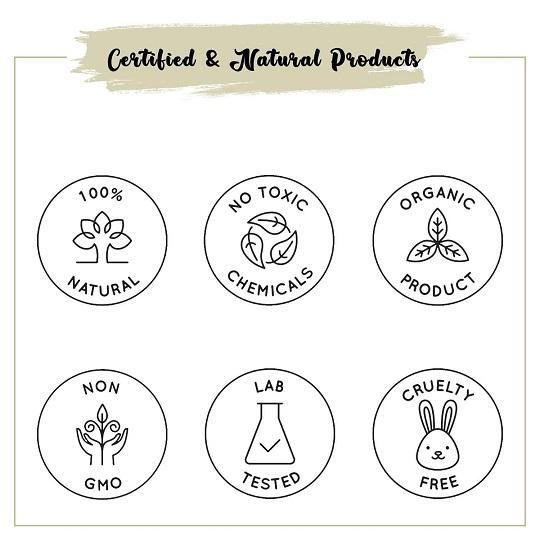 Our Certifications
Oakmoss Absolute Oil
Oakmoss Absolute Oil is an essential oil that impresses you with its soothing aroma. It possesses a deep, earthy, woody, and rich aroma that provides many benefits to your mental health. It is an excellent natural fixative with perfume and fragrance uses. Apart from being extensively used in the perfume industry, it has antiseptic and antioxidant properties.
Pure Oakmoss Oil is obtained by steam distillation. It has pale green and Brownish color with a long-lasting Woody Aroma. Oakmoss absolute oil blends well with Cedarwood, Myrrh, Agarwood, and Clary Sage. It is diluted and used with skin care products for its antiseptic and antioxidant properties.
Natural Oakmoss Absolute oil is also used in soap making, bath care products for its pleasant aroma, Antiseptic and Demulcent properties. Oakmoss absolute Oil is very famous in the Aromatherapy field. It helps to reduce many unstable health conditions and is used in Ayurvedic treatments too.
Oakmoss Absolute Oil Uses
Soap Making
Our organic Oakmoss Absolute Oil is rich in antiseptic, antibacterial, demulcent, and exfoliation properties. Oakmoss oil also has an intense, earthy, woody, and rich aroma. It is beneficial when used on skin with soaps because of its exfoliating qualities.
Making Scented Candles
Pure Oakmoss Absolute Oil has a deep, earthy, woody, and a pleasant aroma. If you drop few drops of essential oil in your candle, it spreads a pleasant woody aroma in your room. It helps to refresh the mood after a long tiring day.
Get Rid of Acne
Including Oakmoss Absolute oil in your skincare routine can give you blemish-free skin. The antibacterial and anti-fungal properties of this absolute Oil prevent acne or heal them. Our pure Oakmoss Absolute oil will enhance your skin routine.
Effective in Aromatherapy
Natural Oakmoss Absolute Oil is used in aromatherapy. Oakmoss oil has got properties like antiseptic, and anti-depressant, sedative properties that heal your mental stress and eliminate. Aromatherapy professionals use it to cure anxiety and hypertension as well.
Powerful Massage Oil
Oakmoss Absolute Oil is warm that helps our muscles to relax. It energies our body and reduces the stiffening of muscles. Dilute and add few drops of this oil in your massage oil and then massage your body parts to get a relaxing feel.
Healthy Hair
Pure Oakmoss Absolute Oil has germ-killing properties that help to prevent dandruff, wounds, infections, flakes, itching from the scalp. It also keeps the hair smooth and moist, and healthy. Dilute and add this Oil to your regular Oil and use it for the best results.
Oakmoss Absolute Oil Benefits
Common Cough
Pure Oakmoss Absolute Oil improves one's ability and immunity to fight against common cough and cold. It helps to get rid of dry and sore throats. It soothes one's airways and helps the stuck mucus to come out from the throat.
Reduce Inflammation
Organic Oakmoss Absolute Oil is used to reduce skin inflammation. Natural Oakmoss Oil has many substances that can act alone or synergistically slow down inflammation. It is diluted and used with skin care products to prevent inflammation.
Natural Fragrance Fixative
Natural Oakmoss Absolute Oil works as an excellent fixative. There is much fragrance that smells very pleasant but does not last for a long time. Dilute and add few drops of this Oil to your perfume for a long-lasting floral fragrance.
Minimize Wrinkles
Our organic Oakmoss Absolute oil contains Vitamin C, Vitamin B, and other anti-aging properties that fight against the free radicals that damage our skin cells. It helps to get rid of wrinkles, acne, age-lines and provides a smooth and glowing complexion.
Eliminate Foul Odor
The natural Oakmoss Oil has a deep, earthy, woody, and rich, long-lasting aroma. It is widely used in perfumes, diffusers in rooms or cars for a nice fragrance. You may also find it as an ingredient in colognes, body sprays, deodorants, etc.
Hydrates Skin
Our best Oakmoss Absolute Oil is very beneficial for your skin. It helps in cleaning and moisturizing the skin. You have to dilute and add few drops of Pure Oakmoss Absolute Oil in your daily natural moisturizer and use it daily for hydrated skin.
Product Specifications
| | |
| --- | --- |
| Product Name: | Oakmoss Absolute Oil |
| Botanical Name: | Evernia Prunastri |
| CAS No: | 68917-10-2 |
| Country of Origin: | India |
| F.E.M.A #: | 2334 |
| Specific Gravity: | 0.860 - 0.950 @ 25°C |
| Optical Rotation: | -27 to +24° |
| Moisture Content: | 0.01% |
| Refractive Index: | 1.459 |
| Flash Point: | 100°C |
| Acid Value: | 0.04% |
| Relative Density: | 0.886 gm/ml |
| Form: | Liquid |
| Shelf Life: | 2 years |
| Packaging Type: | As Per Requirement |
| Processing Method: | Extraction with Solvents. |
| Solubility: | Soluble in Alcohols and Fixed oils. |
| Consistency: | Thin |
| Color: | Dark Brown |
| Alternative Name: | Oakmoss Oil |
| Odor: | Deep and Refreshing scent |
| Oakmoss Oil Blends with: | Oak moss oil blends well with bergamot, ginger, palmarosa, tea tree, or vetiver oils.. |
| COA: | |
| MSDS: | |
CAUTION: It is meant only for external use. Do a patch skin test before applying it to your skin. Dilute it before topical application. Avoid direct exposure to sunlight. Pregnant women should consult a doctor before using it.
Packaging Sizes
Please Note: The packaging shown above is a General Representation of the various sizes and types of packaging available for this product. Not all sizes and types of packaging for this product maybe available at all times.
Buy Oakmoss Essential Oil Online at Wholesale Price
VedaOils is one of the leading Wholesale Suppliers, Manufacturer, Exporter of Oakmoss Absolute Oil in US. We offer the purest forms of essential oils to our customers. No chemicals, additives, or fillers are added to them. They also do not contain any artificial colors, preservatives, and fragrances. Therefore, they prove to be ideal for daily use. Though entirely natural, you should dilute Oakmoss absolute oil before using it for topical application as it is highly concentrated.
We employ numerous tests and quality checks to ensure that only Premium-quality Oakmoss Absolute Oil reaches you. The highest quality and packaging standards are employed to deliver desirable results on usage. Also, our portal uses a secure payment gateway to safeguard your transactions. Shop Myrrh oil from VedaOils Online according to requirements at the best competitive prices in the market. You can order Myrrh oil for your daily purposes such as dark circles, skin lightening, hair growth, arthritis, digestion, and better oral health. Check out Myrrh oil price per lb, even you can purchase Oakmoss absolute oil in bulk quantity.
We are one of the largest manufacturers, suppliers, and exporters of top-quality Oakmoss absolute Oil and other essential oils in USA. We also export our high-quality essential oils to Canada, UK, Australia, Europe, Dubai and other countries. Our products follow the highest standards when it comes to quality and purity. We assure you that you will not regret choosing us! We also deliver the products throughout the world using our logistic partners DHL, FedEx Blue Dart, UPS, USPS, etc. Do not miss this excellent opportunity to buy chemical-free, fresh, and multi-purpose Myrrh oil from VedaOils.
Frequently Asked Questions