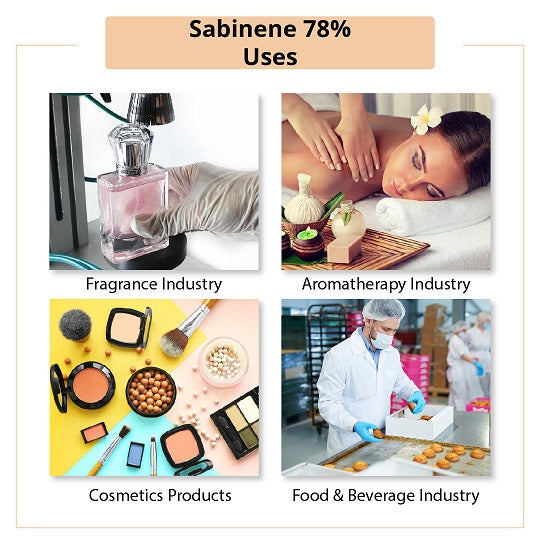 Our Certifications
Sabinene
Sabinene is a natural bicyclic monoterpene that exudes a captivating aroma reminiscent of the great outdoors. Derived from essential oils found in various plants, this aromatic compound offers a complex and invigorating fragrance that often evokes the essence of pine forests and citrus groves.
Its unique scent profile has made it a valuable asset in the fragrance and flavor industries, lending its captivating notes to perfumes, cosmetics, and culinary creations.
Sabinene is also recognized for its potential therapeutic properties, believed to encompass anti-inflammatory and antioxidant effects. This multifaceted compound stands as a bridge between sensory experiences and holistic well-being, captivating both the senses and the realm of natural remedies.
Sabinene Benefits & Uses
Fragrance and Perfume
Sabinene's unique scent, reminiscent of pine and citrus, makes it a sought-after ingredient in the fragrance industry. It adds depth and character to perfumes, colognes, and scented products.
Flavoring Agent
Sabinene is used as a natural flavoring agent in the food and beverage industry. Its pleasant, piney-citrus flavor enhances the taste of various products, including beverages, confectionery, and culinary dishes.
Aromatherapy
The invigorating aroma of Sabinene is believed to have therapeutic effects. It is used in aromatherapy to create an uplifting and energizing atmosphere, promoting focus and mental clarity.
Cosmetics and Personal Care
Sabinene's pleasant scent is incorporated into cosmetics and personal care products such as lotions, creams, and bath products. Its aroma contributes to a refreshing and natural sensory experience.
Medicinal Uses
Sabinene is found in certain essential oils used in traditional medicine practices. It's believed to possess anti-inflammatory and antioxidant properties, potentially supporting overall well-being and health.
Insect Repellent
The aroma of Sabinene can act as a natural insect repellent. It's used in formulations for natural insect sprays and repellents to deter pests like mosquitoes and flies.
Product Specifications
| | |
| --- | --- |
| Product Name : | Sabinene |
| Brand Name: | VedaOils |
| Chemical Formula: | C10H16 |
| CAS Number: | 3387-41-5 |
| Color: | CLEAR COLOURLESS |
| Shelf Life: | 2 Years |
| Form: | LIQUID |
| Applications: | Aromatherapy |
Packaging Sizes
Please Note: The packaging shown above is a General Representation of the various sizes and types of packaging available for this product. Not all sizes and types of packaging for this product maybe available at all times.
Buy Sabinene Online in USA at Low Price
VedaOils is one of the leading Wholesale suppliers, manufacturer, and exporters of Sabinene in USA. Our Aromatic Raw Ingredients do not contain any harmful preservatives, additives, or filler. Order Sabinene raw ingredients at a low price for Industrial & Personal end products.
We employ numerous tests and quality checks to ensure that only Premium-quality Sabinene reaches you. The highest quality and packaging standards are employed to deliver desirable results on usage. Also, our portal uses a secure payment gateway such as Visa, Mastercard to safeguard your transactions. Order Sabinene online in Bulk Quantity at Wholesale different packages so that you can order and use them as per your needs.
We export our Sabinene to the US, Canada, UK, Australia, and worldwide. Our products follow the highest standards when it comes to quality and purity. Your orders are delivered to your doorstep, so you don't have to worry about going outside. We assure you that you will not regret choosing us! We also deliver the products worldwide using our logistic partners DHL, FedEx, Blue Dart, USA Post, etc. Get great cashback, combo offers, deals, and discount offers while buying Sabinene online from the VedaOils store.
Frequently Asked Questions