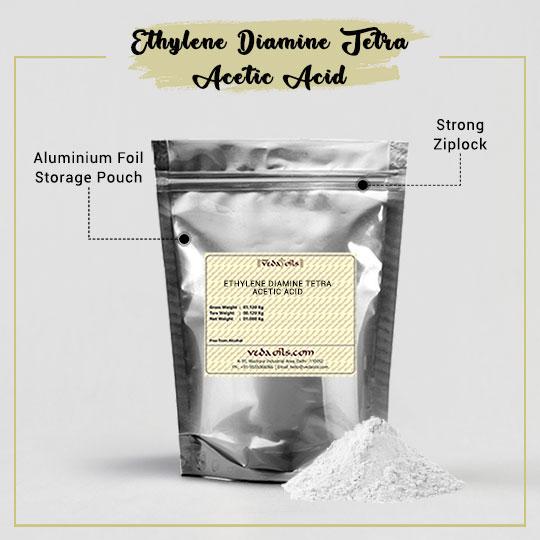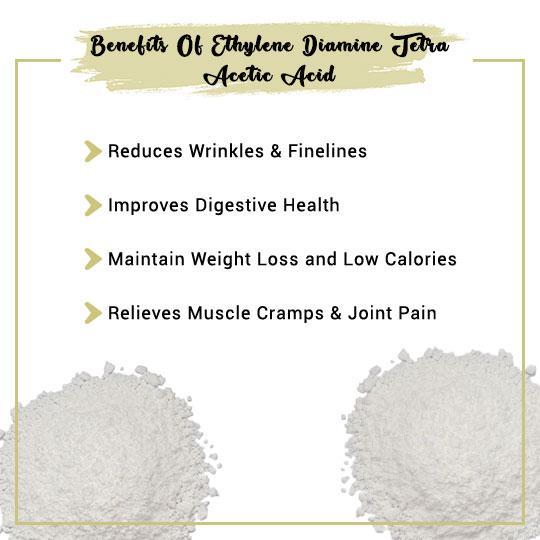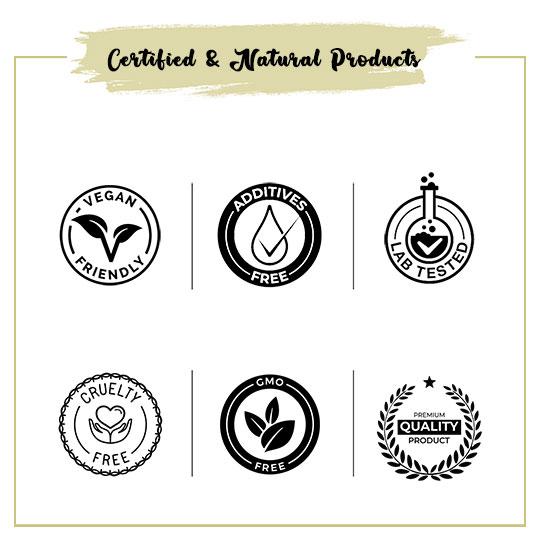 Our Certifications
EDTA - Ethylene Diamine Tetra Acetic Acid
Ethylenediamine Tetraacetic Acid (EDTA), known as edetic acid, is a chelating agent that can easily bind ions of several metals. EDTA is used to grab minerals or ions of metals in cosmetic products. Many naturally-derived ingredients contain some metallic impurities. Also, the process plants, water, and many other constituents might have minute proportions of metals that need to be eliminated while manufacturing cosmetic products.
These metal ions can easily change or deteriorate the quality of cosmetics. The binding of these metal oils by ethylenediaminetetraacetic acid enables you to keep the products consistent and safe from impurities. EDTA is used to preserve the color, aroma, and texture of cosmetic products. As a result, EDTA is used as one of the key cosmetic raw materials these days.
Ethylene Diamine Tetra Acetic Acid is used in a wide range of cosmetic applications due to its stabilizing properties. Though they do not degrade in the environment, studies have suggested that they do not pose any threat to plants or animals as they get destroyed by organisms quickly. Ethylene Diamine Tetra Acetic Acid is odorless and has an off-white color. Also, it gets readily dissolved in cold water.
EDTA- Ethylene Diamine Tetra Acetic Acid
Moisturizers & Lotions
Moisturizers, creams, and lotions contain EDTA powder as it prevents them from discoloring and deteriorating, and it also prevents changes in their pH levels. It also helps to maintain the texture and consistency of these products by maintaining the integrity of the added ingredients.
Shampoos
Ethylene diamine tetra acetic acid is preferred in hair products due to its cleansing properties, and it is also used in shampoos and conditioners as an anionic chelating component. It also maintains the clarity of the finished products and protects the ingredients that are added to enhance the fragrance.
Detergents & Soaps
Natural EDTA is perfect for reducing the hardness of the water, and it does so by removing unwanted minerals and metallic ions. It is a complexing agent in soaps, detergents, and other cleaning and personal care products, and you may even add it to hand sanitizers or hand soaps.
Fertilizers
EDTA can be incorporated in synthetic fertilizers as a chelating agent and is one of the common chelates for agricultural. It supplies the minerals that are necessary for the growth and maintenance of crops.
Hair Dyes
Hair dyes and hair colors contain natural EDTA as it works as a stabilizer in them and works perfectly to improve their overall appearance and effectiveness. As it is non-carcinogenic, it is safe for your hair and scalp.
Face Cleansers
EDTA is added to face cleansers due to its foaming ability. Face scrubs, face washes, skin cleansers, and similar products contain one of their main components, and it enables them to foam easily by binding with metal ions.
Product Specifications
| | |
| --- | --- |
| Raw Material Source: | Ethylenediamine, formaldehyde, and sodium cyanide. |
| Manufacturing Process: | Synthetic process by using ingredients like Ethylenediamine, formaldehyde. |
| Chemical Formula: | C10H16N2O8 |
| CAS Number: | 13235-36-4 |
| IUPAC Name: | (Ethane-1,2-diyldinitrilo)tetraacetic acid |
| INCI Name: | Tetrasodium EDTA (Ethylenediaminetetraacetic Acid Tetrasodium Salt) |
| Molecular Weight: | 292.24 g/mol |
| Specific Gravity: | 1.05 g/ml |
| Boiling Point: | 614.2±55.0 °C |
| Flash Point: | 325.2±31.5 °C |
| Odor: | N/A |
| pH Level: | 4 to 6 |
| HLB Value: | N/A |
| Color: | N/A |
| Grade Standard: | Industrial Grade |
| Shelf Life: | 24 months |
| Purity (%): | 99% |
| Form: | Powder |
| Alternative Names: | Edetic acid |
| Solubility: | Yes |
| Applications: | It is widely used in shampoos, creams, makeup products, sunscreens, lotions, etc. |
CAUTION: EDTA is only meant for external applications. People who have sensitive skin might face some irritation after using it. We suggest such individuals undertake a patch test on their elbow to check whether it is irritation-free or not.
Packaging Sizes
Please Note: The packaging shown above is a General Representation of the various sizes and types of packaging available for this product. Not all sizes and types of packaging for this product maybe available at all times.
Buy EDTA Powder Online in USA at Wholesale Prices
VedaOils is one of leading Wholesale suppliers, manufacturer, and exporter of Ethylene Diamine Tetra Acetic Acid in USA. Vedaoils manufactures the highest quality surfactant cosmetic that does not compromise with your health and beauty. Our Cosmetic Ingredients does not contain any harmful preservatives, fragrances, additives and filler. Order EDTA raw ingredients at a low price for Industrial & Personal end products.
We employ numerous tests and quality checks to ensure that only Premium-quality EDTA reaches you. The highest quality and packaging standards are employed to deliver desirable results on usage. Also, our portal uses a secure payment gateway such as Visa, Mastercard to safeguard your transactions. Order EDTA Online in Bulk Quantity at Wholesale different packages so that you can order and use them as per your needs.
We export our high-quality EDTA Powder to the US, Canada, UK, Australia, and worldwide. Our products follow the highest standards when it comes to quality and purity. Your orders are delivered to your doorstep, so you don't have to worry about going outside. We assure you that you will not regret choosing us! We also deliver the products worldwide using our logistic partners DHL, FedEx etc. Get great cashback, combo offers, deals and discount offers while buying EDTA online from VedaOils store.
Frequently Asked Questions