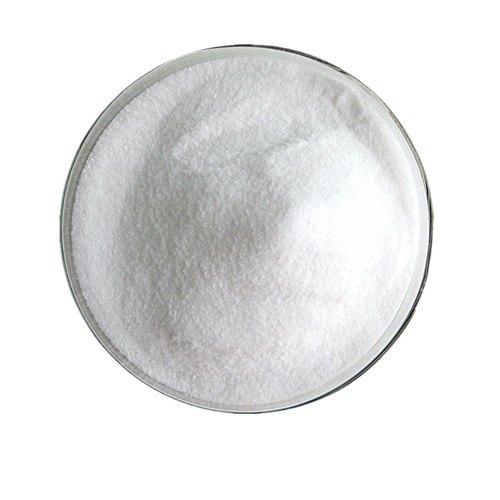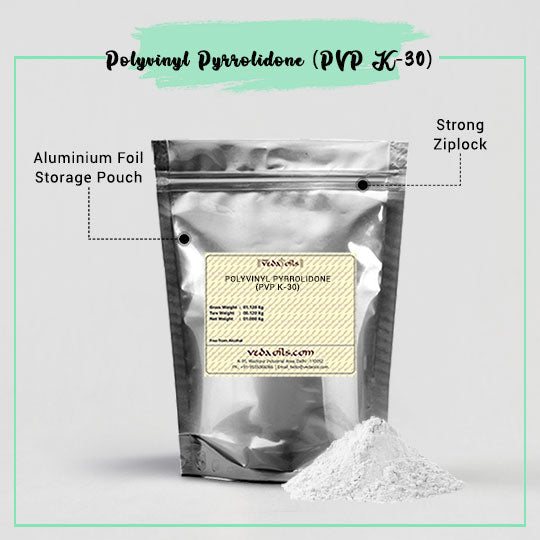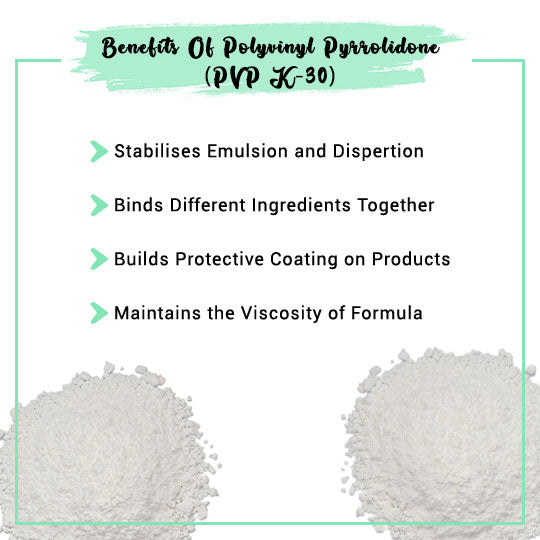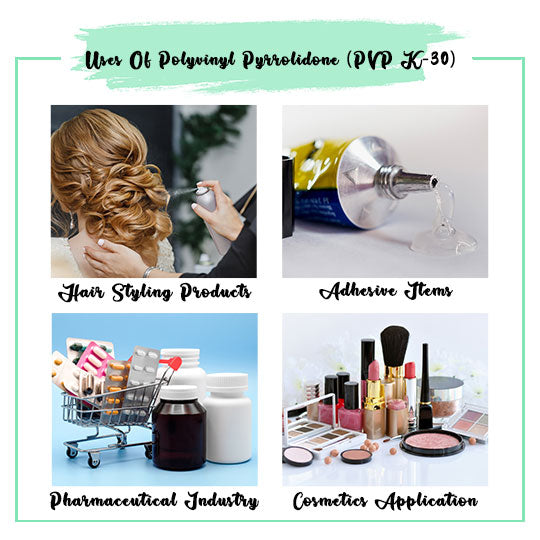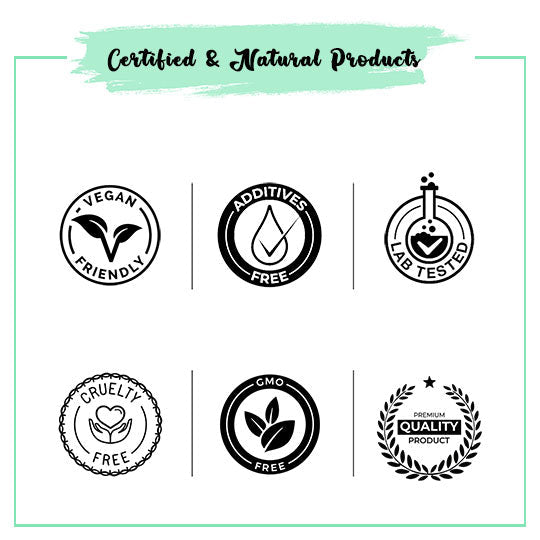 Our Certifications
Polyvinyl Pyrrolidone (PVP K 30)
PVP K 30 (Polyvinyl Pyrrolidone) is a versatile chemical used extensively in the pharmaceutical and cosmetic sectors. It is made using a multistep synthetic process that culminates in the polymerization of vinylpyrrolidone in an aqueous solution with water and hydrogen peroxide. PVP K-30 powder is extremely soluble in water and a variety of other organic solvents, forming a hard, transparent, glossy layer.
PVP K 30 is compatible with a wide range of inorganic salts and resins. It helps to keep emulsions, dispersions, and suspensions stable. Polyvinyl Pyrrolidone, in addition to being utilised as a film forming and gel in hair styling products, can also be used as an emulsion stabiliser in creams, lotions, and shampoos.
Cosmetic Grade Poly Vinyl Pyrrolidone, which has a high efficacy, can also be utilised in the production of toothpastes and mouthwashes. PVP K30 is a white powder that is cruelty-free, vegan-friendly, and ethical. PVP K-30 powder can be used to make additional sticky powders and gels in addition to being an efficient thickening agent and film maker for hair gels, hair sprays, and toothpastes.
Only the viscosity of polyvinyl pyrrolidone limits its concentration of use. It's pH stable, non-ionic, and colourless, according to reports. PVP K30 works best in hair gels when combined with carbomer and other thickeners to provide a stiffer grip. PVP K-30 powder, or polyvinyl pyrrolidone, is very compatible with most inorganic salts and, miraculously, with a wide range of resins.
Polyvinyl Pyrrolidone (PVP K 30) Uses
Pharmaceuticals
PVP K-30 can be used to improve the solubility of a variety of medicines and medications. The efficacy of end product items can be boosted up to twofold by utilising polyvinyl pyrrolidone as solubility enhancers.
Fragrances
Polyvinyl Pyrrolidone can be found in volatile compounds, making it a helpful element in fragrances since it helps to preserve the flavour or aroma. PVP K 30's outstanding stabilising capabilities are now employed in hair and skin conditioners.
Eye Irritation Relievers
As an eye moisturiser, Poly Vinyl Pyrrolidone can be utilised in the manufacture of ophthalmic solutions. It provides temporary relief from minor irritations caused by the wind or sun, as well as from eye dryness.
Skin Cleansers
Because of its strong surfactant qualities, Polyvinyl Pyrrolidone can be a beneficial ingredient in the manufacture of high-quality skin cleansers. It attracts oil, filth, and grime that accumulate on your skin, allowing for easy rinsing.
Hair Products
Polyvinyl Pyrrolidone is the finest ingredient for both men and women when it comes to making high-quality hair care products. It avoids flaky residues by protecting your hair's natural oils, giving them a lustrous appearance.
Bubble Bath Formulations
Poly Vinyl Pyrrolidone can be utilised to make high-quality bubble bath products that are gentle on all skin types. It exfoliates and removes pollutants, improving skin brightness while washing, degreasing, and hydrating the skin.
Buy Polyvinyl Pyrrolidone (PVP K 30) Online at Low Prices
VedaOils is a prominent Polyvinyl Pyrrolidone manufacturer, distributor, and wholesaler (PVP K 30). We provide the best Polyvinyl Pyrrolidone (PVP K 30), which may be used for a variety of applications including cosmetics. Chemical-free, soot-free, and smoke-free Poly Vinyl Pyrrolidone (PVP K 30). In United States, the United Kingdom, Australia, the India, and other nations, our Polyvinyl Pyrrolidone (PVP K 30) is in high demand.
We guarantee that our Poly Vinyl Pyrrolidone (PVP K-30) is devoid of any additives. To make our Polyvinyl Pyrrolidone, we don't utilise any coloured tints, preservatives, scents, or chemically infused substances (PVP K 30). VedaOils provides you with the highest quality Polyvinyl Pyrrolidone (PVP K 30) at a discounted price. Our Polyvinyl Pyrrolidone (PVP K 30) contains the ideal ingredients for creating skincare and haircare solutions.
We use high-quality packing and quality-control techniques to ensure that you get top quality Polyvinyl Pyrrolidone (PVP K 30) delivered to your door. Furthermore, we sell our Poly Vinyl Pyrrolidone (PVP K-30) packets online in various quantities so that you may get exactly what you need. You can also buy them for business use because we provide substantial discounts for large orders. Prices for Poly Vinyl Pyrrolidone (PVP K 30) can be found on the vedaoils website.
Frequently Asked Questions